Joan Baez's 'Diamonds & Rust'—Reflections on an Old Friend Named Bob
by Jeff Tamarkin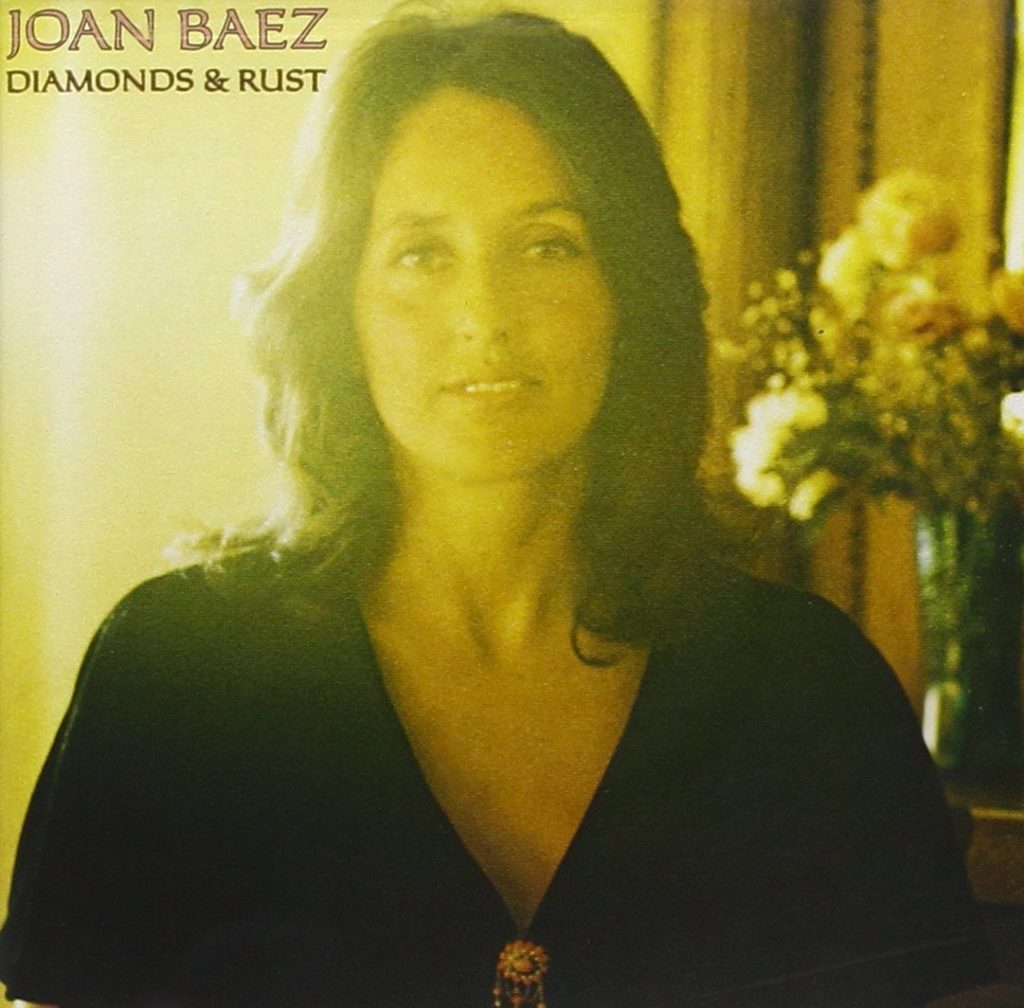 Joan Baez was not known as a songwriter. When she burst onto the nascent folk music scene in the early '60s, her earliest albums were populated with traditional songs given fresh arrangements—songs like "Wildwood Flower" and "Barbara Allen" that had long been the stock in trade of acoustic guitar-wielding troubadours.
Within a few years, Baez had begun including some contemporary songs in her performances and on her albums, but they still came from others' pens. By the time she released Joan Baez in Concert, Part 2, her second consecutive live album, in 1963, that repertoire would include two compositions by Bob Dylan, "Don't Think Twice It's Alright" and "With God on Our Side."
Dylan had actually arrived in New York City at the start of 1961, after Baez had already recorded and begun her rise to stardom, and although they had little in common in their backgrounds or their approaches to music, they became tight immediately. At Baez's insistence, they sang together on stage on occasion, his rough-hewn nasal earthiness an odd but somehow fitting match for her pristine soprano and earnestness. In time, they began a love affair that, according to later revelations from both parties, ended unceremoniously in the spring of 1965 when Dylan—on the verge of moving beyond the confines of folk to become one of the rock's most celebrated songwriters and performers—treated her shabbily during a tour stop in Britain. "I was crazy about him. We were an item and we were having a wonderful time," Baez later admitted in a documentary film, but their relationship was not meant to last.
Listen to Baez and Dylan duet on the traditional folk song "Wild Mountain Thyme" in 1965
Their paths diverged from there. Dylan, of course, became a sensation—often considered the greatest songwriter of the rock era—while Baez stuck largely to solo folk music. For her fifth album, in 1965, she added a couple of accompanists on guitar and cello, and her songbook expanded to include tunes by everyone from Johnny Cash to Brazilian composer Heitor Villa-Lobos, alongside Dylan, Johnny Cash and Phil Ochs. In time, she even added electric instruments.
Related: Our interview with Joan Baez
Joan Baez wasn't about hit records though. Unlike Dylan, who'd vaulted to the top 10 with "Like a Rolling Stone" in 1965, she was a stranger to the top 40. Her albums sold increasingly well, but Baez's singles never got played on the pop stations. Until, that is, 1971, when she covered "The Night They Drove Old Dixie Down," written by Robbie Robertson and made famous by The Band on their self-titled second album. For that year's Blessed Are… album, the first for which she composed all of her own songs, Baez was accompanied by a small band of Nashville session pros and auxiliary players; skilled at backing strong vocalists, they expertly found a tempo and groove that allowed Baez to make the song her own. It rose to #3 on the Billboard singles chart in 1971, not only her highest charting single but the only time she made it to the top 40. The album benefited from the single's exposure and found its way to #11.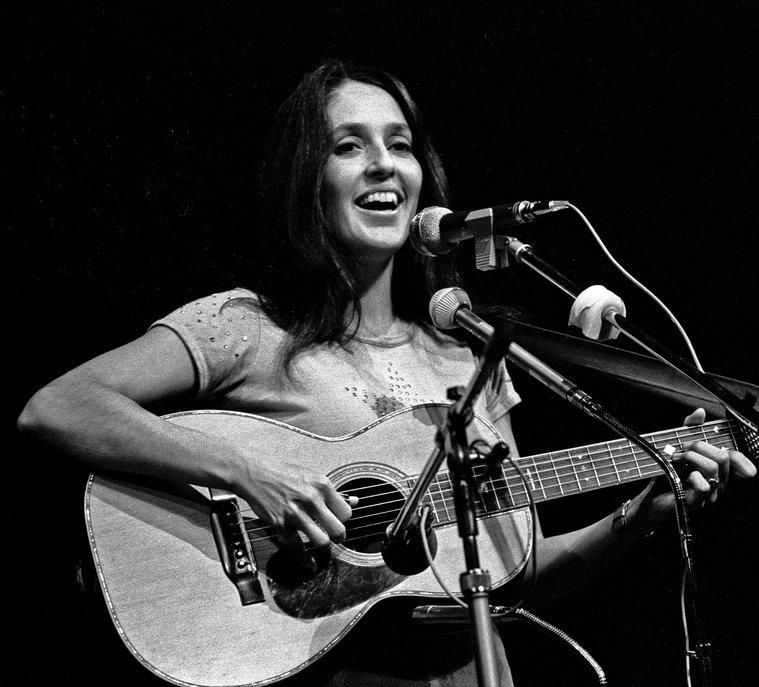 Baez continued to work the folk music festival circuit and the concert halls to a loyal fanbase even as her recordings slipped back down to more modest chart positions. Respected by rockers, no one confused her with one; she existed outside of the rock world, including the reigning singer-songwriters—rarely was she seen in the company of folks like Joni Mitchell or Jackson Browne. (She was, however, friendly with John Lennon, although she has discounted rumors that they had an affair.)
Baez's status changed again beginning in 1974, when she received an out-of-the-blue phone call from Bob Dylan. He'd just finished up a triumphant tour marking his return to live performance, following an eight-year drought that stemmed from a debilitating 1966 motorcycle accident. Despite the renewed attention, his marriage was falling apart and Dylan had begun writing a set of new songs that would, the following year, ultimately be released as Blood on the Tracks, one of his most acclaimed albums.
Related: Our Album Rewind of Blood on the Tracks
Perhaps he was feeling nostalgic for the days when he and the "Queen of Folk" were on top of the world? He didn't say, and Baez didn't ask.
Blood on the Tracks began coming together in the fall of 1974, and was released in January of '75. It became a #1 seller and by the fall of that year, Dylan was feeling the itch to perform live again. This time, rather than hit the arenas with the Band, as he had done in '74, he decided instead to put together a loosely organized tour of small venues on the East Coast, with a cast of fellow singer-songwriters that could change as he and the participants saw fit. Calling it the Rolling Thunder Revue, Dylan invited like-minded artists such as Joni Mitchell, Bob Neuwirth, Roger McGuinn and Ramblin' Jack Elliott to hit the road with him and share the stages they encountered. Poet Allen Ginsberg and playwright Sam Shepard, also friends of Dylan's, tagged along.
One of Dylan's invitees was Joan Baez.
They had a blast, singing together on tunes like "Blowin' in the Wind," "The Times They Are A-Changin'" and "I Shall Be Released." Freed of the pressures that had dogged them when they were first coming up, they were now just two old friends making music together.
Watch Dylan and Baez duet on "Blowin' in the Wind" during the 1976 run of the Rolling Thunder Revue
When they finished their duet segments, Baez took the stage for her own spotlight set. She opened with a recently written song, a rare self-composition that she called "Diamonds & Rust."
It began:
"Well, I'll be damned
Here comes your ghost again
But that's not unusual
It's just that the moon is full
And you happened to call
And here I sit
Hand on the telephone
Hearing a voice I'd known
A couple of light years ago
Heading straight for a fall"
When Dylan heard it, he thought it might be about him. He asked Baez. She said, no, it was about her ex-husband, David Harris, the antiwar activist she'd married in 1968 and divorced five years later.
It was, of course, about Dylan. Its talk of eyes "bluer than robins' eggs" and lines like "You burst on the scene already a legend/The unwashed phenomenon, the original vagabond" could be about no one else. Baez referred to "some cufflinks" she'd bought him, while confessing she could not remember the gift he gave her. She referred to their ill-fated romance, but, she lamented, "We both know what memories can bring/They bring diamonds and rust."
The song, written in late 1974, was recorded in Los Angeles in January '75, the same month that Blood on the Tracks was released. Leading off Baez's 1975 album of the same title, the song (and album) featured a full complement of support musicians, with David Kershenbaum and Baez co-credited as producers.
The album was released in April, entering the Billboard chart the following month and eventually peaking at #11. The title track was released as a single in July and entered the trade magazine's singles chart in September. It only peaked at #35, becoming Baez's last single to make the top 100 chart, but it remains one of her most beloved—and discussed—songs.
Related: The year 1975 in 50 classic albums
In 1987, Baez, in her memoir And a Voice to Sing With, recalled the time in 1975 when Dylan asked her about it. It was during the first rehearsal for the Rolling Thunder Revue tour. The conversation went like this:
"You gonna sing that song about robin's eggs and diamonds?" Bob had asked me on the first day of rehearsals.
"Which one?"
"You know, that one about blue eyes and diamonds…"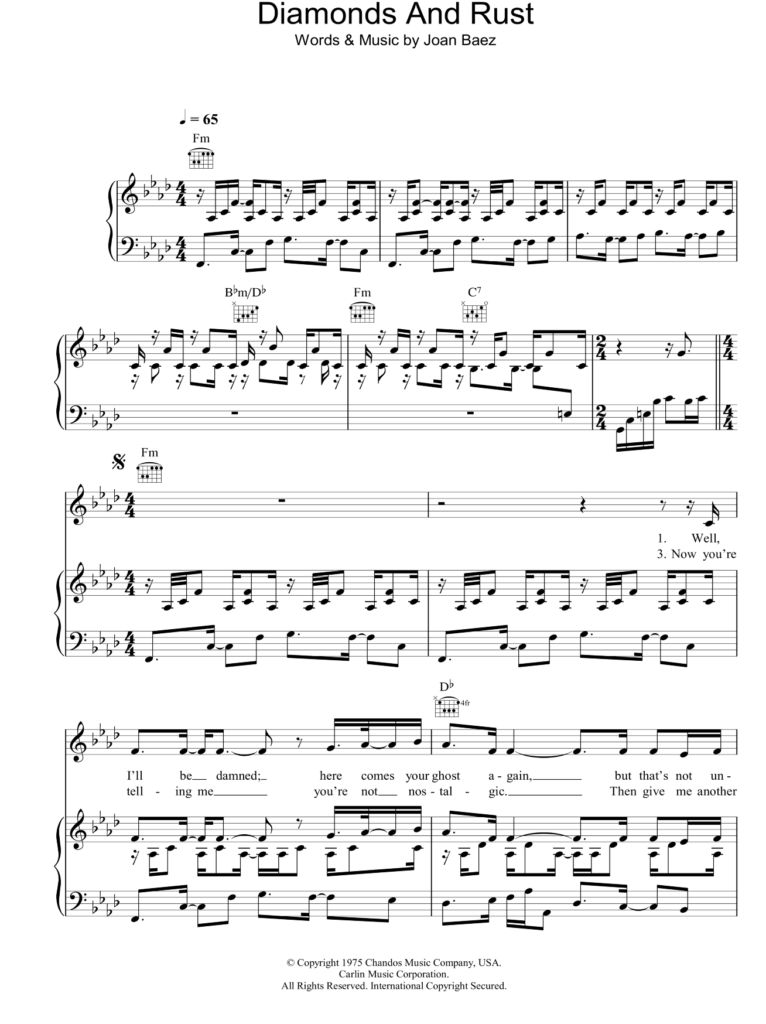 "'Oh,' I said, 'you must mean "Diamonds and Rust," the song I wrote for my husband, David. I wrote it while he was in prison.'"
"For your husband?" Bob said.
"Yeah. Who did you think it was about?" I stonewalled.
"Oh, hey, what the fuck do I know?"
"Never mind. Yeah, I'll sing it, if you like."
And she did.
Watch Baez perform "Diamonds & Rust" Live in 1975
Bonus Video: Judas Priest, of all the bands in the world, did a straightforward cover of "Diamonds & Rust." Here they are performing it live.
Related: Our Album Rewind of Baez's tribute to Dylan, Any Day Now

Latest posts by Jeff Tamarkin
(see all)