Sometimes, even the most famous musicians want a little anonymity. And often, it's demanded when they guest on another artist's record. It could be because they don't want their light to outshine the nominal star, or a friendly in-joke, but most often it's due to the famous "contractual obligations."
Having a Beatle on your album was certainly a feather in a musician's cap, but Capitol/EMI wanted to keep all the feathers for themselves. So if any of the Beatles wanted to record outside the band, they resorted to pen names, or "noms de rock," if you must. John Lennon, whose love of wordplay is well documented, reveled in coming up with new names to use in credits not only on outside projects, but on his own records; according the Guinness Book of World Records, John remains the proud possessor of the record for having the most pseudonyms. (Although, to be fair, most of them were anagrams of his name or variations on Dr. Winston O'Boogie.)
George tended to disguise himself with a wink and a nod; many of his outside credits were a twist on his name: Hari Georgeson, Son of Harry. Ringo took the Mad Libs approach: his given first name and a drum. Paul was the most secretive; other than Paul Ramon (a nod to the band's early days), you'd be hard-pressed to figure out who Apollo C. Vermouth or Bernard Webb actually were before you heard the recording.
Related: 10 killer Beatles guitar solos
Sharp-eyed fans used to pore over liner notes and credits to find out who was playing the guitar that sounded just like George Harrison, and knowing listeners would nod as they told you it was George Harrison. But for today's fans listening online, that information has been turned into "metadata," which needs to be tracked down. Here are 10 of our favorite songs with a secret Beatle.
10. Percy Thrillington
"Uncle Albert/Admiral Halsey"
Written by Percy Thrillington (Paul)
For reasons known only to himself, Paul decided that the world needed an instrumental version of Ram. He called arranger Richard Anthony Hewson (who arranged the strings for a few Beatles songs, as well as "Carolina on My Mind," on James Taylor's Apple album) and recorded the album simultaneously with Ram. Paul not only was Percy, but he also wrote the album's liner notes as Clint Harrigan. He may have had second thoughts—the album was shelved until 1977. He probably should have waited longer, as it sank without a trace. It's hard to choose a standout, so here's Percy's version of Ram's hit single "Uncle Albert/Admiral Halsey." File under: strictly for completists.
9. Peter and Gordon
"Woman"
Written/produced by Bernard Webb (Paul)
Peter and Gordon were practically family. Peter Asher's sister, actress/model Jane Asher, was Paul's girlfriend for much of the '60s. And the duo had already scored hits with Lennon/McCartney's "A World Without Love (#1), "Nobody I Know" (#12), and "I Don't Want to See You Again" (#16), and people were saying the only reason they sold was because of the Beatle connection. To test that out, Paul decided not to take any credit for the song, and gave himself the name "Bernard Webb." It performed respectably, peaking at #14 on the Billboard charts. It didn't take long for fans to catch on to the ruse, and Gordon Waller lifted the veil while introducing the song when they appeared on Hullabaloo.
8. Dave Mason
"If You've Got Love"
Featuring Son of Harry (George)
After he left Traffic in 1970, Mason became something of a professional collaborator. He released a duo album with Cass Elliot, and his solo albums featured the same studio pros (Leon Russell, Carl Radle, Jim Keltner) who backed up George on his various solo projects, so it makes sense that George would appear on one of Mason's. And the minute that liquid, moaning slide guitar is heard, it's obvious it can be no one but George, no matter what the credits said.
7. Steve Miller Band
"My Dark Hour"
Featuring Paul Ramon (Paul)
Before "The Joker" made Steve Miller a pop superstar in 1974, the Steve Miller Band was considered to be one the hipper bands on the San Francisco scene. How hip were they? Hip enough to attract Paul McCartney to join them in the studio for this loose jam session in 1969. Actually, it was just Miller and McCartney. Paul had been abandoned in Olympic Studios after arguing with the other three Beatles over Allen Klein; Miller was recording next door, working on Brave New World, his first album without Boz Scaggs. Miller sings and plays guitar, McCartney is responsible for everything else. And if that riff sounds familiar, it's because Miller recycled it for 1976's "Fly Like an Eagle."
6. Bonzo Dog Band
"I'm the Urban Spaceman"
Produced by Apollo C. Vermouth (Paul)
With their anarchic, sly humor, the Bonzos would have been a perfect match for John, but it's Paul who produced this single from 1969's Tadpole album, which included this jaunty, decidedly eccentric British hit, written by Neil Innes. The Beatles/Bonzo connection goes deeper than one song. The Bonzos' "Death Cab for Cutie" shows up in the Beatles' Magical Mystery Tour movie, and in 1975, Innes used "Spaceman" for a skit on his Rutland Weekend Television show, which also gave birth to the Beatles parody the Rutles.
5. Yoko Ono
"Woman Power"
Featuring John O'Cean (John)
After three albums of the searing avant-garde rock she's most identified with, Yoko settled down a bit on 1973's Feeling the Space. Mostly recorded with Elephant's Memory, the album is less confrontational than her previous releases; it's a pastiche of airy, loping '50s-styled rock with Yoko singing the frankly feminist lyrics in a breathy, almost gentle, voice. The outlier—and the most rocking song on the album—is the craggy, soulful anthem "Woman Power," which features a grinding, acidic guitar solo by John. Perhaps in keeping with the album's feminist theme, John decided to be credited as John O'Cean. Most probably, that was due to Yoko Ono translating to "ocean child" in Japanese. Or, given the fact that he also used a whole series of joke names on the credits of Wall and Bridges, he was just having a laugh.
4. Harry Nilsson
"Spaceman"
Featuring Richie Snare (Ringo)
Ringo plays with great feel on this lurching, childlike Harry Nilsson song. If you couldn't figure out who Richie Snare was before you put this on, the fill before the song staggers into its second chorus pretty much gives the game away. That swaying, perfectly placed roll could only be one drummer. Nilsson was something a Beatle talisman: George and Ringo were regulars on his albums, and he was one of John's favorite drinking buddies during the latter's drug and drink-sodden "Lost Weekend" in Los Angeles; John produced his anarchic Pussy Cats album. Paul showed up at those sessions with Stevie Wonder in tow and jammed, an event captured on the bootleg A Toot and a Snore In '74.
3. Splinter
"Costafine Town"
Featuring Jai Raj Harrison, Hari Georgeson, and P. Roducer (George)
Talk about taking contractual obligations to an extreme degree. Splinter was the first signing to George's Dark Horse label; he produced the album, and could be heard on practically every track. But George Harrison, the musician, was under contract to the Beatles' Apple Records. At the time, none of the Beatles were exactly on friendly terms, so he appears in the credits under a variety of names. In essence, he had to pretend to be someone else to hide from…himself. It's a twist worthy of Borges, a Möbius strip that even Escher couldn't untangle. You can certainly hear why George took an interest in this duo—singers Bobby Purvis and Bill Elliott sound a lot like George, and their songwriting has some of the same rustic folkiness of his post-Beatle work. While he had high hopes for the band, even calling them the "jewel in Dark Horse's crown," George had overextended himself, and the album did not make much of an impact.
2. Elton John
"Lucy In The Sky With Diamonds"
Featuring Dr. Winston O'Boogie
By 1973, it was obvious that Elton John had assumed the Beatles' mantle of biggest pop star on Earth. He struck up a friendship with Lennon, who added guitar and backing vocals to Elton's stately, somewhat less acidic take on this Sgt Pepper's favorite. This wasn't the first appearance of the eminent Dr. O'Boogie. He was a major player on Lennon's own Walls and Bridges, which also featured Elton's backing vocals on "Whatever Gets You Through the Night." When that song hit the top of the charts, Lennon had to make good on a bet, and joined Elton on stage at New York's Madison Square Garden on Thanksgiving 1974, where they performed this, "Whatever" and "I Saw Her Standing There," in what became Lennon's last appearance on stage.
Related: An insider tells us about meeting the pair backstage
1. Cream
"Badge"
Featuring L'Angelo Mysterioso (George)
The friendship between George and Eric Clapton was already well known by the time Cream released their final album, Goodbye. Clapton's guitar was the most distinctive element on George's "While My Guitar Gently Weeps," and George returned the favor here. He not only plays on the song, but helped Clapton write it. While Clapton's appearance was uncredited (he gets a thank you in small, light type on the White Album's poster), George was credited as L'Angelo Mysterioso (The Mysterious Angel). But there was no doubt who was behind that cascading, shimmering guitar, which enters the song a little past the one-minute mark. (The song's puzzling title was a misreading of George's handwriting. Clapton misread George's "Bridge"—referring to a part of the song—for "Badge" and it stuck.)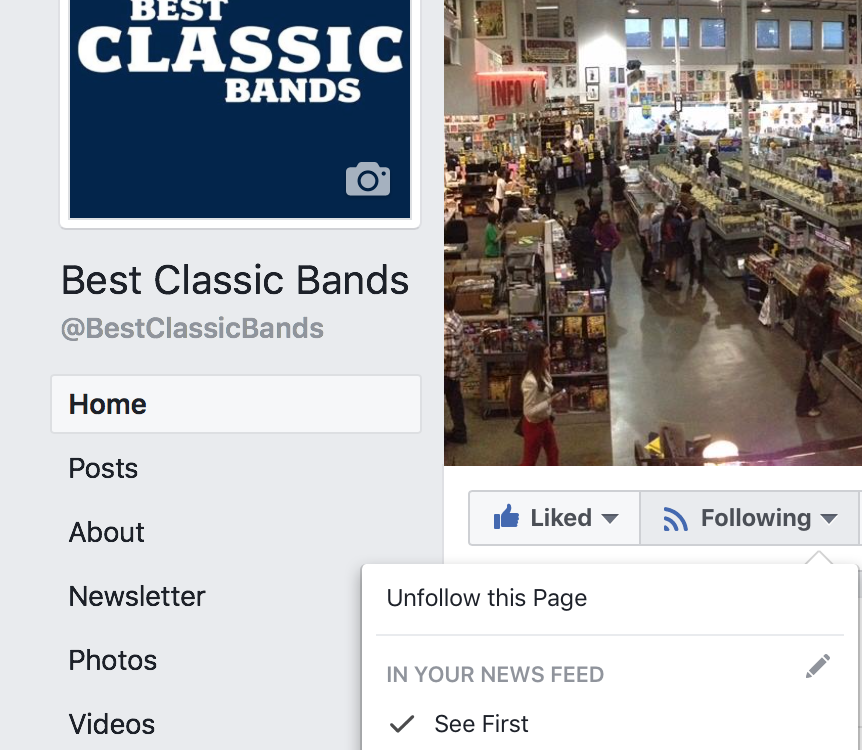 If you're a new Best Classic Bands reader, we'd be grateful if you would Like our Facebook page and/or bookmark our Home page.
To ensure you see our posts on your Facebook feed, go to our Facebook page, click Like and then on the "Following" tab, click "See First" (as shown).

Latest posts by Steven Mirkin
(see all)