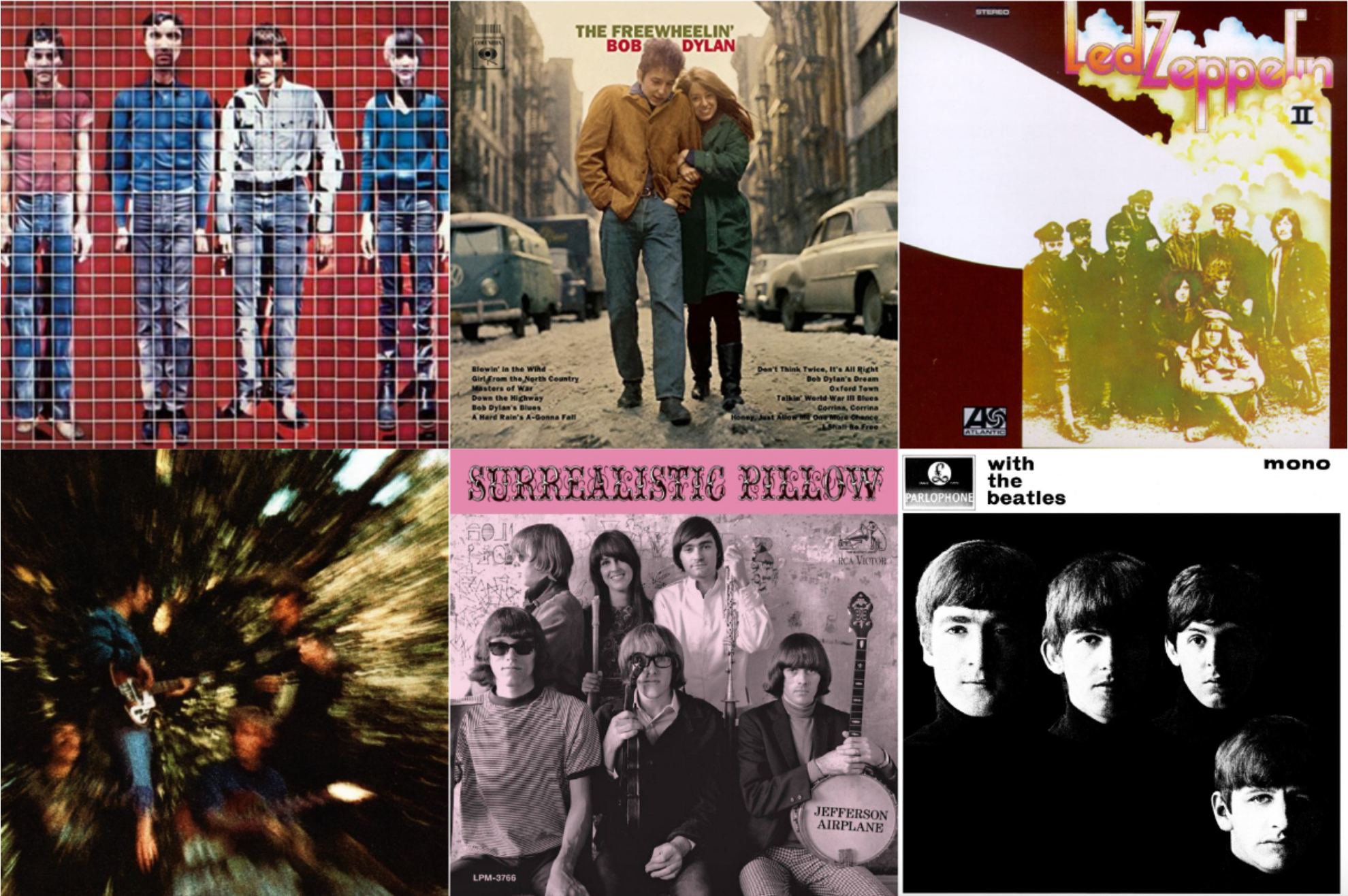 The sophomore jinx really exists. And not because of some music industry superstition; rather, it's based in simple creative physics: You have a lifetime to make your first album, and a year to make your second.
That bands have heard that line so often doesn't make it any less true. Used record stores across this great nation of ours are filled with stacks of marked-down copies of Boston's Don't Look Back, The Strokes' Room On Fire, and second efforts by countless other acts whose meteoric rise was followed by as nearly a meteoric fall.
While many who delivered a lackluster second album recovered to release strong third albums and go on to long, successful careers, it's a pretty good bet that a band who improves upon their first album with their second is going to be one to watch for the long haul.
Then again, bands able to pull off that creative exacta are as rare as acts of humility from Kanye West. But here are 10 bands who, like pot roast or love, improved the second time around.
10) Bayou Country by Creedence Clearwater Revival
The first of three classic albums Creedence released in 1969, Bayou Country was where John Fogerty got a handle on the Creedence sound. All the elements were in place on their 1968 self-titled debut: Fogerty's considerable, if ersatz, southern howl; the lean, tightly wound rhythm section; and Fogerty's lead guitar, which spans the bridge between Scotty Moore and Tom Verlaine. But Bayou Country is where his songwriting first makes an impression. It's hard to top any album that features "Proud Mary" and "Born On The Bayou," the start of a string of eight Top 10 singles.
9) Surrealistic Pillow by Jefferson Airplane
The elements that defined the Airplane were already in place on their 1966 debut: Jefferson Airplane Takes Off: Marty Balin's ardent tenor, Jorma Kaukonen's tart, modal guitars and Jack Casady's thickly cabled bass lines, plus the male/female harmonies (although Signe Toly Anderson took the distaff side). But there's little of the fire that came to characterize the band. Takes Off is folk rock that very much favors the folk; it's less a take off than a taxiing for position. For probably the only time in their career, Jefferson Airplane is positively polite. From a band who came to specialize in to-the-barricades proselytizing, their version of Dino Valenti's "Let's Get Together" is anemic, a shrug, a request, the word "please" unspoken but present.
Surrealistic Pillow is where the band really does take off. And while Grace Slick – a force of nature carrying the band's first two Top 10 hits in her pocket, "Somebody To Love" and "White Rabbit" – earns a great deal of the credit, the rest of the band, anchored by new drummer Spencer Dryden, matches her erotically charged swagger. The songs displayed a newfound edge as well. Balin's "3/5 of a Mile in 10 Seconds" and "Plastic Fantastic Lover" haven't reached the escape velocity of the live versions heard on Bless it's Pointed Little Head, but the tension of the band trying to break free of the studio is palpable and exciting.
8) Anthem of the Sun by The Grateful Dead
Though a psychedelic band, the Grateful Dead's first album – in both its sped-up twitchiness and thin, brittle sound – sounds like it was recorded under the influence of amphetamines, not acid. It's the Dead as a garage/dance band: the swirly Farfisa organ, trebly guitar and sense of woozy exhilaration on "The Golden Road (To Unlimited Devotion)" would have made it a prized rarity that would fit right into Nuggets or the Pebbles compilations. The whole album is something of a curio; despite the occasional hint of what was to come ("Cream Puff War," "Viola Lee Blues"), there's not much here to set the Dead apart from the hundreds of other garage bands who put out records in 1967.
Anthem sounds more like the Dead that people came to either love and loathe: expansive, discursive, more concerned with the journey than the destination. It certainly qualifies as one of the strangest albums ever released by a major label. In the "freaks take over a recording studio" genre, its only competition is The Mothers of Invention's Freak Out! After driving producer Dave Hassinger over the wall (the final straw, according to Phil Lesh, was Bob Weir wanting to create the sound of "thick air"), the band took over the recording, and set to experimenting. The result is, if not the best psychedelic album, the most psychedelic album, filled with wild guitars, treated pianos, electronic treatments, feedback, and kazoos. The first strange step on what was to be a long, strange trip.
7) This Year's Model by Elvis Costello
There's not much to find fault with on 1977's debut My Aim Is True: It's an album filled with great songs… but for all the bile and spittle running through Costello's lyrics and delivery, it's kinda soft. In its jaunty rootsiness, Aim is closer to the last gasp of pub rock than the modern rock. (It's been reported that Costello re-recorded the album with The Attractions, but the tracks have never surfaced.)
Less than a year later, and the tempos are increased (the album is played at such a breakneck pace you can almost get an amphetamine contact high), the arrangements are pared down, and Steve Nieve's roller rink electric organ is driving the music. On This Year's Model, Costello found his creative and spiritual equals in The Attractions, the perfect band for him. The songs are equally sharp – romance and fame filtered through a fierce, bloody-minded intelligence; ? and the Mysterians meets Mickey Spillane.
6) More Songs About Buildings and Food by Talking Heads
By the time they entered the studio, Talking Heads had more than two dozen songs in reserve, honed over the three years the band was a regular act at CBGB. Their first two albums, 77 and More Songs About Buildings and Food, both draw from that stockpile, but to vastly different effect.
On 77 that meant skeletal art rock: spidery guitars and a wound-up rhythm section. It gives a good idea of how the early Heads sounded live; an aural version of the minimalist and conceptual art seen in the galleries of SoHo. More schematic diagrams than fleshed out songs, the lyrics (and Byrne's stained yawp) hinted at something darker. The airy, spacious production (by Tony Bongiovi) showcases the band's affinity for both Lou Reed's knowing grit and Willie Mitchell's elegantly soulful productions for Al Green. A wonderful record, but it was hard to see where it could go from here.
More Songs About Buildings and Food is where it went. Their second album tosses minimalism out the window. The songs are stuffed to the gills: female choruses, handclaps, gobs of keyboards, layered guitars, and Brian Eno (who came on as producer but ended up as an unofficial fifth member) treating everything and adding loops and effects. The result is a prime example of late '70s urban boho funk: Jittery, hyper-vigilant, just art-damaged enough, but danceable all the same.
5) The Freewheelin' Bob Dylan by Bob Dylan
Bob Dylan is now almost reflexively included when the topic of "best songwriters" comes up in conversation, but that was not the case when his debut arrived in 1962. Signed and produced by legendary A&R man John Hammond, the album presents him as just another Greenwich Village coffeehouse folkie, featuring only two original songs – "Talkin' New York" and "Song To Woody" – among the blues and traditional tunes. It's a fascinating if unfocused document with Dylan playing musical trickster, trotting out a different vocal style for each song. Too ragged to be commercial and too idiosyncratic for the traditionalists, it sank without a trace, selling only 6,000 copies. Dylan become known at Columbia as "Hammond's Folly."
Freewheelin' takes nearly the opposite tack. With Tom Wilson replacing Hammond as producer, and with a song atop the charts (thanks to Peter, Paul, and Mary's cover of "Blowin' in the Wind"), the album is a showcase for Dylan the songwriter, and filled with more classic songs than most musicians can hope for in a lifetime. Prophetic songs ("Blowin'," "A Hard Rain's A-Gonna Fall"), protest songs ("Masters of War," "Talkin' World War III Blues") love songs sweet ("Girl From The North Country") and bitter ("Don't Think Twice, It's Alright"); by turns pensive, funny, angry, forlorn, and gnomic, Freewheelin' announced the arrival of Bob Dylan as a major figure in American music.
4) Nevermind by Nirvana
There's very little on 1989's Bleach that would lead anyone to believe that Nirvana would be the definitive band of the early '90s. Sure, there were a couple of good songs (the Beatle-esque "About A Girl" being the standout), and Cobain had a charismatically barbed voice, but it wasn't enough to distinguish them from other bands coming out of Seattle. The record's biggest flaw is Jack Endino's sludgy, all wet-fart drums and midrange guitar. Famously recorded for $606.17, and you can hear every cent, but not a penny more.
Nevermind is a completely different animal. With Dave Grohl on the drums, Butch Vig producing, and a real recording budget, the sound is slicker and more concentrated; Cobain's guitars are as serrated as his howl, and Grohl's snare has real punch. Driven by the raucous "Smells Like Teen Spirit," it sold tens of millions of copies. But Nevermind's greatest accomplishment might be its guitar sound, which made the distortion box roar of the Sex Pistols acceptable to mainstream rock fans. For this, if for no other reason, it earns the silver in the Second Album Derby.
3) Axis: Bold as Love by the Jimi Hendrix Experience
Are You Experienced was, by any measure, one of the greatest debut albums of all time. It not only established its star as the most innovative rock guitarist, well, ever, but spawned entire genres. Hendrix was a true rock god, but for all of the flash and technical wizardry, he proved a poet both with his words and his instrument. You could—and still can—bore down deep into the songs that comprised that introductory masterpiece and continue to find new beauty in it. But let us make a case for the followup, because Axis: Bold as Love signaled a maturation, a leap forward, that cannot be denied. The Jimi Hendrix Experience, at first, had something of a novelty quality to it—the behind-the-head playing and all that—but in just those several months in 1967 between albums one and two, Hendrix, bassist Noel Redding and drummer Mitch Mitchell had solidified into a unit capable of stretching far beyond where it had begun conceptually. Tracks like "Castles Made of Sand," "If 6 Was 9" and, especially, "Little Wing," established Hendrix as a true song craftsman. Sure, the pyrotechnic guitar playing is still omnipresent, but at the core of this album was a collection of brilliantly constructed, melodic, meaningful songs that would have been just as effective if Hendrix had played them all by himself on an acoustic guitar.
2) Led Zeppelin II by Led Zeppelin
Three words: "Whole Lotta Love." Of course, that wasn't the only great song on this 1969 classic, but as the opening track on this followup to a debut that was in itself a landmark, the five-and-a-half-minute juggernaut served notice that this quartet was anything but just another British blues band. It came on like a sudden lightning strike and chugged along with enough power to fire up a small city, then veered off into a mid-section of pure psychedelia that probably sold more headphones (and hash pipes) than anything this side of Sgt. Pepper. Add to that such Zeppelin blockbusters as "What Is and What Should Never Be," "Ramble On" and, of course, the mighty "Moby Dick," and you had in your hands a blueprint for all of the best hard rock of the coming decade.
1) With The Beatles by The Beatles
Is there any argument that the Beatles improved album to album – and we define their catalog here by the British releases, how their music is now available in the U.S. – avoiding not only the sophomore slump, but the junior, senior and postgraduate ones as well? But the leap from 1963's Please Please Me to With The Beatles in '64 was more than a band maturing; it's a sound of a categorical change. Please Please Me is a club band recreating the energy and range of its live show, and amid the covers of Brill Building pop ("Chains" and "Boys") and soul both southern (Arthur Alexander's "Anna") and northern (an explosive version of the Isleys' "Twist and Shout") were two early Lennon/McCartney classics, "I Saw Her Standing There" and the title track. With The Beatles features more than half the songs written by the band, including the hit "All My Loving" and Harrison's first credit, "Don't Bother Me." It introduces the then-radical, but now-accepted idea that a rock band can be self-contained and write, arrange, and perform their own material. For this reason alone, it's the top second album. The following video isn't from the album, but we think you probably already know why it was pretty special…
If you're a new Best Classic Bands reader, we'd be grateful if you would Like our Facebook page and/or bookmark our Home page.

Latest posts by Steven Mirkin
(see all)