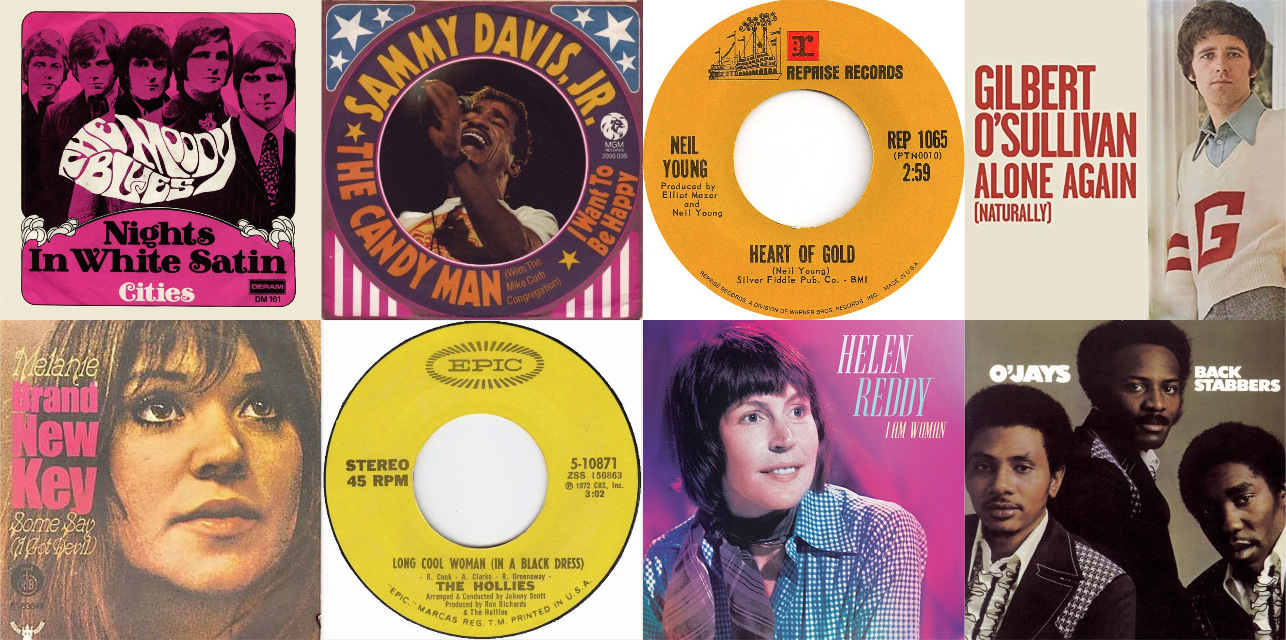 The world was a different place in 1972. Hewlett Packard introduced the first hand-held calculator for a mere $395. The value in 2021 dollars? $2681! In February, the last U.S. draft lottery was held (though none were called to serve in the military). The Godfather opened in theaters. (The film is every guy's favorite movie; a proven scientific fact.)
On June 17, five are arrested for burglarizing the Democratic National Committee offices in a building complex called Watergate. Bobby Fischer defeated Boris Spassky to become the first American world chess champion. The TV series M*A*S*H had its debut. (When it ended its run in 1983, the series finale attracted a record 125 million viewers.)
While researching the year's biggest Top 40 hits of 1972, we were struck by how the chart was a blend of pop, soul, and rock, without any novelty hits. Many of these great songs from New York's 77WABC's year-end list have stood the test of time.
The Raspberries were one of the bands that invented power pop and "Go All the Way," with its soaring chorus, was their biggest hit (and #40 for the year). Lead singer Eric Carmen went on to have a successful solo career.
British pop group the Hollies enjoyed an astounding 18 Top 10 singles at home. (They weren't quite as successful in the U.S., where they had six.) They were perhaps best known for the 1966 hit "Bus Stop" (and for their co-founder Graham Nash). In 1972, the Hollies had their biggest hit in the States with "Long Cool Woman in a Black Dress," which reached #2. (Ironically, U.K. audiences were lukewarm to the song as it peaked at just #32 at home.)
Related: "Long Cool Woman"… Admit it, you don't know the lyrics
Singer Helen Reddy earned three #1 hits within a two-year period, the first of which was an anthem for female empowerment, "I Am Woman," #37 for the year on WABC.
Chicago earned an incredible 21 Top 10 singles including 1972's "Saturday in the Park," #33 for the year. The song is played frequently at many MLB ballparks on a particular day of the week.
Soul singer Joe Tex had a run of hits throughout the '60s. His biggest single was "I Gotcha" (#32 for the year).
We don't normally think of Neil Young as a singles artist during his lengthy solo career but in the early '70s he had quite a few, none bigger than "Heart of Gold," a #1 hit from Harvest and #30 for the year.
Related: Check out the top-selling albums of 1972
Philadelphia soul group Harold Melvin & the Blue Notes ruled the R&B charts in the '70s with ten Top 10 singles. "If You Don't Know Me By Now," with a great vocal by lead singer Teddy Pendergrass, was a #1 R&B smash (#3 pop) and #29 in 1972 on WABC.
Another great group from Philadelphia International Records, The O'Jays, earned seven Top 20 pop singles. #27 for the year is "Back Stabbers."
When Melanie Safka performed at the Woodstock Festival in 1969, she was just 22-years-old. A few years later, when she proposed that a girl with roller skates, a boy with a key required to attach said skates to her shoes "get together and try them out, to see," was it something more? We called "Brand New Key" one of the surprising radio hits of the 1970s. It was a #1 hit and #26 for the year.
Amazing but true: Sonny Geraci had a big hit with the Outsiders in 1966 with "Time Won't Let Me." Six years later, his lead vocal on "Precious and Few" for Climax reached #3. Geraci died in 2017 at just 69.
The so-called "Fifth Beatle," Billy Preston, had two #1 smash hits and narrowly missed a third when 1972's "Outa-Space" peaked at #2 (and #18 for the year).
We constantly sing the praises of Three Dog Night, a pop band that enjoyed three #1 singles and 21 Billboard Top 40 hits between 1969 and 1975. One of these was "Black and White," the year's #16th biggest on WABC.
Related: Our feature on Three Dog Night… Under the covers
It's a song you've heard dozens of times, yet you may not know the group's generic name. We're talking about "Nice to Be With You" by Gallery, at #14 for the year.
When the Moody Blues' "Nights in White Satin" was originally released in 1967, it was ignored. After the group had some subsequent success with other singles, the song was re-released and this time reached #2 nationally (and #12 for the year on WABC).
New Jersey's Looking Glass were essentially one-hit wonders; their "Brandy" was a big #1 during summer 1972.
Related: Our feature story on "Brandy"
What a debut! America enjoyed six Top 10 singles in their career. "A Horse With No Name" went all the way to the top and was the #8 song of the year.
At #7, Roberta Flack's "The First Time Ever I Saw Your Face" was recorded in 1969, but it wasn't until it was prominently featured in a Clint Eastwood movie that the single took off.
Al Green earned six #1 R&B hits and seven Top 10 pop singles. His signature song, "Let's Stay Together," topped both charts and was at #6.
Harry Nilsson's smash hit "Without You" reached #1 in March. Though known as a prominent singer-songwriter–he penned Three Dog Night's "One," for instance–this was actually a cover of a Badfinger song. Nilsson kicks things into gear right around the 1:05 mark…
At #4: Bill Withers' beautiful "Lean on Me," which received renewed attention when the singer passed in 2020.
Who would've thought that one of the many signature songs of the great Sammy Davis Jr. would be a song from Willy Wonka & the Chocolate Factory? The triple-threat (sing-act-dance) star had an unlikely #1 with "The Candy Man," WABC's #3 song of the year.
At #2: Don McLean's opus "American Pie" is the longest song to reach #1 on the Hot 100, which it did for three weeks at the beginning of the year.
And at #1? Gilbert O'Sullivan's "Alone Again (Naturally)." The Irish performer had two other Top 10 U.S. singles, "Clair" and "Get Down," both overshadowed (naturally) by this one.
Related: The #1 singles of 1972
40. "Go All the Way" – The Raspberries
39. "Down By the Lazy River" – The Osmonds
38. "Long Call Woman" – The Hollies
37. "I Am Woman" – Helen Reddy
36. "Papa Was a Rolling Stone" – The Temptations
35. "Puppy Love" – Donny Osmond
34. "Hurting Each Other" – The Carpenters
33. "Saturday in the Park" – Chicago
32. "I Gotcha" – Joe Tex
31. "Betcha By Golly, Wow" – Stylistics
30. "Heart of Gold" – Neil Young
29. "If You Don't Know Me By Now" – Harold Melvin and the Blue Notes
28. "Too Late to Turn Back Now" – Cornelius Brothers and Sister Rose
27. "Back Stabbers" – The O'Jays
26. "Brand New Key" – Melanie
25. "I'll Be Around" – The Spinners
24. "Everybody Plays the Fool" – The Main Ingredient
23. "Ben" – Michael Jackson
22. "Precious and Few" – Climax
21. "Baby Don't Get Hooked on Me" – Mac Davis
20. "If Loving You is Wrong" – Luther Ingram
19. "The Lion Sleeps Tonight" – Robert John
18. "Outa-Space" – Billy Preston
17. "Daddy Don't You Walk So Fast" – Wayne Newton
16. "Black and White" – Three Dog Night
15. "Oh Girl" – The Chi-Lites
14. "Nice to Be With You" – Gallery
13. "I Can See Clearly Now" – Johnny Nash
12. "Nights in White Satin" – The Moody Blues
11. "Rockin' Robin" – Michael Jackson
10. "I'll Take You There" – Staple Singers
9. "Brandy" – Looking Glass
8. "A Horse With No Name" – America
7. "The First Time Ever I Saw Your Face" – Roberta Flack
6. "Let's Stay Together" – Al Green
5. "Without You" – Harry Nilsson
4. "Lean on Me" – Bill Withers
3. "Candy Man" – Sammy Davis, Jr.
2. "American Pie" – Don McLean
1. "Alone Again (Naturally)" – Gilbert O'Sullivan
Chart courtesy of MusicRadio77.com

Latest posts by Best Classic Bands Staff
(see all)