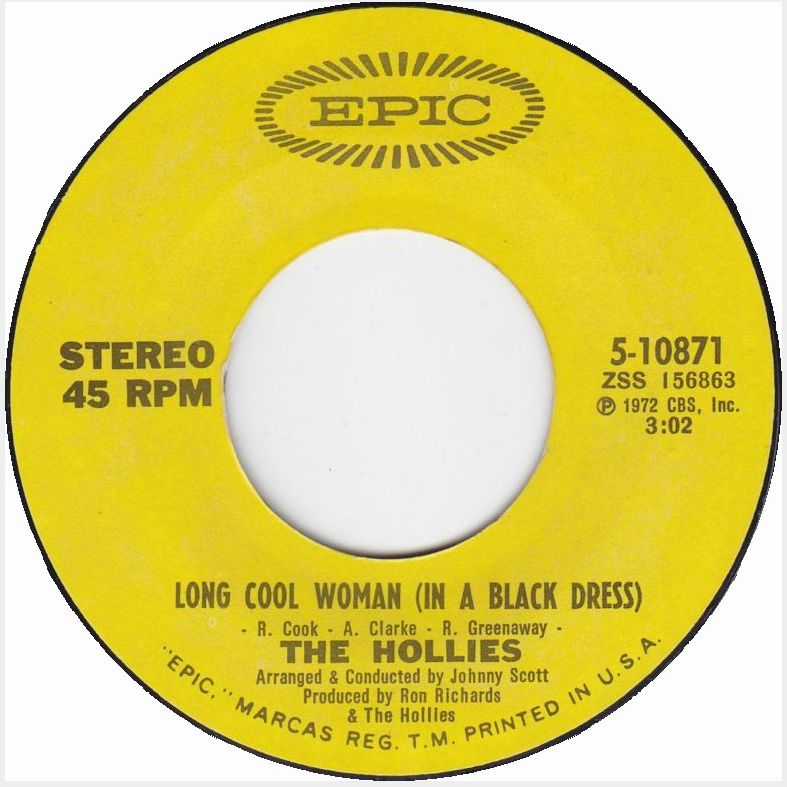 It's a classic rock song you've likely heard hundreds of times. Whenever The Hollies' "Long Cool Woman (In a Black Dress)" comes on the radio, you perk up because Allan Clarke's instantly recognizable guitar lick introduces a welcome listen. And for the first 25 seconds or so, as you begin to tap your foot, the band kicks in, and you start to sing along with Clarke's lead vocals…
Saturday night I was downtown… so far so good…
Working for the FBI… hmmm… a lot of you didn't know the last word
Sitting in a nest of bad men… what?!?
Whiskey bottles piling high… okay, knew that part…
Bootlegging boozer on the west side… you're kidding, right?
Full of people who are doing wrong… confidence coming back
Just about to call up the D.A. man… (see comment regarding "Bootlegging" verse, above)
When I heard this woman singing a song… kinda sorta knew that part
A pair of forty fives made me open my eyes… what?!?
My temperature started to rise… confidence coming back…
It's time for…
She was a long cool woman in a black dress… nailed it
Just a 5'9″ beautiful 'n' tall… uh, oh…
Just one look I was a bad mess… oops…
'Cause that long cool woman had it all… sorta knew that.
Listen to it again (for the first time)
(Here are the rest of the lyrics, including something about a tall walking big black cat. You knew that part, too.)
The song represented a comeback of sorts for the British Invasion band when it was released in the U.S. on April 17, 1972. After a string of hits in the mid-'60s, they had hit a cold spell until 1969's "He Ain't Heavy, He's My Brother" reached #7. But several follow-ups failed to gain any traction.
"Long Cool Woman" delivered a much-needed hit, reaching #2 on the Hot 100 (and #1 in Record World, on September 9, 1972, where it sold a reported 1.5 million copies. (It failed to click in the U.K., though, peaking there at just #32.)
Related: Another 1972 classic, this one from the Rolling Stones, that you likely don't know the lyrics
The song represents the Hollies' highest charting hit in America, ahead of such favorites as "Bus Stop" (#5), "Stop Stop Stop" (#7), and "Carrie Anne" (#9).
In 2019, we asked Clarke if he had a favorite among all of the Hollies' big hits. "The thing that I love most is 'Long Cool Woman,'" he said. "I don't know how it happened, really, but I was writing with Roger Cook at that particular time; we had written a quite a few songs. This particular song we wrote very quickly. He said, 'I suppose that will get on the album, won't it?' I played the song for the boys and they said, 'Well, that's great. That'll go on the album. So let do it now. You play the guitars and we'll just put bass and drums on it.' Now, our recording manager wasn't there, so the engineer, who was a young guy, helped with the sound. But it was one of those things that instantly happened. I think we did the backing in two takes. I did the singing in one or two takes, and then afterwards [guitarist] Tony [Hicks] said, 'I'll put another guitar on top of yours, and then we'll mix it.' Then the engineer said, 'A slap echo will sound great on this.' It was one of those songs that we just thought of things and then did it."
Watch the Hollies perform the hit on The Midnight Special (You still won't be able to understand the lyrics…)
Related: Clarke talked to us about many of the Hollies' biggest hits

Latest posts by Best Classic Bands Staff
(see all)