Quincy Jones' 'Back on the Block': A Movie for the Ears
by Mark Leviton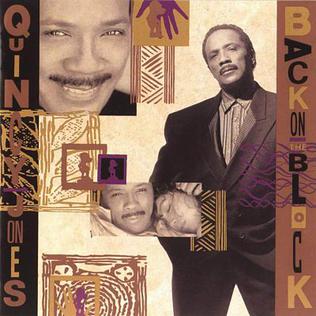 When the 33rd Grammy Awards ceremony was held on February 20, 1991, Quincy Jones reached yet another peak in a life filled with them. He'd already received 54 Grammy nominations from the Recording Academy, going back to 1961, when he was recognized for his Mercury Records jazz album The Great Wide World of Quincy Jones. He'd won many times, for his instrumental arrangements for Count Basie, George Benson and Lena Horne, his own albums (including Walking In Space, Smackwater Jack and The Dude), and as producer of Michael Jackson's Thriller. In addition, he'd won awards for his composing work on The Wiz movie, the E.T.: The Extra-Terrestrial audiobook, and received Record of the Year for the "We Are the World" charity single.
Still, the honors and attention showered on his album Back on the Block that year were something else, recognizing one of the most unusual and kaleidoscopic albums ever produced: Album of the Year, Producer of the Year, two Best Arrangement nods, Best Jazz Fusion Performance—and even Best Rap Performance by a Duo or Group. The album had already topped the Billboard R&B/Hip-Hop and Contemporary Jazz charts, and made it to #9 on the pop listing, and been a hit everywhere from New Zealand to Norway, but the awards helped it keep selling past platinum certification.
Jones, working closely with the eclectic English producer-songwriter Rod Temperton, called upon literally a hundred singers and instrumentalists to realize his vision of "an album that incorporated the whole family of American Black music, from gospel to jazz, everything that's part of my culture." It included the last recordings of jazz icons Ella Fitzgerald and Sarah Vaughan, alongside rappers Melle Mel, Ice-T and Big Daddy Kane. Miles Davis, Dizzy Gillespie, Herbie Hancock and Joe Zawinul make appearances, as do Luther Vandross, Al Jarreau and Jennifer Holiday. Back on the Block was recorded over a two-year period in various L.A.-area studios, with bits added from sessions in San Rafael, Calif., and Nashville, and was released on November 21, 1989 on the Qwest label, in a snazzy sleeve inspired by Kente cloth designs.
Three tracks issued as singles became international hits: "I'll Be Good to You," with vocals from Ray Charles and Chaka Khan, "The Secret Garden (Sweet Seduction Suite)," featuring Barry White, Al B. Sure!, James Ingram and El DeBarge, and the 12-year-old phenom Tevin Campbell's feature "Tomorrow (A Better You, Better Me)." Jones had an expansive view of music history, asserting in the documentary Listen Up, "Rap's been around forever, even in the days of the Ink Spots and the Mills Brothers. Rap has always touched me as being a very powerful form of narrative."
Every track on Back on the Block flows into the next, and features a collage of sounds and genres, divided into chapters with their own intros or preludes. Jones and Temperton function as directors, cinematographers, set designers and costumers for this movie-for-the-ears. After a short prologue, a swirling, cinematic overture over which Jones raps with Big Daddy Kane, the title track takes off. A gospel chorus arranged by Andraé Crouch, an African chant, Ice-T's assertive rap, synthesizers from Zawinul and Toto's Steve Porcaro, and Bill Summer's percussion are woven together, widescreen.
Ian Prince's quite competent Michael Jackson-like lead on "I Don't Go for That" is put in the shade by the sustained party atmosphere of "I'll Be Good to You," with Ray Charles' absolutely astounding update of his classic sound, and Chaka Khan matching him step for step. The slamming backdrop of this propulsive dance track is made up of a gazillion true and synthesized drums (Harvey Mason, Michael Boddicker, et al.), various samples, co-composers the Brothers Johnson on guitar (George) and Moog bass (Louis), and backing vocals from Syreeta Wright and James Ingram. It absolutely rocks for its full five minutes.
Related: Behind the scenes on Ray Charles' classic "What'd I Say"
"We B. Doinit (Acapella Party by the Human Bean Band)," written by Ian Prince, Garrett and Jones, brings together generations of singers for a bopping celebration, Bobby McFerrin, Take 6 and Al Jarreau rubbing shoulders with Fitzgerald and Vaughan. It runs into "The Places You Find Love." Written by Glen Ballard and Clif Magness, with African lyrics and authoritative lead vocal by South African Caiphus Semenya, it features a large, powerful chorus conducted by Jones and Crouch, and one of the most complicated keyboard and percussion arrangements ever committed to tape. The sound, impressively engineered and mixed on the whole album by Bruce Swedien and his assistants, gives definition to each nuance.
Kool Moe Dee and Big Daddy Kane introduce the next feature, a slinky version of Joe Zawinul's "Birdland," via a rap called "Jazz Corner of the Word," over a rhythm arrangement from Jones and Summers. A tribute to the New York City jazz club of that name, the instrumental "Birdland" was introduced on Weather Report's 1977 album Heavy Weather, and had been performed since 1979 by Manhattan Transfer, with lyrics by Jon Hendricks (they scored a Grammy for it). Saxophonist James Moody, guitarist Benson, the always-recognizable trumpets of Gillespie and Davis [muted], Bill Reichenbach Jr. on trombone, all arranged by Jerry Hey and Jones, make for a delightfully peppy outing, aural candy swirling around in a modern swing soup.
A sample of the composer's synthesizer is also in there, and Nathan East's funky bass is stellar.
"Setembro (Brazilian Wedding Song)," co-written by Brazilian legend Ivan Lins, gets a boost from keyboardist Greg Phillinganes, working with Jones on the rhythm, and stupendous wordless backing vocals from Take 6, Vaughan and Mervyn Warren. Solos by Gerald Albright on alto sax, guitarist Benson at his most sensual, and the ever-creative snaking bass of Nathan East are among the highlights of this smooth, sexy track.
"One Man Woman" has some resemblance to Benson's 1981 smash "Turn Your Love Around." Sheila E. supplies timbales, George Duke's on soaring keyboard, and the co-writer Garrett is lead vocalist on a tune that, however expertly tracked, sounds much more calculated and conventional than what surrounds it.
"Tomorrow (A Better You, Better Me)" started life as an instrumental on a Brothers Johnson LP, and is here augmented with Garrett's lyrics. A showcase for Campbell, supported by a chorus of equally youthful voices, it manages to be commercial and arty at the same time. Phillinganes is on Fender Rhodes and Albright contributes soulful sax solos at several points.
"The Secret Garden" and its prelude conclude the album with a nearly eight-minute suite. It shows Temperton's strengths as a songwriter (he's credited along with Jones, Garrett and DeBarge) and vocal arranger. For those who remember Temperton's "Always And Forever" with his group Heatwave, "The Secret Garden" is no surprise in its seductive power, but still, every vocalist, including Garrett, Al B. Sure! and especially Barry White, bring their A-game.
The expanded version of Back on the Block, widely available now digitally. contains no less than 40 tracks, including impressive remixes and dub versions, a nine-minute workout on the album's final track dubbed "The Erotic Garden (After Hours Version)," a "Sax In The Garden" take with Kirk Whalum guesting, and other goodies.
Quincy Jones turned 90 on March 14, 2023, and celebrated that milestone at the Hollywood Bowl for two nights in July, with Samara Joy, John Legend, Aloe Blacc, Jacob Collier and other young 'uns showing that Jones' influence continues in yet another generation. And Stevie Wonder sang him "Happy Birthday" too.
"I was blessed to have been born at a time when I could work with the greatest artists to ever walk the planet," he told Variety just before the shows, "and to have accomplished all that I have in every arena, and I wouldn't trade one note of that journey."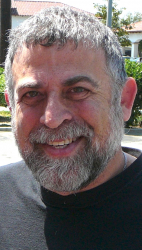 Latest posts by Mark Leviton
(see all)