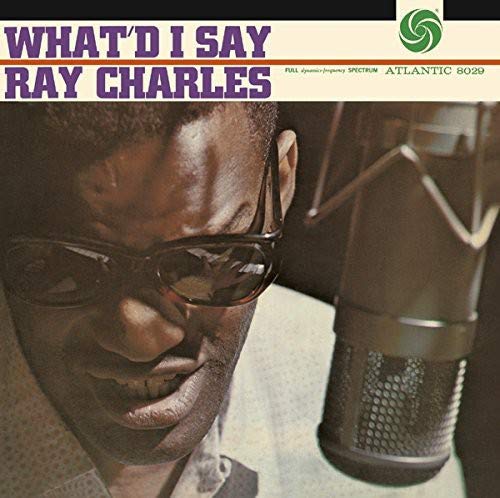 Ray Charles never set out to write "What'd I Say," his signature hit. He'd simply run out of songs one night, so he did what any jazz-trained musician would do: he made one up on the spot.
It happened in December 1958, when Charles, the 28-year-old pianist, songwriter and bandleader who'd already logged a string of rhythm and blues hits—including three #1s—was finishing up a concert in Pennsylvania.
The audience demanded an encore but Charles had already performed every song that he'd rehearsed with his orchestra and backup singers.
A consummate, road-tested professional with more than a decade of experience behind him, Charles sat down at his Wurlitzer electric piano and improvised a blues-based boogie-woogie riff. The audience seemed to dig it, the band picked it up easily, so Charles sang the first thing that came to his mind:
"Hey mama, don't you treat me wrong
Come and love me all night long
Oh oh, hey hey
All right now"
After a few verses, he needed a chorus, so that too, he invented out of thin air:
"Tell me what'd I say
Tell me what'd I say right now
Tell me what'd I say
Tell me what'd I say
Tell me what'd I say
Tell me what'd I say"
Perhaps it wasn't the most creative set of lyrics, and the melody and rhythm were rather basic, but that's exactly what appealed to the audience that night. Prior to the encore, Charles had given his backup singers, the Raelettes, one simple instruction: "I'm going to fool around and y'all just follow me." They knew, instinctively, what to do and had fallen easily into the groove, echoing his words on the chorus in a call-and-response style.
The audience picked up on that too, singing along to the chorus of this new song that would come to be called "What'd I Say."
Charles knew that this new impromptu composition had hit potential. He called his producer at Atlantic Records, Jerry Wexler, and told him he wanted to record it. On Feb. 18, 1959, Charles and his crew, along with Wexler and engineer Tom Dowd, entered Atlantic's studio and cut the track—all seven minutes of it. Considered way too long for a 45 RPM single, Atlantic decided, rather than trim it, they'd release the song in two parts, each taking up one side of the single.
It was a smart move. Released in the summer of 1959, "What'd I Say" proved the ticket that Ray Charles needed to cross over to the pop charts in a big way. The single rocketed to #1 on the Billboard R&B chart, but it also landed at #6 on the Hot 100, his first top 10 in that world, introducing Charles to a whole new category of record buyer: white teens.
Watch Ray Charles perform "What'd I Say" live in Brazil in 1963
Ray Charles' profile rose so markedly with the hit that he left Atlantic Records for the more pop-oriented ABC-Paramount Records, where he turned out three #1 singles—"Georgia on My Mind," "Hit the Road Jack" and the country ballad "I Can't Stop Loving You,"—within the next three years. (It took nearly six decades, but in August 2021, Charles was finally inducted into the Country Music Hall of Fame.)
Related: Which first-generation rockers are still with us?
"What'd I Say," meanwhile, took on a life of its own as the '60s unfolded. Elvis Presley and Jerry Lee Lewis were among the American singers who covered it, and nearly every garage combo and dance band in America was forced to learn it due to audience demand. Its popularity even crossed the Atlantic, where young groups called the Beatles and the Rolling Stones were among those who were infatuated with the song—the Beatles even recorded it, fronted by singer Tony Sheridan.
Listen to Tony Sheridan and the Beatles' recording of "What'd I Say"
Ray Charles, who passed away June 10, 2004, at age 73, continued to include "What'd I Say"  in his own shows—usually as his final song of the evening—for the rest of his life. In 2002, the Library of Congress added the single—which some music historians contend was the first true soul song—to the U.S. National Recording Registry.
All because its author was stuck for a song one cold night decades earlier.
Listen to Ray Charles' original two-part single of "What'd I Say"
And…Elvis did it too
Ray Charles Robinson was born Sept. 23, 1930, in Albany, Ga.

Latest posts by Best Classic Bands Staff
(see all)