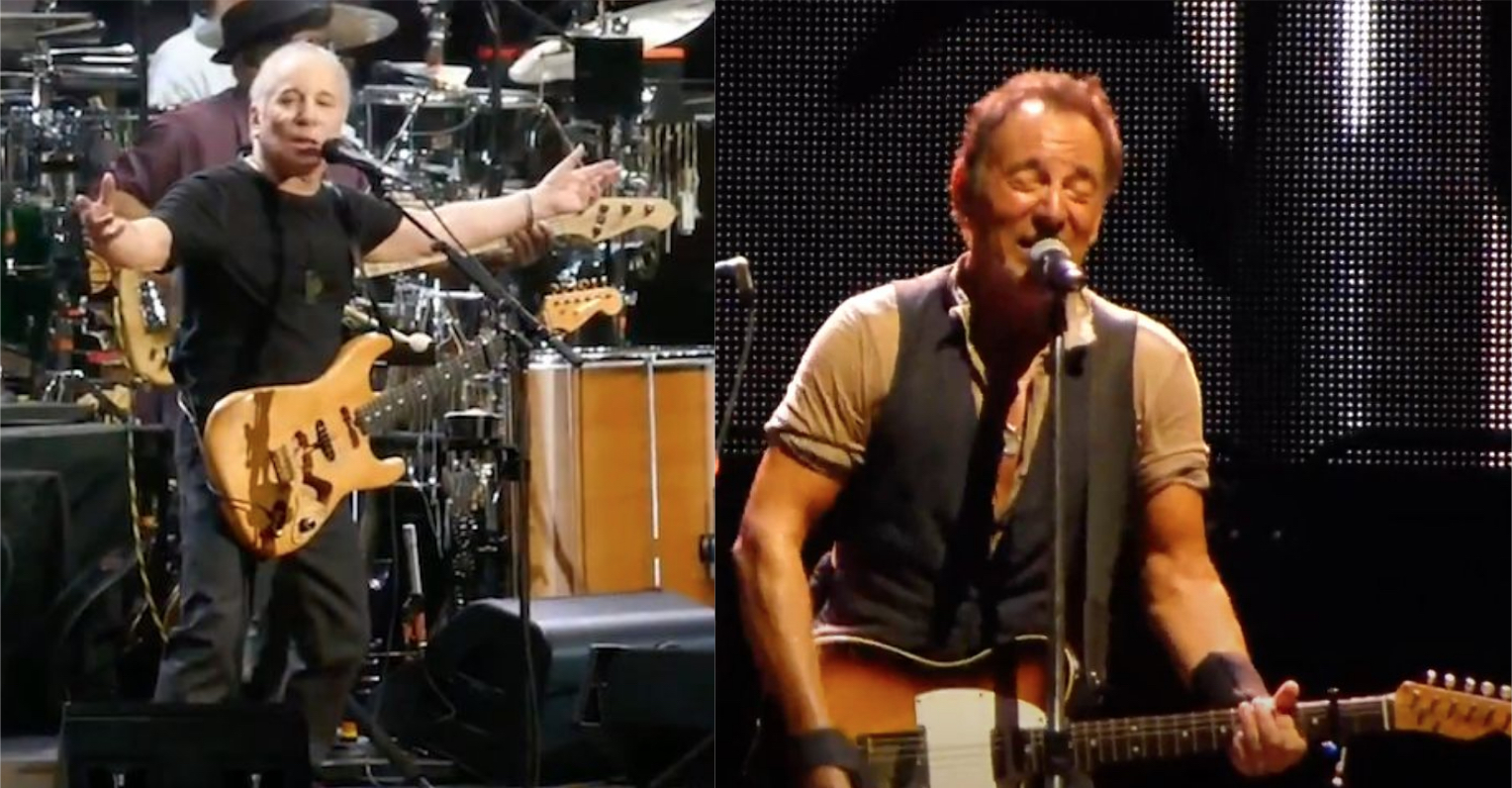 Mayor Bill de Blasio announced on July 27, 2021, the full lineup for the outdoor "Mega-Concert" to be held in New York City's Central Park on August 21 at 5 p.m. The star-studded event is the culmination of what is being called NYC Homecoming Week.
As expected, Bruce Springsteen, Paul Simon, and Jennifer Hudson are the concert's biggest names. They'll be joined by such stars as Carlos Santana, Andrea Bocelli, Elvis Costello, Journey, Barry Manilow, Earth, Wind & Fire, LL Cool J, and more.
The concert is scheduled to begin at 5 p.m. Attendees will be allowed on the Great Lawn beginning at 3 p.m. but will need a ticket and proof of a Covid-19 vaccination. 80% of the tickets will be free with a two-ticket limit for the general seating section. There will also be Gold and VIP sections standing section and a seated Platinum section. Citi cardmembers can purchase VIP tickets here. Free tickets were released in batches beginning Aug. 2 at 10 a.m. local time here. They were immediately snapped up.
Related: Our review of the concert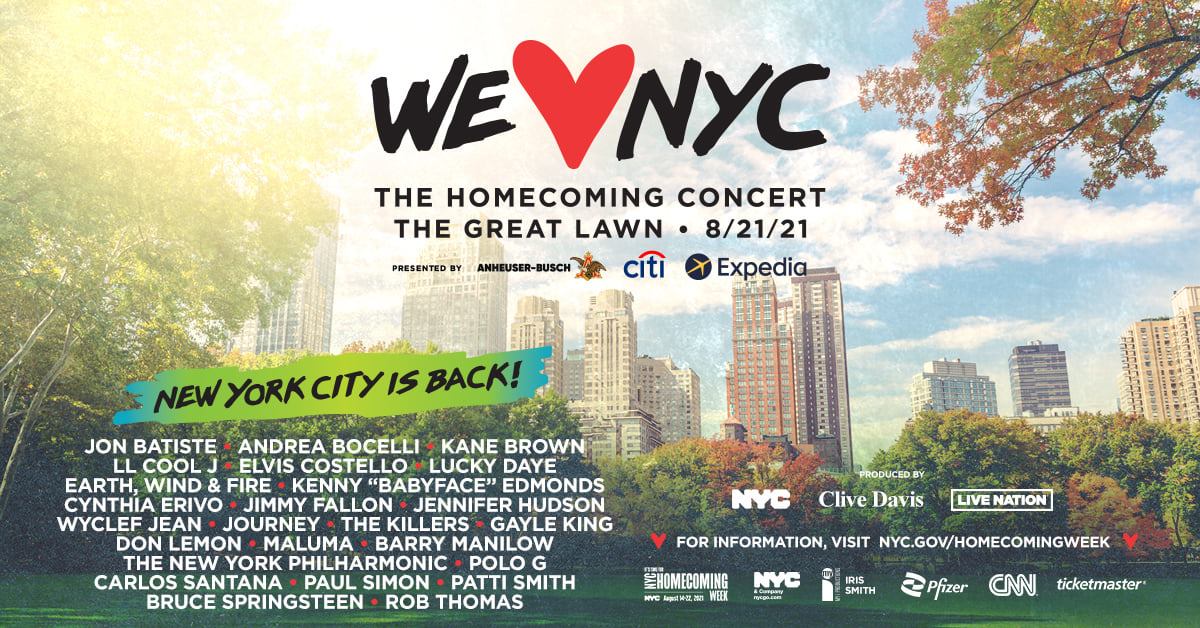 On June 7, the first reports of an outdoor "Mega-Concert" were revealed for Central Park. Each of the city's five boroughs will host a concert and on July 29, the lineups were revealed. (See below.)
The series will be capped off with a concert on Saturday, August 21 on the Great Lawn in Central Park. Music mogul Clive Davis was charged with securing the talent for that date and he has filled it with many artists that he's been associated with over his own legendary career. While at the helm of Columbia Records, Springsteen, Simon and Santana recorded for the label. He also shepherded the career of Manilow, while running Arista Records.
On July 1, Mayor de Blasio confirmed that Hudson had also signed on. "Three amazing artists have stepped forward and said they want to be part of the comeback of New York City," said the Mayor. "They want to help us do this and we are really appreciative of all three."
"This is going to be one of the greatest Central Park concerts in history," said de Blasio in the July 27 announcement. "This is something for the ages."
HAPPENING NOW: @CliveDavis joins @NYCMayor to announce a star-studded roster of talent for the #HomecomingWeek Concert at the Great Lawn in @CentralParkNYC! https://t.co/YB7hPj2AoC pic.twitter.com/58LSiwogjm

— City of New York (@nycgov) July 27, 2021
Roger Friedman of Showbiz 411 was first to report that Santana and Rob Thomas will re-create their 1999 smash, "Smooth," at the concert. Neal Schon of Journey said on a July 22 radio interview that his band will be performing "two or three songs" there as well.
"Then we jump on a helicopter and go out to Jones Beach to play that night," he said. Schon was referring to another event that is being held that same evening to commemorate the upcoming 20th anniversary of 9/11. (That concert, at the Northwell Health at Jones Beach Theater, on New York's Long Island, also features John Fogerty, the Steve Miller Band, and Ann Wilson, among others.)
The Mega-Concert will air on CNN worldwide.
The series will begin on August 16 with a concert at Orchard Beach in the Bronx from 3 – 9:30 p.m., headlined by KRS One, Slick Rick, and Remy Ma. It continues the next evening, Aug. 17, from 4 – p:30 p.m. at Richmond County Bank Park on Staten Island with Raekwon and Ghostface Killah headlining.
Brooklyn Army Terminal will host a concert on August 19, from 4 – 9:30 p.m., featuring Big Daddy Kane and C&C Music Factory, among others. The series continues the next day, August 20, from 4 – 9:30 p.m. at Forest Hills Stadium in Queens with headliners George Clinton + the P-Funk All-Stars with special guests.
Free tickets for all four concerts were released to the public in batches here, starting on August 2 at 10 a.m. ET. Additional free ticket release dates and times: Aug. 3 at 7 a.m., Aug. 4 at 9 p.m., Aug. 5 at 7 a.m., Aug. 6 at 10 a.m., and Aug. 7 at 9 p.m.
News of the August 21 Central Park concert was first reported in an article published June 7 in the New York Times.
The bash is being coordinated via the office of the city's Mayor, who called upon the 89-year-old Davis to book the performers. NYC Homecoming Week will run from August 14-22.
With the dangers of the Covid-19 pandemic now dissipating steadily, "This concert is going to be a once in a lifetime opportunity," de Blasio told the newspaper. "It's going to be an amazing lineup. The whole week is going to be like nothing you've ever seen before in New York City."
Springsteen has kick-started the summer with his "Springsteen on Broadway" performances, which returned on June 26. (August 21, the day of the "Mega-Concert," is a scheduled day off for his new run.) He'll perform "Because the Night" with Patti Smith. Davis signed Smith to Arista Records in 1975.
Simon famously reunited with Art Garfunkel in Central Park 40 years ago.
Related: A 1982 anti-nukes concert in Central Park starred Linda Ronstadt, Bruce Springsteen and others
The Times article quoted Davis as saying, "I can't think of a better place than the Great Lawn of Central Park to be the place where you say that New York is reopening."
New York City hopes to demonstrate that things are getting back to normal and lure visitors back. Like most American cities, New York has taken a massive financial–and emotional–hit since the start of the pandemic, with lockdowns causing the city's streets to be virtually devoid of tourists and even local residents. The event is being called "The Official NYC Homecoming Concert in Central Park."
Said the Times article, "Live Nation, the global concert giant, is involved with the production, and the majority of tickets will be free, although there will be some V.I.P. seating."
Davis has had a storied career, serving as president of the Columbia and Arista record labels. He is also known for his annual post-Grammy parties, which attract dozens of major stars.
Concerts have been held in Central Park since its opening in the 1800s, with some, including Elton John, Carole King, Diana Ross, Stevie Wonder and Simon and Garfunkel's 1981 reunion show, attracting hundreds of thousands of attendees.
The Times article concludes with a quote from Davis: "There's a mental attitude that I think we are all looking forward to. That the future is bright and healthy for this country, for the world and for New York City."
Watch Simon and Garfunkel perform "The Sound of Silence" at their 1981 Central Park show

Latest posts by Best Classic Bands Staff
(see all)