NYC Homecoming Concert—We Made it Through the Rain
by Greg Brodsky
"If you're just joining us," said CNN anchor Anderson Cooper sometime at around 9 p.m., "things have gone completely off the rails." Well, not exactly. The 2021 "We ♥ NYC: The Homecoming Concert," that took place on Aug. 21 on the Great Lawn in Central Park couldn't have started more smoothly. There was a threat of rain—and word of the impending tropical storm (and maybe hurricane) Henri was certainly on the minds of the organizers, led by New York City Mayor Bill de Blasio. The skies were overcast all afternoon and at 4:58 p.m., literally just two minutes before the event's 5 p.m. kickoff, the sun broke through and the crowd estimated at 60,000 was ready for the star-studded event.
Attendees whom Best Classic Bands spoke with all mentioned headliner Bruce Springsteen as the artist they were most excited to see perform. Lindsay T had flown in from Texas just for him. The 37-year-old transplant from New Jersey had never before seen The Boss on stage and had bought a plane ticket before she even had a ticket to the concert. (Her father bought it for her last week via a re-seller.)
Eighty percent of the tickets were distributed free via Live Nation with a two-ticket limit for the general seating section. There were also Gold and VIP sections, a standing section and a seated Platinum section. The free ones were distributed in batches for a week beginning August 2. CNN aired the concert live worldwide.
At 4 p.m., one hour before showtime, the Great Lawn was surprisingly still empty. Chrissie S, a 30-year-old attendee was one of those lucky enough to get through on the first day of Live Nation's free distribution. Her biggest problem on this day was finding a bike rack on Manhattan's Upper West Side to return her Citi bike that she had ridden from her apartment. It was her first visit to the Great Lawn and she was eager to see The Killers.
Shortly after 5 p.m., and with the park now well-filled, the New York Philharmonic started things off with a beautiful set, capped with a medley that included such wondrous songs as "Rhapsody in Blue," "New York State of Mind" and "(Theme From) New York, New York." They were joined by the operatic tenor Andrea Bocelli for several numbers including "You'll Never Walk Alone" for which he earned a rousing ovation from the crowd.
"We crossed a terrible storm this year," he said, using an ironic choice of words to refer to the pandemic. "We're here to say: 'Stop. It's over.'"
Soon, record mogul Clive Davis, who secured the participation of most of the evening's big stars, was on stage to address the audience. "New York City doesn't just have a place in my heart. It is my heart," he said as he introduced one of the many acts whose career he helped guide, Santana.
The group's lively three-song set was bookended by a pair of #1 hits from 1999. It began with Wyclef Jean and Prodigy on "Maria Maria" and closed with two songs sung by Rob Thomas, the just-released, "Move," and their 1999 3x Grammy Award-winning smash, "Smooth."
Journey breezed through two of their classics, "Any Way You Want It" and "Don't Stop Believin'." (They were double-booked this day with a second performance planned at the "Never Forget" concert on Long Island to benefit the Tunnel to Towers Foundation.)
Watch Santana perform "Maria Maria" and "Smooth"
Watch Journey (and the audience) perform "Don't Stop Believin'"
Davis had noted that he wanted every genre of music represented and LL Cool J led a set with hip-hop legends that included "Mama Said Knock You Out" and "It's Tricky," where he was joined by Run-D.M.C.'s Rev Run. The park audience danced and swayed to the rhythm.
Soon, Earth, Wind & Fire gave a two-song set including a great performance of "September." At 7 p.m., de Blasio took the stage. There were far more boos than cheers for the outgoing Mayor, who had organized the concert which was the culmination of his planned NYC Homecoming Week.
Not long after, at around 7:20 p.m., a few raindrops were felt. Barry Manilow took the stage to hearty applause, opening with "Copacabana." He moved to the piano, to play his first hit, 1974's #1 "Mandy." The rain was now coming down lightly but steadily. As the 78-year-old legend stood up to sing "Can't Smile Without You," his mic cut out in what appeared to be a rare production slip-up. All of a sudden, a voice came over the loudspeakers. "Please head to your nearest exit quickly and calmly, due to the impending storm."
Watch as it all unfolded
A message appeared on the giant screens on either side of the stage warned of "approaching severe weather." The orderly crowd, though dumbfounded, quickly realized what was happening and departed. It turned out to be a good call.
By 8 p.m., there was a downpour which had escalated well past 10 p.m. though the organizers kept the stars in their trailers in the hope that they'd be able to resume.
CNN's Cooper did great live interviews with Manilow and Elvis Costello, and the network even got an impromptu acoustic performance of "Mr. Brightside" from the Killers.
Shortly after 10:30 p.m., the storm, unabated, caused the remainder of the program to be canceled. Among those unable to perform were Costello, the Killers, Paul Simon, Patti Smith and Springsteen.
Related: Our earlier coverage of how the "Mega-Concert" came together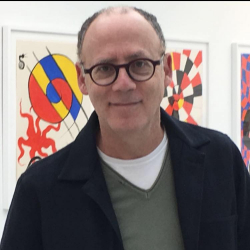 Latest posts by Greg Brodsky
(see all)