Merle Haggard & Willie Nelson's 'Pancho & Lefty': Masters at Work
by Mark Leviton
Located just west of Austin, Tex., the Pedernales Country Club, complete with 9-hole golf course, was purchased in 1979 by country music legend Willie Nelson. (It was just the first of Nelson's real estate purchases in the town of Spicewood; he's now been living there on a 300-acre estate for 40 years.) With the help of the celebrated Tennessee producer-songwriter Chips Moman, a recording studio was constructed on the old country club property, dubbed Pedernales Studio. The first albums produced there were Nelson's Tougher Than Leather and his collaboration with Merle Haggard, Pancho & Lefty, both released in 1983.
Moman, who'd played guitar, produced, engineered and written songs for some of the greatest artists around in Memphis and Nashville (Elvis Presley, Carla Thomas, the Box Tops, Wilson Pickett, Waylon Jennings, Aretha Franklin), supervised and co-engineered the Haggard/Nelson Texas sessions, and did some additional recording at his own studio in Nashville. Haggard, Nelson and Moman were all listed as producers. The large lineup of musicians involved was the cream of Texas and Tennessee players, including Bobby Emmons' keyboards, Johnny Gimble on fiddle/mandolin, guitarists Reggie Young and Grady Martin, harmonica virtuoso Mickey Raphael, bassist Mike Leech and drummer Gene Chrisman. They'd all known each other for eons, and when it came to arranging instrumental parts they just about read each other's minds. The album was designed to look backward and forward at the same time, with many old, neglected songs getting new life in a decidedly '80s audio style.
Related: Our Album Rewind of Nelson's Red Headed Stranger
The Townes Van Zandt song that gave the duo's album its name was originally recorded by its author in 1972 (spelled "Poncho" instead of "Pancho"). It was an afterthought to the Pedernales sessions, when Nelson worried they didn't have a real "blockbuster" hit in the can. His daughter Lana suggested the tune; neither artist had ever heard it. After Lana brought in her vinyl copy of The Late Great Townes Van Zandt, Nelson ran through it with the assembled musicians in the middle of the night, and reportedly had to wake up Haggard, who'd gone to sleep in his tour bus, to finish it.
Released as a single, "Pancho & Lefty" went to #1 on the Billboard country chart, and the LP went to the top of the album chart. The two country stars liked each other, sharing an offbeat sense of humor and a deep appreciation for country and folk music history; combining Nelson's reedy tenor and Haggard's resonant baritone was a no-brainer in commercial and artistic terms. The title track's evocative story of outlaws and Federales, with enough narrative mystery to fuel decades of speculation, is given a glossy country production that doesn't shy away from pop elements, especially in the intro section, which might have been grafted from a contemporary Bee Gees record.
Nelson had already proven his pop bona fides with the multi-platinum Stardust album in 1978, and "Pancho & Lefty" is his show, with Haggard only getting a single verse over three minutes in. An amusing promotional video, featuring the principal artists and the reclusive Van Zandt himself, helped the song become a crossover hit, at a time when Nelson was probably the most popular country artist for people who didn't particularly follow country music.
The singing cowboy Smiley Burnette's "It's My Lazy Day" was first recorded for Starday Records in 1945. The Haggard/Nelson version is utterly charming, beautifully relaxed, with both vocalists in top form. Is there a ukulele mixed in with mandolin and acoustic guitar? The "retro" sound, including Chrisman hitting the snare rim, is skillfully interwoven with more modern-sounding electric guitar and organ parts. Don Markham adds some understated saxophone too.
"My Mary," with Haggard in the lead, is another homage to the past, this time 1932. Stuart Hamblen composed it with Jimmie Davis (who also co-wrote "You Are My Sunshine" and managed to serve as Governor of Louisiana for two non-consecutive terms). It was often played by Western Swing groups when they wanted a slower tune to give dancehall patrons a breather, just the sort of thing that Haggard always had a soft spot for when he recorded. Gimble is great on the fiddle, but it'd be nice to know who to credit for the fine electric guitar solo (Reggie Young probably), and is that Bobby Emmons or Bobby Wood on the wonderful Floyd Cramer-esque piano?
The 30-year-old Willie Nelson had issued "Half a Man" on the Liberty label in 1962, during the period when his early success as a songwriter for others was not helping him much as a recording artist himself. On this terrific remake, Nelson ditches the overbearing string section and cheesy vocal chorus, and takes a lovely acoustic guitar solo midway, handing off to (it sounds like) Grady Martin to complete. He also allows Haggard to sing the opening verse: "If I'd only had one arm to hold you/Better yet if I had none at all/Then I wouldn't have two arms that ache for you/I'd have one less memory to recall." It's a perfect, touching recording that may be the best mesh of Haggard and Nelson on the LP, along with the next track, which ends the album's first side.
Haggard's "Reasons to Quit" was the first single released from Pancho & Lefty, and it went Top 10 Country. No stranger to overindulgence himself, perhaps Haggard was also thinking of other artists he admired, like George Jones, when he wrote the lyrics about "the price tag that we pay" when booze, drugs and smokes get to be a problem. "Reasons to quit/I can't afford the habit all the time/I need to be sober/I need to write some new songs that will rhyme/Reasons to quit/They have no rhyme or reason when you're high/And the reasons to quit/Don't outnumber all the reasons why," no doubt resonates with Nelson too. They sing this downbeat, mid-tempo number beautifully, actually harmonizing together this time. The instrumental work is once again beyond reproach.
In a truly clever move, the album's second side begins with Dean Holloway's song "No Reason to Quit," which Haggard had tracked before in 1970: "There's a circle of people where I'm no longer welcome/And I'm ashamed to say that I no longer fit/I could sober up tomorrow and face my friends again/But I've got no reason to quit." The prominent steel guitar of the 1970 intro is gone, replaced by several guitars and mandolin, plus Haggard sings it even better, with a deeper voice and more commitment. Maybe his life experience in the last decade helped him connect to the words. Nelson contributes a nice guitar solo again, and joins the backing vocals, but Haggard's the star.
Recording in Texas, it's no surprise the duo record two songs written by fiddler Jesse Ashlock, a man who spent time with seminal Western Swing orchestras in the 1920s and 1930s, Milton Brown and His Musical Brownies and Bob Wills' Texas Playboys. "Still Water Runs the Deepest" is taken at a slow two-step, Tex-Mex-influenced tempo. The harmonizing guitars at one minute in, a quick mandolin solo, and a two-at-once guitar solo fill it out with nostalgic country soul. Nelson handles the sardonic lyric, not unlike the kind of thing he writes himself: "Still water runs the deepest/Like a love complete and true/So peaceful and dependable/I can't say the same about you."
The Ashlock ballad "My Life's Been a Pleasure" features Wills-type double-fiddles and both vocalists bringing their best, playing off each other in waves. It's like they're winking affectionately at each other each time they take a verse. At the very end, a characteristic Bob Wills whoop can faintly be heard during the fade.
The sweet "All the Soft Places to Fall" was written by Haggard's wife at the time, Leona Williams. With a nod to "El Paso" in the flamenco-feel acoustic guitar intro and interludes, the track once again includes subtle pop touches—a seductive, shiny surface that Moman's an expert at—and more great back-and-forth from the singers. For the umpteenth time on the album, Mike Leech shows how he crafts simple bass lines that nonetheless are important for anchoring the whole arrangement.
The set ends with "Opportunity to Cry," first cut by Nelson in 1964, and later by his running buddy Johnny Bush, composer of Nelson's signature song "Whiskey River," who he'd met when they were both in Ray Price's band in the early '60s. "Just watched the sunrise on the other side of town/Once more I've waited/And once more you've let me down/This would be a perfect time for me to die" are just some of the vitriolic, but quite funny, words in the narrator's kiss-off of the faithless lover he'd like to "kill on sight." The arrangement goes all out, with a screaming saxophone solo, and a majestic combination of keyboards and guitars. Like "Half a Man," it's a full re-think of the old recording, with its strings, chorus vocals and tinkling piano jettisoned. It's the kind of recording that makes you want to flip the record back to Side A and listen again.
The cover artwork, a joint effort of several designers based on an original photo of Haggard and Nelson by Bobby Wood, conveys the special combo of Western nostalgia and confident "we've got something fun to share with you" marketing vibe. A few years later a sequel, Seashores of Old Mexico, didn't re-capture the magic of Pancho & Lefty, although it did include a sadly overlooked rendition of "If I Could Only Fly" by Van Zandt's great friend Blaze Foley. Haggard had many more successes and honors before his death on April 6, 2016, his 79th birthday; Moman passed away eight weeks after Hag. Willie Nelson is, at this writing, showing no signs of retirement at the age of 90.
Watch Merle and Willie sing the title track in concert
Bonus Video: Watch the duo sing Haggard's signature hit, "Okie From Muskogee"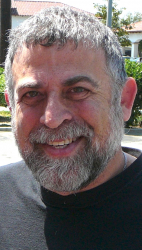 Latest posts by Mark Leviton
(see all)