Linda Ronstadt's 'Hasten Down The Wind': Right Songs, Right Singer
by Mark Leviton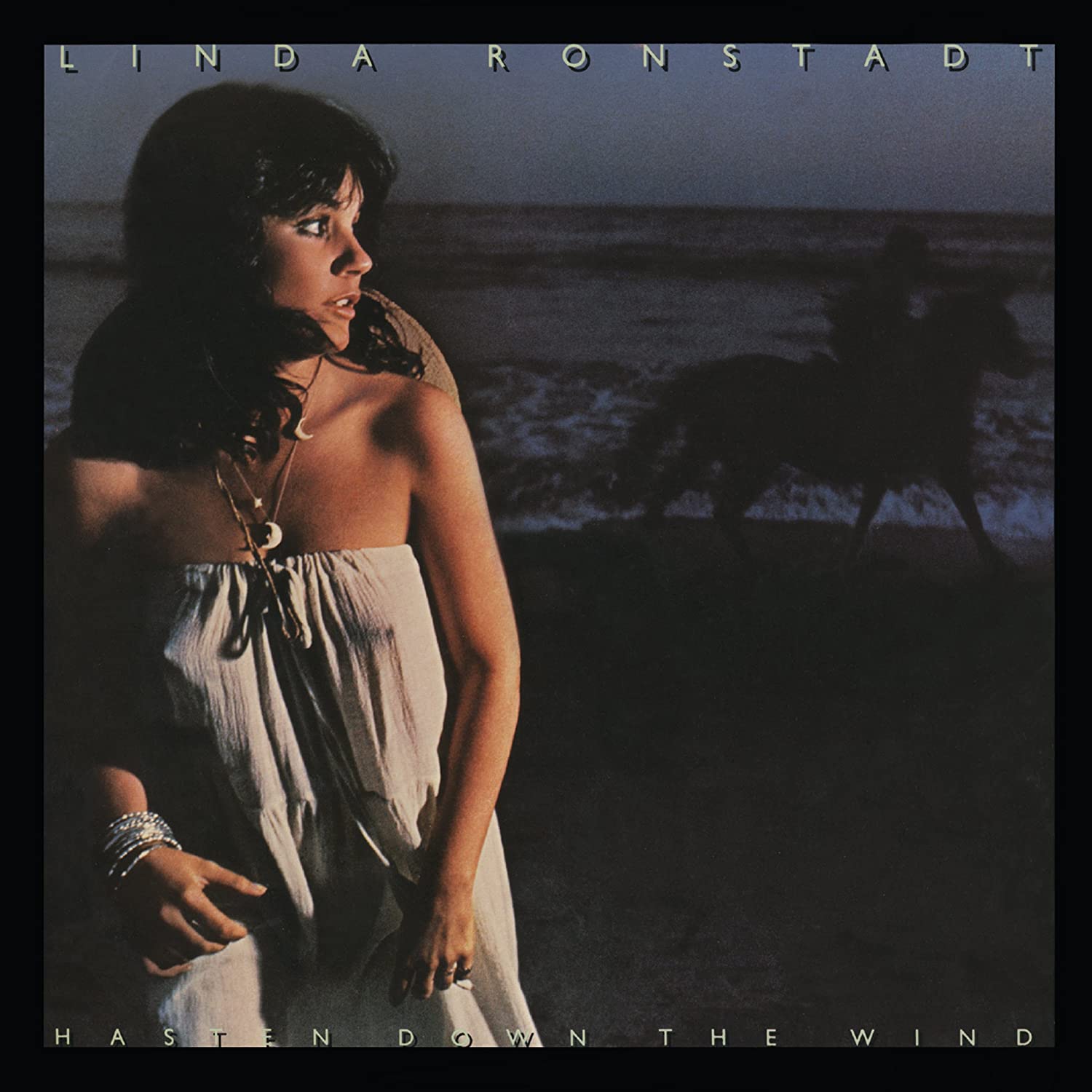 When Linda Ronstadt entered the Sound Factory recording studio in March 1976 to record her seventh solo album, her music career was at a creative and commercial peak. Ronstadt's previous two albums, Heart Like a Wheel and Prisoner in Disguise, had sold over a million copies each, and her live performances were now booked in stadiums and arenas instead of the small clubs where she'd started. She recorded for David Geffen's red-hot label Asylum (home of Jackson Browne, Tom Waits, Eagles and Joni Mitchell). Her well-connected producer/manager Peter Asher (who'd been a pop star himself in the '60s as half of the Peter and Gordon duo) could call on the best session players in L.A. to back her up. Over a dozen backup singers, three guitarists (Andrew Gold, Dan Dugmore and Waddy Wachtel), two drummers (Russ Kunkel and Mike Botts) and Ronstadt's long-time collaborator Kenny Edwards on bass contributed.
You'd think Ronstadt had nothing left to prove, but she did. For her entire singing career, she'd struggled to keep the focus on her voice and interpretive talent rather than her good looks and sex appeal. For years, it seemed that every article written about her had to mention she liked to go braless, and speculate about whatever celebrity she was currently rumored to be dating. Pressured by her original label Capitol to play up her earthy sexiness, she appeared barefoot in skimpy clothes on the cover of her Silk Purse album, and the art direction of her next three albums all pursued an identical template—show this woman's beautiful face as large as possible on the front cover.
She was portrayed as the quintessential "emotional female," swept away while she sang yearning love songs like "Love Has No Pride," "When Will I Be Loved," "Long Long Time" and "You're No Good." Too little attention was paid to her technical abilities and craft: her breath control made those swoops up and down the octaves possible, and her diction and pitch were perfect. Those hours spent listening to her father's collection of Ella Fitzgerald and Frank Sinatra LPs paid off no matter what musical genre she was performing in. "My musical background has always been completely random," she told Sounds' Barbara Charone in 1976. "That's one of the things that drew me to Southern California as a central sphere, a synthesis of everything."
Asher has suggested she had to become a chameleon to survive the inherent sexism of the music business, telling Charone, "She's more perceptive and rational than people give her credit for. Occasionally she'll adopt a mannerism of being scatterbrained that can create the impression that she's vaguely dim, which is so far from the truth, because she's brilliant."
Like Joan Baez and Judy Collins before her, Ronstadt didn't focus on writing songs herself, instead developing a remarkable radar for often obscure material by little-known or underappreciated composers that suited her. For the sessions that became Hasten Down the Wind she turned to Warren Zevon, Tracy Nelson, John and Johanna Hall, and especially Karla Bonoff, recording three of her tunes, including the opener "Lose Again" and closer "Someone to Lay Down Beside Me."
"Lose Again" begins the LP with an immediate emotional peak. It's riveting from the opening lines: "Save me/Free me/From my heart this time." The arrangement is detailed, with subtle dynamic changes, and recording engineer Val Garay captures a remarkable separation of instruments that's also warm and inviting. Ronstadt's voice is situated perfectly in the mix. A promotional film for the song made at the time shows the perfect balance between the collaborators, and the sharp focus they maintained.
"The Tattler" is a Washington Phillips blues-gospel song from 1929 that was rediscovered and reworked by Ry Cooder on his 1974 Paradise and Lunch album. Ronstadt pretty much follows Cooder's arrangement, and doesn't so much improve on his version as realign it for her less spiky personality. Bonoff's "If He's Ever Near" follows, with an effectively low-key opening as Ronstadt whisper-sings the lyrics over Andrew Gold's sustained organ note. He's also playing an ARP synthesizer to mimic a string section on the track. Bonoff herself and singer-songwriter Wendy Waldman are the supporting multi-tracked chorus.
The rowdy "That'll Be The Day" breaks the mood. Ronstadt's version of the Buddy Holly hit was the album's first single, and rose to #11 on the Billboard chart. Recording "oldies" was a consistent commercial tactic for Ronstadt, with Martha and the Vandellas' "Heat Wave," the Everly Brothers' "When Will I Be Loved," the Miracles' "Tracks of My Tears" and Betty Everett's "You're No Good" all becoming big hits again in her hands before she turned to Holly's 1959 barnburner.
And here is a live version of the same Buddy Holly classic, from Germany in 1976
"Lo Siento Mi Vida," a rare Ronstadt co-write with Kenny Edwards and her dad Gilbert, is the first recorded evidence of her love of Mexican-American ranchera and mariachi music. (In 1987 she fought her label to issue Canciones de Mi Padre, which became the best-selling non-English-language album in American record history.)
The album's title track concludes side one. Zevon's original version was in the can but as yet unreleased by Asylum at the time of Ronstadt's recording. Don Henley handles a harmony vocal part, and the string arrangement is by David Campbell (Beck's dad). The lyrics are unusual, and Ronstadt infuses them with a tremendous sense of longing: "She's so many women/He can't find the one who was his friend/So he's hanging on to half a heart/He can't have the restless part."
Side two of the LP begins with a short a cappella rendition of "Rivers of Babylon," the reggae tune based on a biblical passage. It leads into John and Johanna Hall's "Give One Heart." The song had been the B-side of a single by John's Asylum band Orleans. Waddy Wachtel provides the reggae guitar and part of a dual guitar solo with Dugmore's steel guitar.
"Try Me Again," mostly written by Ronstadt with an assist from Andrew Gold, begins with a classic R&B opening line ("I drove past your house last night") and perhaps nods a bit melodically in the direction of James Brown's 1959 slow-burning hit "Try Me." This is yet another confident Ronstadt vocal: listen to what she does with her voice when she gets to "Friends I saw/They just brought me down." There's a natural drama and power in her phrasing that few singers can access.
Willie Nelson's "Crazy," one of Patsy Cline's biggest hits, from 1961, is sung perfectly, and is one of the reasons Hasten Down the Wind got to #1 on the Billboard country album chart. The track was released as the B-side to "Someone to Lay Down Beside Me," and AM country stations played both sides.
The album's finest overall track is probably "Down So Low," a searing love song written by Tracy Nelson in 1968 and recorded with her group Mother Earth on their Living With the Animals LP. "Down So Low" draws female singers like bees to honey—it's been recorded by Etta James, Maria Muldaur, Cyndi Lauper and many others, but Ronstadt's is the first and best non-Nelson version. Ronstadt doesn't push the lyrics or unduly overemphasize. She knows how to inhabit the melody and make the lyrics real: "The pain you left behind/Has become part of me/And it's burned out a hole/Where my love used to be/But it's not losing you/That's got me down so low/I just can't find another man/To take your place." Dugmore's guitar, Gold's piano, and the massed chorus (including Clydie King and Jim Gilstrap) bring it all to the church of heartbreak.
Bonoff's "Someone to Lay Down Beside Me" has been bluntly described by Ronstadt as "about a prostitute." The melody is full of dramatic moments, and with emphatic piano chords in this arrangement, it sounds more than a little like what Carole King produced on her Tapestry album. This is another example of how an arrangement can absolutely center Ronstadt's voice inside a spacious cushion, as she passionately sings, "That may be what I need/Someone to lay down beside me/And even though it's not real/Just someone to lay down beside me/You're the story of my life."
On purely musical terms, the album's hard to argue against, although some critics at the time thought it too commercial, too slickly produced, and scattered with too many genre shifts. The public loved it upon release in August 1976 as Hasten Down the Wind became third platinum album in a row for Linda Ronstadt, and earned her the second of her eventual 13 Grammy awards. The LP cover, designed by John Kosh, featured a photo by Ethan Russell of Ronstadt on the beach near her Malibu home, wearing a very thin off-the-shoulder dress, quite obviously braless once more. A poster of the cover became a pin-up in many adolescent bedrooms. When it came to packaging and marketing the product known as "Linda Ronstadt," it seems not much had changed.
Watch Ronstadt perform "Lose Again" live in Germany in 1976
Related: Our conversation with Ronstadt's longtime LP cover designer, Kosh, about this album and others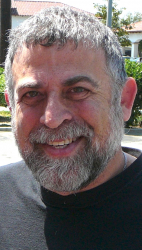 Latest posts by Mark Leviton
(see all)