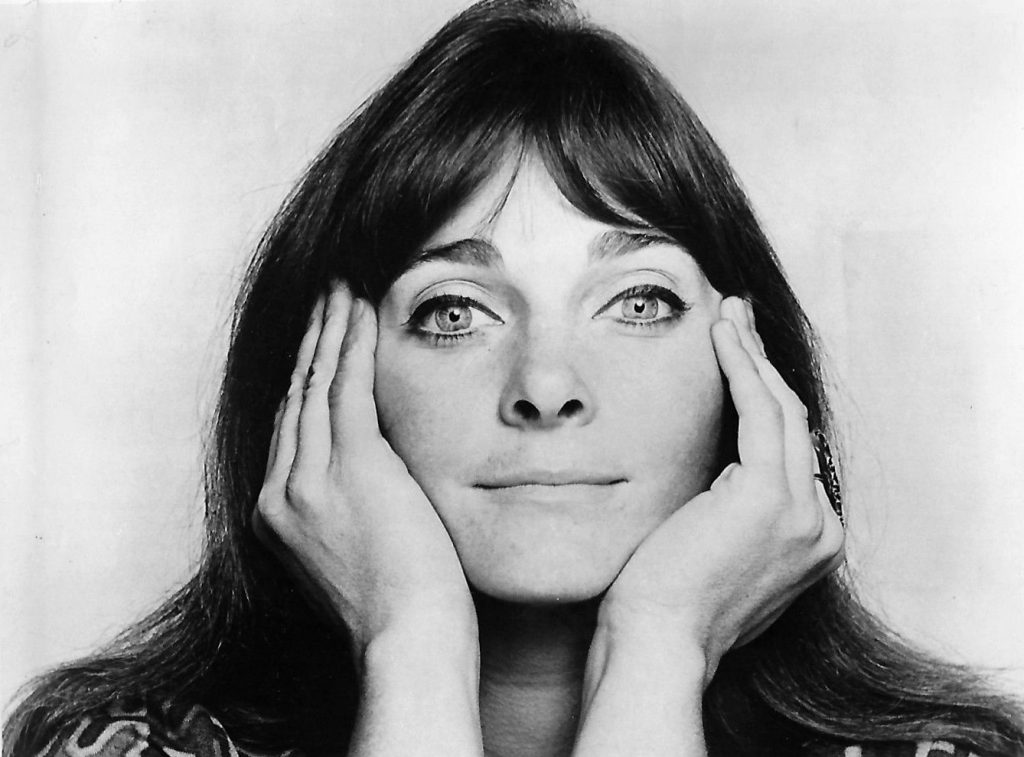 On March 21, 1964, a budding 24-year-old folk singer named Judy Collins stepped onto the stage of The Town Hall in New York City to give her first solo concert at a major venue. Accompanied only by a bassist/cellist and a banjo/guitar player, she sang a parade of songs penned by such notable composers as Bob Dylan, Tom Paxton, Billy Edd Wheeler and Fred Neil. The performance was recorded and released that summer by her label, Elektra Records, as The Judy Collins Concert, and although it didn't chart, it found favor among fans of folk music, who marveled at Collins' crystalline vocal delivery and heartfelt interpretations.
Long ago acknowledged as one of the most beloved and important singer-songwriters of the past half-century, Collins, born May 1, 1939, is celebrating that pivotal event with a new album. In February 2021, with the Covid pandemic in full swing, she returned to The Town Hall to reprise songs from that early release, adding and substituting a few while revisiting several of the tunes she sang that evening. The new album, simply titled Live at the Town Hall, NYC, finds Collins' voice as strong as ever.
In between the two Town Hall albums, she has lived a remarkable life and enjoyed a highly successful career. She broke through big-time in 1968 with a top 10 single, her Grammy-winning cover of Joni Mitchell's "Both Sides Now" (which she performed at the new Town Hall show), and continued to release other popular singles (notably her version of Stephen Sondheim's "Send in the Clowns") and such classic albums for Elektra as 1967's In My Life, the Billboard #5 Wildflowers (1968), Who Knows Where the Time Goes (1968), Whales & Nightingales (1970) and the platinum-selling Judith (1975). She has released more than 50 albums in all and remains a top concert draw.
In addition, Collins has written memoirs, served as an activist, worked in film and television and recently launched a podcast, Since You've Asked, in which she converses with various figures in the arts and other disciplines.
Collins spoke with Best Classic Bands on the eve of the Live at the Town Hall, NYC album's release. 
Best Classic Bands: Before we talk about the new Town Hall concert album, let's go back to 1964. What do you remember most about the original show? Did it seem special to you at the time?
Judy Collins: Oh gosh, it was so special. Jac [Holzman, Elektra Records president] had said to me, "I think we should record this." I had just discovered [the Bob Dylan song] 'The Lonesome Death of Hattie Carroll,' so I was dying to record that. I had found Billy Edd Wheeler and learned some of his songs, including "Coal Tattoo," which I still do in concert. [Ewan MacColl's] "Cruel Mother," I had found. So I was really up for it. It was very exciting. It was the first time I was at Town Hall, or at any hall, doing a big solo concert in New York. I had sung at Carnegie Hall, in October of 1962, opening for Theo Bikel, but this was a big deal. We were very brave, recording something we would only have one shot at. We did some overdubbing, but that was it.
There is so much history associated with Town Hall. It actually turned 100 this year.
It was Town Hall's idea to do this concert and I was so thrilled because I had no idea of a lot of this history. I had sung there a lot of times, and I knew that there was something very special about it, but I went back and reviewed the history, and found out, which I had not known, that the suffragettes were the first people to  book Town Hall, after it was built. And of course, [folk singer] Paul Robeson sang there—so many, many, artists. I had gone to see Bob Dylan there at the end of '62 or early '63, I guess.
One of the songs you sang at the 1964 show, and now again at the 2021 event, was "Me and My Uncle." It was written by John Phillips before he even formed the Mamas and the Papas. How did that song find its way to you?
Well, he was my friend. I think we first got together in Washington, D.C. It might've been '62. Then he started the Journeymen, which had Dick Weissman and Scott McKenzie. One night, in New York, he and Michelle [Phillips] invited me and a friend to come downtown for a very '60s dinner invitation, including getting stoned on magic mushrooms or LSD, whatever. It just about wrecked me. It took me quite a few days, maybe two weeks, to get through that. It took me a couple of bottles of Jim Beam. Anyway, that night he sang "Me and My Uncle," and I made him sing it over and over again until I'd learned it. I knew I wanted to sing it. I had to sing it. And then, after I recorded it, he said, "Did I write that song?"
What about "Both Sides Now"? It hadn't been written yet in 1964 but you sang it at the 2021 Town Hall concert. Did you know Joni before you covered that song?
No, she was an unknown, wandering around the Village, trying to get somebody to hire her to sing. I don't think anybody hired her to sing, which is kind of strange in a way. I'd never met her and nobody knew her. Then I got this call in the middle of the night from [musician] Al Kooper. She had come to a [Blood, Sweat and Tears, which Kooper had formed in 1967] show and he had followed her home. I loved Blood, Sweat, and Tears, so I would go and listen to them too. Al and I had become friendly, and he knew that I was recording at that point. So he followed her home and she started playing her songs and he said, "Hang on a minute. I've got to call Judy. I know she'll love this song." It's three in the morning. And he called me up and I woke up. It's very good thing. I often think, what if he had called Buffy St. Marie?! He said, "I've got a surprise for you." I said, "Well, I hope so. It better be good." And it was. He put her on the phone and she sang me "Both Sides Now." It was a very good decision.
Listen to the original studio recording of "Both Sides Now"
A followup to that single was Ian Tyson's "Someday Soon," one of your most beautiful songs. How did that one come into your life?
When I got to New York in '63, I lived in the Village and I got to know [folk duo] Ian and Sylvia very well, among others. I had recorded Ian and Sylvia, Gordon Lightfoot—I was into the Canadians in a big way before Leonard [Cohen] showed up in '66 or Joni in '67. They [Ian and Sylvia] did "Someday Soon" and I said, "I've got to sing that song." I ran into [Ian] in Alberta a couple of years ago—he's still singing around—and when he sings that song, he says that Judy Collins' version allowed him to buy his ranch in Alberta.
You were one of the first to do Leonard Cohen songs like "Suzanne" and "Sisters of Mercy."
He came to my apartment in 1966 and he said, "I can't sing and I can't play the guitar, and I don't know if this is a song." Then he sang me "Suzanne" and I said, "I'll record that in the morning." That's where we started. He's the one who said to me, "Why aren't you writing your own songs?" I sat down and wrote "Since You've Asked," which is not only one of the best songs I've written but the title of my podcast. It took me about 20 minutes to write it. I was seduced into songwriting—the next song takes five years.
Watch Collins and Cohen perform "Suzanne" together
Although you've written many excellent songs, you're still known primarily as an interpreter of others' material. Why have you traditionally looked to others for songs?
Oh, it doesn't matter where it comes from. If it's a song that I was supposed to sing, then I have to sing it. In the case of, for instance, Jimmy Webb, you know that every one of his songs is going to be top of the line and you're going to want to sing them all. But you do fall in love with certain songs. Like I'm doing [Webb's] "Highwayman" as a centerpiece of my shows now, and it's the best song. It sings itself. It's just amazing. The first time I ever heard his songs was when I recorded "The Moon Is a Harsh Mistress." With Jimmy, you want to sing everything he writes. But in most cases, it doesn't matter who wrote it. You have to sing it.
Related: Read our review of a Judy Collins-Stephen Stills concert from 2017
What has been the biggest change in your singing style and your approach to performing since the Elektra days?
I talk a lot. I tell a lot of stories. I never did that in the early days, but I really love doing that. I started doing it when I worked at the Café Carlyle in New York. They gave me the chance to be on stage every night, singing a bunch of songs and I found that it was very easy to come up with stories, especially if you switch around the sequence of your sets. The stories come out in surprising ways. I was able to start to get access to a lot of my memories and stories around these songs. So that's a big change. I also I think I'm much more comfortable in all ways on stage.
Speaking of telling stories, you mentioned your podcast. What's the concept behind it?
I've interviewed [actor] Alan Cumming and Jimmy Webb and Shawn Colvin and Steve Earle. Very diverse, and really fun. Then I did a couple more with various people and my manager and I thought, why not do this, get some of these interesting stories down?
One of the people you have scheduled is Jac Holzman, the founder of Elektra. I didn't realize that you were still in touch with him.
Jac and I signed a contract with Elektra, his label, on a handshake in April of '61. We've been friends ever since. He's a wonderful guy, and I've never lost touch with him. He's working still, for Warners.
Do you have a favorite among the Elektra albums that you made?
Hmm, that's a hard question. I love the Judith album. I think it's first-rate; there's a lot of interesting things on it. I worked with Phil Ramone as engineer and Arif Mardin as producer, a dream team. I didn't have a clue who Arif was. I listened to a Danny O'Keefe album that had a song on it called "Angel Spread Your Wings." I thought, whoever produced that, I have to have that producer. By that time, David Geffen had taken over at Elektra, and so I called him up and I said, "I want you to get me Arif Mardin." He said, "I can't guarantee that," and I said, "You've got to do this for me," and he did. That was fun.
You've also written memoirs, you paint, you've been involved with film. Do you have more hours in your day than the rest of us?
I have a little note on my mirror that says, "Do it now." I think that's my motto. I have certain things I have to do every day. I have to exercise. I have to write something, either prose or poetry. I have to practice the piano. I have to read a mystery. I have to watch something funny. I have to talk with friends. I just make a point to make every day full of the different things that make me feel good.
You recorded an album (Everybody Knows) in 2017 and toured with Stephen Stills. There was obviously a history there between the two of you. How did that pairing come together after so many years?
We were both surprised. We started out as lovers, in 1968. Then I heard "Suite: Judy Blue Eyes" [which Stills wrote about Collins] and I said, "That's a very beautiful song, but it's not getting me back. I'm not coming back to California." I think if I had gone back to California, I wouldn't be here. Then we just kind of stayed in touch. We always were interested in each other. I loved their [Crosby, Stills and Nash] music. I loved his music. I thought he was a genius. His songs just blew my mind. They always have. So over the years we'd have long talks. He'd be in India or in the middle of Australia. They did a big concert. It was CSN, me and Richie Havens—we were invited to sing at a huge, blow-out concert for AARP in Orlando [in 2010—ed.], in their huge arena. We were all there together and Steve and I looked at each other and we said, "We need to do this." We started exchanging notes that had lists of songs that we might do together. I was terrified to go out with him. I really was very nervous.
Watch Collins sing "Someday Soon" with Stephen Stills and Graham Nash
Why were you nervous?
Well, you don't know what's going to happen if you book a tour that winds up with 115 shows, which we did. Is he going to be crazy? I knew he was not crazy anymore, because I'd started to see them and I saw he's getting himself together. He's very different. He lost a lot of weight, I don't think he's using anymore, that sort of thing. I specifically went to concerts so I could hear them and see what was happening with him. He was doing a big show for the Rock and Roll Hall of Fame that was being held in New York, and he was playing with most of the bands that were in that event. He's done so much. It's hard not to like him. He's wonderful. So, one day, I said I wanted him to do a duet with me. When he got to the apartment, he said, "Let's do Tom Paxton's "The Last Thing on My Mind." He recorded it with me and he was fine, but what really impressed me was that he got here on time. He had a big job and he was going all over the city, working with people and trying to get ready for this show, this Rock and Roll Hall of Fame thing [in 2009—ed.], but he showed up. It got done and it was great. And then we said, "OK, let's do it." We started to put the songs together and we had our first rehearsal with the band in January of 2016. Then we went out and did 115 shows in a year and a half, and every show we were both on stage for the whole time. We sang everything together, except one; each of us had a solo. I think I did "Suzanne" every time. It was so fabulous. First of all, there was no drama, no bullshit. It was a pleasure. We had a great band; it was phenomenal, a great experience for all of us. And I got to listen to him play every night. He's not credited enough for being up there with the top guitar players in the world.
Will you ever retire?
Not if I can help it.
Watch Collins perform Dylan's "Mr. Tambourine Man," which she also sings on her Live at The Town Hall, NYC album
In February 2022, Collins released a studio album, Spellbound, her first of all-original songs, which she dedicated to Pete Seeger and Woody Guthrie.
Collins is touring in 2022. Tickets are available here.

Latest posts by Jeff Tamarkin
(see all)