Brian Jones, the Rolling Stones' Resident Musical Genius, is Recalled by Bill Wyman, Jimmy Page & Others
by Harvey Kubernik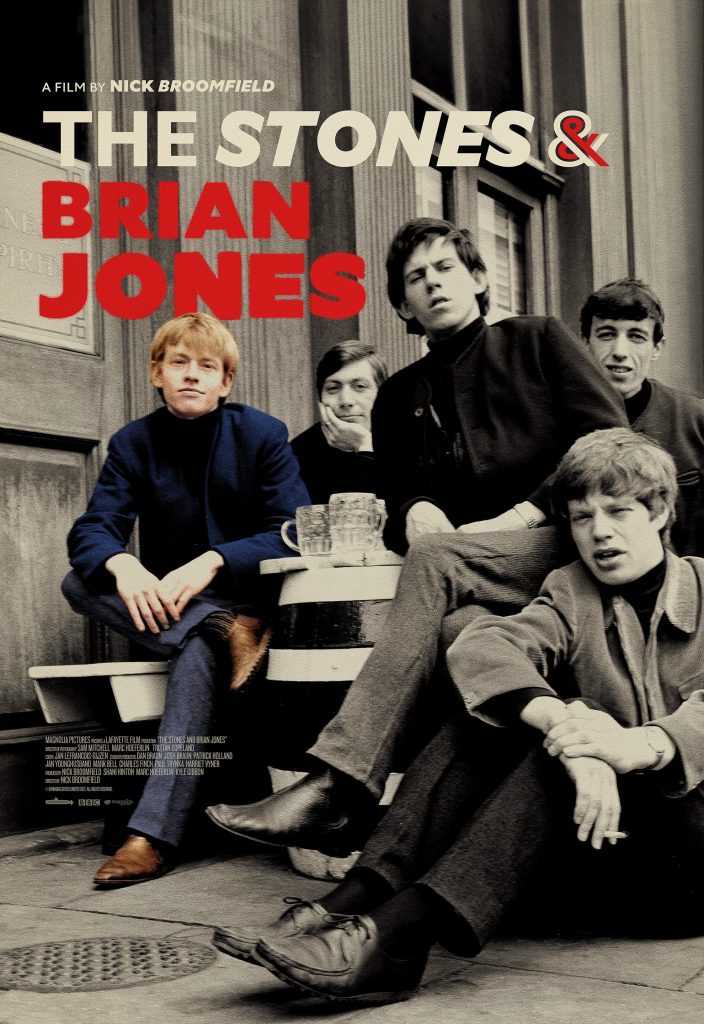 Brian Jones was the golden boy of the Rolling Stones, the visionary who gave the band its name, style and sound. He was a musical genius whose pioneering contributions turned the Mick Jagger-Keith Richards tunes into pop culture audio benchmarks and trailblazing hits.
A 2023 documentary film, The Stones and Brian Jones, directed by Nick Broomfield, is scheduled for a Nov. 17 streaming premiere from Magnolia Pictures. Details are here.
"I do say, and do honestly believe, that if there wasn't a Brian Jones there wouldn't have been a Rolling Stones," said former Stones bassist Bill Wyman in a 2002 interview. "There would have been another band from Dartford which I wouldn't have been in and [drummer] Charlie [Watts] probably wouldn't have been in. But there wouldn't have been the Rolling Stones, because that was Brian Jones. He named the band and he enlisted the members one by one. He decided what style of music we would play. He phoned and wrote to agents, bookers and NME, Jazz News, Disc, letters about R&B and blues and all of that. It was his band. And he's been kind of glossed over and pushed aside by most people. And Stu [pianist Ian Stewart, who worked with the band for years but was dropped as an official member] was the second person to join the band, before Mick and Keith."
"I met the Stones in 1964. [Manager/producer] Andrew Loog Oldham called me up," said arranger/producer Jack Nitzsche in a 1988 interview. "He and the group had met Phil Spector and he and the Stones wanted to meet me. Brian Jones was in a three-piece suit and tie. I got them into [the 1964 concert film] The T.A.M.I. Show. I put the band together and did all the arrangements. I was the musical director. I had told the producer, Bill Sargent, the Stones were going to be big. I felt the Stones could close the show. Bill said, 'James Brown is going to close the show.' We all stood at the side of the stage watching James Brown do his act. People were standing and screaming for James. Then the Stones came out and all the girls started crying. It was a whole new emotion!"
During my interview with Wyman, he additionally commented on Chess Studios [in Chicago] and then the RCA facilities [in L.A.] the Stones worked in from 1964-1966:
"We had recorded at Chess a few times. When we came into L.A. we went to RCA. We walked into the studio and it was too big. We were really worried. We were intimidated. We were used to recording in little places like [London's] Regent Sound. The studio was like this hotel room. And Chess wasn't very big either. Suddenly we're at RCA and it's enormous. It was like Olympic [also in England] later. We thought, God, we can't record in here. We're gonna get the wrong sound.
"But Andrew had this brain wave and he put us all in the corner of one room, turned all the lights down, and just tucked us all around in a little small circle. And we forgot about the rest of the room and the height of the ceiling. We just did it in this little corner. Dave Hassinger, the engineer, got all the sounds we wanted. Brian picked up all the instruments in the studio: the dulcimers, the glockenspiel, the marimbas. I played some of that stuff as well. I laid on the floor and pumped the rhythm for 'Paint It, Black' on an organ.
Watch a BBC preview of The Stones and Brian Jones


"We just experimented in there. Brian brought in electric dulcimers, autoharps. He just did so much to those songs from 1964-1966 in RCA. Brian created so many new sounds. Then he got the sitar together, just so he could play a riff. He wasn't as good as George Harrison on it. George really learned the sitar and studied it. Brian didn't, he just picked it up and worked out a little riff for one song. He did it with flutes. And he was brilliant at that."
Watch the Stones perform in 1964 in the film The T.A.M.I. Show
If you really want a ringside seat on the exploits of Jones during his 1965 and '66 visits to Los Angeles and Hollywood, go no further than drummer-turned artist manager and record producer Denny Bruce. In the fall of 2013 I interviewed Bruce:
"During 1966 I was spending a lot of time with Jack Nitzsche, seeing I was in a band he liked and wanted to sign to his new label. One afternoon he received a call from Keith Richards. He and a few of the Stones were in town and he wanted to know if Jack was available for dinner that night. A limo arrives and it is Keith, Brian and a rep from their booking agency. Brian was wearing a wine-colored velvet Edwardian suit. His blouse was either silk or lace. Within a minute or two Jack produced some joints made of Kahuna Grass, the current fave in the music business. While we were mingling and chatting about, Brian was in the kitchen. He was already stoned, and made a mustard, ketchup and mayo sandwich. He savored every bite of it, eyes closed, and never got a drop of anything on his suit.
"[We went to a Japanese restaurant and] I sat next to Brian and of all things, we started chatting about having the same type of blond hair. My curiosity had me ask him if he does anything special to keep it looking good and clean. He said he had been using Breck shampoo for a long time, after seeing ads for the 'Breck Girls' in fashion magazines such as Vogue and Glamour.
Related: Radio great Dennis Elsas talks to Bill Wyman about Brian Jones
"Being in L.A., Keith and Brian wanted to know if anybody, like [bluesman] Lowell Fulson, was playing at any blues club in town. 'Tramp' by Lowell was number one that week on their turntables. The last time they were in town Jack took the whole band to Watts to see Etta James at the California Club.
"A few days later I heard 'Under My Thumb,' and wondered who was playing the vibes. Jack said, 'Remember seeing the marimbas in the studio? Well, Brian started fooling around on one of them, and after hearing a few playbacks of the track he had figured out a part to play, which worked perfectly for the song.' This was the first time ever he attempted to play a marimba."
"Brian Jones was a friend of mine and the one I knew the best in the band," recounted record producer/songwriter Kim Fowley to me in a 2007 telephone interview. "One evening I ran into him in the bathroom at the Action Club in West Hollywood. He was looking into a mirror combing his hair. And then three nights later I bumped into him inside a bathroom in a London mansion and we both combed our hair together right in front of the same mirror. Brian smiled and said, 'I just saw you in Hollywood!'
"Brian Jones was a lot like George Martin. He was a strategist musically. He was the best musician of the Stones, granted the rawness of the pulse came from Keith, and Mick did the vocal extension. Brian provided the taste, with Watts and Wyman. Brian was probably too smart and too gifted and it exploded. He couldn't contain the greatness in a daily life level."
In 2007, Oldham and I had an email exchange where he sent over some first-hand memories about his studio moments with Jones and the Stones. "I remember the sessions for Aftermath where 'I Am Waiting' sprang from. There's incredible clarity to what they were doing. It was like a linear thing. Filmic. They were vivid, and the key to that vividness was Brian Jones. The organ on 'She Smiled Sweetly' by Brian is just amazing.
"[For] the session for 'Paint It, Black' Bill [Wyman] started futzing around with the pedals of the Hammond B-3 organ, and Brian's sitar is on the song. The fun times were the work."
In 1995, I interviewed Marianne Faithfull one afternoon at the Chateau Marmont on Sunset Blvd. I asked her a question about Jones. "I use Brian," she said. "I have a whole lot of friends on the 'other side' that I call up when I need them. Brian was a genius but he was a very irritating person. Keith really loved Brian. They were all very much in love with me at that time. Not only me, but I was one of the many women they were in love with."
Perhaps the last word on Brian Jones, speaking in terms of his melodic expedition, can be given to guitarist and Led Zeppelin co-founder Jimmy Page. At his November 12, 2014, appearance in Los Angeles at the Ace Hotel to promote his photographic Jimmy Page by Jimmy Page book (Genesis), Page sat down with Soundgarden's Chris Cornell and commented on a picture in his book taken at a 1966 recording date with Jones.
"I did some sessions with Brian Jones, who was working on a [never officially released] soundtrack for a film, A Degree of Murder, that that starred his girlfriend, Anita Pallenberg," Page said. "It was shown at the Cannes Film Festival in April 1967. Ian 'Stu' Stewart, the pianist who was with the Stones, and with us, took these photos when I was working with Brian at IBC Studio.
"You can see I'm using a violin bow on the guitar, something I would do with Led Zeppelin on 'Dazed and Confused.' It was a great privilege and an honor to play with a really gifted and innovative musician."
Watch the official trailer for The Stones and Brian Jones
Latest posts by Harvey Kubernik
(see all)