Brian Wilson Remembers: An In-Depth Interview with the Beach Boys' Resident Genius
by Harvey Kubernik
To kick off a yearlong celebration of the Beach Boys' 60th anniversary, Capitol Records/UMe have released a newly remastered and expanded edition of their career-spanning greatest hits collection, Sounds of Summer: The Very Best of The Beach Boys, on June 17, 2022.
In 2021, Capitol/UMe released an expansive 5-CD Beach Boys boxed set titled Feel Flows—The Sunflower and Surf's Up Sessions 1969-1971. The collection chronicles and explores in depth this metamorphic and highly influential period of the band's career.
The release features newly remastered versions of Sunflower and Surf's Up and boasts 135 tracks, 108 of them previously unreleased. The box includes a 48-page book loaded with unreleased and rare photos, lyric sheets, recording artifacts, insightful new liner notes and new and archival interviews from Al Jardine, Brian Wilson, Bruce Johnston, Carl Wilson, Dennis Wilson, Mike Love and others.
Both collections were assembled by Mark Linett and Alan Boyd, the team behind 2013's Grammy Award-winning SMiLE Sessions.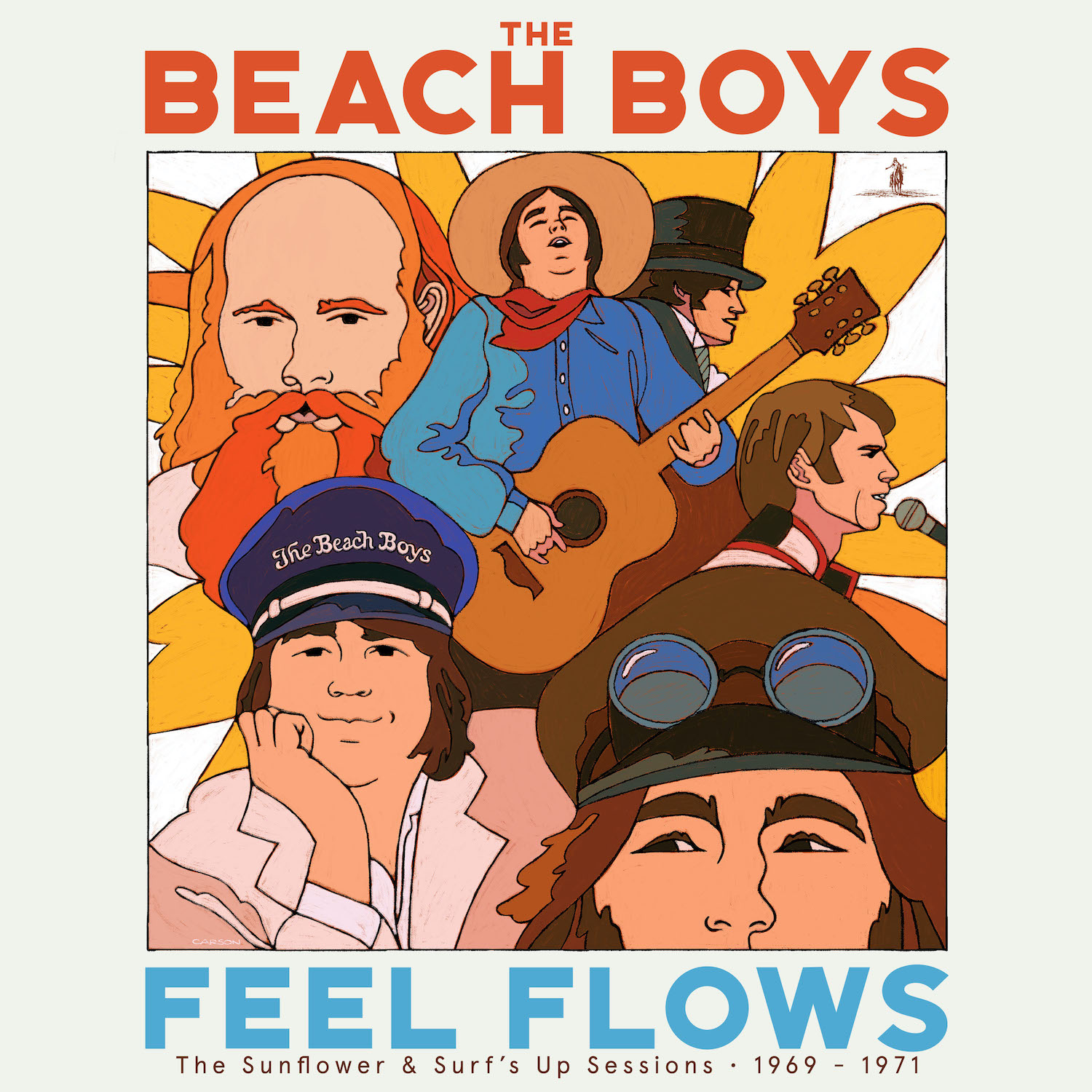 Brian Wilson celebrated his 80th birthday on June 20, 2022. During April 2007, this writer had a couple of very lucid lunch-hour interviews with Brian in a delicatessen in the Los Angeles area and visited his home. I had previously interviewed him in Santa Monica, California, in 1977. Following are highlights from the interviews.
In November 2004 you were inducted into the Hollywood Bowl Hall of Fame. Do you remember the first time the Beach Boys performed there?
Brian Wilson: It was in 1963 that we first went there. The Honeys [featuring Brian's then-wife Marilyn] were also on the bill with us. I had never been there before that. And I later played the Hollywood Bowl in 2000 and 2006. The Hollywood Bowl reminds me of a huge ear that acts like a speaker! The way it's structured, the sound comes off the stage through a gigantic speaker. That's physics, I swear to God. That's how I look at that damn thing. It was special being in the Hollywood Bowl ceremony because it's my hometown.
Listen to the Beach Boys' performance at the Hollywood Bowl in 1963
You once told Rolling Stones manager Andrew Loog Oldham that you would one day "write songs that people would pray to." Do you feel you've done that?
BW: I think my music has helped people a little bit. I think it is therapy for people. I think Marvin Gaye's music is very therapeutic. I think Diana Ross' music is very therapeutic, to name just a couple.
When you first started writing songs, was it therapeutic?
BW: Well, sure. Of course. Nothing as good as [the Ronettes'] "Be My Baby." We couldn't produce records with that big sound. We had good engineers and good players, the Wrecking Crew. I had Phil Spector's players.
Moving forward, what was the scenario when you wrote "Surf's Up"?
BW: Van Dyke [Parks] and I wrote that at my house. It was about 11:00 in the morning, and we had a sandbox with a piano in it and it took us 30 minutes to write it. Thirty minutes! We just wrote it really spontaneously.
Watch Brian perform "Surf's Up" solo on the 1966 TV special Inside Pop: The Rock Revolution
What about "Feel Flows"?
That was Carl singing. [Jazz musician] Charles Lloyd is on it.
And what about "Sail on Sailor"?
BW: I was at [Three Dog Night member] Danny Hutton's one time. Tandyn Almer and I wrote the song "Sail On Sailor" on a Wurlitzer electric piano and Ray Kennedy was there and started writing some lyrics. "Ray, I didn't know you could write lyrics." He said, "Keep playing! Keep playing!" We wrote the thing in about an hour and a half or two hours. Later, Van Dyke Parks tweaked it a little bit. [Jack Rieley added some lyric revision as well].
"Cool, Cool Water"?
BW: Well, there is something special. The recording session was brilliant. Mike [Love] was absolutely brilliant. He was right on.
"Don't Go Near the Water."
BW: Totally Alan [Jardine]'s trip. I was not part of that. Same with "California Saga."
Was the principal guitar lead played through a Leslie speaker on "Marcella" influenced by George Harrison's lead guitar part on "Let It Be"?
BW: Absolutely. Marcella was a Spanish chick that worked at a local massage parlor.
Going back further again, I understand that the instrumental title track from Pet Sounds was originally recorded for a James Bond movie, Dr. No.
BW: It got turned down! They turned the damn thing down. It got submitted. "We don't have any interest in that song." That's why it went on Pet Sounds.
Why do you think "God Only Knows" is still so popular when you perform it live?
BW: Because we've had a little practice (laughs). Second of all, Carl [Wilson] is gone, and I have to carry what he used to carry. I have to carry the damn weight. I don't remember the recording session of it. Too far in the past to remember. I mean, "Here is your part." "OK." And, somehow, we got "God Only Knows" done.
The record spoke for itself and it was a religious experience. Carl and I were into prayer. We held prayer sessions in our house on Laurel Way. "Dear God. Please let us bring music to people." It happened. A cool trip. A lot of people say to me that Pet Sounds got them through high school or college.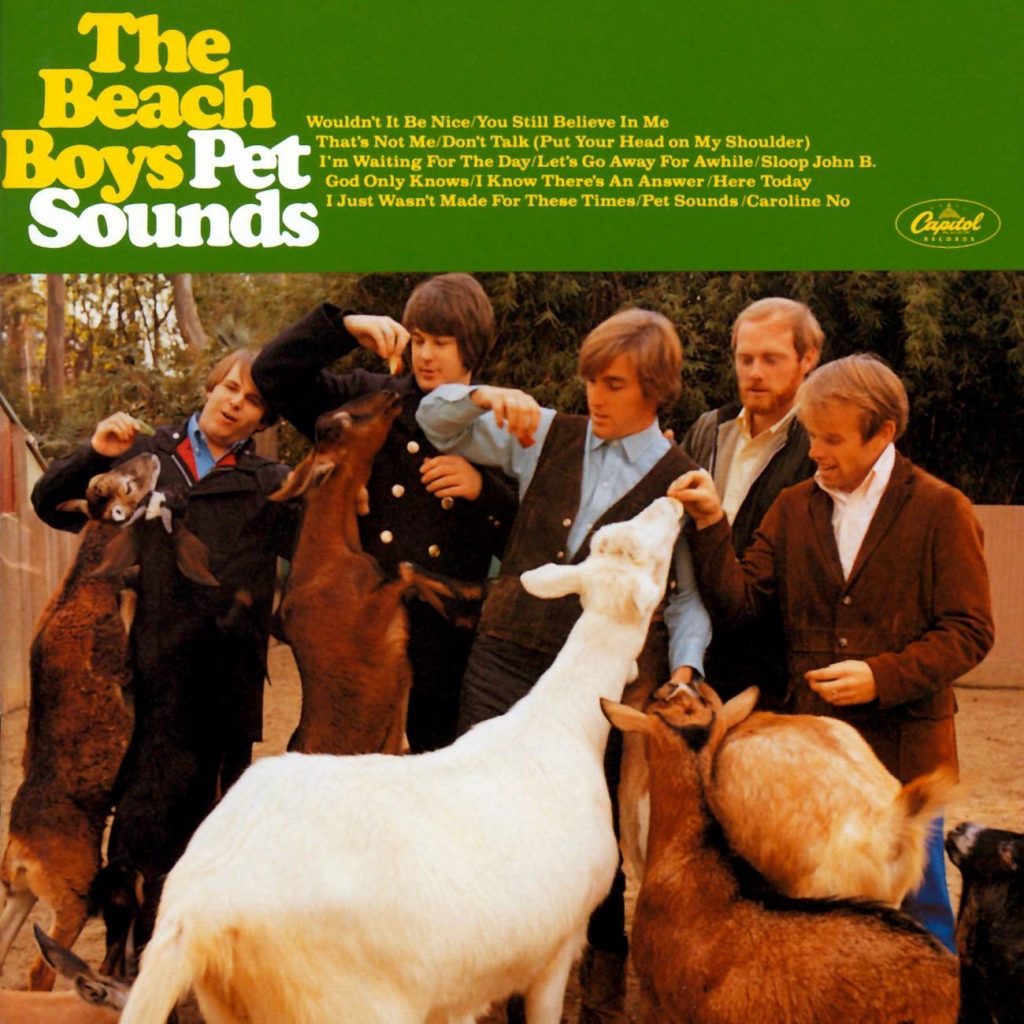 Barney Kessel's guitar introduction on "Wouldn't It Be Nice" from Pet Sounds is terrific.
BW: Barney did the introduction to the song and Glen Campbell was also there. I said to myself, "I'm going to have these guys play directly into the board instead of going out into the studio." They plugged their instruments into the recording console direct. That's how we got that sound. I also did that on "California Girls." My brother Carl played a 12-string on that and we plugged him into the console and he did his thing. Every now and then I'll do that.
"Break Away" [a 1969 single] is co-credited to Reggie Dunbar, a pseudonym for your father Murry Wilson.
BW: My dad and I wrote it. He didn't want anyone to know that he wrote it with me. Believe it or not, we wrote some of it on my doorstep outside my house and some sitting around at the piano. I was still friends with my dad after he didn't work with us anymore. He was a good buddy. It was done at Sunset Sound Recorders.
What about teaming with lyricist Tony Asher for Pet Sounds?
BW: A cool kind of guy, a little more soft-spoken. His attitude is just right for creativity and just right to work with. Just before we began collaborating on Pet Sounds, I asked him what it was like writing commercials for an advertising company. It seemed like interesting work. I said, "You should be good with words if you can do that." And, he said, "I'm pretty good with words." Out of nowhere I said, "Would you like to work with me on some songs and write some lyrics?" "I'll give it a try." Then, Pet Sounds, like that—1966 was a very big year for the Beach Boys.
Related: Our review of a 2016 Brian Wilson live show spotlighting the Pet Sounds LP
Can you describe collaborating with Van Dyke Parks?
BW: Working with him is not easy at all because he is a perfectionist. He wants it his way and the right way. I've always liked what he's come up with. Always. I'd never say, 'That sucked,' 'cause that would hurt his feelings. He's a gentleman and a scholar. A very bright person.
The vocal group the Four Freshmen were a big influence on you. You've talked about meeting them when you were a teen.
BW: I was 14 years old. It was at the Coconut Grove [at the Ambassador Hotel] in Los Angeles, and I was shaking. I was so scared to meet them after seeing the show. I was a big-time fan and shaking so hard I could hardly talk. It was my first live music. They could reproduce their album sound on stage. Absolutely.
Paul McCartney has said how much he liked the bass lines on Pet Sounds. I know you utilized the bass as a principal instrument. Like on "Here Today," you conceived the idea of the bass playing an octave higher on the rhythm bed track.
BW: Because the bass parts resound better in a studio and you can take three hours to get one line if you really needed it. You could take forever and get a goddamn line, you know?
When did you start utilizing two bass players on the same music track, like on Pet Sounds?
BW: I asked [engineer] Larry Levine what Phil Spector did with his basses and Larry said Phil uses a standup and a Fender [electric] at the same time. And the Fender guy used a pick. So I tried it out at my session and it worked great! You also get a thicker sound putting the two basses together. I start with drums, bass, guitar and keyboards. Then we overdubbed the horns and the background voices.
You covered many Phil Spector records, including the Crystals' "Then I Kissed Him" [as "Then I Kissed Her"].
BW: The opening riff is my favorite riff ever written. On the record I wanted to feature Al and give him a chance to stand up and sing. It's hard to describe Al's vocals, but he can go up there and get pretty high.
I'd like to ask you about some of your '60s singles, starting with "Please Let Me Wonder."
BW: That was cut at 4:30 in the morning. I went to the studio in the middle of the night. I called my engineer, Chuck Britz, at Western, and my wife and I went to the studio. We were there 5-8 a.m. One of my favorite recording sessions I ever had in my life.
"Let Him Run Wild." I know you never liked your super-high lead vocal on it.
BW: I was just a little too effeminate on it. If I played it right at this moment with my wife or friends around, I'd just push the stop button.
"The Little Girl I Once Knew."
BW: That is my very favorite introduction in a song in my whole life. It kills me every time. It might have been the first time the music stopped and started again on a record. I wrote the intro at the studio before we cut the thing. And, [session musician] Larry Knechtel, it was his idea to keep the music rolling. We tried one, and then I put a second guitar overdub on top of the other guitar. And the rest of it was history. We were doing stereo but I could only hear the mono and I always put the vocals up front in the mix. Mixing in mono is good for my left ear. My right ear is broke, done and over with.
"Wendy." That's the name of one of your daughters.
BW: It was not written about my daughter Wendy. This was way before she was born. It starts with a bass slowed down with a guitar. It was an attempt to flatter the Four Seasons. I wanted to try and imitate the Four Seasons in a way they would like to hear it. 'Cause I like [producer] Bob Crewe and the way they do their vocals.
"The Warmth of the Sun" is wonderful.
BW: Probably Mike Love's most beautiful lyrics he's ever written and one of the prettiest songs I ever wrote. I think it's because JFK had died the day before. We dedicated it to him and I tried to sing it sweetly and angelically, trying to capture the sound of a sweet angel.
Do you remember the first day you went into Capitol Records in 1962?
BW: Yes. I remember walking into the building with my father and [musician/producer] Gary Usher. We met the A&R man, Nik Venet. He listened to our demos and he signed us right on the spot. We played him "409" and "Surfin' Safari." I just wanted to make records. I didn't know how big it would get. I didn't think it would.
Listen to "Susie Cincinnati" from the Feel Flows collection
Latest posts by Harvey Kubernik
(see all)