Bob Dylan opened his "Rough and Rowdy Ways" worldwide tour on November 2, 2021, nearly two years since he last performed before a live audience. The Bard's 2020 tours of Japan and the U.S. had been canceled due to the pandemic. At the Riverside Theatre in Milwaukee, Wisc., on Tuesday night, he returned with an 18-song set that leaned heavily on Dylan's most recent studio album. (See the setlist below.) As has been the case for several years, Dylan did not play guitar, performing throughout the evening on piano.
He is joined on the fall tour by multi-instrumentalist Donnie Herron, bassist Tony Garnier, drummer Charley Drayton and guitarists Bob Britt and Doug Lancio. The band performed eight of the 10 tracks from Dylan's well-received 2020 album for which the tour is named. After performing two well known songs, "Watching the River Flow" and "Most Likely You Go Your Way (And I'll Go Mine)," the band launched into the first of the newer tracks, "I Contain Multitudes."
Watch him perform "I Contain Multitudes" on the tour's second night, Nov. 3, in Chicago
Dylan dedicated the opening night show to Les Paul, who hailed from the area.
The 21 concerts this autumn are solely in the midwest and northeast U.S. The tour was announced on Sept. 27.
On the tour's second night, Nov. 3 in Chicago, he made some minor adjustments to the setlist, including replacing "Simple Twist of Fate" and "Soon After Midnight" for "When I Paint My Masterpiece" and "To Be Alone With You."
Watch Dylan perform "I'll Be Your Baby Tonight" and "It Takes a Lot to Laugh, It Takes a Train to Cry" on Nov. 3
Dylan's last live concert was Dec. 8, 2019, in Washington, D.C., following a 10-show residency at New York's Beacon, part of a lengthy fall 2019 U.S. tour.
On July 18, 2021, a streamed concert, called "Shadow Kingdom," was made available via Veeps.com. Dylan turned 80 on May 24.
Related: Our review of Dylan's streamed performance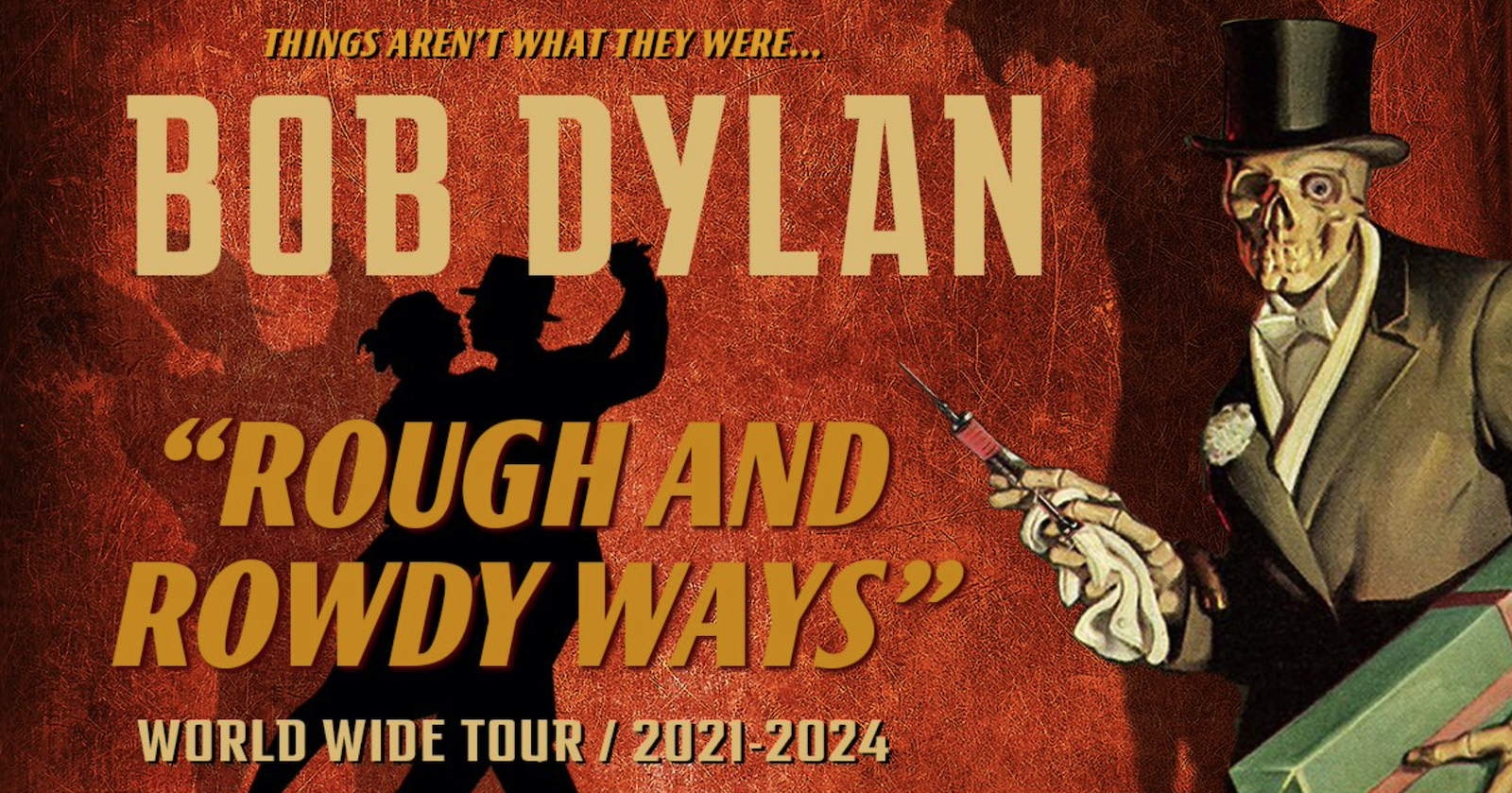 Bob Dylan, Riverside Theatre, Milwaukee, Wisc., Nov. 2, 2021 Setlist
Watching the River Flow
Most Likely You Go Your Way (And I'll Go Mine)
I Contain Multitudes*
False Prophet*
Simple Twist of Fate
My Own Version of You*
I'll Be Your Baby Tonight
Black Rider*
Melancholy Mood
Mother Of Muses*
Gotta Serve Somebody
Key West*
Early Roman Kings
Soon After Midnight
I've Made Up My Mind To Give Myself To You*
Goodbye Jimmy Reed*
Encore
Love Sick
It Takes A Lot To Laugh, It Takes a Train To Cry
*From Dylan's 2020 album, Rough and Rowdy Ways
Bob Dylan 2021 Tour Dates (Tickets are available here and here)
Nov 02 – Milwaukee, WI – Riverside Theatre
Nov 03 – Chicago, IL – Auditorium Theatre
Nov 05 – Cleveland, OH – Key Bank State Theatre
Nov 06 – Columbis, OH – Palace Theatre
Nov 07 – Bloomington, IN – Indiana Univ. Auditorium
Nov 09 – Cincinnati, OH – Procter & Gamble Hall
Nov 10 – Knoxville, TN – Knoxville Auditorium
Nov 12 – Louisville, KY – Palace Theatre
Nov 13 – Charleston, WV – Municipal Auditorium
Nov 15 – Moon Township, PA – UPMC Events Center
Nov 16 – Hershey, Pennsylvania – Hershey Theatre
Nov 19 – New York, NY – Beacon Theatre
Nov 20 – New York, NY – Beacon Theatre
Nov 21 – New York, NY – Beacon Theatre
Nov 23 – Port Chester, NY – Capitol Theatre
Nov 24 – Port Chester, NY – Capitol Theatre
Nov 26 – Providence, RI – Providence PAC
Nov 27 – Boston, MA – Wang Theatre
Nov 29 – Philadelphia, PA – The Met
Nov 30 – Philadelphia, PA – The Met
Dec 02 – Washington, DC – The Anthem
Related: Listings for 100s of classic rock tours

Latest posts by Best Classic Bands Staff
(see all)