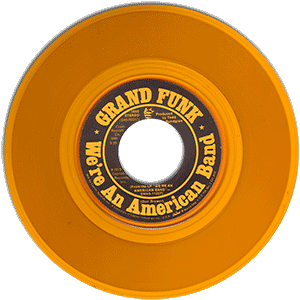 There are memorable periods for classic rock songs on Top 40 radio and then there are weeks like this one in late summer 1973 when no less than five all-time great rock 'n' roll tunes ruled the airwaves' Top 10. Two ultimately hit #1 on the Billboard Hot 100, two peaked at #2 – likely due to the tough competition – and another true classic stalled nationally at #12.
Here's the scoop:
Entering Boston's WRKO weekly survey at #25 was an all-time Doobie Brothers' favorite, "China Grove." (It would ultimately reach #15 on the Hot 100.)
Also debuting on the chart at #24 were local favorites Aerosmith with "Dream On." The song would peak nationally this time around at only #59. Three years' later, as the band's stature grew, the song was re-released to radio and it reached #6.
The week's highest debut was Stevie Wonder's "Higher Ground" at #17. Jumping from #21 to #16: the Edgar Winter Group's "Free Ride." The song was written by the band's lead vocalist Dan Hartman and produced by Rick Derringer. That's Ronnie Montrose on lead guitar.
At #10 this week – on its way to #1 – was "Angie" by the Rolling Stones, the band's seventh U.S. chart topper. The ballad features piano from longtime Stones session player Nicky Hopkins who Best Classic Bands profiled here.
The only Top 10 hit by the Allman Brothers Band, "Ramblin' Man," with lead vocals by Dickey Betts, was at #8. It would peak nationally at #2, and none of their other singles came close on the pop charts.
Related: See where the Allmans' Brothers and Sisters ranks among the year's biggest albums
Though Elton John's "Saturday Night's Alright For Fighting" was at #7 on WRKO, it inexplicably peaked at just #12 nationally. The song was the first single from John's hugely successful double album Goodbye Yellow Brick Road and paved the way for two other big hits from the collection, the title track and "Bennie And The Jets."
Related: The biggest radio hits of 1973
A year after scoring her first #1 single with "I Am Woman," Helen Reddy returned to the top of the chart with "Delta Dawn," which was #6 this week.
Grand Funk Railroad's "We're An American Band" at #2, ultimately became one of two #1 hits for the, um, American band in 1973. (The other was their cover of "The Loco-Motion.")
What was #1 this week in Beantown? Paul Simon's "Loves Me Like A Rock" (and the second single from his There Goes Rhymin' Simon album to stall nationally at #2; the other was "Kodachrome.")
What a week!
25. "China Grove" – The Doobie Brothers (Warner Bros.)
24. "Dream On" – Aerosmith (Columbia)
17. "Higher Ground" – Stevie Wonder (Tamla)
16. "Free Ride" – Edgar Winter Group (Epic)
10. "Angie" – Rolling Stones (Rolling Stones)
9. "Gypsy Man" – War (United Artists)
8. "Ramblin' Man" – The Allman Brothers Band (Capricorn)
7. "Saturday Night's Alright For Fighting" – Elton John (MCA)
6. "Delta Dawn" – Helen Reddy (Capitol)
5. "Let's Get It On" – Marvin Gaye (Tamla)
4. "Touch Me In The Morning" – Diana Ross (Motown)
3. "Brother Louie" – Stories (Kama Sutra)
2. "We're An American Band" – Grand Funk Railroad (Capitol)
1. "Loves Me Like A Rock" – Paul Simon (Columbia)
Source: wrko.org

Latest posts by Best Classic Bands Staff
(see all)