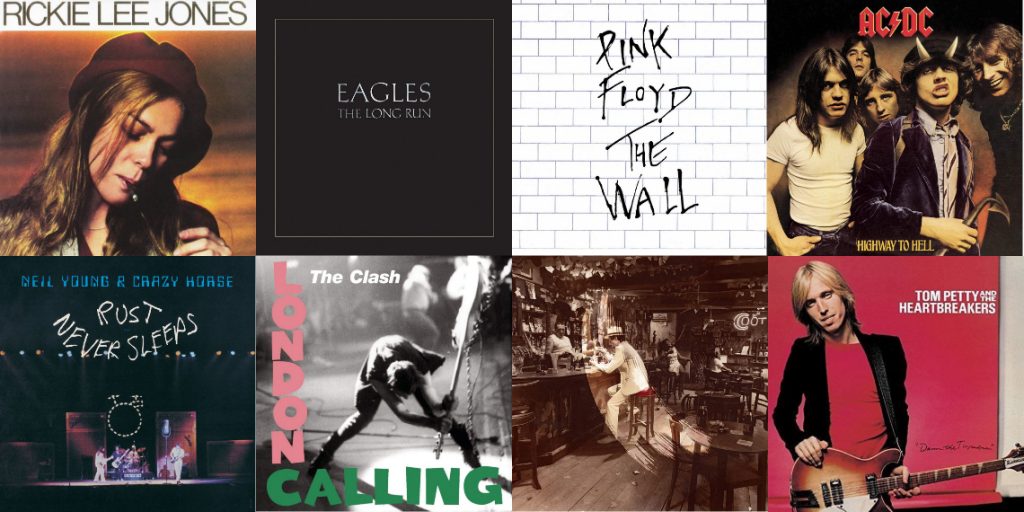 The very definition of rock music expanded so vastly during the 1970s that by the end of the decade it encompassed numerous genres so dissimilar that a hefty percentage of fans questioned whether some even belonged under the rock tent. Disco music was huge but was it rock? Punk and new wave exploded during the last few years of the '70s but many mainstream rock stations refused to even play it. Reggae, funk, metal and what came to be called prog—none of those really existed in 1970 as such, but they were all part of the fabric by 1979.
For the latest entry in our continuing series on the best rock albums—this time zoning in on 1979—we had a lot to consider. Do we keep our focus narrow or open it wide to acknowledge all of those new strains? We went for the latter approach, taking into account that someone who likes AC/DC might not be so fond of Donna Summer, that a fan of Supertramp might turn his nose up at The Clash.
The tail end of the '70s saw superb music being made by some of the veterans who'd been with us for many years already: Bob Dylan, Neil Young, Led Zeppelin, the Bee Gees, Fleetwood Mac, Van Morrison. There were also many who were fairly new to the scene: Prince, The Cars, the Knack, Pat Benatar, the Specials, the Roches. It was a great mix overall, and some of us welcomed all of it.
We looked back at hundreds of albums released in 1979 and whittled the list down to the 50 that we think represent the cream of the year's crop. Many of these titles remain cornerstones of any essential classic rock record collection, sounding as fresh now as when we first removed the vinyl from the shrink-wrapped album jacket.
We're not ranking them; they're arranged alphabetically by artist. How many of the 50 do you own?
AC/DC—Highway to Hell—Although they wouldn't have their big breakthrough until the following year (with Back in Black), Highway to Hell paved the way. The last to feature singer Bon Scott, it would have been a classic if only for the killer title track.
The B-52's—The B-52's—They were a smart, quirky new wave/dance band from Georgia, with a high sense of kitsch and cool. "Rock Lobster" and "Planet Claire" were seriously catchy and tons of fun.
The Bee Gees—Spirits Having Flown—With Saturday Night Fever having shattered sales records and helped to establish disco as a cultural phenomenon, the question was could they keep up the momentum? The album spent six weeks at #1 and produced three chart-topping singles. Question answered.
Pat Benatar—In the Heat of the Night—Her 1980 followup, Crimes of Passion, broke her wide, but this was a very strong debut. It gave notice that the New Yorker was a rocker to be reckoned with.
Boomtown Rats—The Fine Art of Surfacing—Although they were much bigger in their native U.K. than in the U.S., the Bob Geldof-led band made intelligent, accessible new wave that found its center on their third release. The controversial track "I Don't Like Mondays" was one of those tunes that defined its era.
The Cars—Candy-O—The Boston group's second album was, in the opinion of some fans, not as glorious as their debut. But it fared better commercially, launching their streak of four straight top 10 LPs. The single "Let's Go" was a highlight.
Cheap Trick—Dream Police—After playing to a relatively small coterie of acolytes for a few years, Cheap Trick had a banner year in '79, first with the near-perfect live album At Budokan and then with this, their fourth and most successful studio album.
Related: The inside story of Cheap Trick's rise
The Clash—London Calling—One of the defining albums of the year (and the decade just ending), the Clash's third release, a double set, took them far from their punk roots into all sorts of new musical and lyrical areas. Many consider it not only the Clash's finest but one of the all-time great rock albums. We won't argue.
Ry Cooder—Bop Till You Drop—The master musician's eighth album received a lot of notice at the time because it was the first digitally recorded rock album on a major label. But that aside, the music was stellar—Cooder dug into his record collection, covering some of his favorite old R&B and rockabilly tunes.
Elvis Costello and the Attractions—Armed Forces—One of the most prolific, and consistently creative, artists of our time released his third album with his road band, the Attractions, who'd debuted on the previous year's This Year's Model. Amazingly, Armed Forces, which included gems like "Oliver's Army" and "Accidents Will Happen," remains Costello's only top 10 album to date!
Related: Our Album Rewind of Armed Forces
The Cure—Three Imaginary Boys—The album introduced yet another new, highly creative British post-punk band via tunes like "Fire in Cairo" and "10:15 Saturday Night." They wouldn't even chart in America for a few more years but then they would flourish for decades—all the way to a 2019 Rock and Roll Hall of Fame induction.
Bob Dylan—Slow Train Coming—He was always one for surprises, but not many saw this coming: the first album of Dylan's so-called Christian period, after declaring himself born-again. Many of his fans didn't get it, or actively disliked it, but it rose to #3 and is now seen by many as a brilliant effort.
Eagles—The Long Run—Another year, another chart-topping album. The first to feature Timothy B. Schmit, it included the #1 single "Heartache Tonight" and two top 10s: the title track and "I Can't Tell You Why." Alas, they'd follow it up with a 14-year breakup.
Related: We spoke to producer Bill Szymczyk about the making of the Eagles' classic
Dave Edmunds—Repeat When Necessary—If it has a lot of similarities to Nick Lowe's Labour of Lust (see below), that's because both albums were recorded with their band Rockpile. Like much of Edmunds' output, it's a pure rock 'n' roll effort, with great tunes like "Queen of Hearts" and Elvis Costello's "Girls Talk."
Related: What were the best albums of 1977?
Electric Light Orchestra—Discovery—The very prolific band was up to eight albums with this one; it found its way to the top 10 and went platinum. (It was also their first #1 in the U.K.) A whopping five songs were hits, the best known of which were the top 10 singles "Don't Bring Me Down" and "Shine a Little Love."
Marianne Faithfull—Broken English—Anyone who remembered her from her 1965 Stones-written hit "As Tears Go By" was in for a huge shock: her transformation was total. On Broken English, Faithfull's voice was rough and raw, and her songs were rougher and rawer. She'd done a lot of living in the interim years, and it showed.
Fleetwood Mac—Tusk—How do you follow Rumours, one of the most phenomenally successful albums of all-time? Anything would have to feel lesser. Yet the British-American hybrid band moved forward and found their way to the top 10 with an album that, while not a classic like its predecessor, was still very solid.
Related: More on Tusk
Gang of Four—Entertainment—Falling squarely into the post-punk/new wave camp, yet also informed by dance music, dub reggae and industrial sounds, the British band's debut was filled with angular guitar lines, funky rhythms and highly charged songs that made no secret of their political stance.
Ian Hunter—You're Never Alone with a Schizophrenic—Five years after the demise of his band Mott the Hoople, the band's frontman released his finest solo record (with one of the best titles ever). Featuring members of the E Street Band, it included the bona fide anthem "Cleveland Rocks."
Related: Our Album Rewind of Hunter's LP
Joe Jackson—I'm the Man—We could just as easily have chosen his debut, Look Sharp!, released earlier in the year. But I'm the Man has songs like "It's Different for Girls" and the title track that serve as reminders that the British singer-songwriter-musician was a major talent out of the gate.
Michael Jackson—Off the Wall—If he had never given us Thriller, a few years later, Off the Wall would have gone down as the moonlighting Jackson Five singer's crowning achievement. Produced by Quincy Jones, it was a stunner, with nearly every song a classic in its own right. Amazingly, it only rose to #3—he'd make up for that soon enough.
Rickie Lee Jones—Rickie Lee Jones—With her red beret and laconic swagger, she came off as a neo-beatnik of sorts, an image affirmed by her jazz-informed story-songs. Her self-titled debut was different than anything else released that year, just so hip and cool.
Journey—Evolution—It took them a while to truly catch on. This, their fifth album (the first with drummer Steve Smith and second with vocalist Steve Perry), was their highest-charting to that time, reaching #20. The single "Lovin', Touchin', Squeezin'" became their first top 20 hit. A couple of years later they'd go to #1 but the elements were in place by 1979.
Joy Division—Unknown Pleasures—There was so much power and heart in their music, so much strength and realism. Yet they never had a chance to explore it beyond this debut and its followup, Closer, released after the suicide of their singer Ian Curtis. From the ashes came New Order, however, a major band that is still going today.
Related: What were the top radio hits of 1979?
The Kinks—Low Budget—Anyone who thought the Kinks were finished earlier in the decade didn't have enough faith: Ray and Dave Davies and crew still had plenty to say, and although they'd followed contemporaries the Who and the Stones into the arenas, they were still very much the Kinks in every way. The album peaked at #11, their highest charting LP ever.
The Knack—Get the Knack—It didn't last long but for a few minutes there, in 1979, the Knack was just about the biggest thing in rock. The L.A. power-pop group, clearly inspired by the early Beatles, made new wave accessible with songs like "My Sharona" (#1) and "Good Girls Don't" (#11). A few years later, they were largely forgotten but they sure did capture the moment in '79.
Led Zeppelin—In Through the Out Door—This is where it ended for Zeppelin. A #1 smash like most of their others, it probably would have been their final statement even if drummer John Bonham didn't die the following year. Either way, while not as strong as many of their earlier sets, it was embraced immediately by their huge fan base.
Nick Lowe—Labour of Lust—Like Dave Edmunds' Repeat When Necessary (see above), Nick Lowe's second album in his own name is a Rockpile recording in disguise. It features his biggest hit by far, "Cruel to Be Kind," as well as a track on which he's backed by Elvis Costello and two of the Attractions.
Madness—One Step Beyond—Britain went ska-revival crazy beginning in 1979, and one of the bands leading the resurgence/update was Madness. Their debut was just a whole lot of fun (the title track alone was insanely catchy) but they took the music very seriously.
Roger McGuinn, Gene Clark and Chris Hillman—McGuinn, Clark and Hillman—David Crosby and Michael Clarke sat out this three-fifths reunion of the original Byrds, which garnered mixed reviews upon its release. There are some strong performances, and it actually holds up better than one might expect.
Molly Hatchet—Flirtin' With Disaster—The sophomore album by the Floridians boosted their profile immensely, heading straight into the Billboard top 20. It remains their best-selling album, and the title track is still their signature tune.
Van Morrison—Into the Music—The Irish bard's output was quite erratic during the '70s (and '80s, and '90s), but he ended the decade on an up note with this solid collection. Less obtuse than his recent work, it returned Morrison to his soul roots—some critics called it his best since Astral Weeks more than a decade earlier.
Graham Parker and the Rumour—Squeezing Out Sparks—Arguably his best release, the fourth album by the British singer-songwriter and his superb band, who walked a fine line between pub-rock and new wave, was their most compelling to date. Raw and direct, it included such great tunes as "Protection," "Local Girls" and "Discovering Japan."
Tom Petty and the Heartbreakers—Damn the Torpedoes—The third album by the neo-mainstream rockers took them from an "up and coming" pick to one of the all-time great American rock bands. Their first mega-seller, it featured tunes like "Refugee" and "Don't Do Me Like That," which would become radio and concert staples.
Related: Our Album Rewind of Damn the Torpedoes
Pink Floyd—The Wall—Arriving six years after Dark Side of the Moon, The Wall gave Pink Floyd their second all-time classic. It was a much different type of project, a rock opera that dealt with serious issues, but just as potent. It remains highly popular today.
The Police—Reggatta de Blanc—The second release by the British trio was way more popular in the U.K. (#1) than in the U.S. (#25), but songs like "Message in a Bottle" and "Walking on the Moon" have grown in stature since '79.
Prince—Prince—His debut, For You, was hardly noticed by anyone in 1978. But the self-titled followup made some waves, largely due to the buzz on its opening track, "I Wanna Be Your Lover." Although his mega-stardom wouldn't arrive for a few more years, the seeds were planted here.
Ramones—It's Alive—The New York punk gods' first live album was actually recorded in 1977 but not released for two more years, and then not even in the U.S. (officially, at least). It pretty much sums up everything that was great about them in 28 short, fast and potent tracks.
The Roches—The Roches—The three sisters—Maggie, Terre and Suzzy Roche—had been working together in different formats for some time when they finally recorded their debut. It's charming, smart, witty and very catchy.
Scorpions—Lovedrive—It took six albums for the German metal band to chart in the United States, and once they did, with this strong set, they went gold, just missing the top 10. The first album to feature their classic lineup, it's still considered by many to be their best, and a metal classic of the era.
The Specials—The Specials—Like Madness (see above), the Specials initially revived the Jamaican ska sound, bringing to it a large dollop of punk energy. Their self-titled debut (on the 2 Tone label), fueled by the single "Gangsters," is solid all the way through, and unlike some ska revival albums of the time, it holds up well.
Donna Summer—Bad Girls—She was already a disco superstar when she cut her seventh album, the first to go to #1. One of the main reasons it was able to do that is because Summer extended her reach beyond disco conventions, leaning more toward rock on the title track and "Hot Stuff." The album remained the biggest of her career.
Supertramp—Breakfast in America—The British rock band's sixth album was their second to make the top 10, ultimately winning two Grammys and going multiple platinum. With hit singles like "The Logical Song" and "Take the Long Way Home," it proved that classic non-punk rock still very much had its place.
Related: Our Album Rewind of Breakfast in America
Talking Heads—Fear of Music—Co-produced by Brian Eno and the band, the third Talking Heads album was a more sophisticated and visionary creation than its brilliant predecessors. Although not quite a concept album, it felt cinematic in scope, often bleak in its imagery and somewhat surreal.
Van Halen—Van Halen II—Their debut had given notice that this was a new hard rock band to watch out for. II confirmed that Van Halen was headed for superstardom. A huge seller, fueled by the success of the singles "Dance the Night Away" and "Beautiful Girls," it made clear that the instrumentalists (especially guitarist Eddie Van Halen) were exceptional and that frontman David Lee Roth was the embodiment of charisma.
Related: How Eddie Van Halen changed rock guitar
The Who—The Kids Are Alright—The soundtrack to the documentary of the band, the album was largely composed of odds and sods from live gigs, TV appearances and such. But even if it didn't boast much coherence the way Pete Townshend's rock operas had, it made a point that the Who had always been one of rock's most electrifying bands.
Related: The Who and many other British stars performed at a series of benefit concerts at the end of 1979
XTC—Drums and Wires—The British band was definitely more successful in its homeland than in the U.S., but their super-intelligent, somewhat quirky new wave still found many devoted fans in the States. Their third album, produced by Steve Lillywhite, included a somewhat different track listing than in the U.K., with tracks like "Life Begins at the Hop," "Helicopter" and "Making Plans for Nigel" establishing Andy Partridge and Colin Moulding as brilliant songwriters.
Neil Young and Crazy Horse—Rust Never Sleeps—Neil Young was incredibly prolific in the '70s, and released many of his finest works during the decade. Rust Never Sleeps was a live set but it was right up there with the others in terms of the quality of songwriting and performance. Tracks like "My My, Hey Hey (Out of the Blue)," "Powderfinger" and "Pocahontas" have become permanent fixtures in his shows.
Frank Zappa—Joe's Garage I/II & III—This entry is a bit of a cheat because the latest Zappa extravaganza was released in three parts. Like many of Zappa's works, the storyline ranges from profound to inscrutable to silly, but the music is always ace, whether you pay attention to the words or not.
ZZ Top—Degüello—The sixth album by the "little ol' band from Texas" was, like pretty much all of their early work, filled with little more than perfectly executed boogie-rock. They'd already established themselves as a major player in the genre a few years earlier, but here, on tracks like "Cheap Sunglasses" and their covers of Robert Johnson's "Dust My Broom" and Sam and Dave's "I Thank You," they kept the momentum going. Bigger things lay ahead in the '80s too.
Related: The 11 #1 albums of 1979

Latest posts by Best Classic Bands Staff
(see all)