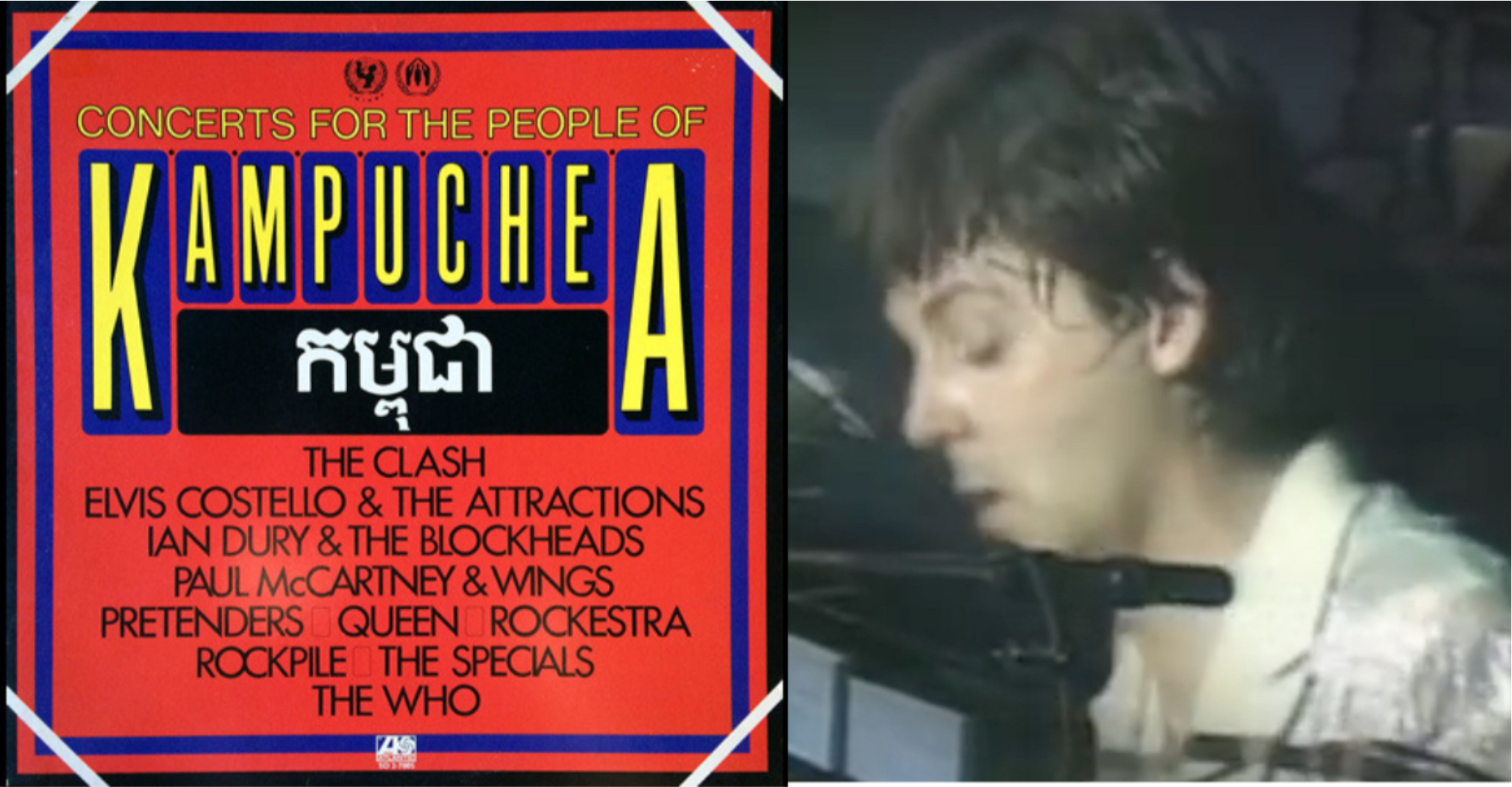 Several years after George Harrison and Ravi Shankar organized the 1971 Concert(s) For Bangladesh, his fellow Beatle Paul McCartney, along with UN Secretary General Kurt Waldheim, organized a series of 1979 concerts to benefit the victims of war-torn Cambodia. The four concerts, which took place during the Christmas holiday at London's Hammersmith Odeon, featured a Who's Who – literally – of British classic rock stars.
A two-record set, Concerts For the People of Kampuchea, was released 16 months later by Atlantic Records, in March 1981. Its liner notes, authored by the label's Bob Kaus, explain the concerts' premise. "Between 1975 and 1979, Kampuchea (Cambodia) lost up to half of its population through war, famine and disease. Waldheim called it 'a national tragedy, the proportions of which may have no parallel in history.'
"[Their plight] stirred musicians to lend their talents, time and energy to do what they [could] to help relieve the massive suffering. The call for help was issued [for] the greatest gathering of British rock talent ever assembled for a single event."
Though 1985's Live Aid concerts ultimately bested the Kampuchea benefit lineup, McCartney and Waldheim organized a spectacular field: Queen was the sole performer on opening night. They were followed the next evening by Ian Dury & the Blockheads, reggae band Matumbi, and the Clash. The third night starred the Pretenders, the Specials and The Who. And the final night had Elvis Costello & the Attractions, Rockpile (with special guest Robert Plant), and Wings, in what would be their final concert. The evening ended with McCartney's Rockestra, an all-star collection of musicians who replicated McCartney's "Rockestra Theme," featured on Wings' final studio album, Back to the Egg. (More on that later.)
The Dec. 26 concert on the national holiday, Boxing Day, featured a 28-song set by Queen, as the lone act on the evening's bill. To put the timing in perspective: the group had recently released "Crazy Little Thing Called Love," which had gone #1 in many countries and was their biggest hit in two years.
Watch a shirtless Freddie Mercury lead the way on "Crazy Little Thing Called Love"
And an explosive "Now I'm Here" [Note: The venue is in the dark until the 30-second mark]
Their set featured a combination of hits ("Somebody To Love," "Bohemian Rhapsody," "You're My Best Friend") and non-single favorites ("39," "I'm in Love With My Car," "Death on Two Legs").
Watch Queen perform sing "Somebody to Love," beginning with a great a cappella solo from Freddie Mercury
Queen concluded with the one-two punch "We Will Rock You" and "We Are the Champions."
Night #2 began with Ian Dury & the Blockheads. Given the rationale for the event, they can be forgiven for not performing their crowd favorite, "Sex & Drugs & Rock & Roll." But their 11-song set did include "Reasons to Be Cheerful" and "Hit Me With Your Rhythm Stick."
Watch "Hit Me With Your Rhythm Stick," a #1 U.K. hit earlier that year
Following Matumbi's set, the Clash took the stage. The band had released the ambitious London Calling album just two weeks before and their 16-song set was dominated by songs from the two-record set, including "Clampdown," "Train in Vain" and "Wrong 'Em Boyo." They closed with the title cut from the new release.
Watch the Clash perform "Armagideon Time"
The opening act on Dec. 28 had yet to release their debut album. But thanks to touring, there sure was a buzz about the Pretenders. Their set included future favorites "The Wait," Precious," "Mystery Achievement," "Tattooed Love Boys" and "Brass in Pocket." Their self-titled album, released a week later, debuted at #1, where it stayed for four weeks.
Watch "Brass in Pocket" from their performance that evening
Next up were the Specials, whose 15-song set included the reggae band's two recent hits, "Gangsters" and "A Message to You, Rudy."
Night #3 concluded with a 25-song set by The Who, featuring their new drummer, Kenney Jones, who had joined the band earlier that year. The set jumped around from various eras, with early hits ("Substitute," "I Can't Explain," "I Can See For Miles"), and songs from their best known studio albums: the rock operas, Tommy and Quadrophenia…
Watch John Entwistle carry a great version of "5:15"
…as well as Who's Next and Who Are You.
Watch vintage "Baba O'Riley" complete with Pete Townshend smashing a tambourine
Towards the end, the band performed several unlikely songs.
Watch their cover of the Martha and the Vandellas hit, "Dancing in the Street"
Watch The Who perform "Dance It Away"
Elvis Costello & the Attractions opened the final night on Dec. 29, having recently recorded his fourth album (and third with his longtime band).
Watch "The Imposter" from his then-upcoming album, Get Happy
Dave Edmunds and Nick Lowe recorded many albums together, usually credited to their simultaneous solo careers. They released one as Rockpile and performed a short set this evening that included "Crawling From the Wreckage" and "Three Time Loser." They were joined by Robert Plant for a cover of the Elvis Presley hit, "Little Sister."
Listen to Plant guest with Rockpile on "Little Sister"
The final evening's headliner, naturally, was concert organizer Paul McCartney. The then-37-year-old's longtime band, Wings, had released their final album earlier that year and this proved to be their final concert. The 20-song set included a handful of Beatles songs, opening with "Got to Get You Into My Life."
Watch a boyish-looking McCartney open Wings' Dec. 29 set
The set also drew from the Wings catalog and Macca's solo career.
Watch "Every Night" from his 1970s solo debut, McCartney
When Wings' main set was complete, McCartney invited a Who's Who assemblage of British rockers to the stage to play four songs as an encore. The list included three members of Led Zeppelin (Plant, John Bonham and John Paul Jones), Townshend, former Small Faces/Faces bandmates Ronnie Lane and Kenney Jones, Procol Harum's Gary Brooker, Wings, plus members of Rockpile and the Pretenders, among others.
"I'm gonna slow you down a bit here," said McCartney, as he began playing "Let it Be."
Watch them reprise the "Rockestra Theme"
The concerts were finally released on vinyl (and cassette) on March 30, 1981, with 20 of the songs included on a two-record set. Side One was devoted to four songs from The Who; Side Four went to Paul McCartney & Wings, and to Rockestra. The album didn't sell particularly well, peaking that May at #31 in the U.S. on the Record World chart (#36 on Billboard). The album has long been out of print.
[If any Best Classic Bands readers have information on what the ticket prices were, please let us know.]
Related: Listings for 100s of current classic rock tours

Latest posts by Best Classic Bands Staff
(see all)