How Eddie Van Halen Changed Rock Guitar
by Noe Gold
This feature first appeared here in May 2016.
Edward Van Halen has been on the cover of Guitar World magazine 29 times since the band that bears his surname debuted in 1978. There's a reason for that.
As the magazine's editor, I presided over a number of those covers. Our publisher couldn't get enough of them, because Eddie sold a lot of copies. And in that big-hair era, he defined guitar culture as much as his heroes Eric Clapton and Jimmy Page defined that culture of his youth.
He was always kind of aw-shucks modest on the subject of his influence on other players. But that's the mark of a true legend. His unique style of playing and dazzling technique comes off as effortless because he makes it look so easy. And he obviously has a ball up on stage – just look at his shit-eating smile. It's always there, whether he is shredding a hundred notes a second or pulling on his whammy bar in some masturbatory epiphany of growling, lurching, drooling feedback.
Edward – which Van Halen prefers to be called, though he is known far and wide as Eddie – invented and continues to reinvent the sound that everyone else tries to copy. The prime example of his astounding tone, agility and adventurousness begins with Van Halen lighting his cigarette, blowing some smoke rings and soloing for close to six minutes. And his cigarette stays lit until the very end.
Related: Our obituary for Eddie Van Halen
Eddie is all about the moment – chance and serendipity affects inspiration in EVH. "Nothing I've ever done is really all that thought out," he said recently. "I'd just wing stuff, and if it sounded cool I would do it again."
The list of Van Halen acolytes and influenced players is very long and cuts across genres. Once Van Halen's signature style of playing triplets tapped across the guitar's fingerboard with both hands erupted – literally, with his signature song, "Eruption" – and hijacked the mulleted hair-band scene, it was "aprés moi le deluge." Check it out: Night Ranger's Jeff Watson tap-danced his way to notoriety with his eight-finger runs, but Bruce Kulick, Randy Rhoads, Uli Jon Roth, George Lynch, Yngwie Malmsteen, Jake E. Lee, Dimebag Darrell and Zakk Wylde hopped on the speedy licks train. But it was not only imitators. Axe innovators like Joe Satriani, Steve Vai, Dave Navarro, Tom Morello, Tony MacAlpine, John McLaughlin (!), bassist Billy Sheehan and, yes, even Slash joined the party.
Sheehan put it this way in an interview: "I think either directly or indirectly, Ed's playing has virtually influenced every other guitar player. Even guitarists who aren't into his playing go so far out of their way to avoid playing like him – they're still being influenced by his presence."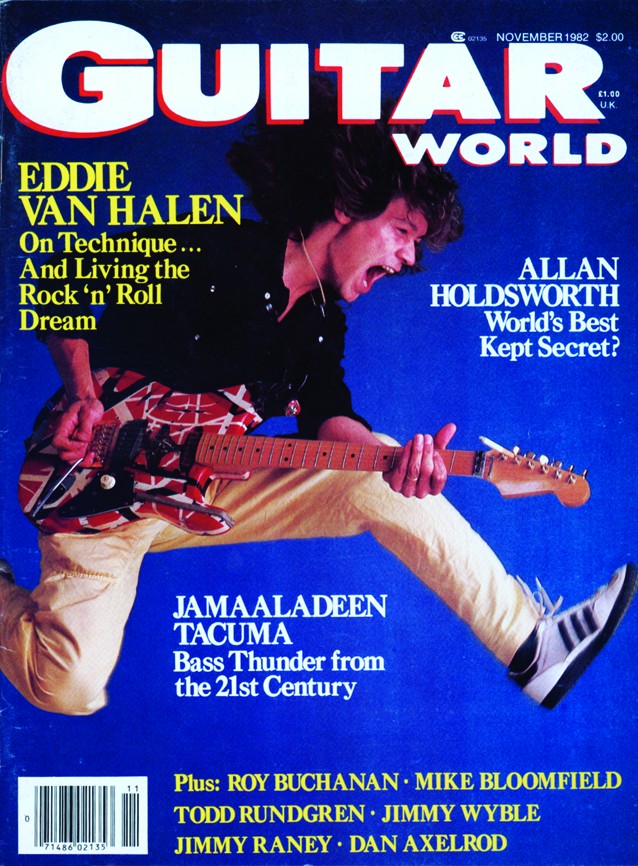 Back in 1985, he had this to say about what he dubbed the "typewriter players. They all play as fast as they can, as loud as they can, scream as high as they can. But they don't even scream or play fast with a unique quality. It leaves me cold." And a couple of years later, he elaborated about "the speedy licks boys. Hey, that's not my fault. Maybe they cop the speed because they can't cop my feel. Maybe they shouldn't think so much. I don't think when I play. It's spontaneous, it's feeling."
He developed this philosophy in a very serious while at the same time intuitive pursuit of musical knowledge. As kids, Eddie (born January 26, 1955), and his older brother Alex (born May 8, 1953)  – immigrated from Holland with their musician dad – and commuted from Pasadena, CA to San Pedro to study classical piano with an elderly man, Stasys (Stanley) Kalvaitis.
Related: Eddie's son, Wolfgang, shared some great family photos in 2019
But that was not where he learned his feeling-based, spontaneous approach to music, which he developed without ever learning how to read a single note. When he was a junior in Pasadena City College, he took a scoring and arranging class with a Dr. Fisher, who also taught Frank Zappa. "Dr. Fisher was very avant-garde. The one thing he taught me was 'fuck the rules.' If it sounds good, it is good.
"I didn't go by the book, I wrote my own book," says Eddie.
Van Halen has always driven his music to the extreme. The band's self-titled debut album embodied this revolutionary drive and featured an amazing amount of exuberant squeals, squonks and screams on the guitar.
Related: Our Album Rewind of the band's debut
Nowhere is this playing more evident than on this live version of "Eruption":
While he was first inspired by the ringing, melodic syncopation of Eric Clapton, Edward's signature sound involves a technique known as two-hand tapping.
Did Van Halen invent this sound? He'll be the first to admit that it was probably invented by some Italian guy in the early twentieth century. "I never claimed I did or didn't invent that technique," he says. "I just do what I do, use this finger or that. That's my sound – whatever feels right. The reason I do so many… call 'em tricks, effects, whatever was because in the beginning I couldn't afford a wah-wah pedal, a this or that device, fuzz box, all the toys people had. So I just experimented with sounds and continued to play. If you're a musician you just play until you die. It's not an ordinary job."
Also he is both masterful and tasteful, applying his Stradivarius technique always in the service of the song, not the solo. And when he does take that solo, it doesn't call attention to itself but enhances the song. A perfect example of that is his spotlight riff on Michael Jackson's "Beat It," which he modestly says was executed on the fly.
If you're a new Best Classic Bands reader, we'd be grateful if you would Like our Facebook page and/or bookmark our Home page.
The tapping technique, which takes a page from Hendrix by holding the pick between thumb and middle finger, allows the guitarist to diddle the strings with his index finger at the same time and provides a haunting harmonic tone. When EVH came on the scene and laid that on us, the profile and the stance of a guitar player would forever be changed. Many previous guitar legends had employed tapping – Jimi Hendrix, Frank Zappa, Genesis' Steve Hackett and Queen's Brian May among them – but none with Eddie's command and melodic authority. Eddie credits Jimmy Page with inspiring his interest in developing the technique, citing the hammer-ons at the beginning of Page's "Heartbreaker" solo as inspiration.
And then there is the hammer-on itself, which was not pioneered by EVH – you can hear it on bluegrass recordings, f'chrissakes – but its application to rock guitar, yes, that was Eddie Van Halen. More importantly, his hammer of the gods is performed so effortlessly, so casually, that if you didn't know he was on the wagon, you'd think he was hammered.
To quote another guitar player who is dabbling in the master's licks, Brooklyn Allman, "Eddie Van Halen always smiles that bright, shiny 'I fucking won at life' smile. They should put him on the Wheaties box."
Shit, if I could play guitar like that, I'd always be smiling too.