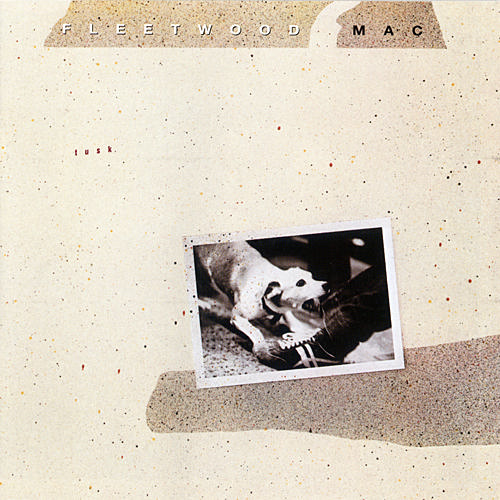 How does a band follow-up an album that sold tens of millions of copies, earned a Grammy Award for Album of the Year, yielded four hit singles and essentially cemented their classic rock legacy? In the case of Fleetwood Mac, they chose to record a more experimental album.
1977's Rumours achieved every band's goal imaginable. It was the #1 album in the U.S. for a whopping 31 weeks and in three years it had sold 13 million copies. Today, that number is reported to be north of 40 million. It yielded four Top 10 singles: "Go Your Own Way," "Dreams" "Don't Stop" and "You Make Loving Fun."
Following the phenomenal success of Rumours, the band took a more experimental approach with their 12th record, Tusk, introducing sparser arrangements as well as punk rock and new wave production influences. It was also the most expensive rock album made up to that point, costing over a million dollars to record – a fact pointed out often in the 1979 press.
It was scheduled to be released on October 15, 1979, as a two-record set, but was rushed to stores a few days earlier, on Oct. 12, when several stations began airing leaked copies.
The band's lineup again featured Mick Fleetwood, John McVie, Christine McVie, Lindsay Buckingham and Stevie Nicks.
But Tusk was really Buckingham's vision. He wrote nine of its 20 tracks, many of which were recorded at his home studio. (Christine McVie wrote six; Nicks contributed five.)
In the midst of a surprisingly tough record retail climate at the time, the album received the biggest initial shipment in Warner Bros. Records history. "We've seen what happened [with the] three and a half million records [RSO Records] laid out [for the Sgt. Pepper movie soundtrack]," said the label's SVP Ed Rosenblatt. "I'm not interested in moving records from our pressing plant to the warehouse. I want to get them out to where the consumer can buy them.
"I would rather be under-shipped than over," he said.
There are 20 tracks on the collection and Warner Bros. released six as singles, only two of which went Top 10: "Tusk" and "Sara." Two didn't even chart. While Tusk ultimately sold four million copies worldwide, it peaked at only #4 on the U.S. album chart and is considered a commercial failure, given the phenomenal success of Rumours.
Reasons (and blame) abound: its list price was extremely high for the time… $15.98; the RKO radio stations had played the album in its entirety in seven major markets nearly two weeks' before its release and encouraged home taping; it was too "experimental," and so on.
Regarding the list price, Rosenblatt said: "You have to remember that in effect you're dealing with double costs. If we were to lay out four million [copies], it's really eight million. We feel that at $15.98, it's a great value."
The band recorded the title track (and video) at an empty Dodger Stadium with the help of the USC Marching Band.
Watch the title track to "Tusk," and yes, that's Stevie Nicks twirling a baton at 1:14
October 10, 1979 was proclaimed Fleetwood Mac Day in Los Angeles, via a proclamation by Mayor Tom Bradley. The festivities included a star on Hollywood's Walk of Fame, followed by a party to play back the new album for 600 guests.
Listen to another one of the album's singles, "Think About Me"
Fleetwood Mac toured in 2018-19, with a revised lineup featuring Mick Fleetwood, John McVie, Stevie Nicks, and Christine McVie along with newcomers Mike Campbell and Neil Finn. In the year following Christine McVie's passing in 2022, statements from Fleetwood and Nicks indicated that the surviving band members would no longer be tourin.
In 2015, Rhino released a super deluxe edition of the album. And for Record Store Day 2016, a limited edition Alternative Tusk vinyl version was issued.
Related: Fleetwood Mac, Lindsey Buckingham part ways… again

Latest posts by Best Classic Bands Staff
(see all)