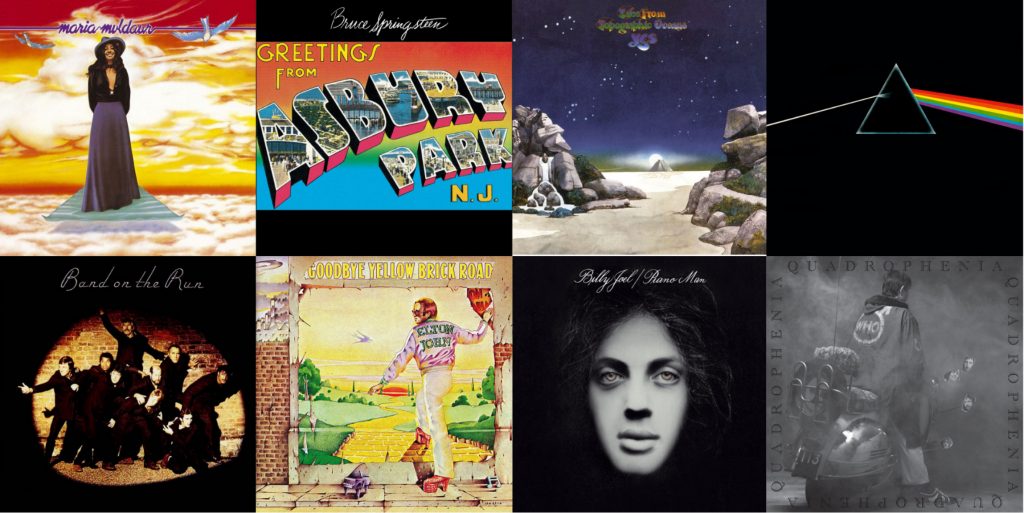 It's probably not the first year that comes to mind when the subject is great albums of the 1970s. But then you look more closely—Quadrophenia, Houses of the Holy, Innervisions, Let's Get It On, Piano Man, Goodbye Yellow Brick Road—and it all comes into clearer focus.
All four former Beatles released fine albums in 1973.
And—oh, yeah—there was this thing called The Dark Side of the Moon.
We looked back at hundreds of albums released in 1973 and whittled the list down to the 50 that we think represent the cream of the year's crop. Many of these titles remain cornerstones of any essential classic rock record collection, sounding as fresh now as when we first removed the vinyl from the shrink-wrapped album jacket.
We're not ranking them; they're arranged alphabetically by artist. How many of the 50 do you own?
The Allman Brothers Band—Brothers and Sisters—Following the deaths of co-leader Duane Allman and bassist Berry Oakley, the reshuffled lineup gave more of a frontman role to Gregg Allman and guitarist Dickey Betts. The latter contributed "Jessica" and "Ramblin' Man," their highest-charting single by far.
The Beach Boys—Holland—Brian Wilson's creative role had undeniably diminished by this time, and Bruce Johnston was temporarily out, leaving it to the others, and to new members Blondie Chaplin (who provided the lead vocal on "Sail On, Sailor") and Ricky Fataar to take up the slack. But Brian did make his presence known on the terrific bonus EP Mount Vernon and Fairway (A Fairy Tale).
Related: The Beach Boys' Al Jardine talks about the Pet Sounds album
Black Sabbath—Sabbath Bloody Sabbath—Many still didn't know what to make of them in 1973. Sabbath Bloody Sabbath helped to define it further—the title track, in particular, was a consummate piece of early metal.
David Bowie—Aladdin Sane—Coming after the game-changing, career-making Ziggy Stardust album and tour, Aladdin Sane featured a tougher rock sound than its predecessor. It produced one major hit ("The Jean Genie") and a couple of other solid Bowie classics. Bowie's other 1973 release, Pin Ups, consisted of covers of some of his favorite '60s tunes.
Jackson Browne—For Everyman—Browne had shown promise as a songwriter since his teens, and his debut the previous year made him a performer to watch. This sophomore release, featuring songs like "These Days" and "Take It Easy" (co-written with Eagles' Glenn Frey) confirmed that Browne was a major talent with real staying power.
Alice Cooper—Billion Dollar Babies—It took a while for rock fans to come to terms with Alice Cooper but Billion Dollar Babies, their sixth album, went to #1 in '73, and is considered by many to be the most essential of the band's LPs.
Related: Our Album Rewind of Billion Dollar Babies
Chicago—Chicago VI—At this point in their career they could still do no wrong. Two top 10 singles came out of the album, "Feelin' Stronger Every Day" and "Just You 'n' Me," and a few others received a ton of radio play. With this album Chicago continued their shift toward a more unabashedly pop sound.
Derek and the Dominos—In Concert—Eric Clapton released two superb live albums in 1973: Eric Clapton's Rainbow Concert, featuring Pete Townshend, Steve Winwood, Ronnie Wood and others, and In Concert, a live set by Derek and the Dominos recorded in 1970 at NYC's Fillmore East. The album proved that they killed it onstage too.
The Doobie Brothers—The Captain and Me—Although they were from northern California, the Doobie Brothers took a while to catch on because they were nothing like the Bay Area's psychedelic hippie bands. The Captain and Me was the breakthrough, peaking at #7 and producing two classic rock staples: "China Grove" and "Long Train Runnin'."
Related: Our feature on the Doobies' perfect rock song
Dr. John—In the Right Place—By far the biggest album of his career, largely due to the success of the single "Right Place, Wrong Time," Mac Rebennack's sixth album was New Orleans funk/R&B personified. He's been a star ever since, a global ambassador for the Crescent City.
Eagles—Desperado—Their second album, Desperado included, of course, the Don Henley-Glenn Frey title track, as well as soon-to-be classic "Tequila Sunrise." The album did not get near the top of the charts, stalling at #41—the consecutive #1s were still a couple of years away—but the elements were all in place.
Emerson, Lake and Palmer—Brain Salad Surgery—Although their plan was to record an album that could be easily performed live, the epic four-part Greg Lake/Keith Emerson (with some input from Pete Sinfield) composition "Karn Evil 9" and the classical adaptation "Toccata" were larger than life by nature, while the Hubert Parry hymn "Jerusalem" gave plenty of ammo to critics who were already calling ELP's work overblown.
Related: Our Album Rewind of Brain Salad Surgery
Roberta Flack—Killing Me Softly—For several years in the '70s, everything this classy singer touched was gold. Following her top 5 set of duets with Donny Hathaway, Flack delivered this diverse set that included songs from Leonard Cohen, Janis Ian and, of course, the smash title track, a beautiful ballad that still sounds fresh and moving today.
Marvin Gaye—Let's Get It On—Arriving a couple of years after the perfect, timeless What's Going On (with the soundtrack Trouble Man in between), Let's Get it On is sublime on its own terms, regularly showing up on all-time-best lists. It walks a fine line between classic soul and the brewing funk sound, and is as erotic as music ever gets. We sweat just thinking about it.
Genesis—Selling England by the Pound—The British prog group was still finding its footing on its fifth studio album, which features the classic lineup of Peter Gabriel, Phil Collins, Steve Hackett, Tony Banks and Mike Rutherford. Although it only reached #70 in the U.S., many fans now consider it an underrated classic of the genre.
Grand Funk—We're An American Band—Dropping Railroad from their name and adding Craig Frost on keyboards, the band went for the mainstream, which paid off big-time with a #1 single in the title track, while the album itself climbed to #2.
George Harrison—Living in the Material World—Harrison's massive success with the triple-LP All Things Must Pass in 1970, followed by The Concert for Bangladesh in '71, surprised those who'd always considered him third in line talent-wise in the Beatles. His 1973 effort kept the streak going, vaulting to #1 on the strength of such popular tracks as "Give Me Love" and the title number.
Iggy and the Stooges—Raw Power—Iggy Pop and his '60s/'70s band actually never cracked the top 100 with any of their albums, and this one, made by a reconstituted lineup before Iggy gave up entirely on the Stooges, topped out at #182. But their influence has been incalculable for decades—few bands, and few albums, have found as much posthumous favor as this one.
Related: 50 classic rock albums of 1971
Waylon Jennings—Honky Tonk Heroes—Country-rock was ubiquitous in the early '70s, so it was only natural that its fans would explore country's mainstream. They discovered the nascent outlaw genre, which owed less to the conventions of Nashville than what was happening in rock. Honky Tonk Heroes was a seminal entry in the genre.
Jethro Tull—A Passion Play—Tull leader Ian Anderson was enamored of the concept album, and this, their sixth album, found them embracing religious concepts and attempting to create from that a thematic suite of songs set to prog musical ideas. The album reached the top of the charts in America even while taking a critical drubbing.
Related: Our Album Rewind of Tull's Thick As a Brick
Billy Joel—Piano Man—He was still a little known Long Islander, but this followup to his solo debut Cold Spring Harbor (a commercial bomb) caught on with AOR radio DJs and climbed to a respectable #27. The title track was, and remains, a rock classic and there were several other noteworthy songs.
Elton John—Goodbye Yellow Brick Road—Elton John was coming off two #1 albums—Honky Chateau and Don't Shoot Me I'm Only the Piano Player in October '73. Goodbye… was widely recognized as a masterpiece, spending eight deserving weeks at #1, with tracks like "Candle in the Wind," "Bennie and the Jets" and the title track becoming staples of the rock canon forevermore.
Related: See which of these great albums were among 1973's top-sellers
Led Zeppelin—Houses of the Holy—The band's fifth studio album went to #1 on the strength of tracks like  "Over the Hills and Far Away," "No Quarter," "The Song Remains the Same" and "D'yer Mak'er," but at that point they could have sung the phone book (remember phone books?) and had a smash. Check out our back story of the album's famous cover.
John Lennon—Mind Games—Outside of its title track, few songs on Mind Games were memorable. It was made during a rough period in Lennon's life and that trouble is reflected in the music. Still, it was John Lennon, so it made the top 10, and in retrospect it's got some tunes that are well worth re-exploring.
Little Feat—Dixie Chicken—The California-based band's third studio effort was not a hit at all during its lifetime—it didn't even make the Billboard top 200. But it is now considered one of their finest, especially the irresistible title track. Guitarist Lowell George was in especially fine form throughout.
Related: We look back at Dixie Chicken
Lynyrd Skynyrd—(Pronounced Lĕh-'nérd 'Skin-'nérd))—The new Southern rock band showed plenty of promise on their debut, even while many classic rock fans weren't quite sure what they were all about. The album reached a respectable #27 on the charts, but its closing tune, a little jam called "Free Bird," has managed to reach a few ears over the ensuing decades.
Mahavishnu Orchestra—Birds of Fire—The very embodiment of the jazz fusion genre, they took Miles Davis-influenced contemporary jazz, mixed it up with psychedelic rock and turned up the volume to an unfathomably ear-splitting level. Guitarist John McLaughlin was the leader and mastermind, and the concept jelled on this, their second studio release.
The Marshall Tucker Band—The Marshall Tucker Band—Another new entry in the Southern rock genre, this group from Spartanburg, South Carolina stretched into country, R&B and folk. Their debut established them as a new force, if only for the two classics that opened the album, "Take the Highway" and "Can't You See."
Paul McCartney and Wings—Band on the Run—Wings' third studio set, which followed the fine Red Rose Speedway (released earlier in the year), was recorded mostly in Nigeria, where things didn't always go smoothly for them. Nonetheless, they came out with a set that is often considered their finest album; McCartney has regularly performed at least half of the songs (including the title track, "Jet" and "Bluebird") in his live shows.
Related: Our Album Rewind of Band on the Run
Maria Muldaur—Maria Muldaur—Although she had been on the folk scene for years, this sassy, earthy solo debut seemed to come out of nowhere. Muldaur was (and still is) a master interpreter of song, and made material by sources as diverse as Dolly Parton and jazz/blues singer Blue Lu Barker her own. "Midnight at the Oasis" was a refreshingly original smash single.
New York Dolls—New York Dolls—Produced by Todd Rundgren, the first album by the wild, hard-rocking band received as much attention for the way the band members, um, dolled up as for the music. But ultimately that crunching rock 'n' roll left an outsized mark, contributing to the birth of the punk-rock revolution that was right around the corner.
Mike Oldfield—Tubular Bells—Would Tubular Bells have been such a phenomenon if it hadn't been used on the soundtrack for The Exorcist? Hard to say. Virtually a one-man project by Oldfield, it fit into the prog-rock category but borrowed from several other sources—a complex, heady work, it caught on in a big way.
Gram Parsons—GP—Parsons had already earned his place in history by bringing a strong country flavor to the music of the Byrds and the Flying Burrito Brothers. His solo debut stayed within those confines, with a touch more soul and Stones-ish rock tossed in. The album did not sell well, but many consider it a gem.
Pink Floyd—The Dark Side of the Moon—What can you say about DSotM that hasn't already been said? There are many reasons that it not only went to #1 (their first to get even close) but stayed on the charts for more than 750 weeks in all. Let's repeat that: more than 750 weeks on the Billboard album chart—more than 14 years!
Related: 11 'Weird' songs heard on Dark Side of the Moon
Queen—Queen—When it was released, there were few reasons to believe that the band behind this self-titled debut would become a major force. Queen only reached #83 in America and none of its songs are among those that come to mind immediately when Queen is mentioned. Still, all of the hallmarks were in place.
Related: What were the top radio hits of 1973?
The Rolling Stones—Goats Head Soup—When you're the Stones, and you're coming off a string of major albums including Sticky Fingers and Exile on Main Street, you can be forgiven for putting out a record that doesn't quite measure up. Still, Goats Head Soup was no slouch, and at this late date it still holds up fairly well.
Linda Ronstadt—Don't Cry Now—Her fourth solo album and first for Asylum Records only reached #45, and no hit singles came from it. But it contained strong performances—her cover of Don Henley and Glenn Frey's "Desperado," Randy Newman's "Sail Away" and the country staple "Silver Threads and Golden Needles" among them—and it stayed on the charts for over a year.
Related: 50 classic rock albums of 1975
Paul Simon—There Goes Rhymin' Simon—In his solo work, as with Simon and Garfunkel, he had no compunction about trying out new ideas. But Simon also knew how to make a hit, and songs like "Kodachrome," "Loves Me Like a Rock" and "American Tune" were built for mass consumption, giving him another platinum seller.
Bruce Springsteen—Greetings From Asbury Park, N.J.—He was branded at first as just another "new Bob Dylan," brandishing a guitar and singing wordy songs that sometimes got a little too obtuse for their own good. Greetings… was only a moderate hit (#60), but songs like "Spirit in the Night," "Growin' Up" and "Blinded By the Light" suggested there was some potential there. The followup, The Wild, the Innocent & the E Street Shuffle, released later the same year, didn't fare much better, but his breakthrough would come soon enough.
Related: Links to 100s of classic rock tours (including many of these artists)
Ringo Starr—Ringo—Who would have expected Ringo to release a smash album? Certainly not many who'd heard his first two solo efforts. But then came this, packed with solid, memorable interpretations and even a few tunes he had a hand in writing. It didn't hurt that all three fellow Fabs helped out.
Related: Our Album Rewind of Ringo's solo breakthrough
Steely Dan—Countdown to Ecstasy—Following up a brilliant debut that included the hits "Do It Again" and "Reelin' in the Years" would have been a challenge for any new band trying to establish a foothold. Countdown to Ecstasy didn't fare as well on the charts but it was just as impressive. Read more about the album here.
Cat Stevens—Foreigner—The English singer-songwriter was at the peak of his success—his previous three albums had all gone top 10. Foreigner took more of a risk, with its entire first side devoted to the 18-minute "Foreigner Suite" and no obvious hit singles in sight.
Tower of Power—Tower of Power—The horn-centric Oakland, Calif.-based funk group had attracted a niche audience, primarily in the Bay Area, and needed a national breakthrough if they were to remain viable. Their third album did the trick, landing on FM rock stations' playlists all over.
Related: 1973 – The year in music
The Wailers—Burnin'—The Bob Marley-led Jamaican group played a style still largely unfamiliar to most Americans—Island Records tried to sell them as a Caribbean version of soul music. It still didn't sell in great quantities, but more people caught on with this—the album included both "Get Up, Stand Up" and "I Shot the Sheriff" (soon to be covered by Clapton)—and the year's earlier release, Catch a Fire.
Joe Walsh—The Smoker You Drink, The Player You Get—He had already proven himself a crazy-good guitarist and frontman of note with the James Gang. When he left that band for one called Barnstorm, fame was kept at bay, but this 1973 set, billed as a solo album but essentially a Barnstorm project, suggested he had staying power. A call from the Eagles a couple of years later would confirm that.
The Who—Quadrophenia—Pete Townshend had begun piecing together this rock opera in the wake of Tommy and Who's Next. It detailed the story of a young Mod and was, arguably, the band's most sophisticated and compelling work to date. Who fans took to it readily, and they still do—the story and songs have migrated to several different formats, including a well-received film that included a young newcomer named Sting among its cast members.
Related: Read a "lost" interview with Townshend from 1974
Bill Withers—Live at Carnegie Hall—A classy soul singer with leanings toward pop, Withers had enjoyed a top 5 album, Still Bill, the previous year when he played this prestigious New York show. The performance brought out all of his charm and charisma.
Related: Our Album Rewind of Live at Carnegie Hall
Stevie Wonder—Innervisions—He'd already been a major R&B star for a decade, but little did we know that the 23-year-old was only beginning to display the breadth of his creativity. Innervisions, like '72's Talking Book, gave him a top 5 album, boosted by the brilliant tunes "Living for the City," "Don't You Worry 'bout a Thing" and "Higher Ground."
Yes—Tales From Topographic Oceans—With their two previous releases having broken them big, Yes was in a prime position to take some risks. The album's four sides each consisted of one lengthy number, giving prog-haters more ammo to dismiss the genre but pleasing the millions who happily dug in to its yoga-related story line, complex arrangements and virtuosic playing. Yessongs, the band's first live album, also did well for them in 1973.
Related: Our interview with Yes' Jon Anderson
ZZ Top—Tres Hombres—As the title plainly stated, they were three men, with a single mission, to rock the hell out of simple blues forms. Their third album was their breakthrough, climbing into the top 10 and giving the trio a quasi-hit single with "La Grange," still one of their signature tunes.

Latest posts by Jeff Tamarkin
(see all)