'Ringo': His 1973 Solo Breakthrough, With a Little Help From You Know Who
by Jeff Tamarkin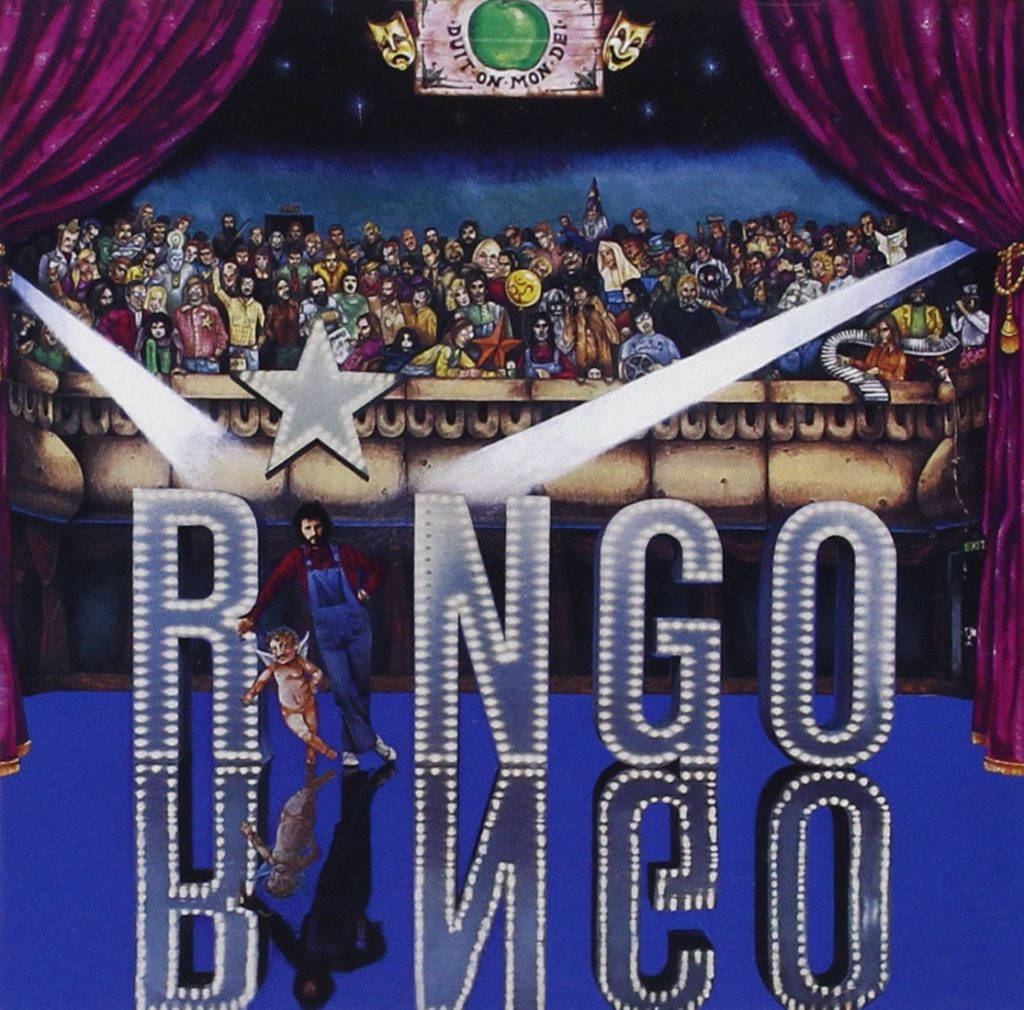 By 1973, you might not have wanted to bet on Ringo Starr. He'd released two solo albums, 1970's Sentimental Journey and, later that same year, Beaucoups of Blues, without much fanfare. The former had sold respectably, landing at #22 in Billboard, most likely on the strength of its novelty—it was a collection of what is now called Great American Songbook standards—but the followup, which was country music-oriented, had died at #65.
While he'd managed to score with two big hit singles produced by George Harrison—the #4 "It Don't Come Easy" in 1971 and the #9 "Back Off Boogaloo" the following year—both of those were one-offs, not included on albums. Surely some fans must have wondered if Starr had given up altogether on the idea of making solo albums.
Everyone still loved Ringo Starr, so it wasn't that. How could you not? He seemed to be the one member of the band who'd stayed out of the fray that eventually caused their split (although he did once stage a dramatic walkout), and at least two of his former bandmates still valued his services: Harrison had invited him to take part in the high-profile 1971 Concert for Bangladesh, and Starr had played drums on Harrison's All Things Must Pass and John Lennon/Plastic Ono Band, both in 1970. In the few years following the Beatles' split, Starr had also guested on recordings by B.B. King, Leon Russell, Stephen Stills, Harry Nilsson, Peter Frampton and several others.
His old friends hadn't been strangers to the recording studio—quite the opposite. Harrison's All Things Must Pass and '73's Living in the Material World had both reached #1 in the States. Plastic Ono Band had made the top 10 and was followed by Lennon's chart-topping Imagine in 1971. Paul McCartney had not been idle either: His self-titled debut hit #1 in 1970 and stayed there for three weeks. Ram, his followup with wife Linda, was a #2 album, and their band Wings was off to a good start, with the top 10 Wild Life in '71-'72 and the #1 Red Rose Speedway in early '73. Was it possible that Starr had nothing left to offer? Would he instead pursue his side career as an actor and hang up his drums?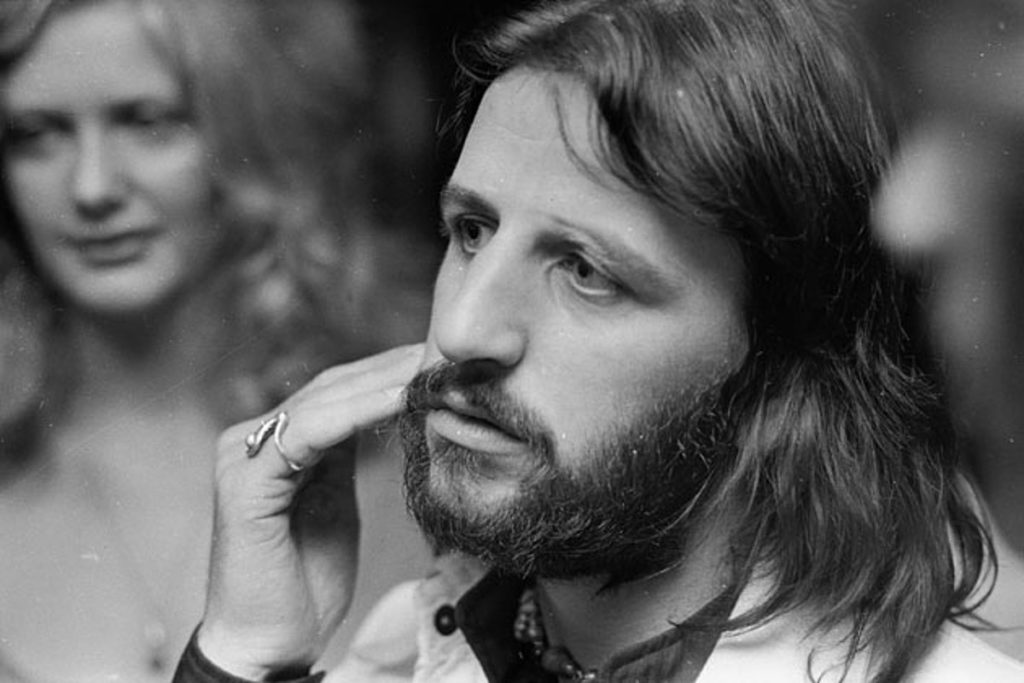 Nope. On Nov. 2, 1973, came Ringo, and just like that, he was back in the game.
Even if Ringo had been a terrible album, it would have been newsworthy: For the 10-song set, Starr had been busy going through his phone book. And that phone book still had working numbers for those three guys named John, Paul and George. Although the four ex-Beatles did not work together on any individual track, they each contributed to the album to various degrees, making Ringo the first project since 1970 that would involve all four musicians. It was the closest they ever came to a genuine reunion in the years between the band's breakup and Lennon's death in 1980.
In addition to those fellows, Ringo also featured guitar parts from T. Rex's Marc Bolan and Booker T. and the MG's' Steve Cropper; various keyboards from Billy Preston, James Booker and Nicky Hopkins; bass from Klaus Voorman throughout the LP; additional drums by Jim Keltner; and David Bromberg on banjo and fiddle. Bobby Keys, Chuck Findley and Tom Scott played horns, arranged by the latter. Background vocals were supplied by Martha Reeves, Harry Nilsson, Linda McCartney and Merry Clayton. Four-fifths of the Band (no Richard Manuel) contributed to one track.
To produce the album, Starr teamed up with Richard Perry, then one of the fastest-rising talents in the business, with eclectic credits including Harry Nilsson, Barbra Streisand, Carly Simon, Fanny and, way back in 1967, the debut by Captain Beefheart. Ringo was, to be sure, an all-star(r) celebration.
Related: Our interview with Ringo
It begins, in fact, with a song written by John Lennon, "I'm the Greatest." Riotously tongue-in-cheek (or was it?), he'd penned it back in 1970, just after the band had called it quits. A wry commentary on fame—with a title borrowed from a Muhammad Ali catchphrase—the story begins "way back home in Liverpool" when the narrator was a little boy. First, his mama tells him he's great; then his friends and a woman. "I was in the greatest show on earth, for what it was worth," the singer reports (draw your own conclusons). "Now I'm only thirty-two and all I want to do is boogaloo!" More people—his kids—tell him he's great: "I'm gonna be the greatest in this world/In the next world and in any world!" But is he really? Maybe he's not so sure.
Although Lennon had cut a version of "I'm the Greatest," he had declined to release it, a good thing as it turned out to be a perfect fit for Starr's innately jolly voice and persona. The song was recorded in Los Angeles in March 1973, with Lennon and Harrison both playing on the track—as did Voorman and Preston. The recording's insertion of a cheering crowd as Starr sings "Yes, my name is Billy Shears, you know it has been for so many years," draws a direct line to Sgt. Pepper-era Beatles, when all was fine, making "I'm the Greatest" an ideal intro to the album that many still consider to be Starr's finest post-Fabs statement.
"Have You Seen My Baby?," the second track on Ringo, was written by Randy Newman, and had led off the American singer-songwriter 's second album, 1970's 12 Songs. Newman had released it as a single but it had not charted for him, and Starr chose not to do the same. Marc Bolan, then riding high with T. Rex, overdubs a guitar line, and while the song rocks at a steady pace, it's one of the less notable tunes on the set.
Not so "Photograph." For this track, Starr and Harrison put their heads together—it is the only song officially credited to the two of them and no one else. They'd first worked on it in 1971 while in the South of France and there was an early version, but the album track was re-recorded in March '73. It's a gem, too, memorable enough that it remains a staple of live shows by the All-Starr Band to the present. Harrison contributes guitar to the track, which also features Hopkins, Voorman and Keltner, as well as acoustic guitars from Vini Poncia and Jimmy Calvert. "Photograph" has a bit of a melancholy touch to it—all the singer has left of his great, now lost, love affair is a photograph to remember her by—but fans didn't seem put off by that. "Photograph" became Ringo Starr's first #1 Billboard single upon its release in October '73.
"Sunshine Life for Me (Sail Away Raymond)" is a forgotten gem if ever there was one. Written by Harrison in Ireland in the wake of the Beatles' dissolution, it finds the narrator longing for an escape from the foul mood he's gotten himself into: "It's a sunshine life for me, if I could get away from this cloud over me/Seems to just follow me around," Starr sings, to a quasi-Celtic lilt. To further establish that he's not feeling so great, he adds, "Now most folks just bore me, always imposing, and I'd rather meet a tree somewhere out in the cornfield." With backing by Robbie Robertson, Levon Helm, Garth Hudson and Rick Danko of the Band, some critics have noted that the song doubles as an homage to that group's "Rag, Mama, Rag," in spirit if not entirely in sound.
Ringo has already given us one chart-topping single, and it's about to give us another to end side one. "You're Sixteen" is a song that would never fly in today's world: an adult male voicing his affections for a minor. It's a bit on the possessive side too ("You're sixteen, you're beautiful and you're mine"). But certainly no one was thinking about that in 1960 (or again in 1973, for that matter). The song, written by brothers Bob and Dick Sherman, was first cut by the rockabilly/pop singer Johnny Burnette. It went top 10 in its original form and Starr undoubtedly heard it along with all of the other imported American rock 'n' roll singles that made their way to Liverpool. McCartney appears on Starr's cover—it sounds as if he's playing a kazoo, but apparently that was actually his voice doing a kazoo-like thing. Nilsson sings backup, Hopkins plays the piano and Keltner joins Starr on the drums. Released as a single in early December 1973, it made its way up the chart until it perched at #1 in late January for a single week.
Flipping over the original 12-inch, side two begins with "Oh My My," a fun little tune co-written by Starr and Poncia, who would work together on a number of songs over the years. While there isn't much to it lyrically—the singer visits his doctor because his knees are shakin' and his wrist is achin'; doctor asks if he can boogie; nurse heals him—it was catchy enough that it became the third single from Ringo. This one didn't make it all the way to the top, but it came close, peaking at #5. The recording features vocals from Reeves (of Martha and the Vandellas) and Clayton (of Rolling Stones' "Gimme Shelter" fame), and a meaty saxophone solo by L.A. session fave Scott. Keltner, Voorman and Preston add their expertise as well.
There are no further hit singles to be found on Ringo, but there are still four other tracks of varying quality. "Step Lightly," which Starr wrote solo, was the B-side of "Oh My My" in the U.S. Performed at a medium tempo, with Cropper adding guitar licks, it's not the most exciting song on the album. Starr actually sings, "I wish this song was yours instead of mine," in the second verse, maybe not a ringing endorsement of his own composition.
"Six O'Clock," like Harrison's "Sunshine Life for Me," probably should have gotten more attention than it did. It does, after all, feature Paul and Linda McCartney as its co-authors, with both singing backing vocals and Paul offering piano and synthesizer parts. Recorded in London, with Poncia and Voorman filling out the track, the wispy love ballad exudes a homey feel that might've fit in on Abbey Road or the White Album. Lyrically, the singer is lamenting that he doesn't acknowledge his partner as often and as fully as he should: "I know you would say you love my way/It's good enough for you/But I know for sure, I could do more," he ponders in a heartfelt manner. Some critics loathed the tune, others consider it one of the most underrated post-Beatles tracks.
"Devil Woman," by Starr and Poncia, is the album's hardest rocking tune, with Tom Hensley at the piano, a full complement of horns and percussion, and Keltner doubling up on drums with the leader, who gives it his all on vocals (producer Perry also adds his voice in the background). Lyrically, it's, um, not always very p.c.: "Every time I see you in the neighborhood/I say, you're the kind of woman that makes me feel good/I wanna beat you up and then I wanna be kind, and one of these days I'm gonna make you mine." Yeah, maybe not, dude.
"You and Me (Babe)" closes Ringo on a high note. The song was co-penned by Harrison and Mal Evans, the Beatles' former right-hand man, and Harrison puts his guitar to good use on the recording, which also features Hopkins, Voorman, Scott and others. Arranged as a deliberate mock show-closer, it winds down with a spoken narration by Starr in which he thanks several of the contributors: "Well, it's the end of the night and I'd just like to say thank you to everyone involved in this piece of plastic we're making," he says, then name-checks his former bandmates and some of the major session players on the LP. "I can still be found right here on this record spinning round, with the sound," he states, and his words are no less true today than they were in 1973.
Ringo rose to #2 on the Billboard album chart, his highest-ever placement there. It remains a landmark not only for the participation of the other Beatles, but because it jump-started Starr's solo career, which continues to this day. He only managed one other top 10 album, Goodnight Vienna, which followed this one in late 1974. But Starr still records and, most importantly to him, keeps his music alive onstage. Ringo Starr and His All-Starr Band first went out on tour in 1989 and has continued to traverse the world's stages ever since, with ever revolving lineups—14 of them to date by someone's count. Some of the rock world's greatest musicians have done time in the All-Starr Band, and the set lists have often featured at least a song or two from the Ringo album, most prominently its three top 10 singles. With a little help from his friends, Ringo Starr created an album in 1973 that has held up admirably over the years.
Related: Our review of a 2018 All-Starr Band concert
Bonus Video: Watch Ringo and the Roundheads perform "Photograph" live in 2009

Latest posts by Jeff Tamarkin
(see all)