'Dixie Chicken': Little Feat's Secret Southern Sauce
by Sam Sutherland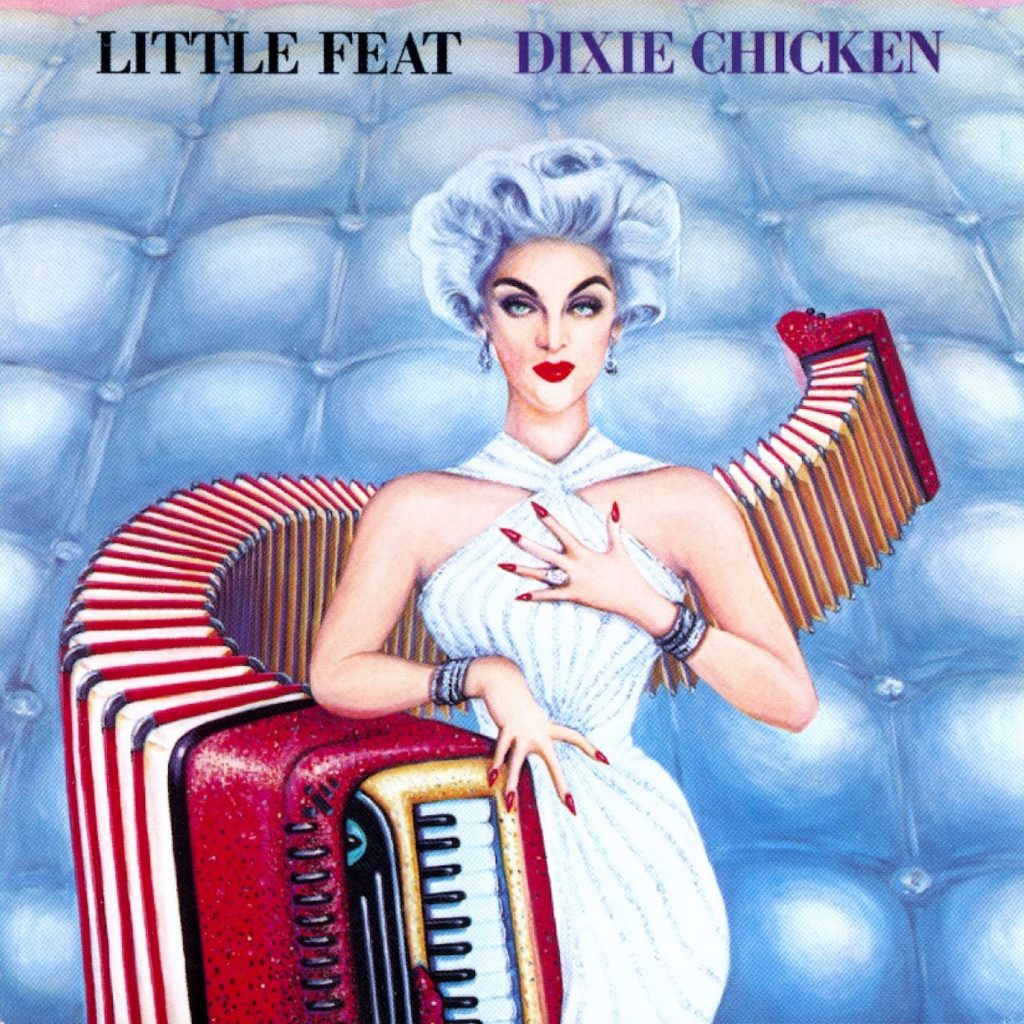 For Little Feat, 1972 brought commercial defeat, then creative rebirth. Formed three years earlier by guitarist Lowell George and keyboard player Bill Payne, the Los Angeles quartet was a Mothers of Invention splinter group featuring alumni George and bassist Roy Estrada, sanctioned by Frank Zappa, who either invited George's departure or demanded it, depending on conflicting reports. (One version holds that the founding Mother objected to a new George song, "Willin'," celebrating "weed, whites and wine," a sentiment that the famously anti-drug Zappa was anything but willing to have associated with the band.)
Zappa's support helped secure a Warner Bros. deal, yielding a self-titled debut album that reaped critical plaudits without gaining traction at radio or record stores. The band had responded with Sailin' Shoes, a more polished and powerful set showcasing George's signature slide guitar style and Payne's virtuosic barrelhouse piano on a set of original songs that underscored the band's growth, again stoking critical rapture but eluding radio play and record sales. Released in May '72, the album's commercial failure prompted Estrada to depart for the seeming security of Captain Beefheart's Magic Band, leaving George, Payne and drummer Richie Hayward to soldier on.
To replace Estrada, Feat 2.0 took a boldly expansionist turn: In addition to new bassist Kenny Gradney, a Baton Rouge native, the band enlisted another Louisiana expat, percussionist Sam Clayton (brother to crack L.A. session vocalist Merry Clayton), along with second guitarist Paul Barrere, who Lowell George had known since both were students at Hollywood High. With that realignment, Little Feat established a more potent and flexible rhythm section that built upon an already powerful four-square foundation laid by Hayward: With Clayton adding conga, djembe and other percussion instruments, Gradney locking into Crescent City syncopations and Barrere answering George's simmering slide leads with complementary riffs and spare rhythm guitar, Little Feat now cruised on a supple cushion of polyrhythms.
In the studio, Lowell George stepped up as producer, a leadership role strengthened by his emergence on Sailin' Shoes as the band's most prolific and distinctive writer. Drawing on his versatile command of blues, country, folk and now R&B, he refined the surrealistic imagery and eccentric (and often cheerfully shady) characters that were proving his stylistic hallmarks. For the third full-length, Dixie Chicken, released Jan. 25, 1973, he would dominate the set list even more than on the prior albums. Although the album didn't even make the Billboard chart, it's often considered the band's definitive studio set.
Dixie Chicken signaled the band's polyrhythmic swagger with laid-back confidence, bass and conga bumping into a hip-swaying groove punctuated with Payne's spare, jaunty piano filigree. Lowell George's hearty drawl established its southern milieu as he set a romantic shaggy dog story against "the bright lights of Memphis and the Commodore Hotel." The starry-eyed protagonist's ill-fated courtship of a dubious "southern belle" cast its own spell over the song and the album, mapping a mythic Dixieland in a screwball narrative that echoed Preston Sturges' antic '40s comedies. George's hapless Romeo recounted the affair as "low-down southern whiskey began to fog [his] mind," setting him up for a sucker's fate:
            And I don't remember church bells or the money I put down
            On the white picket fence and boardwalk
            On the house at the edge of town
            Oh, but boy, do I remember
            The strain of her refrain
            And the nights we spent together
            And the way she called my name 
On the chorus, Bonnie Bramlett added a lusty, soulful voice to George's as he serenaded his "dixie chicken," vowing to be her "Tennessee lamb," only to find himself seduced and abandoned. The song's closing verse offered the singer's encounter with a knowing bartender back at the Commodore Hotel bar that transformed the final chorus into a killer punchline.
"Two Trains" followed, updating a familiar blues metaphor for sexual rivalry while showcasing bubbling cross-rhythms stitched by Barrere's rhythm guitar, Payne's electric piano and the triple-threat interplay of Hayward, Clayton and Gradney with Lowell George hovering above the mix with his signature slide. Where other blues and rock stylists would typically lay out melodic lines that slurred their blue notes upward, George's slide work carved out angular leads that could dart downward, sustain shimmering single notes or sting with short, fat jabs that were uniquely his.
Listen to "Two Trains"
Sleek grooves and sly story lines weren't George's or the band's only strengths. As they had on earlier ballads (notably the previous album's definitive take on "Willin'" and the wry but tender "Trouble"), Feat knew when to pull back on firepower and dolly in for intimate close-ups. On "Roll Um Easy," Lowell George's voice and acoustic guitar are decorated sparingly with restrained slide accents and raw vocal harmonies by Three Dog Night's Danny Hutton.
Listen to "Roll Um Easy"
Little Feat's persuasive command of New Orleans R&B made the choice of a song from Crescent City icon Allen Toussaint as one of two outside contributions seem not merely inspired but inevitable, not least of all because of Toussaint's own rising stock among '70s rockers on both sides of the Atlantic. "On Your Way Down" was a seamless fit for Feat in terms of both sound and sinister theme—the Golden Rule translated into karmic paybacks, haunted by serpentine synthesizer lines and moody percussion going bump in the night.
Listen to "On Your Way Down"
Beyond the album's charms, the sextet's ensemble chemistry and expanded tool kit would elevate them onstage. Another Dixie Chicken standout, "Fat Man in the Bathtub," provided percolating Afro-Cuban rhythms as George recounted a sexual standoff for Spotcheck Billy, whose plea to "check your oil" is rebuffed by Juanita, the object of his obsessions and the subject of his refrain.
Listen to "Fat Man in the Bathtub"
That track, like the album's title song and "Two Trains," would become a fixture in Little Feat's live sets, frequently anchoring medleys linked to Sailin' Shoes gems, and their fourth album, Feats Don't Fail Me Now, doubled down on their L.A./NOLA axis to open up a lane at rock radio and in record stores. With 1975's The Last Record Album, however, George's role began to recede as Bill Payne and Paul Barrere added jazz fusion elements.
Related: Our obituary for Barrere, who died in 2019
In 1978, the live Waiting for Columbus gave Little Feat their highest-charting  album (#18), but by 1979, during sessions for their seventh studio album, Little Feat disbanded in the wake of George's departure to focus on a solo career that would be cut short that June with his death from a heart attack at the age of 34. Little Feat would regroup with a new lineup in 1988, but its "classic" sound would always be associated with the lineup introduced on Dixie Chicken. 
Watch Little Feat play "Dixie Chicken" live on The Midnight Special w/Bonnie Raitt, Emmylou Harris and Jesse Winchester 
Related: Our Album Rewind of the band's great live album, Waiting For Columbus

Latest posts by Sam Sutherland
(see all)