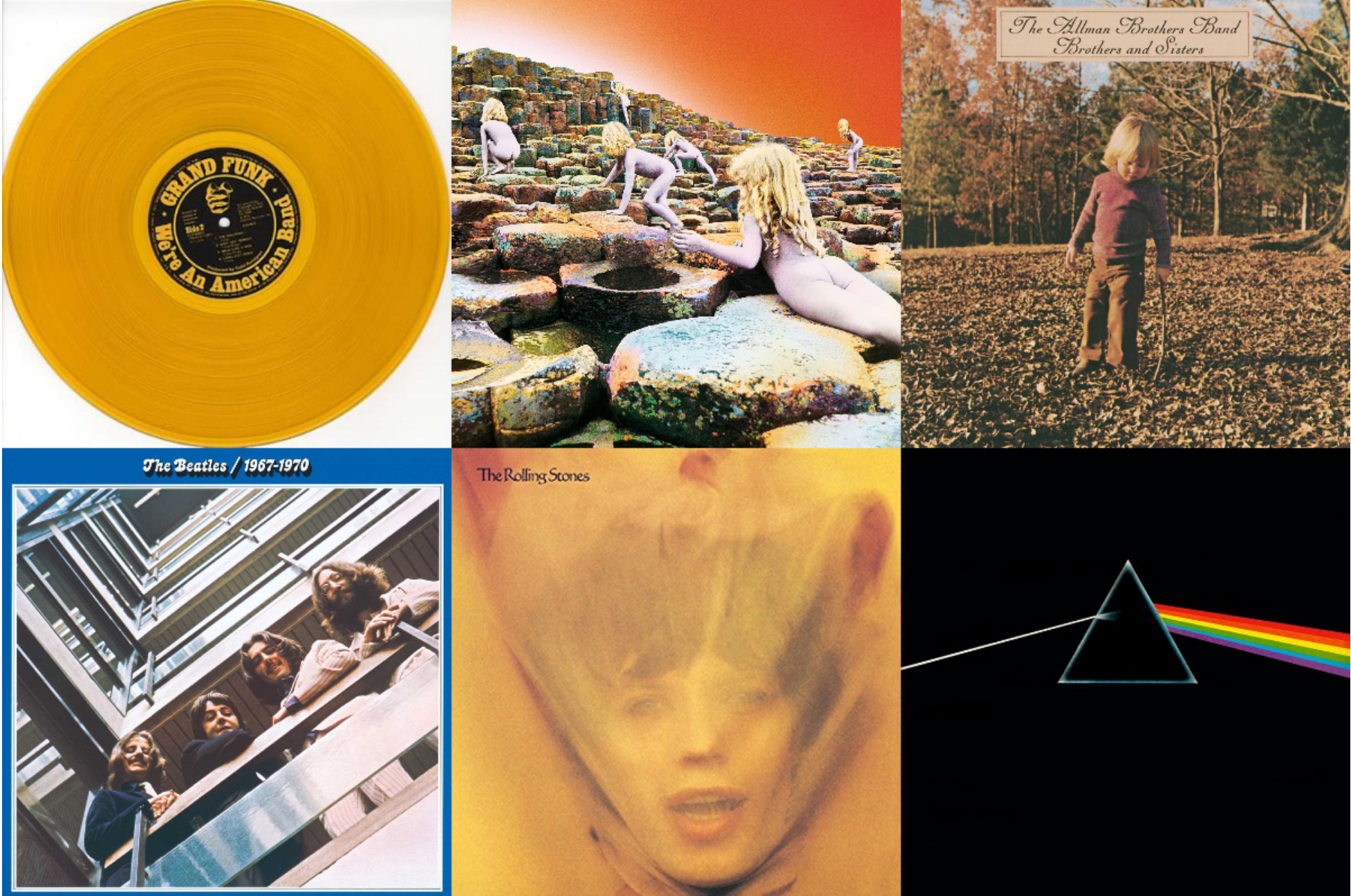 Making headlines in 1973… CBS, feeling owning a Major League Baseball team didn't belong as part of its core assets, sold the New York Yankees for $10 million to a group led by George Steinbrenner. It proved to be a good investment by the Cleveland shipbuilding magnate. In 2017, Forbes valued the club at $3.7 billion.
The final original episode of Rowan & Martin's Laugh-In aired on March 12. Later that month, The Godfather won the Academy Award for Best Picture. Pablo Picasso died at age 91. Secretariat won horse racing's Triple Crown.
In an "oh, by the way" moment, Pres. Richard Nixon's attorney revealed the existence of an 18-and-a-half minute gap in a White House tape recording.
Recordings made by some of the biggest classic rock artists of the era dominated the list of 1973's top-selling albums in the U.S. The chart, compiled by the former music industry trade magazine, Record World, features several all-time classics among the year's Top 20 sellers, including legendary albums by Led Zeppelin, the Allman Brothers Band and Pink Floyd.
"Dueling Banjos," featured in the heart pounding film drama Deliverance, was a #1 single on Record World. Somehow, enough people enjoyed it enough to buy an entire album's worth of music from Eric Weissberg and Steve Mandell to make it the year's #20 best seller.
Following the release of his hugely successful 1970 solo album, All Things Must Pass, George Harrison was extremely busy, his calendar filled with projects such as the Bangladesh concerts and film. In 1973, the follow-up arrived in the name of Living in the Material World. Both the album and its "Give Me Love (Give Me Peace on Earth)" topped the charts and was #19 for the year.
In the 1970s, Elton John enjoyed a legendary run of success that yielded six #1 U.S. albums. One of them, Don't Shoot Me, I'm Only the Piano Player yielded two big hits: "Crocodile Rock" and "Daniel," which helped it place #18 overall.
From 1970 to 1974, Grand Funk Railroad released seven straight Top 10 albums. Thanks to its terrific title cut, We're an American Band was the year's #17 album.
Solo or with Wings, Paul McCartney earned five #1 albums between 1970 and 1976. Though only one single, "My Love," was released from Red Rose Speedway, both the song and the album reached the top, the latter achieving #16 for the year.
The blues rock musician Edgar Winter had one of the more unlikely radio hits of the 1970s, with the instrumental smash, "Frankenstein." It and the more conventional rock song, "Free Ride," were included on the Edgar Winter Group's They Only Come Out at Night album, helping it reach #15 for 1973. "Free Ride" was written and sung by the band's Dan Hartman, who died in 1994 at just 43 years old.
Related: Surprising Radio Hits of the 1970s
At just 23 years old, Stevie Wonder released his 16th album in a decade, Innervisions, playing nearly all of the instruments himself. It featured three hit singles: "Higher Ground," "Living For the City" and "Don't You Worry 'Bout a Thing," and earned him his first of three Grammy Awards for Album of the Year. Innervisions was 1973's #13 top seller.
A pair of Beatles compilations were released simultaneously in 1973. The so-called "Red Album," officially called 1962-1966 compiled songs from their early years. It was a huge seller but its sales were eclipsed by the companion album, 1967-1970 (aka "The Blue Album"). The latter was #12 for the year; both remain steady sellers.
In a three-and-a-half year stretch, Chicago ran the table with five straight #1 albums. The second was 1973's Chicago VI, which featured two of their numerous hits: "Feelin' Stronger Every Day" and "Just You 'n' Me." It was the year's 9th biggest album.
Not to be outdone, the Rolling Stones earned eight consecutive #1 studio LPs in the U.S. from 1971 to 1981. Goats Head Soup (#8 overall this year) was the third in that streak. It yielded two singles: "Angie" and "Doo Doo Doo Doo Doo (Heartbreaker)" which reached #1 and #15 in the U.S. respectively.
Related: What were 1973's top radio hits?
Go figure… Every Led Zeppelin album from 1969's II through 1979's In Through the Out Door hit #1 in America, except for IV (which ironically has sold 23 million copies in the U.S. alone). 1973's Houses of the Holy was #7 for the year.
Carly Simon's No Secrets was released in November 1972 but the massive success of its #1 hit, "You're So Vain," helped it become 1973's #3 best seller.
Related: Here's a different spin… 1973 in 50 classic rock albums
Though they were never Top 40 radio favorites, the format embraced the Allman Brothers Band's "Ramblin' Man," taking it all the way to #2. Its success made Brothers and Sisters their only #1 studio album (and the year's #2 overall).
And at #1? Pink Floyd's true breakthrough, The Dark Side of the Moon. While their earlier albums were consistent Top 10 sellers in their native U.K., the group's previous high water mark in the U.S. had topped out at just #46. DSOTM put them in a completely different league and it stayed on the Billboard albums chart for 741 straight weeks from 1973 to 1988. With worldwide sales of some 45 million copies, it is one of the best-selling albums ever. (Estimates put it behind only Michael Jackson's Thriller and AC/DC's Back in Black in worldwide sales.). (DSOTM's "Money" gave Floyd their first pop hit.)
Related: Many of these artists still perform live and are in our listings of 100s of classic rock tours
20. Deliverance  (Orig. Soundtrack) (Warner Bros.)
19. Living in the Material World – George Harrison (Apple)
18. Don't Shoot Me, I'm Only the Piano Player – Elton John (MCA)
17. We're an American Band – Grand Funk (Capitol)
16. Red Rose Speedway – Paul McCartney and Wings (Apple)
15. They Only Come Out at Night – Edgar Winter Group (Epic)
14. Los Cochinos – Cheech Y Chong (Ode)
13. Innervisions – Stevie Wonder (Tamla)
12. The Beatles: 1967-70 (Apple)
11. Let's Get it On – Marvin Gaye (Tamla)
10. Now & Then – Carpenters (A&M)
9. Chicago VI (Columbia)
8.  Goat's Head Soup – Rolling Stones (Rolling Stones)
7. Houses of the Holy – Led Zeppelin (Swan Song)
6. Rocky Mountain High – John Denver (RCA)
5. Lady Sings the Blues (Orig. Soundtrack) – Diana Ross (Motown)
4. No Secrets – Carly Simon (Elektra)
3. The World is a Ghetto – War (United Artists)
2. Brothers and Sisters – Allman Brothers Band (Capricorn)
1. The Dark Side of the Moon – Pink Floyd (Harvest)

The BCB team brings you the latest Breaking News, Contests, On This Day rock history stories, Classic Videos, retro-Charts and more.

Latest posts by Best Classic Bands Staff (see all)