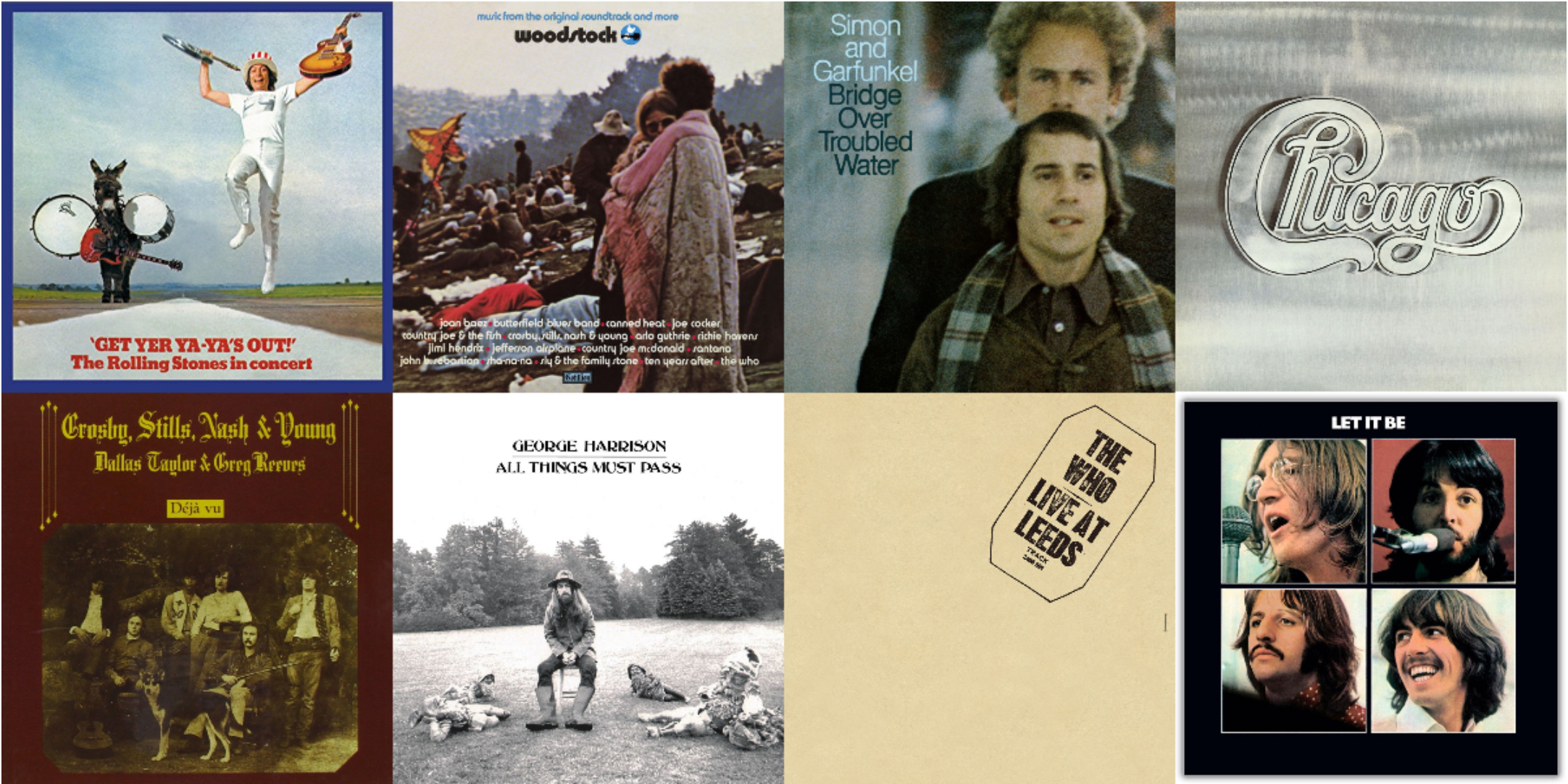 At the start of a new decade, as freeform radio was becoming more prevalent, music buyers were starting to buy albums in greater numbers.
We looked back at hundreds of albums released in 1970 and whittled the list down to the 50 that we think were the year's best. Many of these titles remain cornerstones of any essential classic rock record collection, with works by George Harrison, Traffic, the Rolling Stones, Joni Mitchell, Led Zeppelin, the Grateful Dead, Simon & Garfunkel, The Who, Chicago, CSN&Y, and more, sounding as fresh now as when we first removed the vinyl from the shrink-wrapped album jacket.
We're not ranking them; they're arranged alphabetically by artist. How many of the 50 do you own?
The Allman Brothers Band—Idlewild South—Their second album ("Midnight Rider," "In Memory of Elizabeth Reed") rewrote all preceding notions of what rock from the South could be.
The Band—Stage Fright—Less "rustic" than its predecessor, more rocking, somewhat darker, it set them up as more of a mainstream band and gave them some hot new material to try out onstage.
The Beatles—Let It Be—Recorded before Abbey Road but released after it, this is where it all ended. In some ways, it was taking them back to their roots; in other ways, it owed little to what we'd known as the Fab Four only six years earlier.
Black Sabbath—Paranoid—Their second album (the self-titled debut was released earlier in the year), this was the blueprint for heavy metal. Talk about rock anthems—this album was stacked with them.
The Byrds—(Untitled)—Only Roger McGuinn remains from the early days, but the sound is still unmistakable on this half-studio/half-live double album.
Chicago—Chicago—Also known as Chicago II (after they dropped "Transit Authority" from their name), this double album was ambitious and wide-ranging. Includes "25 or 6 to 4," "Make Me Smile" and "Colour My World."
Eric Clapton—Eric Clapton—With the Yardbirds, Bluesbreakers, Cream and Blind Faith all behind him, the guitarist/singer/songwriter decided it was time to make his own statement ("After Midnight," "Blues Power").
Joe Cocker—Mad Dogs & Englishmen—The traveling road show to end all traveling road shows cut this live double set that personified the rock 'n' soul party.
Creedence Clearwater Revival—Cosmo's Factory—Their fifth album was a monster seller, spending nine weeks at #1 ("Who'll Stop the Rain," "Lookin' Out My Back Door").
Crosby, Stills, Nash & Young—Déjà Vu—The poster boys for the rock supergroup upped their game with the addition of Neil Young. Songs like "Woodstock," "Teach Your Children" and "Our House" still define the hippie ethos.
Related: Our Album Rewind of Déjà Vu
Miles Davis—Bitches Brew—Featuring brilliant players like John McLaughlin, Wayne Shorter and Chick Corea, it was as electric as any rock album and helped usher in jazz fusion.
Derek and the Dominos—Layla and Other Assorted Love Songs—Eric Clapton's short-lived group created an all-time classic with this studio set. The title track was inspired by the guitarist's infatuation with Pattie Boyd, George Harrison's wife.
The Doors—Morrison Hotel—Their fifth (of six) studio album, it was less meandering and experimental than its predecessor. Its lead track, "Roadhouse Blues," became an FM radio staple.
Bob Dylan—New Morning—Following the head-scratcher that was Self Portrait, Dylan's 11th studio album wasn't as country as Nashville Skyline, and wasn't folk, but it surely wasn't like his '60s rock either.
Aretha Franklin—Spirit in the Dark—At the time it wasn't one of her biggest sellers, but many now consider it among her finest works.
Free—Fire and Water—For "All Right Now" alone, it would be a rock classic, but this album that served as the breakthrough for the Paul Rodgers-fronted British quartet is solid from start to finish.
Related: Our Album Rewind of Fire and Water
Funkadelic—Free Your Mind…and Your Ass Will Follow—Funk music was still finding its way at the start of the new decade, but this second album by George Clinton and his troupe of spaced-out virtuosos went a long way toward defining where it could go.
Grand Funk Railroad—Closer to Home—They were controversial in that some rock fans didn't know what to make of a trio that took rock down to the raw basics in this time of excess. Others couldn't get enough, and gave them their first of eight top 10 albums. For more about GFR, go here.
The Grateful Dead—Workingman's Dead—Having embodied the San Francisco psychedelic trip, they took a deep breath, looked toward CSN and The Band for inspiration, and turned to a more folksy/country sound. They'd repeat the formula later that year with the equally sublime American Beauty.
The Guess Who—American Woman—The Canadians were enjoying a string of hit singles but weren't considered much of an album band—until this one soared onto the top 10.
Related: Our Album Rewind of American Woman
George Harrison—All Things Must Pass—He'd released two experimental solo albums that received little notice. Then came this triple-LP that showed, even more than his work with the Beatles, that he was a true leader. It stayed at #1 for seven weeks.
Related: Our Album Rewind of All Things Must Pass
Jimi Hendrix—Band of Gypsys—After three albums with the Experience, he wanted something different. Working with bassist Billy Cox and drummer Buddy Miles, he cut this live New Year's Eve show in New York that presented a whole new side. Sadly, he'd be gone before the end of the year.
Hot Tuna—Hot Tuna—Guitarist Jorma Kaukonen and bassist Jack Casady needed something to do when Jefferson Airplane wasn't working. They made this acoustic blues album in a small club. Nearly five decades later, they are still Hot Tuna.
The James Gang—James Gang Rides Again—This hard-working mainstream rock band out of Ohio hit its stride with this top 20 album. Guitarist Joe Walsh would leave the following year, eventually to join the Eagles, but for many this was a highlight of his career.
Jethro Tull—Benefit—They started out as a jazz-rock band in Britain—their leader even played a flute!—but by their third album they'd hardened up somewhat, featuring tougher guitar lines and darker lyrical themes.
Elton John—Elton John—His songs, co-written with lyricist Bernie Taupin, were both sophisticated and accessible, his piano playing masterful, his singing warm and intoxicating. Hits like "Your Song" and "Take Me to the Pilot" made him a star. He'd return later in the year with the country-oriented Tumbleweed Connection.
Paul Kantner/Jefferson Starship—Blows Against the Empire—By the turn of the decade, Jefferson Airplane was already heading toward a crash. Singer-guitarist-songwriter Kantner gathered a bunch of his California friends on an album that mused about humankind living in other worlds. It was nominated for a prestigious sci-fi award.
The Kinks—Lola Versus Powerman and the Moneygoround, Part One—With albums like Village Green Preservation Society and Arthur, Ray Davies proved one of our most astute observers and craftsmen. On his latest concept album, he takes aim at everything from the music biz to society itself, and the band delivers a tour de force.
Led Zeppelin—Led Zeppelin III—II was a hard act to follow, so Zep was wise not to go in the same direction, instead incorporating more acoustic elements into songs that tended more toward the poetic and introspective than bludgeoning hard rock.
John Lennon—Plastic Ono Band—His debut solo album (not counting three with Yoko) was raw and confessional in spots, vulnerable and tender in others. Songs like "Working Class Hero" and "Mother" were among his most poignant post-Beatles work.
Dave Mason—Alone Together—After vacating Traffic, the guitarist-singer-songwriter gathered a bunch of his friends and put out this collection of tracks that proved he had plenty to say on his own.
Paul McCartney—McCartney—Paul didn't even let his soon-to-be-ex-bandmates know he was making a solo album. With the exception of vocal harmony from wife Linda, he played and sang everything himself. The result was a homey, minimalist collection of fine tunes, including the original "Maybe I'm Amazed."
Joni Mitchell—Ladies of the Canyon—She'd begun developing a devoted audience, and her peers raved about her, but this third album served notice that a major star had arrived. Includes classics like "Woodstock," "Big Yellow Taxi" and "For Free."
Van Morrison—Moondance—His 1968 Astral Weeks was intricate and dense even though it was entirely acoustic. Here the Irish enigma morphs into a full-blown major singer-songwriter. Every song is a gem, including the title track, "Crazy Love" and "Into the Mystic." The also-excellent His Band and Street Choir would follow later in the year.
Mountain—Climbing!—The debut by the group fronted by guitarist/singer Leslie West and bassist Felix Pappalardi took heavy to new levels, but they were also capable of melodic tunes like "Theme for an Imaginary Western."
Randy Newman—12 Songs—His 1968 debut had shown him to be a promising new voice amidst the developing L.A. singer-songwriter pool, but this followup reveals Newman's unique vision. Includes his take on"Mama Told Me Not to Come," which Three Dog Night made into a hit.
The Rolling Stones—Get Yer Ya-Ya's Out—The Stones' 1969 tour of the U.S. was an event of gargantuan significance in the rock world, and the souvenir recording is still considered by many to be among rock's most perfect live albums.
Leon Russell—Leon Russell—He was already a studio veteran by 1970, having played on dozens of hit records as a member of the Wrecking Crew. But it wasn't until he released this debut solo album, containing classic hits like "A Song for You," "Delta Lady" and "Roll Away the Stone," that we experienced the full breadth of his talents as singer, songwriter and instrumentalist.
Santana—Abraxas—Their debut the previous year was seismic, a perfect marriage of rock and Latin rhythms, all fronted by one of the most original guitarists on the scene. The followup refined the approach, giving us hits like "Black Magic Woman" and "Oye Como Va."
Simon and Garfunkel—Bridge Over Troubled Water—Their farewell studio set remains one of their finest, a diverse and powerful creation. The title track alone is a masterwork, and it's kept company by other ace tunes like "The Boxer" and "The Only Living Boy in New York."
Spirit—Twelve Dreams of Dr. Sardonicus—Although it didn't fare as well on the charts as their three previous releases, the California band's '70 effort continued to display solid musicianship and songwriting: "Nature's Way" and "Mr. Skin" are memorable tracks.
Cat Stevens—Tea For the Tillerman—Following Mona Bone Jakon, released earlier in the year, the British singer-songwriter truly began to find his voice on this one, which included literate but radio-friendly songs like "Wild World" and "Father and Son."
Related: Links to tours for 100s of artists – including many of the acts on this list
Rod Stewart—Gasoline Alley—His tenure as vocalist for the Jeff Beck Group brought him recognition, but who knew that he had such depth and versatility in him? The title track and "Cut Across Shorty" are two highlights. That same year the debut by Faces, with Stewart singing lead, was also issued.
James Taylor—Sweet Baby James—Discovered in the U.K., he cut an album for the Beatles' Apple Records, then came home, where he made this sophomore gem. Produced by Peter Asher, it went a long way toward defining the singer-songwriter movement of the decade ahead.
Related: Our conversation with photographer Henry Diltz about the iconic cover photo
Traffic—John Barleycorn Must Die—Traffic was down to a trio by now, with Steve Winwood, Chris Wood and Jim Capaldi, and they used the occasion to indulge in more jamming. But some of the songs—including "Glad" and "Empty Pages"—were among their most accessible.
Various Artists—Jesus Christ Superstar—Rock fans weren't known for embracing musicals, but this was a very different kind. An early project of Andrew Lloyd Webber and Tim Rice, its brash story line and bold performances took it to #1.
Various Artists—Woodstock—The festival was such a spectacular cultural marker that the documentary film had to be a huge success as well. Then came the triple album, stuffed with highlights from the Who, Santana, Joe Cocker and many other performers. It was #1 for four weeks.
The Velvet Underground—Loaded—This would be the end for the New York City band that became much more influential after it split up. Loaded isn't as ear-opening as their debut or White Light/White Heat, but songs like "Sweet Jane" and "Rock & Roll" are now firmly ensconced in the rock lexicon.
The Who—Live at Leeds—Nothing less than one of the all-time killer live rock albums, it captured the original band in all of its fiery glory. For their cover of Eddie Cochran's "Summertime Blues" and the nearly 15-minute "My Generation" alone, it deserves landmark status.
Neil Young—After the Gold Rush—Throughout his career, the Canadian has thrived on challenging himself to keep trying different things. But at this early date it was something of a surprise when his third solo release, which followed the first raucous Crazy Horse LP, was mostly on the soft side—except for the finger-pointing anthem "Southern Man," that is.

Latest posts by Jeff Tamarkin
(see all)