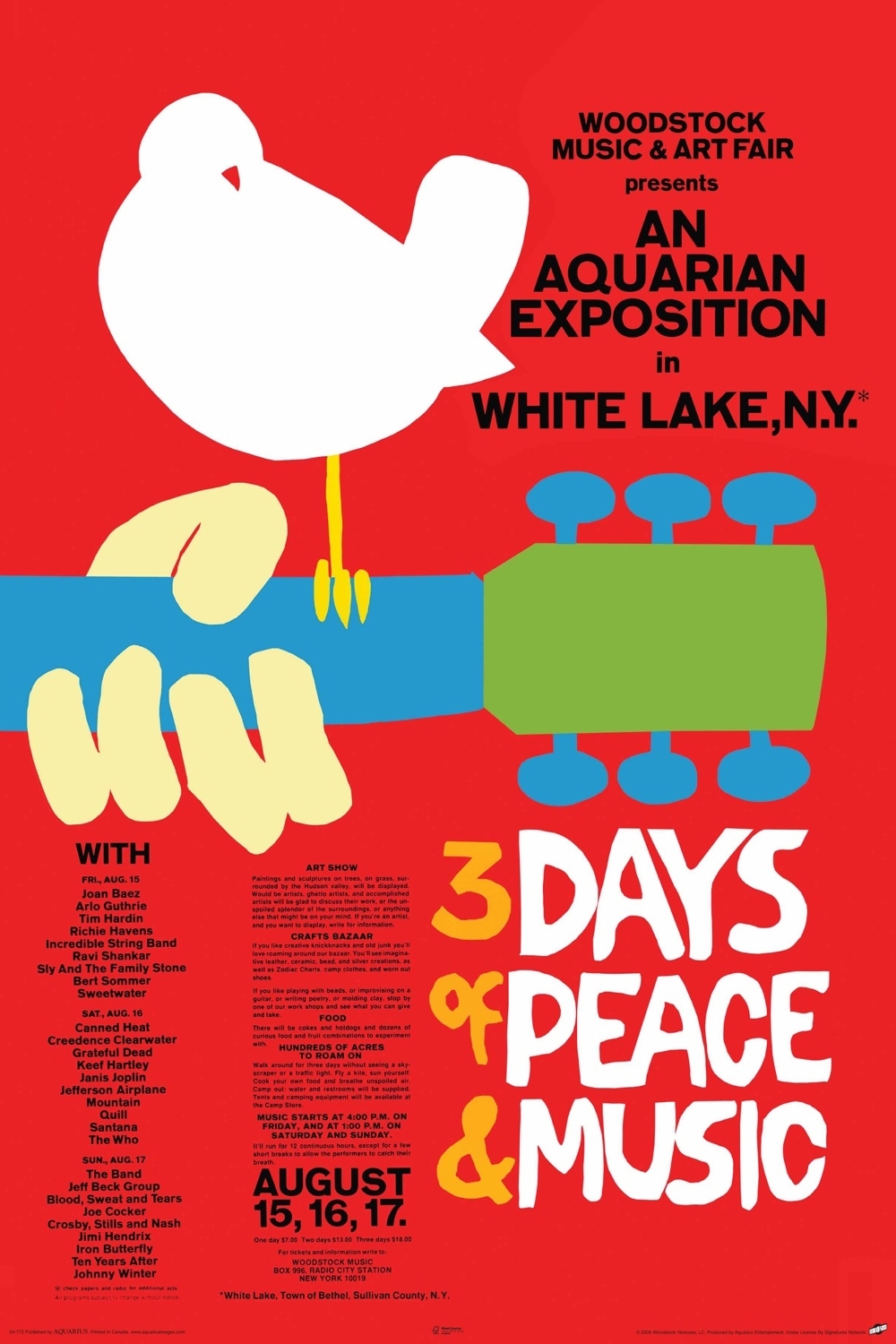 When you do the math, it's not too surprising that a great number of artists who performed at the Woodstock festival on August 15-18, 1969, are no longer with us. The good news is that many still are, some of them still creating brilliant music.
Were it not for a dairy farmer named Max Yasgur, who allowed the organizers to hold the event on his property in August 1969, the event as we know it would not have taken place.
Here is a brief guide to the status of most of the artists who made history and helped define classic rock that weekend in upstate New York.
Joan Baez – Folk legend Baez is still involved in political activism. A concert celebrating her 75th birthday in January 2016 included Paul Simon, Jackson Browne, Mavis Staples, Emmylou Harris and others. She's since been inducted into the Rock and Roll Hall of Fame and released a new album in 2018. Her retirement tour was extended into 2019; she has not yet said whether she has quit performing and recording for good.
The Band – Richard Manuel died March 4, 1986. Rick Danko died December 10, 1999. Levon Helm died April 19, 2012. Guitarist/songwriter Robbie Robertson records sporadically and works with film—his most recent solo album was 2019's Sinematic. He published his autobiography, Testimony, in 2016, accompanied by a retrospective album of the same title. The documentary Once Were Brothers: Robbie Robertson and the Band has played several film festivals and is now available for streaming and purchase. Keyboardist Garth Hudson still contributes to others' recordings.
Blood, Sweat and Tears – The Woodstock lineup of the band fractured in 1972 when singer David Clayton-Thomas left. He and most of the others remain musically active today, including singer/songwriter/guitarist Steve Katz, who published a memoir, Blood, Sweat, and My Rock 'n' Roll Years: Is Steve Katz a Rock Star?, in 2015. Drummer Bobby Colomby became a music business executive and manages a BS&T tribute band today. Trumpeter Lew Soloff died March 8, 2015. Saxophonist Fred Lipsius teaches at Berklee College of Music. Bassist Jim Fielder still plays. Keyboardist, flutist and trombonist Dick Halligan passed away on Jan. 18, 2022. The current status of trumpeter Chuck Winfield and trombonist Jerry Hyman is unknown. Clayton-Thomas still records and performs—his newest album, Say Something, was released in 2019. A version of BS&T still performs, although no original members are involved. Read our interview with Clayton-Thomas here.
Paul Butterfield Blues Band – Butterfield died May 4, 1987. Among the other band members who played at Woodstock, alto saxophonist David Sanborn is the most successful in music, a mainstay in the jazz world with six Grammys on his shelf.
Canned Heat – Alan Wilson died September 3, 1970. Bob Hite died April 6, 1981. Guitarist Henry Vestine died in 1997. Bassist Larry "The Mole" Taylor died in 2019. Guitarist Harvey Mandel and drummer Adolfo "Fito" de la Parra remain active in music, the latter having kept the name Canned Heat alive since the '70s with various musicians.
Joe Cocker – Died December 22, 2014
Country Joe and the Fish/Country Joe McDonald – McDonald (who performed both solo and with his band at Woodstock) had a 2017 album called 50 but he has since retired. Their "I-Feel-Like-I'm-Fixin'-to-Die Rag" turned 50 in November 2017. Barry "The Fish" Melton, who became an attorney in the '70s and later a public defender, still performs and records music. Keyboardist Mark Kapner became a dance instructor. Bassist Doug Metzler works at the University of Pittsburgh. Drummer Greg Dewey still plays and teaches drumming.
If you're a new Best Classic Bands reader, we'd be grateful if you would Like our Facebook page and/or bookmark our Home page.
Creedence Clearwater Revival – Tom Fogerty died September 6, 1990. John Fogerty continues to record and tour, and published his memoir, Fortunate Son: My Life, My Music, in 2015. His most recent album was Fogerty's Factory in 2020. Bassist Stu Cook and drummer Doug Clifford have performed together with Creedence Clearwater Revisited, a tribute to their old band, and are winding things down.
Crosby, Stills, Nash and Young – All four members remain very active in music, albeit not together anymore. Neil Young has released a multitude of albums and performs concerts both solo and with different bands, including his longtime colleagues Crazy Horse. Crosby, Stills and Nash remained together until March of 2016 when Nash, citing difficulties in working together with Crosby, said the trio was through. Nash released a solo album in 2017, This Path Tonight. Crosby released his fifth in seven years, For Free, in July 2021. He has announced his retirement from touring. Stills has been occasionally working with guitarist Kenny Wayne Shepherd and keyboardist Barry Goldberg in the Rides and has toured with his old muse Judy Collins–they released an album in 2017. Young joined him at his 2018 autism benefit. CSN&Y last recorded together in 1999, on the album Looking Forward. They toured together in 2000 and did one last show together—for Young's 27th Bridge School Benefit—on October 27, 2013.
Related: Photographer Henry Diltz talks about shooting Woodstock
Grateful Dead –Ron "Pigpen" McKernan died March 8, 1973. Jerry Garcia died August 9, 1995. Guitarist Bob Weir, bassist Phil Lesh and drummers Bill Kreutzmann and Mickey Hart continue to perform in various configurations—all four participated in 2015's Fare Thee Well concerts; Weir, Hart and Kreutzmann have been touring as Dead & Company (with John Mayer). Lesh performs with Phil and Friends, a band with rotating personnel, and with other makeshift bands. In 2016, Weir released his first solo album in decades, Blue Mountain; he tours regularly and has a band, Bobby Weir and Wolf Brothers, that includes music executive Don Was on bass. Woodstock-era keyboardist Tom Constanten also still performs; he and Dead sound engineer Bob Bralove have a duo, Dose Hermanos.
Arlo Guthrie – Guthrie recently announced his retirement. He celebrated the 50th anniversary of the incident that inspired his signature song, "Alice's Restaurant," in 2016, performing it in concert and releasing a DVD of the event, which aired on PBS stations. He talked to Best Classic Bands about his Re:Generation tour with his children. He performed at the site of the festival, at Bethel Woods on August 15, 2019, on the exact 50th anniversary of his set at the original festival.
Tim Hardin – Died December 29, 1980
Keef Hartley – The band's namesake died November 26, 2011. Band member Miller Anderson is still touring.
Richie Havens – Died April 22, 2013
Jimi Hendrix – Died September 18, 1970. Bassist Billy Cox, who played with Hendrix at Woodstock, still plays. Percussionists Gerardo Veelz and  Juma Sultan are also still performing. Larry Lee, the band's second guitarist at Woodstock, died on October 30, 2007. Mitch Mitchell, a holdover from the Experience, died November 12, 2008.
Incredible String Band – The group split in 1974. Robin Williamson became a solo artist, releasing dozens of albums, the most recent of which is 2014's Trusting in the Rising Light. He is also a published writer and poet. The ISB's other main driving force, Mike Heron, also remains active—his most recent solo release is 2005's Echo Coming Back and he continues to collaborate with others. Of the other Woodstock-era members, Rose Simpson is reportedly retired from music. Christina "Licorice" McKechnie's whereabouts are unknown.
Jefferson Airplane – Drummer Spencer Dryden died January 11, 2005. Guitarist/singer Paul Kantner died January 28, 2016. Singer Marty Balin passed away in September 2018. Guitarist/singer Jorma Kaukonen continues to record and perform solo and with bassist Jack Casady in Hot Tuna, which they formed around the time of Woodstock. Kaukonen's memoir, Been So Long, was published in the summer of 2018. Singer Grace Slick retired from music in 1989 and paints today.
Janis Joplin – Died October 4, 1970
Melanie – Melanie Safka continues to perform and releases albums occasionally. Read our interview with Melanie here.
Mountain – Bassist Felix Pappalardi died April 17, 1983, murdered by his wife. Keyboardist Steve Knight died January 19, 2013. Guitarist Leslie West married Jenni Maurer onstage at the Woodstock 40th anniversary concert in 2009. In 2011 his lower right leg was amputated due to diabetes. West died Dec. 23, 2020. Drummer N.D. Smart II left Mountain shortly after Woodstock, replaced by Corky Laing. Smart continued to perform into the '70s and '80s (notably with Todd Rundgren) and still plays on occasion today. Read our interview with Leslie West here.
Quill – Disbanded in the spring of 1970. Singer/songwriter Jon Cole runs a solar power company. His brother Dan Cole became involved in the software industry and is now a private investor and management consultant. Drummer Roger North joined the Holy Modal Rounders, then designed drums. He plays today with the Freak Mountain Ramblers. The whereabouts of Phil Thayer and Norm Rogers are unknown.
Santana – Carlos Santana remains one of the most successful guitarists and bandleaders in rock. In 2016, he released the album Santana IV, featuring Woodstock-era members Gregg Rolie, Michael Shrieve and Michael Carabello. Of those musicians, Shrieve has remained very active in progressive rock and jazz and Rolie formed the hugely successful band Journey with guitarist Neal Schon, who had joined Santana in 1971. The current status of percussionist José Octavio "Chepito" Areas is unknown. Woodstock-era bassist David Brown died in 2000. Santana and his wife, Cindy, released a full-length album collaboration with the Isley Brothers in 2017. Carlos signed with BMG and released the album Blessings and Miracles in late 2021.
Swami Satchidananda – The Indian yogi who spoke to the throng at Woodstock died August 19, 2002.
John Sebastian – Although he has scaled back due to throat problems, Sebastian still performs and records sporadically today. (Read our interview here.) He has collaborated with Maria Muldaur, David Grisman and others. He released a series of instructional CDs and DVDs. The album John Sebastian and Arlen Roth Explore the Spoonful Songbook was released in 2021.
Sha Na Na – The current whereabouts of most of the 12-member '50s revival group are unknown. Original members Donny York and Jocko Marcellino lead a current version of the group. Henry Gross still performs. (Dr.) Robert A. Leonard is a Professor of Linguistics at Hofstra University. Dennis Greene died in 2015.
Ravi Shankar – Died December 11, 2012
Sly and the Family Stone – The group dissolved in 1975. Sly Stone's activity in music has been erratic since; he has recorded solo but personal issues have continued to dog him and he was reported to be homeless in 2011. Cynthia Robinson died November 23, 2015. Freddie Stone has been inactive in music since leaving the band. Rosie Stone has remained active, touring recently as a backup singer for Elton John. Jerry Martini formed a Sly tribute band and worked with Prince. Greg Errico continues to play drums in the Bay Area. Larry Graham formed the popular funk group Graham Central Station and collaborated with Prince.
Bert Sommer – Died July 23, 1990
Sweetwater – Alan Malarowitz died in the '80s. Albert Moore died in 1994. August Burns also died, in the '80s. Singer Nancy Nevins was injured severely months after Woodstock, putting an end to the band. She was a college English professor for some three decades and also performs her one-woman show, "When Yer Rock 'n' Roll, what's a Little Brain damage?" Keyboardist/songwriter Alex del Zoppo continues to record and perform music. Percussionist Elpidio Cobian works with film. Bassist Fred Herrera, Nevins and Del Zoppo reunited for Woodstock '94, and Herrera and del Zoppo still play gigs together.
Ten Years After – Alvin Lee died March 6, 2013. The group split in 1976 and reunited on a number of occasions, most recently in 1994. In 2003 Ric Lee, Chick Churchill and Leo Lyons, the other three original members, formed Ten Years After without Alvin Lee, recording and touring. Lyons left in 2014; the other two carry on the name.
The Who – Keith Moon died September 7, 1978. John Entwistle died June 27, 2002. Pete Townshend and Roger Daltrey continue to tour with other musicians as the Who. (Daltrey toured in the summer of 2018, performing Tommy.) The Who completed a U.S. run in 2019 and are scheduled to return to the road in the fall of 2022. Daltrey released a new album, As Long As I Have You, in 2018; it includes several guitar contributions from Townshend. The Who released a well-received new album, WHO, in December 2019.
Johnny Winter – Died July 16, 2014. His brother, Edgar Winter, remains active in music and released a tribute album, Brother Johnny, in 2022. He also tours as a member of Ringo Starr's All-Starr Band.
Max Yasgur – And finally, let's not forget the farmer who leased his land for the festival. He died February 9, 1973, at age 53, just three-and-a-half years after the festival. The 100th anniversary of his birth was December 15, 2019.

Latest posts by Jeff Tamarkin
(see all)