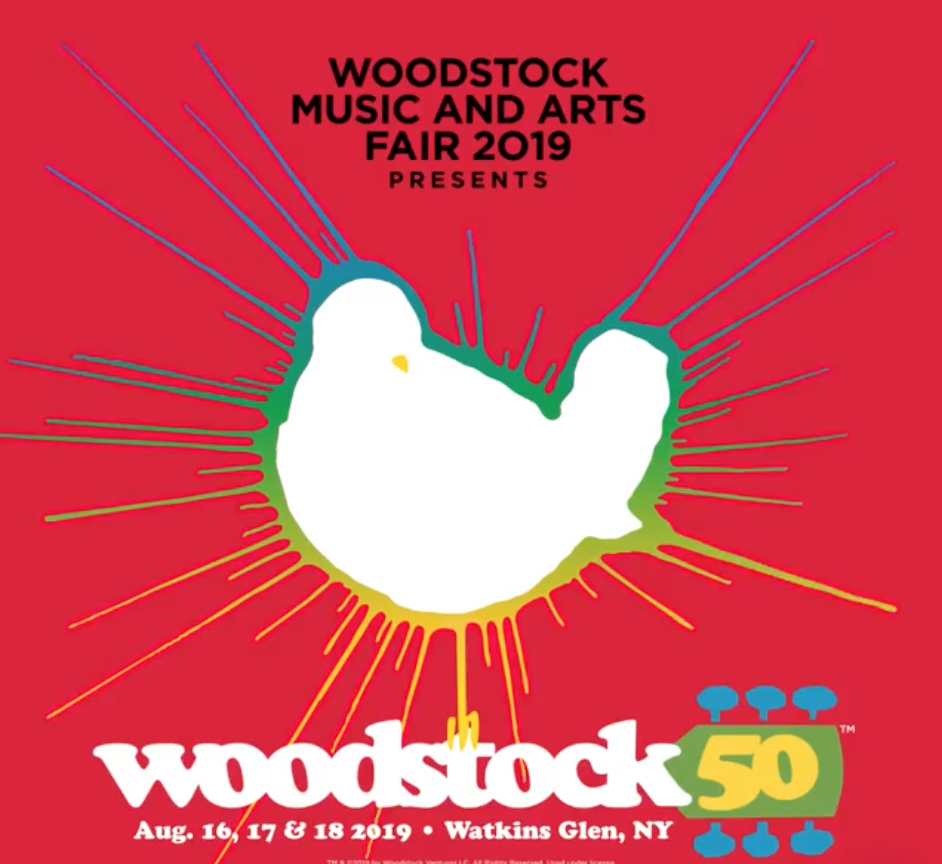 On January 9, the organizers of the Woodstock Music & Art Fair announced the dates and location of the official 50th anniversary festival. Woodstock 50 will be held Aug. 16, 17 and 18, 2019 in Watkins Glen, NY. At the time, no artists or details had been revealed but the official website noted: "Artist and Ticket Information Coming Soon." On March 5, that same message still appears.
In an article published on March 4, Variety wrote that the event is "reportedly running into financial and logistical issues."
The publication also quotes a story in the music industry trade publication, HITS, which identifies many A-List acts that are expected to perform. HITS' list includes two classic rock acts – Dead and Company, and Santana. (The Grateful Dead and Santana were both part of the 1969 festival's lineup.) Santana are already scheduled to appear at the scaled-down event taking place that same weekend at the '69 festival's original site in Bethel, NY.
Other participating acts cited by HITS include Jay-Z, Miley Cyrus, Imagine Dragons, Chance the Rapper, the Killers, the Black Keys and Halsey.
When asked about the rumors of financial issues and lineup, promoter Michael Lang replied to both publications with the same statement: "There's always been lots of rumors around Woodstock. We have excellent partners and an incredible talent lineup of over 80 artists, which will be announced within the next couple of weeks. We're preparing a once in a lifetime event."
In an interview with The New York Times, published Jan. 9, Lang, who co-created Woodstock along with Artie Kornfeld, said, "Coachella's got its thing, as does Bonnaroo and Lollapalooza. But I think they're all missing an opportunity to make a difference in the world. They're all perfect places for social engagement and for fostering ideas, and I think that's lost.
"We want this to be more than just coming to a concert," he added. "And hopefully a lot of the bands will become part of this effort to get people to stand up and make themselves heard, to get and out vote. And if they don't have a candidate that represents their feelings, to find one — or to run themselves."
There will be three main stages for the performers. Lang expects to sell up to 100,000 three-day passes to the event. Classic rock fans may recall that the location in upstate New York is famous for previously rock festivals including a 1973 event that featured the Grateful Dead, the Allman Brothers Band and The Band.
On Dec. 27, Bethel Woods Center for the Arts, site of Woodstock '69 in Bethel, N.Y., announced plans to produce a three-day event on the identical weekend. It's since been scaled down.
"While the original site in Bethel remains close to our hearts," Lang said in a prepared statement in late December, "it no longer has the capacity to hold a real Woodstock festival.
"I'm delighted that Bethel Woods is doing events in the coming year to celebrate what we brought to life in 1969 and I encourage people to visit the museum and concert venue."
Related: Ringo, Santana and others will perform at the Bethel Woods event
Lang's December statement noted further news will be shared in the coming weeks "for the real Woodstock 50th Festival to bring back the much needed spirit and energy of the 1969 original."
On Dec. 19, Lang told the Poughkeepsie Journal in upstate New York that it won't be happening on the hallowed ground where half a million flocked five decades ago. (Lang was also one of the co-promoters of anniversary concerts in 1994 and 1999.)
Lang, 74, told the newspaper that he hopes his event will also have an environmental theme: "We're hoping to inspire people to speak up and get involved and get out and vote and help us save the planet," he said. "We are in trouble and it seems like we've been brought back in time in a lot of ways. It's eerie how similar a lot of things are to the way it was in the late '60s. Lessons we thought we learned seem to be coming back, unlearned. The progress we learned in social justice seems to be going backwards."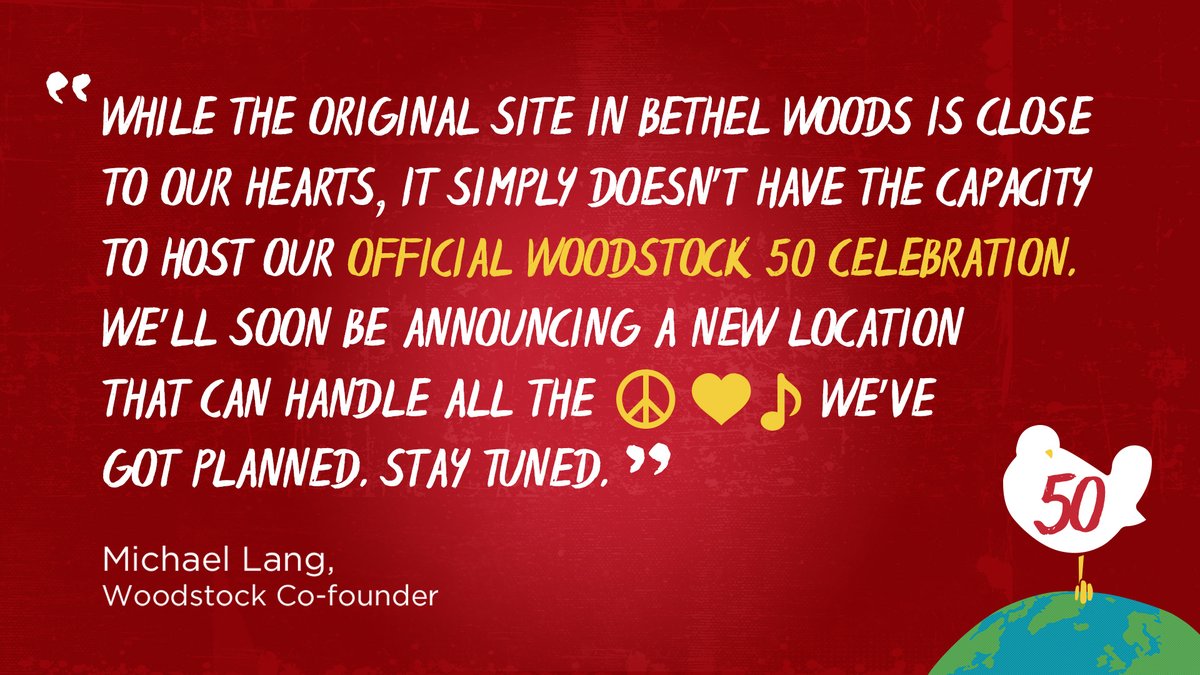 Syracuse.com, also based upstate, published an article in November in which Lang said that he's already working on a lineup for his anniversary concert, in spite of the fact that there is no site tied to it yet. That article quoted The Festive Owl, a Twitter page devoted to festival news, as listing numerous potential stars—both legacy artists like Bruce Springsteen, The Who, Bon Jovi, Phish, Pearl Jam, Foo Fighters, Elton John and Santana, and newer artists ranging from The Weeknd to Pink, Ariana Grande, Coldplay, The Chainsmokers and the Zac Brown Band—but again did not offer any specifics regarding dates or location.
Related: Bethel Woods launched an online Woodstock archives in 2018
Carlos Santana, meanwhile, told Billboard, "We've talked to Michael Lang, but we don't know if he has secured a place. If they invite me, I'm in."

As Best Classic Bands announced back in July, PBS and American Experience will air a new two-hour documentary, Woodstock, scheduled to premiere on the network in conjunction with the 50th anniversary. The film is directed by Barak Goodman, and written by Goodman and Don Kleszy.
Best Classic Bands is celebrating the greatest rock festival of all-time with a series of feature articles including Joni Mitchell's "Woodstock" – Behind the Song, interviews with all members of the Jefferson Airplane, and Woodstock performers: Where are they now, among them.

And Sullivan County, in New York State, recently announced that it will create what it's calling a "Dove Trail," installing dozens of five-foot-tall, multi-colored fiberglass doves around the county to honor the festival.

Best Classic Bands will continue to update this report as new information is received.
Related: Listings for 100s of 2019 rock tours
Watch Santana at the original Woodstock festival

Latest posts by Best Classic Bands Staff
(see all)