It's a story that's been told often, but it's still a good one: how Joni Mitchell wrote the definitive anthem of the definitive counterculture gathering even though she hadn't been there. "Woodstock," with its "got to get ourselves back to the garden" refrain, was, and remains, a song of hope and positivity, a celebration of a generation whose dreams still seemed to reside within the realm of possibility. Even now, after all we—and the world—have been through, the sense of optimism and change for the better shines through in its words and melody.
Mitchell was still fairly new on the scene in the summer of 1969. Her 1968 debut album, Songs to a Seagull (a.k.a. Joni Mitchell), had earned her a small audience, but not enough of one to lift it above #189 on the Billboard album chart. In the spring of '69, she released Clouds, which brought her greater attention, largely thanks to Judy Collins' top 10 cover of "Both Sides Now," one of its signature songs, and Collins' followup, a cover of Mitchell's "Chelsea Morning."
By that time, Joni Mitchell's reputation as a composer was still more widespread than her own recordings—peers raved about her in the nascent rock music press and FM rock radio stations loved to play her songs, but large-scale commercial success was eluding her. Clouds found its way to #31 but Mitchell was still far from being the highly influential, ever-evolving supernova she would become over the next decade. In fact, when the Canadian-born artist—who had, like so many other singer-songwriters, settled in Southern California—performed at the Atlantic City Pop Festival during the first weekend of August 1969, she left the stage in tears after singing just a few songs, complaining that no one in the large crowd even seemed to notice that she'd just repeated a verse.
Mitchell most likely could have, and would have, performed at Woodstock two weeks later but her manager, David Geffen, made the decision that she would not join her peers on stage in Bethel, N.Y., where the officially titled Woodstock Music and Arts Fair was being held. Mitchell was booked to appear on The Dick Cavett Show the day after the festival, and Geffen took the calculated risk that it was more important for the singer-songwriter to get the exposure the popular national TV program would bring her than to sing for the hippies upstate, who might not even pay attention. Getting stuck in a traffic jam would not do her any good either, Geffen reasoned.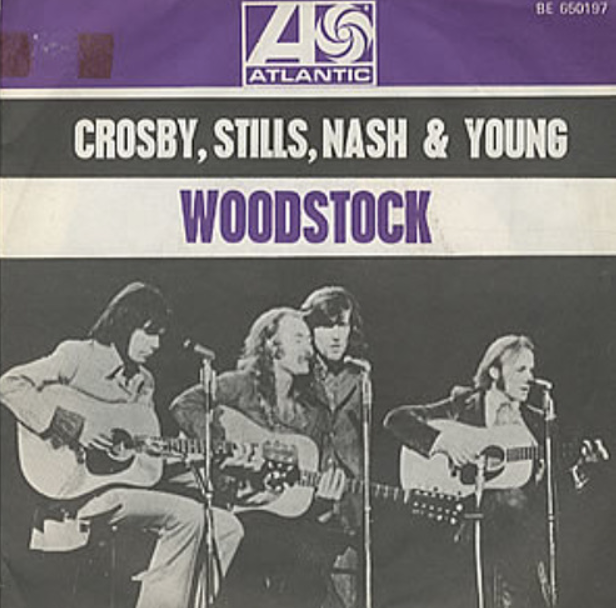 Geffen and Mitchell instead holed up in a hotel room in New York, watching news reports on the festival as friends like Crosby, Stills, Nash and Young (also Geffen clients) played to hundreds of thousands of rock fans.
Related: Where are the Woodstock performers today?
After the festival, Graham Nash, involved in a romantic relationship with Mitchell at the time, excitedly regaled her with the details of the event: how it truly felt like a turning point, a sea change, how the crowd was "half a million strong and everywhere there was a song and a celebration." Mitchell grabbed a pen and paper and started to write.
The Cavett show went well. Mitchell sang "Chelsea Morning," "Willy" and "For Free," as well as an acappella version of "The Fiddle and the Drum." Stills and Crosby (but not Nash) also appeared on the program, as did Jefferson Airplane. Crosby described the scene at the festival as being akin to a "band of gypsies."
Watch Joni Mitchell perform "Woodstock" in 1970
Mitchell first sang her new song live at the Big Sur Folk Festival a month after Woodstock. The next time that she entered the recording studio, for the album that would become Ladies of the Canyon, she cut her version of the tribute to the festival she never saw. So, too, did Crosby, Stills, Nash and Young on their first album as a quartet, Déjà Vu. Both albums were released in March 1970, Mitchell's peaking at #27 and CSNY's at #1. The band also had the radio hit with "Woodstock," their single reaching #11 in the U.S.
Listen to CSNY's original version of "Woodstock" from Déjà Vu
Related: Our Album Rewind of Ladies of the Canyon
Meanwhile, over in England, where word of Woodstock had, of course, immediately spread, a band called Matthews Southern Comfort, led by former Fairport Convention member Iain Matthews, cut their own version of "Woodstock," keeping their arrangement closer to Mitchell's original than the CSNY hit. Smart move: Their version went all the way to the top of the charts in the U.K. and even managed to rise to #23 in America, more than a year and a half after the last hippies had found their way out of Max Yasgur's farm.
Watch Matthews Southern Comfort perform their U.K. #1 version of the song

Latest posts by Jeff Tamarkin
(see all)