Warren Zevon's 'Excitable Boy' LP: Werewolves and Lawyers, Oh My
by Thomas Kintner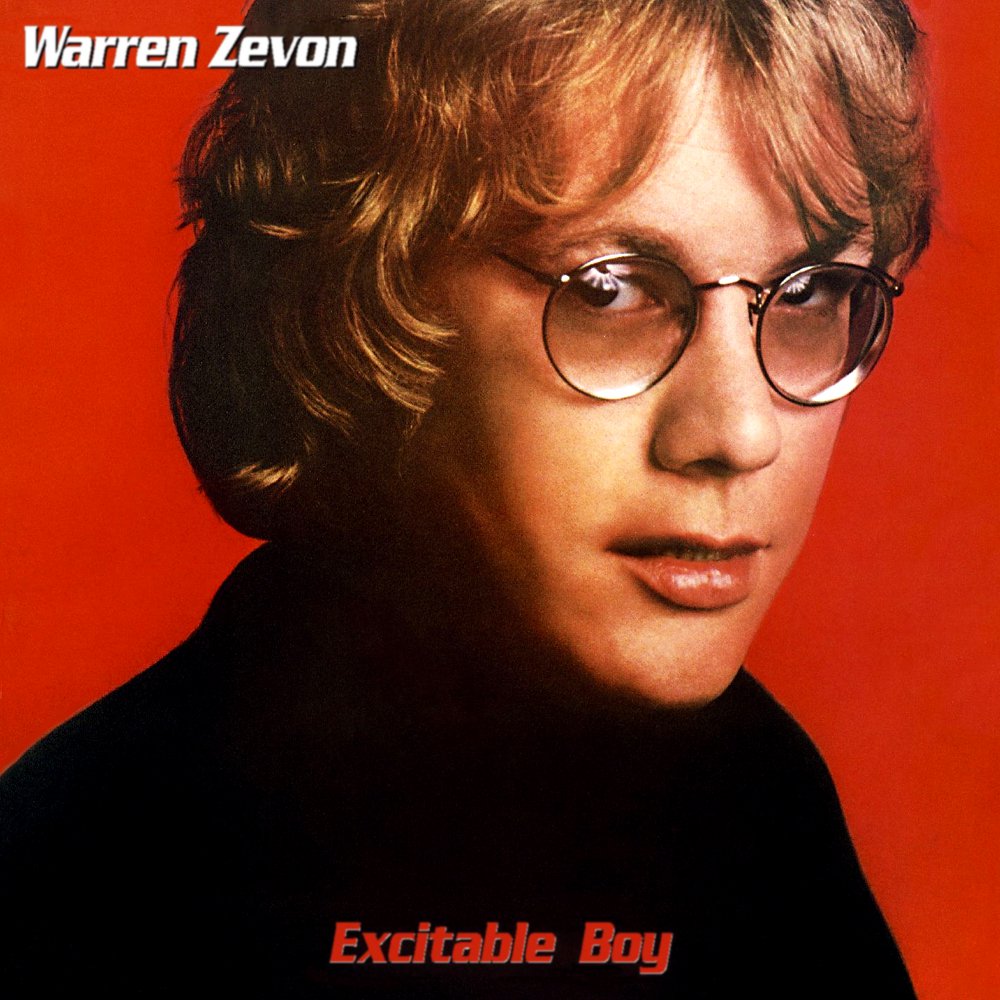 He made a name for himself in the mainstream, but Warren Zevon never belonged there. Connected with any number of Los Angeles-based artists who spearheaded the region's 1970s explosion of popular success, he collaborated readily with a who's-who of top musicians, but always with a skewed perspective that stood apart. With a penchant for almost transgressively morbid humor and a laconic wit, Zevon crafted music of delightfully odd character that had no place in the sanitized pop realm. And yet for a brief period in the 1970s, he found chart success as listeners embraced him on his own terms, thanks to his still-remarkable third record, 1978's Excitable Boy.
Born in Chicago but raised in Southern California, Zevon was, in his early 20s, part of a well-established pop story, serving as bandleader and keyboard player for the by-then-venerable Everly Brothers. Dissatisfied with the industry and the living he was making in it (a 1969 solo debut, Wanted Dead or Alive, had gone nowhere, and he was doing the industry equivalent of odd jobs as a composer and session musician), Zevon departed for Spain, landing in a small town outside of Barcelona in 1975, where he spent the summer performing in a local bar.
In the fall of that year, he returned to Los Angeles (where he would share digs with Stevie Nicks and Lindsey Buckingham, whose new album Fleetwood Mac had begun a climb that over the next year would transform the band into superstars), and soon set to work on what would become his major-label debut.
Produced by Jackson Browne, it featured an all-star lineup of contributors that included Glenn Frey, Don Henley, Linda Ronstadt, Bonnie Raitt and four members of Fleetwood Mac. Released in 1976, that self-titled album reached only as high as #189 on Billboard's album chart, but included several songs that would later prove successful for others, among them the Ronstadt covers "Carmelita" and "Poor Poor Pitiful Me."
Zevon was less than a week shy of 31 when his next album arrived on Jan. 31, 1978. (Other reports, though incorrect, list the release date as Jan. 18.) Produced by Browne and Robert "Waddy" Wachtel (a prolific session whiz who had worked with Zevon as far back as Everly projects in 1972), Excitable Boy captured Zevon's idiosyncratic charm in an assortment of songs that ranged from the comfortable to the sublime.
"Johnny Strikes Up the Band" was the album's first song and first single release, which smacked of conservative decision-making by Asylum Records. A plump rock bob ignited by Zevon's propulsive piano work, the tune is bright, bouncy and generally conventional. Slick and manicured, with the notable exception of its emphatic vocal, it's a safe, relatively understated offering. As a first single, it was an exercise in caution, hiding much of Zevon's light under a bushel.
By contrast, the album's second single, its title track, reveled in Zevon's unique charms. Opening with a cascade of springy, fuzzy guitar draped with piano, it sports a familiar, celebratory bounce, until a sharp veer toward the bizarre in the form of a subject who rubs pot roast over his chest (which Zevon would somewhat disturbingly declare autobiographical).
Watch a live performance of "Excitable Boy"
Descent to shadowy places follows, tracing the path of the "excitable boy" as he rapes and murders his prom date (pity ill-used Little Suzie, far from the days when the Everlys just wanted her to wake up), and exhumes her corpse following his release from an asylum to do craft work with her bones. The accompanying music aspires to a wholly different vibe, a springy brew peppered with percolating saxophone and a Ronstadt/Jennifer Warnes/Wachtel doo-wop chorus that brings it within a breath of total farce, yet the song proves an extraordinary balancing act that benefits from the straight face with which it's played. The prototypical guilty pleasure, perhaps its most disturbing quality is the liveliness that invites wholly uncomfortable sing-alongs.
The record's fascinating mix of songs defies classification, even when they sound familiar. At its outset, "Roland the Headless Thompson Gunner" (co-written with David Lindell, owner of the tavern Zevon played in Spain three summers earlier) is built on politics and reflection, somewhat arch-sounding but sporting a sober perspective about the world in which it is set. Then it's something else entirely, when its subject, a Norwegian mercenary in the Congo crisis, is betrayed by his own, and the tune becomes a matter-of-factly macabre ghost revenge story. A curious exercise in archetypes right down to its closing reference to Patty Hearst, it somehow gets across the appropriate finish line, proving both haunting and amusing.
More straightforward in its leanings about war is "Veracruz," its steady, deliberate sway delivering perspective about where its blame belongs in the brilliantly concise line, "I heard Woodrow Wilson's guns."
Conventional turns fill out the collection's character. Co-written by Browne and sounding like it, "Tenderness on the Block" rides a baseline rock throb, skewed by Zevon's quirky, almost haughty vocal cadence. The crisp abruptness of his singing serves equally well in the driving "Nighttime in the Switching Yard," a shoulder-loosening workout that's more than a little funky atop Jeff Porcaro's hearty backbeat.
The ballad "Accidentally Like a Martyr" is direct and plaintive, with a simple shape decorated by Leland Sklar's bass and almost curiously boilerplate sentiments that nonetheless feel slightly obscure.
"Werewolves of London" has been referred to as a "novelty song," but it is no more so than any number of others on a set rife with the fantastical. Initially developed for his preceding record (and appearing in live shows as far back as 1975), it was dismissed by Zevon as something he composed in 15 minutes, but required a more painstaking process to reach finished form, swallowing an oversized percentage of the Excitable Boy budget thanks to a litany of abortive attempts to get it right in the studio.
Watch a live performance of "Werewolves of London"
Related: We spoke to Waddy Wachtel about his work on the album, including his writing contribution to "Werewolves…"
Even when complete, Zevon considered it a trifle, unworthy of single release, but he underrated its charms. Exuberant and playful down to the irresistible howls of its refrain, it's a tour-de-force concept and a lark to which Zevon commits fully as he propels its gait with insistent, percussive piano. It's catchy, snide and fun all at once. When it peaked at #21 on the pop singles chart (and pushed the album to #8), "Werewolves" marked Zevon's crowning pop achievement, and became the thing for which he would forever be best known.
The album's closing cut (and the last of its five singles), "Lawyers, Guns and Money," is an enduring example of the off-kilter charm that would distinguish Zevon's work for the next quarter century until his 2003 death from cancer. Amid a pulsating rock churn, he attacks the lyric with urgency and colors its narrative. His effusiveness is matched by a thinly veiled wildness of approach that makes everything coalesce. With a structure that never achieves balance, it highlights how Zevon adapted the tool kit of rock to his singular sensibilities; it starts sounding like it's something familiar, but in the end takes the listener on a journey somewhere clearly different.
Listen to "Lawyers, Guns and Money"
Related: Zevon's final David Letterman appearance was a classic
Latest posts by Thomas Kintner
(see all)