Steve Miller Black Keys Diss Doesn't Dismiss His Rock Hall Rant
by Rob Patterson
The biggest takeaway after last Friday's Rock and Roll Hall of Fame induction ceremony is the tussle between inductee Steve Miller and The Black Keys, the act that inducted him. Is this what the rock community wants from what should be its annual night of celebration and solidarity?
To recap, Miller was on a tear that evening, dissing how the show was treating artists, the HoF and its mission, the record business and more, in his feisty comments (read our report here). From the chatter in my social media barroom – a good many of my 2K-plus friends have worked in and around the music industry – the response was largely, "Right on, Miller!" It's hard to be a music buff who gets involved in the business and not wind up disappointed that it's not always the cool realm one imagined it might be. Sometimes it can suck, even slap you in the face. Miller voiced the feelings of many in what he said about the shortcomings of the biz and the Hall.
But his spray of negative bullet points landed some collateral damage on The Black Keys. As Dan Auerbach told Rolling Stone, Miller said, "'The whole process was unpleasant.' And for Pat [Carney] and I, honestly, the most unpleasant part was being around him."
Before we go any further, let's keep this in mind: Life is like high school. And the Rock and Roll HoF show is the senior prom. A bit of drama is inevitable. But this year offered an excess before, during and after
There were the no shows by key founding band members: Deep Purple's Ritchie Blackmore and Chicago's Peter Cetera. N.W.A decided not to perform just days before the concert and had a sideshow spat with Gene Simmons over whether hip-hop even belonged in the HoF.
Miller, however, seemed to hit a bunch of soft spots in the Rock Hall's armor with dead aim.
But he went a bridge too far by treating Auerbach and Carney so shabbily they felt compelled to complain. He undercut his role as the advocate for the artists against what he feels is an arrogant hall by wounding his fellow musicians by, it seems, not even taking time to learn who they are and listen to their music (in short: artistic respect). He also dissed them as fans who were there to laud him. Both cardinal sins.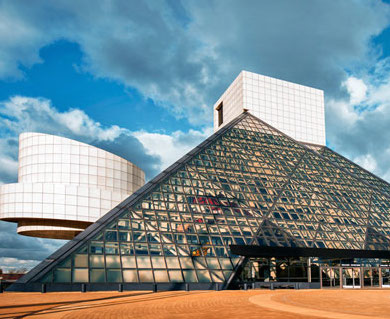 Auerbach's comments unintentionally identified the big schism that haunts and hurts the Hall. He spoke about all the times as a kid he came from nearby Akron to Cleveland for its exhibits and events. His arena-filling career and musical credibility serve as proof positive that the mission of the Hall itself – to not just preserve rock'n'roll but keep it alive – has worked.
A friend of mine noted this dual nature of the Rock and Roll Hall of Fame right after he was recently ushered out the door as a member of a nominating committee. There's the hall itself, he noted, the museum in Cleveland, which is great.
And then there's the induction process from the nominations and votes to the big annual show. It does too often seem (especially this year) more about the HoF than the artists, much less the fans. About selling seats to make money. And creating an HBO special that will pull in viewers.
Or in other words, about commerce rather than culture (which is what museums exist to serve). Hall of Fame Foundation President Joel Peresman's comments in response to Miller, rational as they may be, still show a tone deafness to what Miller largely gave voice to: the concerns and complaints of many – in the biz and media and even more importantly artists and fans – about how inductions work all the way through to day of show.
The Rock Hall Foundation sometimes seem akin to a secret society. They infamously keep the complete list of the nominating committee very close to the vest. Talk about lack of transparency! It can and should change and improve to be more open, responsive and artist and fan driven.
And hey, Dan, when you're feeling less wounded (being sometimes disappointed by idols is part of the music game), give a fair listen again to a favorite Miller album. Try to reconnect with what you heard that you knew was special. And keep in mind that you both are in the blues, a genre in good part driven by grumpy old guys with axes to grind. Right now you're on the oh-so-satisfying crest of the wave. Some 20, 30 years from now, his rant could end up ringing truer.
Steve – give a spin to any Black Keys LP. Or better yet, see them live. I'd be surprised if you don't hear your younger self in there. And maybe then come to feel an apology is in order.
And let's hope next year this all wasn't just noise to feed the new cycle and hungry media maw. And Miller's blast helps the Hall of Fame raise rather than lower the bar on commemorating and celebrating an art form we all, in the end, love so much: rock'n'roll.
(If you're a new Best Classic Bands reader, we'd be grateful if you would Like our Facebook page and/or bookmark our Home page.)

Latest posts by Rob Patterson
(see all)