During 2016, Charlie Watts of the Rolling Stones invited this writer to a band rehearsal in a North Hollywood, Calif., soundstage as they prepared for their two-night Desert Trip booking in Southern California.
I chatted with Watts, Ronnie Wood and Keith Richards during a break. Wood asked me about the setlist. I kidded about my fantasy inclusion of "Out of Time," a song the Stones had recorded in Hollywood and first released on the U.K. version of 1966's Aftermath album. The song showed up a year later on an American Stones compilation LP called Flowers but was probably best known by the cover version cut by British singer Chris Farlowe, who took it to #1 in the U.K.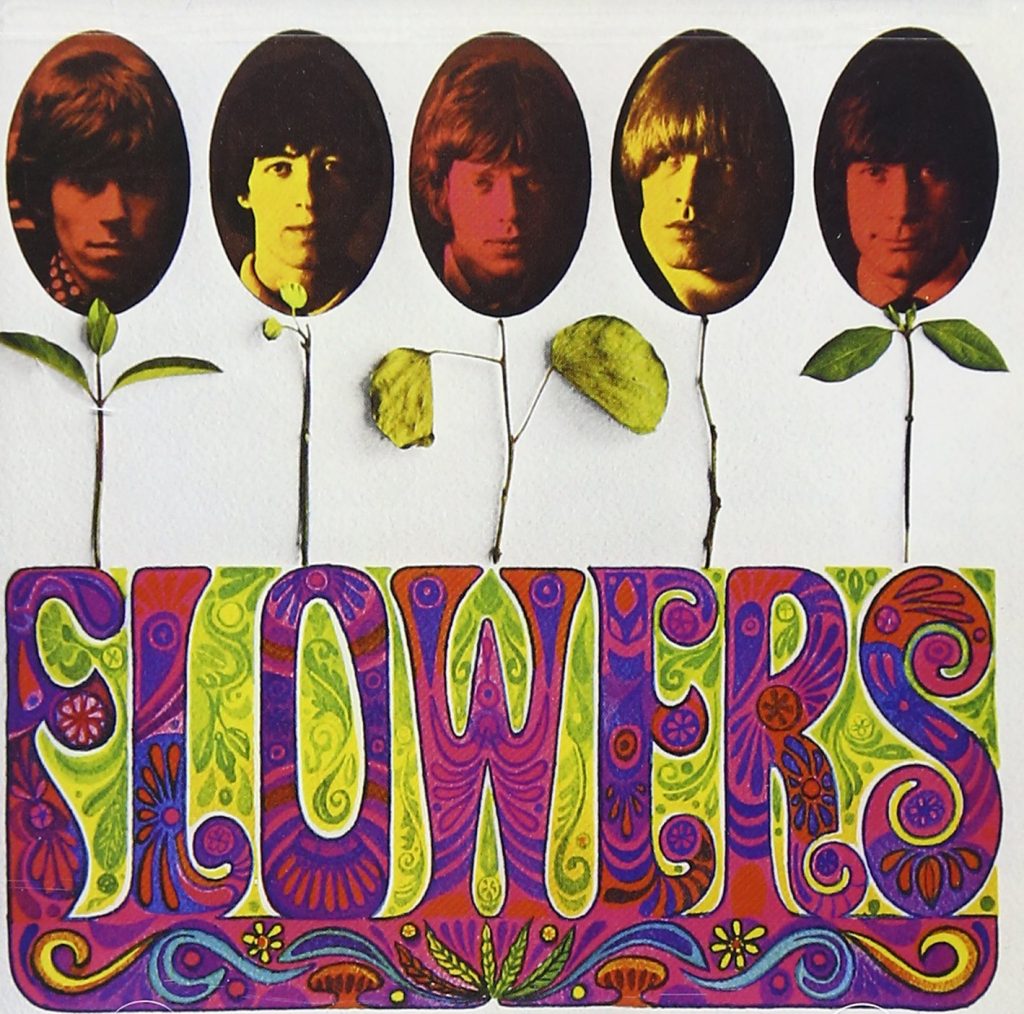 "Out of Time" is somewhat obscure by Rolling Stones standards, but every now and then it makes its presence known, for example in Quentin Tarantino's 2019 film Once Upon a Time…in Hollywood, where it takes on prophetic significance in a telling musical sequence foreshadowing the celluloid tale's murderous conclusion.
The Stones had never performed the song live in the 56 years of its existence, but they included "Out of Time" in their 2022 tour-opening show in Madrid at the Wanda Metropolitano Stadium. We took a deeper look into its lineage.
Watch the Stones perform "Out of Time" in Madrid
***
During a 2004 interview with Bill Wyman, the Stones' longtime bassist, I asked about the Stones' Hollywood recording sessions.
"We had recorded at Chess [Records in Chicago] a few times," Wyman said. "When we came into L.A., we went to RCA [Studios]. We walked into the studio and it was too big. We were really worried. We were intimidated. We were used to recording in little places like [London's] Regent Sound. The studio was like a hotel room. And Chess wasn't very big either. Suddenly we're at RCA and it's enormous. It was like Olympic [in England] later. We thought, 'God, we can't record in here. We're gonna get the wrong sound.'
"But Andrew [Loog Oldham, the Stones' manager/producer] had this brain wave and he put us all in the corner of one room, turned all the lights down, and just tucked us all around in a small circle. We forgot about the rest of the room and the height of the ceiling, and we just did it in this little corner. It personalizes it much more, and as soon as the Stones did that, and got into this little area and started playing, it worked.
"Dave Hassinger, the engineer, got all the sounds we wanted. Brian [Jones] picked up all the instruments in the studio: the dulcimers, the glockenspiel, the marimbas. I played some of that stuff as well.
"We just experimented in there. Brian brought in electric dulcimers, marimbas, autoharps. He just did so much to those songs from 1964-1966 in RCA. Brian created so many new sounds. Then he got the sitar together, just so he could play a riff. He wasn't as good as George Harrison on it. George really learned the sitar and studied it. Brian didn't, he just picked it up and worked out a little riff for one song. He did it with flutes. And he was brilliant at that. Dave Hassinger helped us do those things. We never had one bad word with Dave. At the time we didn't know the heritage of the RCA studios. Andrew did."
"There's incredible clarity to what they were doing," Oldham explained to me in a 2004 interview conducted for my book Hollywood Shack Job: Rock Music In Film and on Your Screen.
"It was like a linear thing. Filmic. They were vivid, and the key to that vividness was Brian Jones. The organ on 'She Smiled Sweetly' by Brian is just amazing. I like 'She Smiled Sweetly' more than 'Lady Jane and 'Ruby Tuesday.' 'Sweetly' was boy/girl, living on the same floor, whereas both those other songs have a 'To the Manner Born' quality to them, trying to write and evoke. And Mick's vocals…'Out of Time' I love. On the initial recording it's Mick Jagger pulling off [Motown singer] Jimmy Ruffin. [The albums] Between the Buttons and Aftermath, without a doubt, quite a few harried moments. And we did it in Hollywood at RCA Studios.
"In 1964 I first walked into RCA with [arranger/producer] Jack Nitzsche in studio B. Jack introduced me to Dave Hassinger, the engineer. It only took a minute. I knew I'd found the band their next home."
***
The actual take of "Out of Time" used in Once Upon a Time…in Hollywood is different from the Stones' Aftermath/Flowers recording. This one is from the Rolling Stones' Metamorphosis compilation album of 1964-1970 outtakes and alternate versions, produced by Oldham and Jimmy Miller and issued in June 1975 by ABKCO Records.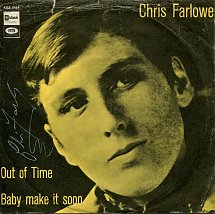 This version was done in England at Pye Studios on April 27-30, 1966, produced by Jagger for Oldham; Jagger had recorded a reference vocal for Chris Farlowe, an artist he was producing, on a backing track comprising English session musicians, including guitarists Jimmy Page and Big Jim Sullivan and an overdubbed horn section assembled from the Ronnie Scott jazz club bandstand. The chart-topping result featuring Farlowe was released on Oldham's Immediate Records label.
"The Chris Farlowe record produced by Mick was something else, a real piece of work," emphasized Oldham in our 2004 conversation.
In a later interview in July 2019, for my book Docs That Rock, Music That Matters, Oldham detailed his "Out of Time" studio endeavors. "In one of my dreams that did not come true, Mick and Keith and I were gonna be [Motown songwriters] Holland-Dozier-Holland for Immediate. That was the original idea. But it didn't work out. Everybody got extra busy, whatever. But that was one of the original thoughts behind it. Mick did a wonderful job on Chris Farlowe's 'Out of Time' and his album. It was expensive, 12, 000 pounds, a lot of money then, the price of a Rolls Royce Phantom V. It was also Mick's first production with me for Immediate. The only reason Mick, Keith and I started to produce together was that we liked to do things the Beatles hadn't done.
Listen to Chris Farlowe's hit cover…
"There came a settlement between the Rolling Stones and [ABKCO Records owner] Allen Klein in the early '70s that I didn't know much about," Oldham continued. "I was living in Paris with my wife Esther. We got together with Mick and [his then-wife] Bianca. Mick and I were supposed to get together in New York to mix the album that would become Metamorphosis.
"I was not privy to what was going on, but Mick obviously changed his mind and delivered a bunch of lesser stuff to Allen Klein. It was just abysmal. In an attempt to not only rescue the album but make it complete, a full album, [at the time] I was doing elaborate demos of songs [with my Andrew Loog Oldham Orchestra] that Mick and Keith had written, with just Mick and Keith doing some vocals. The Rolling Stones are not playing on them.
"I remembered that Mick had done a reference vocal for Chris Farlowe for 'Out of Time.' So, I let Allen have it for Metamorphosis 'cause we needed a decent song. I mixed that and added a lot of people from Connecticut, bass players and background vocals that I used on a Donovan session. That went onto the album [along with] stuff they'd worked on and not bothered to finish: for example, the version of Stevie Wonder's 'I Don't Know Why,' which was recorded on the night Brian Jones died.
Listen to version 1 of the Stones' "Out of Time"
"When I was putting together Metamorphosis in New York at the Record Plant in 1975, John Lennon was next door. I borrowed the horn people from [Lennon's backup band] Elephant's Memory. [It was about a minute and a half but] if you listen to it, Mick repeats the same verse and chorus three times. I made it 3:40 with the addition of the horn section and the Connecticut musicians.
Related: Read more about the Stones' opening night on their 2022 tour
"As for the Stones' 'Out of Time' in the movie, maybe Quentin Tarantino is so vinyl-anal he was familiar with Metamorphosis. Good for him."
In a 2019 story on Once Upon a Time…in Hollywood by Armond White in the National Review, the writer contrasts the powerful exhibition of the Stones' 'Out of Time' in an earlier film, Coming Home, from director Hal Ashby, with the 'Out of Time' heard in Once Upon a Time…in Hollywood:
"Tarantino's pop sadism vents the undigested frustration of the juvenile mentality. The hit parade of half-obscure pop tunes is a mere distraction, proof that Tarantino's understanding of pop music—like his understanding of movies—is far shallower than we imagined. The Mamas and the Papas' trenchant 'Twelve Thirty (Young Girls Are Coming to the Canyon)' has been used more felicitously elsewhere, as was the Rolling Stones' 'Out of Time,' which Hal Ashby scored in Coming Home so that it expressed the forgotten romance and regret behind Sixties political anxiety."
In our 2004 interview, Oldham was enthusiastic about the placement of the Aftermath master take in Coming Home.
"It's used twice in the Coming Home movie. I got [producer] Lou Adler, who knew [Ashby], to connect me. 'I want you to hear me while I still have a lump in my throat. Great. You just blew me away…'
"Not like I had never been moved. I've had a moment that will be with me forever. The double use of 'Out of Time' as a political statement and a love statement was just incredible. Hal was on location and I reached him. If a piece of art has affected you like that, either you want the person to see your eyes or [hear] the sound of your voice and I was able to do it."
In June 2022 Andrew Loog Oldham, now based in Bogota, Colombia, was surely smiling sweetly with the inclusion of "Out of Time" in the Stones' '22 setlist.
Listen to version 2 of the Stones' "Out of Time"
Latest posts by Harvey Kubernik
(see all)