The Rascals' 'Time Peace': A Greatest Hits LP That Foretold the Future
by Lee Zimmerman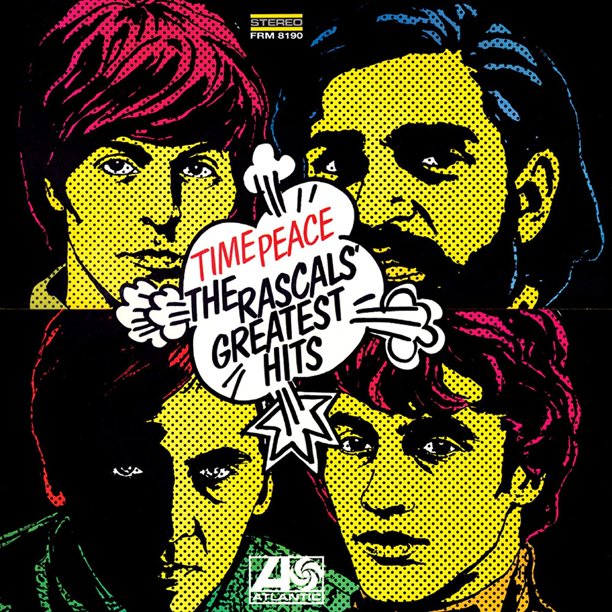 Time Peace: The Rascals Greatest Hits marked both the culmination of the former "Young" Rascals' early career and the transition to a new beginning. More than the "best of" it was intended as, it was an effective compilation of the seminal hit singles the band amassed during its chart-topping seminal period, from 1965 throughout 1968, beginning with their first record to capture attention, "I Ain't Gonna Eat Out My Heart Anymore," through to 1968's chart-topper, "A Beautiful Morning" (A.K.A. "It's a Beautiful Morning").
Not surprisingly, Time Peace, released on June 24, 1968, topped the U.S. album sales chart and enjoyed an extended run that lasted some 20 weeks. Just as significantly, it documented the trajectory of a group that initially made its name as a white group that could purvey pure R&B. Many didn't realize until much later that they themselves weren't a black band. That said, their visual image certainly didn't lend itself to that impression, given the attempt to exploit the "rascally" persona by dressing in knickers, wide-collared shirts and caps of a schoolboy variety.
Nevertheless, The Rascals were clearly more than a novelty. They became an international sensation, appearing on The Ed Sullivan Show and even opening for the Beatles at Shea Stadium. More importantly, they were a potent instrumental outfit. Felix Cavaliere's trademark organ flourishes helped define their sound, while guitarist Gene Cornish proved an able resource when it came to driving them; the relentless riffing on one particular song on Time Peace, "Come On Up," serves as a prime example. As for Dino Danelli, suffice it to say he remains one of the most underrated drummers in the annals of rock 'n' roll, a powerhouse performer very much in the same vein as Keith Moon.
As time went on, the Rascals began to veer away from the R&B covers that had helped sustain them early on. While several early offerings that were penned by others had a prominent place on Time Peace—specifically their first big hit, "Good Lovin'," and the perennial soul standards "Mustang Sally" and "In the Midnight Hour"—the album also effectively documents the evolution of the Cavaliere/Eddie Brigati songwriting team. (Brigati, who initially sang lead and took the fore on "I Ain't Gonna Eat Out My Heart Anymore," eventually ceded that role to Cavaliere and settled instead for backing vocals and percussion.)
Related: Who were some of the greatest blue-eyed soul singers?
The two made their mark as co-writers, with several of the songs on this collection—"You Better Run" (later a hit for Pat Benatar), "Love Is a Beautiful Thing," "A Girl Like You," "How Can I Be Sure," "It's Wonderful," "It's a Beautiful Morning" and, of course, "Groovin'"—serving as their standards.
Those songs also reflected the fact that, at this point, the Rascals could be considered more than a mere a pop band. "Love Is a Beautiful Thing," "Beautiful Morning" and "A Girl Like You" found them expanding their instrumental arsenal with brass and orchestration. (Listen to the inventive combination of harps and horns that embellish the latter.) They incorporated jazz influences as well, soliciting contributions of such renowned musicians as flutist Hubert Laws to place them on the periphery of a more progressive posture.
On the other hand, the selections credited solely to Cavaliere, "Come Up Up" and "(I've Been) Lonely Too Long," dealt mainly with courtship, love and occasional heartbreak, but managed to do so in a way that was as personal as they were poignant. It was a theme echoed early on with "I Ain't Gonna Eat Out My Heart Anymore" and later through any number of other songs in this collection, including "You Better Run," "Love Is a Beautiful Thing" and "How Can I Be Sure."
So while Time Peace could be considered a document detailing the end of an era, it also marked a makeover. The album that preceded it, Once Upon a Dream, was an attempt to break from their commercial constraints and offer instead a conceptual offering that Cavaliere wistfully referred to as an attempt at a "Sgt. Pepperish" production. They would continue in that vein long after Time Peace as well, releasing a string of ambitious epochs—Search and Nearness, See, Peaceful World and The Island of Real—well into the early '70s.
Time Peace foretold that evolution, both in the double meaning that could be ascertained from the title, as well as in the innovative gatefold album cover boasting an art nouveau cover drawing and an interior photo of the band in psychedelic garb.
The Rascals were clearly at peace with their new image, and time was, in fact, marching on.
Incredibly, the group's "People Got To Be Free," was released as a single on July 1 but wasn't included on the Time Peace album, which had been issued just a week earlier. It became the band's third song to reach #1. (It was included months later on their 1969 album, Freedom Suite.)
Watch the Young Rascals perform "Good Lovin'" on The Ed Sullivan Show in 1966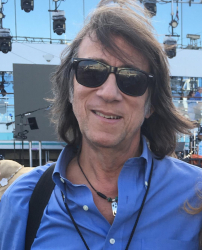 Latest posts by Lee Zimmerman
(see all)