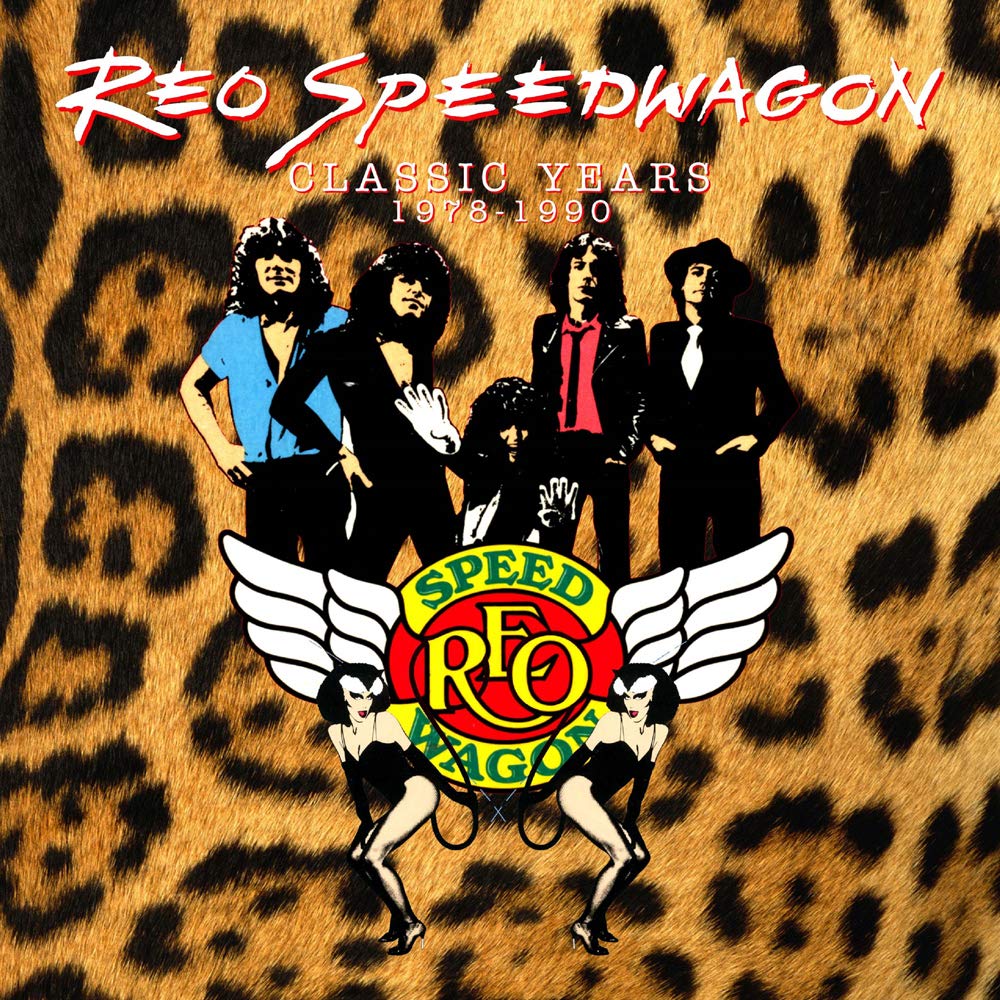 REO Speedwagon's classic rock catalog continues to be reinvigorated with the January 2019 announcement of the release of REO Speedwagon: Classic Years 1978-1990, a box set via Cherry Red Records. The collection is being released March 1 in the U.S. and Feb. 22 in the U.K.
The 9-disc set includes their 1980  top-seller, Hi Infidelity, as well as such landmark albums as Wheels Are Turnin' (1984), You Can Tune a Piano But You Can't Tuna Fish (1978), plus a wealth of bonus tracks.
Classic Years spans such big hits as the #1 songs "Can't Fight This Feeling" and "Keep on Loving You," plus "Take it on the Run" and "Roll With the Changes." See details below. The collection is available for pre-order here.
The new collection is a companion to Cherry Red Records' Fall 2019 release, REO Speedwagon: The Early Years 1971-1977, a 8-CD clamshell box set.
REO Speedwagon's long history goes way back to their formation in Champaign, Ill. in 1967. Initially a covers band playing bars and frat houses, the initial line-up of Neal Doughty on keyboards, Alan Gratzer on drums and vocals, Joe Matt on guitar and vocals and Mike Blair on bass and vocals, named themselves after the R.E.O. Speed Wagon, a model of American flat-bed truck.
By the time they came to record their self-titled debut LP for Epic Records in 1971, the line-up had settled around Terry Luttrell on lead vocals, driving force Gary Richrath on guitar and Gregg Philbin on bass, joining Doughty and Gratzer.
Although Richrath had established himself in the songwriting and musical direction of the band, by the release of their second LP, 1972's R.E.O./T.W.O., the band had been joined by Kevin Cronin on lead vocals. Cronin's initial tenure with REO was cut short when he was replaced on lead vocals. By 1976, Cronin had returned, making a significant contribution to the songwriting alongside Richrath.
With 1980's Hi Infidelity, the band truly broke through to the mainstream with their first #1 single, "Keep on Loving You," as well as the hits "Take it on the Run," "In Your Letter" and "Don't Let Him Go." The album ultimately sold more than 10 million copies.
Related: Our feature on REO Speedwagon's breakthrough
The new set concludes with a collection of rare and exclusive live recordings, including "Don't Let Him Go," "Take it on the Run" and "Can't Fight This Feeling" from Kansas City's Kemper Arena in 1985, "Keep The Fire Burning" and "Roll With The Changes" from the Rockford (Ill.) Center 1983, "Back on the Road Again" from Blaisdell Arena in Honolulu 1989 and "Keep On Lovin' You" from Indianapolis in 1984.
Watch the band perform "Can't Fight This Feeling" in 1985
CD1 features 1978's You Can Tune a Piano but You Can't Tuna Fish plus short and long versions of "Roll With the Changes" and an edit of "Time For Me to Fly." The disc also includes a 1978 live radio promo of seven songs.
CD2 includes 1979's Nine Lives plus several live tracks.
CD3 features 1980's Hi Infidelity.
CD4 is devoted to bonus tracks, previously unreleased demos and live songs originally released promotionally to radio.
CD5 includes 1982's Good Trouble with the hits "Keep the Fire Burnin'" and "Sweet Time."
CD6 contains 1984's Wheels Are Turnin' album, featuring "Can't Fight This Feeling" and "One Lonely Night," plus radio mixes and edits of several songs.
CD7 features Life as We Know It from 1987, with "This Ain't Love" and "In My Dreams."
CD8 is 1990's The Earth, A Small Man, His Dog and a Chicken.
CD9 includes 17 live tracks from performances spanning 1980 through 1990.

The BCB team brings you the latest Breaking News, Contests, On This Day rock history stories, Classic Videos, retro-Charts and more.

Latest posts by Best Classic Bands Staff (see all)