Peter Frampton Talks About the 'Comes Alive!' Album
by Jeff Tamarkin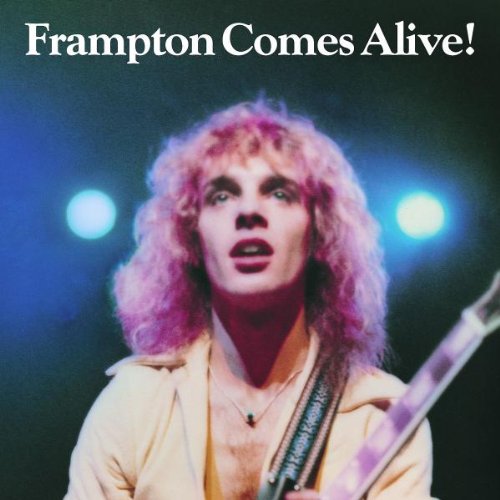 Peter Frampton doesn't expect people to tiptoe around the fact that he enjoyed his greatest career success with the January 6, 1976 release of his smash album Frampton Comes Alive! He's never come close to repeating what that album did commercially, and he's cool with that. "Look, no matter what I do, that is going to be the first thing that people say when I leave this planet: 'known for…'" he says. "I know that, and if there's ever a record album that I would want to be remembered for, I'm thrilled it's that one, because it's a great record."
It is indeed, and he's still happy to talk about it—and to perform the music from it. But it's not all that Peter Frampton has done. Before the release of that double-live LP, he'd already tasted fame as a member of Humble Pie, fronted by the great British vocalist Steve Marriott, and he'd released several solo albums that achieved some significant acclaim among rock fans and critics.
And he's done just fine since the big one. I'm In You, the 1977 followup to Comes Alive!, was a massive success in its own right, and he's continued to release quality music and to put on a terrific live show ever since, even if they no longer take place inside of huge stadiums.
Several years ago, Frampton, born April 22, 1950, spoke with BCB's editor about various aspects of his career, noting that he was especially pleased to be receiving somewhat belated praise for his guitar work. The bulk of this interview has never before been published.
You've probably been more prolific in the past decade than ever before. What do you attribute this creative streak to?
I've definitely been coming out of my shell again. I think that when you've been through something like the atomic reaction to Frampton Comes Alive!, an explosion of some enormity, I'm very lucky that I'm still as grounded as I am. People would say, "What have you got to complain about?" But it's one thing to look at someone go through something like that, and it's another thing to be that person. Look at poor Michael Jackson. I can only compare us on one level and that's some place that nobody's ever been to before. I just preceded him on that. As my dear friend Cameron Crowe said when he was asked what do you think happened to Peter Frampton—and I always quote him on this—"Peter Frampton was strapped to the nosecone of a rocket. When he went up to the sky, he broke through the ceiling of the sky and he got out and stood on the ceiling of the sky and he said, 'There's nobody else here.'" It's great but it can be devastatingly lonely. Everybody else around you thinks they know what's best for you. It's a very dangerous place to be.
There's really nothing that can prepare you for that, is there?
No. I definitely was affected intensely by it. I had my dabbles with all sorts of illicit substances and alcohol and stuff. I was 25 when it was recorded. My son is 21 and he's still a kid and just to put myself back in that position, it's unbelievable that I was that age and went through that. But it usually happens at that age and no one is ever prepared for it. Maybe someone later on in life that's had other successes of a smaller amount, but when it happens that big, and you're the biggest, number one this and number one that, all those adjectives and all those phrases, it's different.
Watch Peter Frampton perform "Do You Feel Like We Do?" live in 1977
Is that a level of success you would ever want to experience again?
No. I've been there and done that. It's wonderful in many ways. I would love to be number two (laughs). If number one is in the room and number two is in the same room, everyone is hanging around number one and number two gets the good chicks, because everyone is with the paparazzi. That's a stupid way of putting it, but number two can walk around and he's not the person everyone is after.
Frampton Comes Alive! did not win a Grammy, but a few years ago you finally won one for Fingerprints, an instrumental album.
Yeah, well, I thought I passed the period where I was eligible. It gets to a point where so many years later, you just go, "It's not me anymore." Now I've sort of had a new beginning personally and started all over again in my mind and went back to the acoustic and electric guitar and writing for myself. I found that I was becoming more prolific than I've been in a long time. So actually receiving an award for my guitar playing, as opposed to a live record as a pop star, was very gratifying.
Watch Frampton perform "Baby I Love Your Way" acoustically
Do you feel that your guitar playing was undervalued because so much emphasis was placed on the pop star aspect of your career?
That's for other people to say. I'm very modest about that, because there are so many players who are so much better than me. But I think it overshadowed my guitar playing, yes.
Your first instrument was something called a banjolele, which is just what it sounds like: a cross between a banjo and ukulele. You found it in your parents' attic.
Yeah, and I brought it down and within a year I was asking for a guitar.
You must have quite a collection of guitars by now.
Not as many as you'd think. I only have multiples of the ones I use on stage. But I have one vintage Fender Jaguar, two vintage SGs, one of which is the one I used in Humble Pie, and I have one vintage Les Paul Jr. '58. I've got one vintage Gibson Jazz Box, which is 1959. I really choose carefully. I probably buy more amplifiers than I buy guitars. I'm still on the search for new-sounding guitars, and just to have one good one of a certain type: one good Telecaster, one good Strat. When I'm on the road I've got three acoustics and three of the electric Peter Frampton model Gibson.
You got a chance to play with one of your guitar heroes, the Shadows' Hank Marvin, on your album Fingerprints.
Oh, my God. It makes me want to do another instrumental album.
On that same album, you also played with Charlie Watts and Bill Wyman of the Stones and a couple of the guys from Pearl Jam.
Each track or each session was like making another album. It was so great because everything was so different: Pearl Jam to the Stones to the Shadows. Then Warren Haynes.
Getting back to Frampton Comes Alive!, what was it like for you to go from being a fairly well known guitarist in a band to launching a solo career and then suddenly becoming a huge rock idol almost overnight?
It was pretty cool! I had a girlfriend at that time so I didn't really take advantage of the situation. I was a pretty monogamous guy, for a certain period! But it was a wonderful feeling, obviously, but on the other hand it plays havoc with any credibility as a musician. It overshadowed my guitar playing. So a blessing and a curse, but there again I couldn't be happier with the way things turned out. I think I'm definitely a survivor. That's for sure—from the teenybopper to the big sales to whatever. I'm still here and I'm still doing what I love. We can pull Frampton Comes Alive! for days and months and years and try to work out what it did and why it did it but we'll never really know. It had definite positive effects and a lot of negative effects on my career too. But I wouldn't change a thing.
Related: There were only 10 #1 albums of 1976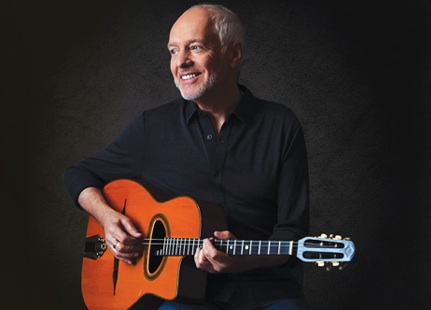 Why do you think that album resonated with record buyers?
I still don't know. I have no idea except for the fact that it was building to a pitch. It was the best of six years of material, so it really was the best of for people that had never heard me. We were giving them the seasoned version of the best of six years of work, including one from Humble Pie. It was just loaded with my favorites, and virtually the whole album became hits. I think I rise to the occasion live. I think that's probably the best arena for me—excuse the pun. For some reason, live is where it's at for me, and I've always enjoyed that. I learned a lot from being with Humble Pie. Humble Pie was the best band I could have ever been in. I enjoyed that immensely.
You got back together with that band's Steve Marriott toward the end of his life.
Yes, we did get back together and we did write some great stuff. It's on various albums of mine, three tracks. I'll probably never play with a singer that good again. He's one of a kind. He's up there with, as far as I'm concerned, Stevie Wonder, Paul Rodgers, people like that who just have these classic voices. I was lucky enough to work with him.
After Frampton Comes Alive!, the followup I'm In You did tremendously well—it was a #2 album and the title track was a #2 single. But was it disappointing to you when the sales started to go downward after that '70s splash of fame?
I'm In You sold three million but nothing could have come close to following that record. The only thing I would have changed is I would have waited four years. I'd have done an Eagles on everybody. The Eagles always did it right. You think they've had so many more records than they've really had, over a 35-year career. But, hey, I didn't (laughs).
I know this might be a sensitive topic, but you were in the Sgt. Pepper's Lonely Hearts Club Band film in 1978, which was roundly crucified by just about everyone. Looking back from this distance, was that movie as bad as people said it was?
Well, it was an Achilles Heel for me. It was a movie that was not really made for the older generation. I don't know whether they were hoping that, but it was a bit like a long Monkees video as far as I was concerned. On the other hand, there's so many people that liked it. It was not a good experience for me, but if they liked it they liked it, that's fine. But I'd preferred I hadn't have done that. I should have been at home writing more songs. But what are you gonna do?
Related: Listings for 100s of classic rock tours
You said in another interview that you're happier now than you've ever been. What do you attribute that happiness to?
I think because the pressure is gone, I know myself much better. As a person I feel like I'm more successful—not career-wise but I feel like I'm doing the right things in my life. My sobriety has really helped that. The last seven years have been a big wakeup for me and I'm very thankful. Every day is a new day and I'm taking it as it comes and enjoying every moment of it.
When you look back at that kid that was in Humble Pie or who made those '70s records, what are your thoughts about those days?
Don't wear the satin pants! (both laugh)
Hey, they worked at the time.
Yes, they worked at the time. Everybody was wearing them. I just went on a little long.
Watch Frampton play "Show Me the Way" on The Midnight Special in 1975
Frampton has announced his return to the stage, with a 2023 tour. Tickets are available here.

Latest posts by Jeff Tamarkin
(see all)