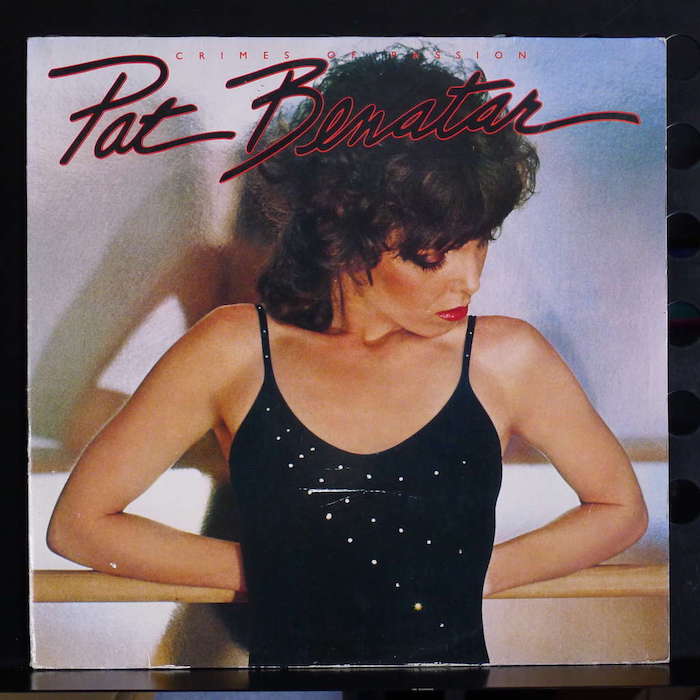 When Pat Benatar signed her first record deal, there was no roadmap for a female singer looking to compete in rock music as if it were a level playing field. She had an artistic vision but no ability to articulate it in a studio environment, and that made the recording of her debut a struggle. Initial sessions were professional but without spark, and she later reflected that she feared at the time, "I was finished before I'd even started."
Instead, Chrysalis Records made a call to the bullpen for producer Mike Chapman, who was at the time doing wonders with Blondie and others, and quickly steered the process down a better path. The result was 1979's In the Heat of the Night, which yielded the breakthrough (and tenacious, with a four-plus-month run on the Billboard singles chart that peaked at #23) single "Heartbreaker" and the #27 hit "We Live for Love."
[Benatar was finally inducted in the Rock and Roll Hall of Fame in the Class of 2022.]
That album was still doing solid business when its follow-up came together, reaching stores just five months after In the Heat of the Night peaked at #12 in March 1980. Producer Keith Olsen, who made acts that blurred the lines between pop and album-oriented rock something of a specialty in that era (the list, which includes the likes of Journey, Fleetwood Mac, Ozzy Osbourne and Heart, is long), replaced Chapman for what would become Crimes of Passion, and shepherded the record that would consolidate Benatar's place in the rock firmament.
Their path to that result was a triumph of straightforward appeals, planting its flag with garage-rock polished to a high sheen. It's easier to say than to do, particularly with results on the level of "You Better Run," the Young Rascals cover that served as the album's lead single. Working in lockstep with a marching throb, Benatar commits ala a flippancy-free-Mae West to the tune's "Whatcha tryin' to do" routine, and shows another gear in the chorus as she powers it with enthusiasm and a bit of abandon. A stripped-down but fully decorated arrangement, it memorably showcases her simmer-and-burst strong suit, and made its mark on the singles chart by reaching as high as #42. When MTV debuted in August 1981, the song's accompanying music video was the second the network ever played.
Related: The best-selling albums of 1980
In a similar vein is the disc's opening cut, "Treat Me Right." Propelled by the jittering rhythm guitar of Neil Giraldo (who came to her as a Chapman-recruited session player and would, within a couple of years, be her husband and producer), its plump, meat-and-potatoes rock bob is a simple formula that asks her to carry it, and she does, her voice showing capacities for nuance and enticement alongside its clear facilities for urgency and raw drive. The third and last single from the record, it climbed as high as #18 on the Billboard Hot 100.
Although there's a no-nonsense character to her singing, Benatar's low-key versatility is on display throughout the collection. "Never Wanna Leave You" drops her into throwback rock with a silky soft vocal touch, matching the contours of its cool bob, as Giraldo's guitar provides the number's flourishes and highlights. Tied to the sturdy bounce of "Little Paradise," her singing is for the most part in harness, echo tacked onto its edges as she follows Giraldo's fuzzy guitar and a juicy pace established by Myron Grombacher, joining Benatar for the first album of what would prove a long collaboration. On "I'm Gonna Follow You," she luxuriates within its throwback pulse, edging toward doo-wop as she sways and flows.
There are a couple of wild cards on the set, not least among them a rendition of Kate Bush's "Wuthering Heights." Benatar's take is in some ways imitative of the original, including some perilous phrasings, and even with a bit of guitar grit prodding it toward rock excess she doesn't exactly make it her own. Then there's "Hell is for Children," an anti-child-abuse anthem Benatar authored in response to a series of articles in the New York Times. Stark, dark and a touch blunt in places, the song has real potency, not least because the innate frankness of Benatar's singing style prioritizes impact over elegance. Its second half, on the other hand, makes an odd pivot to a breakneck rock workout that, while angry and insistent, is engaging at higher speeds in ways that don't necessarily suit the intended message. The song was picked up by album rock stations despite never getting a single release, and has been a performance staple for Benatar over the years.
The album runs out of gas toward the end of side two, with a pair of songs that could fill out nearly any contemporary pop rock record. "Prisoner of Love" is an alluring trifle, easy on the ears but not particularly sticky despite Benatar's sharp insistence. The bounding guitar churn of "Out-A-Touch" is peak generic 1980s rock, with a confident vocal and a perfectly professional electric fill from Giraldo, but it doesn't really go anywhere, and its decelerating bridge is sleepy. They're songs that don't make anything of Benatar's best qualities.
By contrast, "Hit Me With Your Best Shot" takes those traits and turns them into a spectacularly good slice of pop-rock. Its bouncy chug is sparked further by Benatar's crisp cadence, and its lyrics are a pitch-perfect vehicle for her vocal personality, no-nonsense and leaving her room to wail. It's the shortest song on the record, but delivers by far its best hook and smartest execution, right down to Benatar's final belting of "fire away." Giraldo's guitar fill adds bright texture to a pure '80s power pop contrivance, and helps boost the album's most memorable, digestible tune. The single sold more than a million copies, peaking at #9 to become her first top 10 hit, and deservedly stands today as one of her catalog's true evergreens.
Beyond its hits and curiosities, the album, released on August 5, 1980, was an unqualified success that would eventually sell more than five million copies. At its peak in January 1981 Crimes of Passion reached #2 on the album chart for five weeks, never surmounting Lennon and Ono's Double Fantasy, though it spent more than six months in the top 10 as part of a 93-week album chart run. It also carved out Benatar's position as the most prominent female solo act in rock, affirmed by her taking home in February of that year the first of what would be four consecutive Grammys for Best Female Rock Vocal Performance.
Watch Benatar perform on Don Kirshner's Rock Concert in 1980
Those awards accompanied one commercial success after another. Precious Time arrived 11 months after Crimes, sported the #17 hit "Fire and Ice" and became Benatar's first chart-topping album. By 1982, Olsen departed, and Giraldo took over as her lead producer on projects that moved closer to pure pop. They included 1982's Get Nervous, which included the #13 "Shadows of the Night" and the #20 "Little Too Late." By 1983 Benatar would release her first live album, Live From Earth, whose two studio tracks included "Love is a Battlefield," a million-seller that would climb as high as #5 (making it, along with 1984's "We Belong," the highest singles chart position she would reach in a 40-plus-year career).
With periodic new releases throughout the 1990s, Benatar continued to achieve commercial success and also took interesting detours, including her 1991 collaboration with Roomful of Blues members for the jump blues record True Love. Born on January 10, 1953, she has remained a steady presence on the road. Along the way she has remained the thing she set out to be, an artist who made her own seat at the table and turned it into a remarkable rock music legacy.
Watch a live performance of "Hell is for Children"
When Benatar tours, tickets are available here and here.
Latest posts by Thomas Kintner
(see all)