Jefferson Airplane/Starship's Marty Balin on the Heaven That Was '67
by Harvey Kubernik
The late singer and songwriter Marty Balin, founder of Jefferson Airplane, hitmaker with Jefferson Starship, and well-received solo performer, was at the epicenter of the emerging and nascent San Francisco musical community beginning in 1965. The regional buzz on Jefferson Airplane in 1966 yielded their debut LP, Jefferson Airplane Take Off, issued by RCA Records that year. He continued to make music until his death in 2018, at age 76.
Born Martyn Jerel Buchwald in Cincinnati, Ohio, on January 30, 1942, Balin moved to the Bay Area at age four with parents Joe and Jean Buchwald. Joe was a lithographer, and printed more than 200 different posters for late '60s music shows at San Francisco's Matrix, the Fillmore and Avalon ballrooms. Marty briefly attended San Francisco State University, initially pursuing a career as a painter. He then turned to music and, in 1962, renamed himself Marty Balin, recording the singles "Nobody But You" and "I Specialize in Love" for Challenge Records.
Balin subsequently became the lead singer of a folk music quartet called the Town Criers, followed by a brief stint with the Gateway Singers in 1965. He then mulled over an electric folk sound. "I wanted to play with electric guitars and drums, but when I mentioned that notion in clubs that I played, the owners would say, 'We wouldn't have you play here. Not with drums and electricity. This is a folk club.' So I decided to open my own club."
Balin, with the help of financial backers, opened the Matrix on August 13, 1965, featuring his new band Jefferson Airplane. Over the next several years, numerous local bands, as well as visiting acts like the Doors, the Blues Project and the Velvet Underground, would play his venue.
"Marty is the one who started the San Francisco scene," said former Jefferson Airplane and Jefferson Starship manager, and one-time Balin roommate, Bill Thompson., who has since passed away.
"Back in those days Marty was quite the businessman," stated Jefferson Airplane's Paul Kantner, who died two years before Marty. "He was the leader of the band on that level. He was the one who pushed us to do all the business stuff, orchestrating, thinking ahead, looking for managers and club opportunities. He was very good at it."
Initially a folk-rock outfit, Jefferson Airplane came to epitomize the psychedelic scene that was reflected in their 1967 second album, Surrealistic Pillow. He remained with the band through the albums After Bathing at Baxter's, Crown of Creation, Bless Its Pointed Little Head and Volunteers, then left in 1971, frustrated by the band's musical direction.
By 1975, he was ready to rejoin his former bandmates Kantner and Grace Slick in their offshoot band Jefferson Starship, and his voice powered their biggest hits, including "Miracles," "Count on Me," "Runaway" and "With Your Love."
Balin left Jefferson Starship in 1978, then, in 1981, he released his first solo album, Balin, which spawned the hit single "Hearts." In 1989 he joined Jefferson Airplane for a reunion tour and, in 1993, Marty reunited with Kantner in a new lineup of Jefferson Starship.
During 2015, I interviewed Marty about Jefferson Airplane.
Best Classic Bands: Living in San Francisco in the '50s and '60s, you heard a lot of local music before Jefferson Airplane started flying.
Marty Balin: I got to see all the beatniks and all the jazz cats in the clubs. I was a friend of Ralph Mathis, Johnny Mathis' brother. They had a house in San Francisco. Johnny would have Erroll Garner in there, [jazz singer] Nancy Wilson, the Jazz Crusaders, and they'd just perform. Because Ralph was Johnny's brother, we could get into any club. I saw John Coltrane, Miles Davis, Thelonious Monk. Plus, I saw all the great writers and poets. This is before 1967 and the Summer of Love. It started with the beatniks and poets. I don't know if it's the geomagnetic forces of the earth and the ocean but something went on there. It's a lot different than the rest of the world.
Jefferson Airplane originally had a female singer named Signe Anderson, who was replaced by Grace Slick. How did that change come about?  
Grace Slick was real popular at the time with her own band, the Great Society. She had her brother-in-law [Darby Slick] and her husband [Jerry Slick] in that band. We needed to get a new girl, because Signe was pregnant and she didn't want to tour outside San Francisco. There were only two girls around singing: Janis Joplin in Big Brother and the Holding Company and Grace with the Great Society.
We had this meeting and I said, "Who can we ask?" [Airplane bassist] Jack Casady said, "I'm gonna ask Grace Slick." I kind of chuckled at that. But Grace used to come to the Matrix and sit out in the audience, right in front of the stage, and watch me. She would stare me down. She would just sit there. Jack asked her that afternoon and that evening she left her band and joined us. Can you believe that? That's amazing.
Tell me about the first Airplane single, "It's No Secret."
I originally wrote it with Otis Redding in mind. I used to hang out with Otis and follow him around like a little puppy dog and watch his shows. I wanted to write him a song that had his kind of groove thing, but Otis never did it. I've never seen anybody handle an audience like him and rock the joint. The energy level was amazing with this guy. For me, a highlight of the Monterey International Pop Festival was Otis. He staggered the crowd.
The Airplane had a traveling light show (Glenn McKay's Head Lights). Was that an essential component in bringing the message and the sound to the audience?
You can see us and the light show in the Monterey Pop movie. The light show was important. There were times we played in a museum and the light show would be the main thing and they would turn the lights out on us on stage so that we would be in shadow so they could just concentrate on the light show. It was getting talked about more than anything else at the time.
The Doors played the Matrix in very early 1967 and then in 1968 you toured the U.S. and Europe together.
We worked and played with them many times. We did some high school and college shows together. I loved the Doors. Oh, my God! I thought Jim Morrison was fantastic. I fortunately became a friend and hung out and got to drink with him. He'd read me his poems all the time. I thought that was funny. I thought Jim was great as an artist. The guy was a good-lookin' dude, man. I'd go out with him and try and pick up chicks and I was like invisible.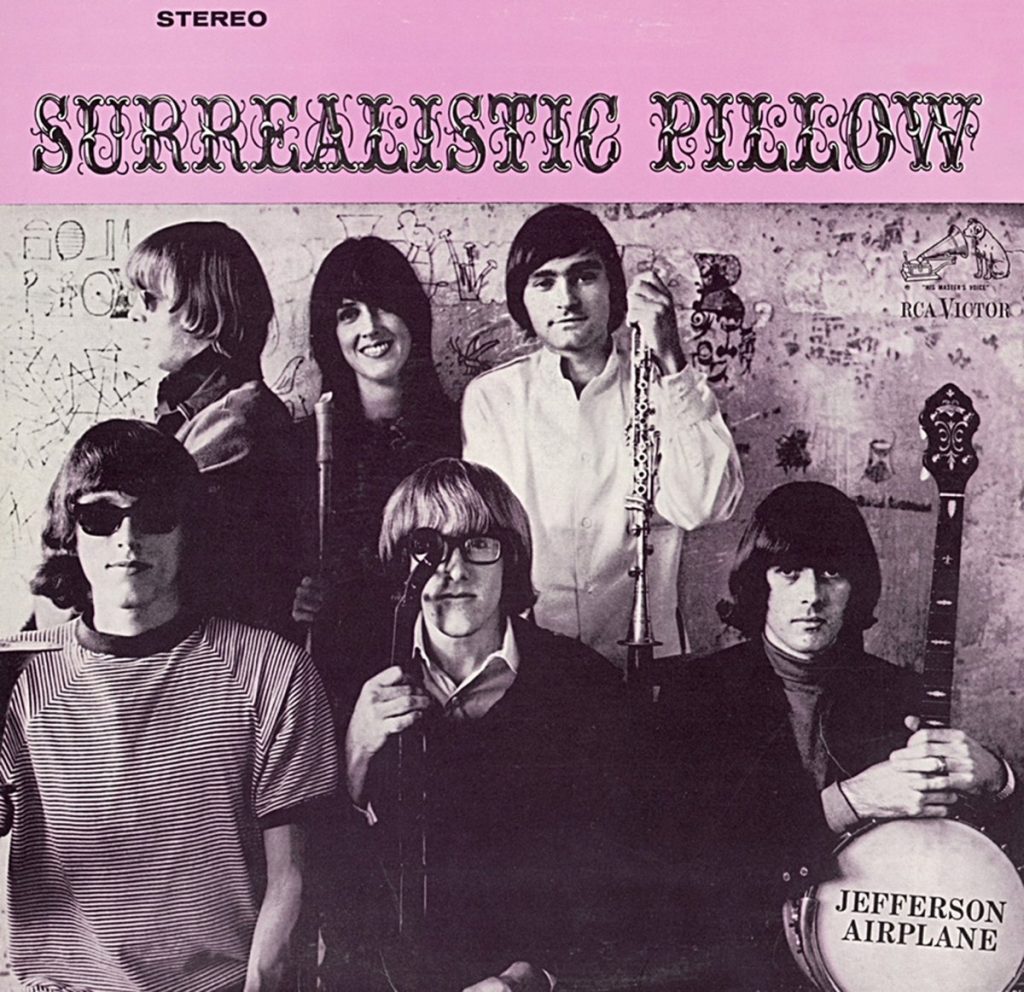 How was "Comin' Back to Me" from Surrealistic Pillow written?
I left the RCA Studios in Hollywood, where we were recording, and went back to the motel. I ran into Paul Butterfield and he had this joint and gave it to me. "Smoke this, Marty. It's the best stuff you'll ever smoke." (laughs). So I did, and I was in my room and I tell you, I couldn't find my legs. I got up and went to the guitar. Bam! In five minutes that song came out. So I ran back to the studio. The session had pretty much ended, and they were cleaning up. Jerry Garcia was there, and Grace and Jack Casady. I said, "Hey, guys. Play this with me." I told the second engineer to turn on the tape and we did one take and that was it. I didn't think any more of it, because you couldn't play it live because it was so soft.
Why does the music of 1967 still resonate so strongly this century? 
They are good songs that people grew up with. I've had people tell me they were married to one of my songs, their father died the year of one of my songs. Some soccer game in Boston, they use "Volunteers" for their theme. You don't think about whether a song will last. Every time I do a song, it still moves me and takes me to the place I want to go. It puts me in a trance. That's the way I write 'em or why bother to play them for people? In Jefferson Airplane, somebody might give me a chord change and make something out of it and write a song to it. How can I sing to this? What kind of melody would I put to it? Over the years, I learned to get out of my way and let the words come. I don't try to write it. I just try to transcribe what I hear in my head.
Do you have a specific songwriting process?
Sometimes it will be a lyric I write out because I have some words I like. And then I sometimes play the guitar and write to it. Or someone will come to me, "Hey, man. I just came up with these changes," and I'll say, "That's interesting. I wonder if I can sing that?" I listen to the music and the song is telling me things. I let the words come out. "What is it saying?" As simple and as easy as it comes. The more you play something simple and direct like that it gets bigger, enlarges and increases.
Listen to the Airplane perform "Volunteers" at Woodstock
I would be remiss if I didn't ask about your number one hit with Jefferson Starship, "Miracles."
I was reading these Persian poets who had these poems about making love to a woman but they're really talking about God. That gave me this idea. And I had been involved with a living avatar, Sathya Sai Baba. They called him the man of miracles. So I started playing and out came this thing about making love to a woman but also about God. I put it all together and played it for the band and they kind of looked at it and went, "I don't know about that… There's something wrong with that." Nobody really liked it. And I thought, gee…I don't know. Maybe they're wrong. I liked it, fortunately for them.
Bonus video: In this famous clip from the Altamont concert film Gimme Shelter, Balin jumped off the stage to confront Hells Angels who were beating concert-goers
Latest posts by Harvey Kubernik
(see all)