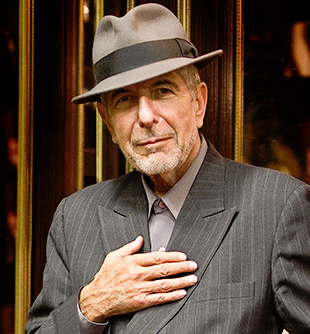 After President Trump's final speech of the Republican National Convention on Thursday night (August 27), the campaign played Leonard Cohen's signature song, "Hallelujah." Twice. Though it wasn't Cohen's actual performance — that was left to a recorded version by singer Tori Kelly and a live performance by Christopher Macchio — the committee apparently did so even though their request had been denied. On Friday evening, representatives from Cohen's estate and his music publishing company issued statements, which were shared on Cohen's Facebook page.
Michelle L. Rice, legal representative of the Cohen estate, issued the following:
"We are surprised and dismayed that the RNC would proceed knowing that the Cohen Estate had specifically declined the RNC's use request, and their rather brazen attempt to politicize and exploit in such an egregious manner Hallelujah,' one of the most important songs in the Cohen song catalogue. We are exploring our legal options.
"Had the RNC requested another song, 'You Want it Darker,' for which Leonard won a posthumous Grammy in 2017," Rice's statement continued, "we might have considered approval of that song."
Brian J. Monaco, President, Global Chief Marketing Officer, Sony/ATV Music Publishing, wrote:
"On the eve of the finale of the convention, representatives from the Republican National Committee contacted us regarding obtaining permission for a live performance of Leonard Cohen's 'Hallelujah.' We declined their request."
It's possible the campaign may have obtained a so-called blanket license avoiding the need to obtain permission for individual copyrighted performances.
Following Thursday night's Republican National Convention, fans expressed their displeasure for the unauthorized use during a fireworks display. The performances of Cohen's song was included in a sequence that also featured Lee Greenwood's "God Bless the USA." (The latter performer is a well known supporter of the President's.)
Related: Neil Young has sued the Trump campaign for their use of his songs

Latest posts by Best Classic Bands Staff
(see all)