Joni Mitchell's 'Court and Spark': A Significant Pivot
by Thomas Kintner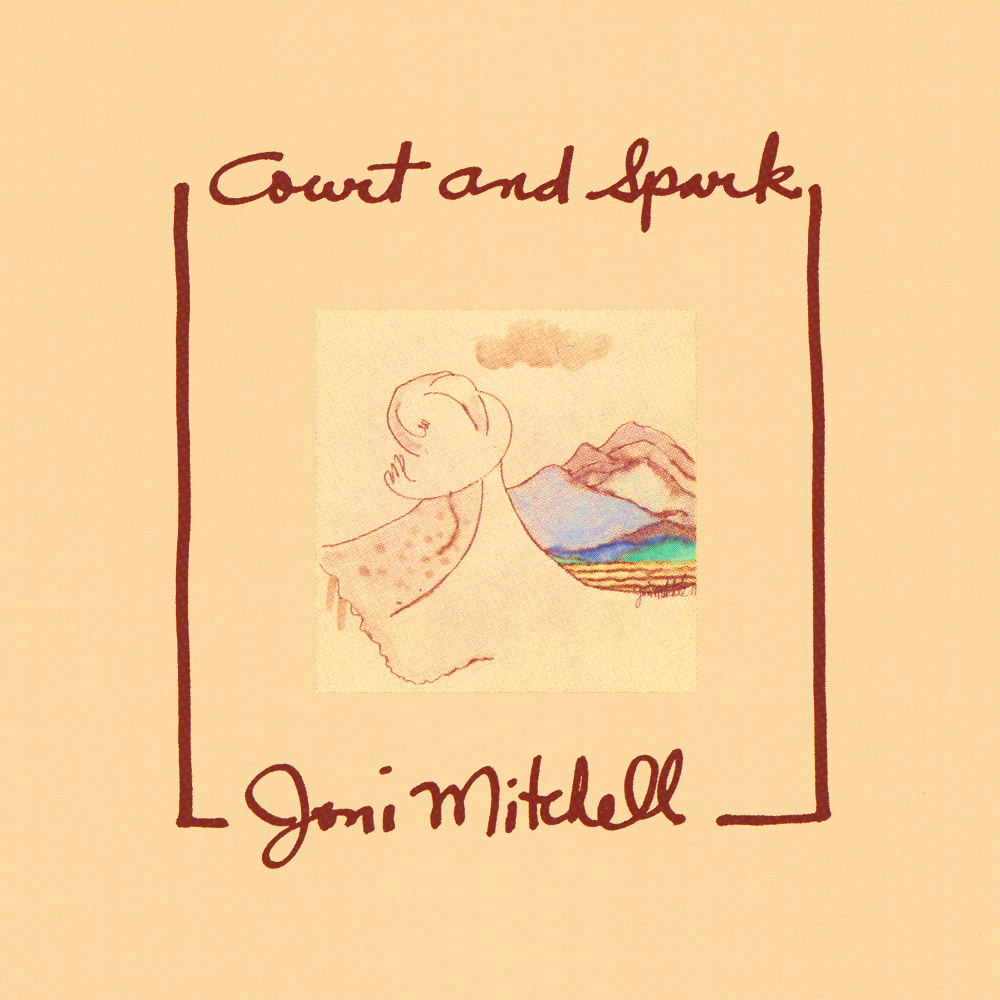 After five albums, Joni Mitchell was ready for a change. Well-known for songwriting that restlessly laid bare the depths of her soul, she also had ambitions to move beyond the sparse folk underpinnings that were to that point expected of her. The year 1973 came and went without her releasing a record, the first year she'd skipped since her debut five years earlier, and when 1974 arrived, January brought Court and Spark, adorned by a sophisticated sonic sensibility that would define her career from that moment forward.
Mitchell already had shown herself to be an idiosyncratic talent: she was three years removed from the milestone Blue (an album that retains its appeals as it approaches its 50th anniversary and continues to routinely appear on charts ranking the greatest albums of all time), and even made an impression in the commercial realm when her smart-aleck 1972 track "You Turn Me On, I'm a Radio" climbed to #22 on the Billboard singles chart. Along the way, her interest in jazz had manifested in subtle ways, but for Court and Spark, it would prove a defining trait, melded fully with pop and folk to synthesize a sound wholly her own.
The construction of the album's songs is complicated—and sounds it. Contoured, carefully interlocked arrangements provide inviting frames into which sober, pretty poetry nestles, masking sharp lyrical edges that emerge upon deeper listening. Backed by Tom Scott's L.A. Express, the popular "Help Me" shows how it's done, cloaking a heady contemplation of love and loneliness in an alluring sway. Mitchell scatters memorable refrains across its lyrical structure, with repeating bookends in each verse of, "Help me/I think I'm falling" to one side, and variations on "But not like we love our freedom" on the other.
What lies between is decorated tastefully by the cool ring of Joe Sample's electric piano and soft, punctuating inlays of Larry Carlton's electric guitar. Engaging and plush, the arrangement ascends into a billowing bridge capped by an affirming "Didn't it feel good," wherein Mitchell's singing entrances with percussive traces amid a shifting-yet-certain rhythm. Busy and finicky as it may be, the assembly has a natural flow and hits the ear beautifully, right down to the bass drum taps placed curiously high in the mix during its fadeout. "Help Me" would prove the biggest hit of her career, reaching as high as #7 on the singles chart.
The craft on display in the following song, "Free Man in Paris," is equally noteworthy. Opening with a segue that sounds like an extension of "Help Me" (the album is among the most seamless ever assembled), "Free Man in Paris" establishes a complex yet airy structure richly decorated by the electric guitars of Carlton and Jose Feliciano, with background vocals from David Crosby and Graham Nash as polished support. It's catchy and agreeable—the tribute to her friend David Geffen would chart as high as #22—and offers insight into Mitchell's process. Its cadence never quite settles down, and she keeps it off-kilter on purpose, as when she jams "unfettered" into a line whose meter it doesn't quite match, prioritizing the specific term over a concession to any number of two-syllable words that would have fit more comfortably. Treating structure as a pliable element, she keeps the listener pleasantly off-balance.
If you're a new Best Classic Bands reader, we'd be grateful if you would Like our Facebook page and/or bookmark our Home page.
The album is a deeply personal experience, a dance into the confessional softened by artful twists of observation. The subject matter aligns with sparse piano melodies like the one beneath the clear-eyed musing on romance "Same Situation." The horn-dressed "Car on a Hill" is peppered with small flourishes, many of them murky, as it makes a haunting choral ascent for which Wayne Perkins' electric guitar provides a sharp edge. Mitchell inhabits each turn with a worldly, matter-of-fact vocal approach, bringing a gently rendered urgency to the title track as she tells a story that purposefully avoids closure by song's end.
Watch Joni singing "Car on a Hill" in London
One of Mitchell's gifts is for lyrics that seem to be part of a stream of consciousness until they hit a punchline that makes them coalesce. "People's Parties" is a dense 2:15, loaded with ideas and images like the clever reduction of its characters to owners of "passport smiles." Evocative imaginings spill from the supple "Just Like This Train," an easygoing jazz reminiscence on lost love that is equal parts sweetness and bite. Far more direct in every way is the crowd-pleasing "Raised on Robbery," which lightens the album's tone with its fun, funny yarn-spinning atop a propulsive groove for which Robbie Robertson's electric guitar etchings are an ideal complement.
On an album of concise songs, "Down to You" is like a lengthy exhale. A mesmerizing contemplation of isolation summarized in the lyric "Everything comes and goes/Marked by lovers and styles of clothes," it is a gloomy, utterly lovely piece of work, with climactic moments delivered in a tempo akin to sobbing. Tracing a lustrous piano melody across 5 ½ minutes, it resonates on multiple levels. It would earn an award the following year for Best Arrangement Accompanying Vocalist, to mark the first of Mitchell's nine Grammy wins.
The album's closes by changing directions, in a pair of songs that share mental infirmity as a core concept. The first of them, "Trouble Child," is a slinky shimmer punctuated by Chuck Findley's cool trumpeting, John Guerin's slender drum rattle and a mood-imposing electric guitar line from Dennis Budimir, which combine to create a ruminative flow that aligns with the tone and structure of the rest of the record. Less characteristic of the collection, and arguably anything in Mitchell's catalog, is a sprightly cover of the 1952 Annie Ross/Wardell Gray song "Twisted," whose amusing personality (which includes a cameo from Cheech and Chong) and springy vocalese structure send off the record with a lively bounce.
Mitchell acknowledged the year of its release that the latter's inclusion is something of a shoehorn, and referred to it as akin to "an encore." Indulgence though it might be, "Twisted" makes the record's holistic experience stronger.
For all the breezy sonics of the collection, it's an intense listen, and the gear change of its final offering lessens its overall weight. Its display of Mitchell's less-heard playful side is extraordinary, yet doesn't detract from the songs that precede it.
The album was received warmly by critics and the marketplace, where it reached as high as #2 on the album chart, and would in the long term rank as the best-selling record in Mitchell's catalog. It also served as a signpost, highlighting an artist intent on following her muse wherever it might lead, which soon would entail far more experimental paths. As much as it sounds on its surface like an easy-listening jazz-pop record, Court and Spark was a significant pivot point, angling toward a future in which its creator would champion experimentation, and defy expectation.
Watch Joni sing "Help Me" in 1974 in London
Related: Our Album Rewind of 1970's Ladies of the Canyon
Latest posts by Thomas Kintner
(see all)