Every year, the CBS-TV promotional spots scream "Music's Biggest Night!" We're referring, of course, to the Grammy Awards. The voters are members of the National Academy of Recording Arts and Sciences (NARAS). And occasionally they get it right. But the unpredictability of the most important category can leave you shaking your head. So without further delay, Best Classic Bands presents the 10 Grammy Album of the Year hits and misses.
10) 1985: Lionel Richie – Can't Slow Down
This one is particularly mind boggling. Richie's album had two bona fide #1 monster hits: "All Night Long" and "Hello." But all of the other nominees were more worthy: Bruce Springsteen's Born in the U.S.A., Cyndi Lauper's She's So Unusual, Tina Turner's Private Dancer and Prince & The Revolution's Purple Rain. Take your pick… except for the one that won.
9) 1987: Paul Simon – Graceland
One of the years where it would've been hard to quibble with any of the diverse nominees winning. They were all great albums, though we do think Simon's brilliant Graceland was the deserving pick. The others? Two British classic rockers: Steve Winwood's Back in the High Life and Peter Gabriel's So. Barbra Streisand's ode to her musical roots, The Broadway Album. And Janet Jackson's statement album Control.
8) 1972: Carole King – Tapestry
While this album was a game changer for singer-songwriters and is one of the best-selling albums ever with 25 million copies sold worldwide, this isn't the slam dunk it appears to be. It was up against George Harrison's stunning 3-LP solo debut, All Things Must Pass, as well as the cast album of the London production of Jesus Christ Superstar, which would go on to revolutionize theater. (The Broadway cast recording was nominated the following year but also failed to win.) It also wouldn't have been surprising for NARAS members to have selected the Carpenters self-titled album that yielded three huge singles. And don't overlook Shaft from Isaac Hayes.
7) 1974-75-77: Stevie Wonder – Innervisions, Fulfillingness' First Finale, Songs in the Key of Life
In the mid-'70s, they should've just dispensed with the formalities and simply handed the trophy over to Wonder, who was in the midst of career brilliance… one of the great runs in music history. These albums featured such all-time greats as "Living For The City," "Higher Ground," "Don't You Worry 'bout a Thing," "Sir Duke" and "Isn't She Lovely." Among the other nominees: Paul Simon's There Goes Rhymin' Simon and Bette Midler's The Divine Miss M (1974), Paul McCartney & Wings' Band on the Run and Joni Mitchell's Court and Spark (1975) and Peter Frampton's Frampton Comes Alive! and Boz Scaggs' Silk Degrees (1977).
6) 1970: Blood, Sweat & Tears – Blood, Sweat & Tears
We like the jazz-rock band's three hit singles from this album – "You've Made Me So Very Happy," "And When I Die" and "Spinning Wheel" – as much as anyone. And David Clayton-Thomas' vocals were the perfect complement to that horn section. But choosing the BST album over The Beatles' Abbey Road is just dumb. Not to mention two other worthy candidates: Crosby, Stills & Nash's self-titled debut and Johnny Cash's At San Quentin.
If you're a new Best Classic Bands reader, we'd be grateful if you would Like our Facebook page and/or bookmark our Home page.
5) 1971: Simon & Garfunkel – Bridge Over Troubled Water
Where to even start? The competition – there were six nominees this year – starts alphabetically with Chicago (better known as Chicago II), the two-record set that showed off Terry Kath's genius and yielded hits like "Make Me Smile," "25 or 6 to 4" and "Colour My World." It continues with the Carpenters Close To You. How about Crosby, Stills, Nash and Young's brilliant Déjà Vu with "Carry On," "Woodstock," Our House," "Teach Your Children" and so on? Then there was Elton John's self-titled U.S. debut with " Your Song," "Take Me to the Pilot" and "Border Song." And finally, James Taylor's Sweet Baby James with "Fire and Rain" and the title track. But it's hard to argue with S&G and the elegant title cut, "The Boxer," the wistful "The Only Living Boy in New York," "Cecilia" and more.
Related: Looking back at the 1970-1974 nominees for Album of the Year
4) 2003: Norah Jones – Come Away With Me
Every once in a while an album strikes a chord with everyone you know. Such was the case with Jones' February 2002 debut on the Blue Note label. The album won eight Grammy Awards including three for the single "Don't Know Why." The worldwide smash has sold more than 26 million copies. Come Away With Me had some serious competition from Bruce Springsteen's The Rising, but it was one of those cases of being in the right place at the right time.
3) 1999: Lauryn Hill – The Miseducation of Lauryn Hill
The award ceremony in 1999 was known as the Grammy Year of Women. Madonna won four awards. The Dixie Chicks, Celine Dion, Alanis Morissette and Shania Twain won two apiece. Hill, however, won five and became the first hip-hop act to win for Best Album. She's never released another studio album. Let's just pretend this didn't happen.
2) 1979 Bee Gees (and various artists) – Saturday Night Fever (Original Soundtrack)
The Brothers Gibb enjoyed hit after hit from this monster album: "Stayin' Alive," "How Deep is Your Love," "Night Fever," "More Than a Woman" and "If I Can't Have You." And that's just Side One of the two-record set. The Rolling Stones' Some Girls earned a well-deserved nomination; others included Jackson Browne's Running on Empty and the Grease soundtrack. But it was the Bee Gees' year.
Related: Looking back at the 1975-1979 nominees for Album of the Year
1) 1984: Michael Jackson Thriller
NARAS voters went out on a limb and gave the Album of the Year trophy to Michael Jackson for Thriller. It matters not that the record was up against The Police's Synchronicity and David Bowie's Let's Dance. Thriller earned eight Grammy Awards. It is a piece of art and was easily the best choice.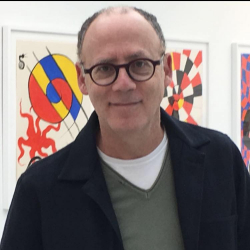 Latest posts by Greg Brodsky
(see all)