The 5 Album of the Year Grammys From 1970-1974
by Greg Brodsky
If you're of a certain age, you used to have a keen interest in which five albums received Grammy nominations for Album of the Year. And as the annual awards show's live broadcast came to its conclusion with the year's biggest awards, the nominated acts were shown on a split screen holding their breath as the presenters opened the envelope to announce the winner.
That same scene continues today, of course, though it's a fairly safe bet that nowadays there are nominees for Album of the Year that you've never heard of. I'm not saying you haven't heard their album. You have never heard of the act. Let's face it: In 2016, when Taylor Swift won for 1989, at the time you had never heard of The Weeknd, whose Beauty Behind the Madness was also nominated. Or in 2013 when Mumford & Sons' Babel was crowned, you didn't know who Frank Ocean was, let alone his Channel Orange album. (And still may not know.)
Not so in the 1970s. During that decade, in the heart of what is now the classic rock era, chances are you owned at least two of each year's five nominees. Here's our first of two parts looking back at the Album of the Year nominees of the 1970s. (Note: the Recording Academy traditionally uses a Oct. 1 to Sept. 30 calendar for eligibility.)
1970: Blood, Sweat & Tears, Blood Sweat & Tears (Nominees: The Beatles, Abbey Road; The 5th Dimension, The Age of Aquarius; Crosby, Stills and Nash, Crosby, Stills and Nash; Johnny Cash, At San Quentin)
Related: Our interview with David Clayton-Thomas on the making of the album
Yeah, in most any other year, the BS&T album, with three huge singles, would be a worthy choice. But we're talking Abbey Road here, a near-perfect LP, and one of the handful of albums in the conversation for best of all-time. And CSN's game-changing debut, combining rock, folk and blues, remains as beautiful as ever. Overlooked: Led Zeppelin's 1969 debut.
1971: Simon & Garfunkel, Bridge Over Troubled Water (Nominees: Chicago, Chicago Transit Authority; Carpenters, Close to You; Crosby, Stills, Nash & Young, Déjà Vu; Elton John, Elton John; James Taylor, Sweet Baby James)
The duo made only five studio albums and what a finale! With four hit singles, including the stunning title track–which also took home Record of the Year and Song of the Year honors–it's a worthy choice. The four runners-up are all terrific, including the easily forgotten Carpenters LP. Overlooked: Miles Davis' 1970 Bitches Brew.
1972: Carole King, Tapestry (Nominees: George Harrison, All Things Must Pass; Carpenters, Carpenters; Jesus Christ Superstar (London Production); Isaac Hayes, Shaft)
It's hard to argue with the Grammy voters on this one as it defined the singer-songwriter era. Tapestry was #1 in the U.S. for 15 weeks and earned three other Grammys (with "It's Too Late" and "You've Got a Friend" splitting Record of the Year and Song of the Year, respectively). Still, Harrison's opus, featuring a cast of thousands–including Derek and the Dominos–remains a frequent listen with up to 10 different songs vying for the collection's favorite track at any given time. Overlooked: The Who's Who's Next and Marvin Gaye's What's Going On.
1973: George Harrison & Friends, The Concert For Bangladesh (Nominees: Don McLean, American Pie; Jesus Christ Superstar (Orig. Broadway Cast Recording); Neil Diamond, Moods; Harry Nilsson, Nilsson Schmilsson)
So, was this a make-up call from the previous year? The 1973 award is more noteworthy for the numerous gems that the Recording Academy overlooked. We're talking all-time greats like the Rolling Stones' Exile on Main Street, Led Zeppelin's IV, Neil Young's Harvest and David Bowie's groundbreaking The Rise and Fall of Ziggy Stardust that are all among the year's greatest achievements.
1974: Stevie Wonder, Innervisions (Nominees: Charlie Rich, Behind Closed Doors; Bette Midler, The Divine Miss M; Roberta Flack, Killing Me Softly; Paul Simon, There Goes Rhymin' Simon)
When Innervisions was released in August 1973, Wonder was still just 23 and in the midst of a near-unprecedented run of brilliant LPs. This one yielded three hits that remain fresh: "Higher Ground," "Living For the City" and "Don't You Worry 'bout a Thing." Midler had to make do with the year's Best New Artist Grammy. Simon, whose entry includes such favorites as "Kodachrome," "American Tune" and "Loves Me Like a Rock," would get his album award a few years later. Overlooked: Pink Floyd's DSOTM.
Related: The 5 Album of the Year Grammys from 1975-79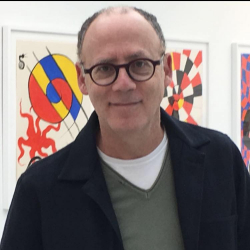 Latest posts by Greg Brodsky
(see all)