George Harrison & Ravi Shankar on the 'Bangladesh' Concert, the Sitar, Their Friendship & More
by Harvey Kubernik
August 1, 2021, marked the 50th anniversary of the Concert for Bangladesh, a pair of benefit concerts organized by Ravi Shankar and George Harrison that took place in New York City at Madison Square Garden. The shows were staged in order to raise awareness and fund relief for millions of East Pakistan refugees, after the Bangladesh Liberation War-related genocide.
But it was in Los Angeles, in the summer of 1971, that Harrison was first alerted by his friend and sitar teacher Shankar to the scale of suffering. Before long, Harrison, Ringo Starr, Bob Dylan, Leon Russell, Billy Preston, Eric Clapton, Jim Keltner, Jesse Ed Davis, Klaus Voormann, Badfinger, Shankar and others had agreed to donate their services.
Following the performances, Shankar partnered with Harrison to produce a film and album from the event, which raised funds for UNICEF.
In 1997, this writer interviewed Harrison and Shankar in Southern California. Portions were first published in HITS magazine.
"His music was the reason I wanted to meet him," said Harrison at that time. "I liked it immediately; it intrigued me. I don't know why I was so into it—I heard it, I liked it, and I had a gut feeling that I would meet him. Eventually, a man from the Asian Music Circle in London arranged a meeting between Ravi and myself. Our meeting has made all the difference in my life."
Harrison commented on his own sitar playing. "I'm not a very good one, I'm afraid. The sitar is an instrument I've loved for a long time. For three or four years I practiced on it every day. But it's a very difficult instrument, and one that takes a toll on you physically. It even takes a year just to learn how to properly hold it. But I enjoyed playing it, even the punishing side of it, because it disciplined me so much, which was something I hadn't really experienced to a great extent before."
Harrison went on to describe his earliest attempt at playing the sitar with the Beatles. "Very rudimentary," he revealed. "I didn't know how to tune it properly, and it was a very cheap sitar to begin with. So 'Norwegian Wood' was very much an early experiment. By the time we recorded 'Love You To,' I had made some strides."
Harrison put his sitar experiments with the Beatles in perspective. "That was the environment in the band. Everybody was very open to bringing in new ideas. We were listening to all sorts of things: Stockhausen, avant-garde music, whatever, and most of it made its way onto our records."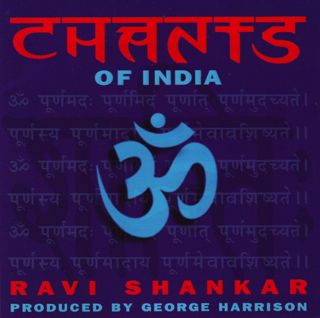 During that interview, Harrison and Shankar also discussed their just-issued Chants of India album on Angel Records.
"In a way it represents the accumulation of our ideas and experiences throughout our 30-year relationship," said Harrison of the album. "But to put it into a slightly more commercial aspect, the record label asked us to do this and that would never have happened 15 years ago. Because of the fact that multiculturalism has become more accepted, and more people are interested in what this music offers, this project has become more commercially viable. And this music is very close to me; this is something I very much wanted to do.
"I actively read the Vedic scriptures and I'm happy to spread the word about what this project is all about. People also need an alternative to all the clatter in their lives and this music provides that. Whether it's Benedictine Monks chanting or ancient Vedic chants, people are searching for something to cut through all the clatter and ease stress."
Listen to "Prabhujee" from Harrison and Shankar's collaborative album Chants of India
"Chants of India… I have done so much programming in my life," said Shankar, "starting from my early days in All India Radio. Being a director there, the psychology of programming, or sequencing, as you call it, comes very easily for me. Give them a bang, then after that you pull them, build it up. That sort of natural tendency I learned from my brother, who was a great dancer and had great stagecraft, which I learned from my childhood. George went through the sequencing with me and agreed with what I made from the buildup when I did the programming. The package is so beautiful, and George was very enthusiastic.
"George is a very rare person…it is something so special," Shankar continued. "There are many other people who could do what George does, but they don't have that depth. He's so unusual. What has clicked between him and me, what he gets from me, and what I get from him, that love and that respect and understanding from music and everything, is really the most important thing. It's not the money, or him helping me to record, that's not the main thing. But it's the very special bond between both of us."
Shankar and I then discussed the genesis of the landmark 1971 event, often acknowledged as rock's first major benefit concert. "The Concert for Bangladesh came about when I told George, and George wanted to help me," said Shankar. "I was planning to do a benefit concert for Bangladesh, because I was very hurt that this whole thing was going on. To help this refugee problem, I wanted to raise some money. Everybody, every Indian, was thinking about doing that. And then, when I thought about it, I knew I could do more than any other Indian musician. Still, how much can you send? $20,000? $25,000, at the most? At this time of turmoil I was having, George was there.
"I told him what I was planning. At the same time, I never wanted to take advantage of him. I did not want to say, 'Would you help me?' But, somehow, it came very naturally. He was so sympathetic. 'Well…let's do something.' And you know, that made me feel so happy. What he did, he immediately started phoning and booking things up. He phoned and got Madison Square Garden," said Shankar. "Later he contacted Bob Dylan, Eric Clapton, Billy Preston, and a few of his friends. Somehow, it was done (snaps his fingers), like that.
"Within three weeks or so, we gave a performance and it was sold out. So, they had to schedule a matinee. As you know, the first half was me. I called my guru's son, Ali Akbar Khan, who plays the sarod. We were the first part. I composed the first lines for the items played, as we always do, and we improvised and then intermission.
Related: Our feature on the original concerts
"It went beautifully. It was a young audience, especially because I had this existing audience already, who were mature listeners. This audience was the same type of audience as the [1967] Monterey International Pop Festival, but they were very attentive and there was no problem at all.
"After our segment, I went to see the second half. Their program was very complementary, because they chose the numbers that were very soulful in the sense that they weren't hard rock. 'My Sweet Lord,' 'That's the Way God Planned It.' Bob Dylan had his harmonica and did ballads. George sang 'Here Comes the Sun,' and the song he composed, 'Bangla Desh.' There was harmony and it wasn't so different. It went off beautifully."
Watch Harrison, Ringo and Clapton perform "While My Guitar Gently Weeps" (Clip begins 17 seconds in…)
The Concert for Bangladesh (originally titled The Concert for Bangla Desh) was a live, triple album, commercially released just before Christmas in 1971 in the U.S. and after New Year's Day 1972 in the U.K. It immediately became a bestseller, landing at #2 for several weeks in the U.S. charts and becoming Harrison's second #1 U.K. album. The multi-disc soundtrack set won the Grammy award for Album of the Year of 1972 for music producers Harrison and Phil Spector.
Listen to Harrison's song "Bangla Desh"
Shankar died on Dec. 11, 2012, at age 92.
Related: The author published a 2021 book, Jimi Hendrix: Voodoo Child
Latest posts by Harvey Kubernik
(see all)