Love's 'Forever Changes' Behind the Scenes: Guitarist Johnny Echols Remembers
by Harvey Kubernik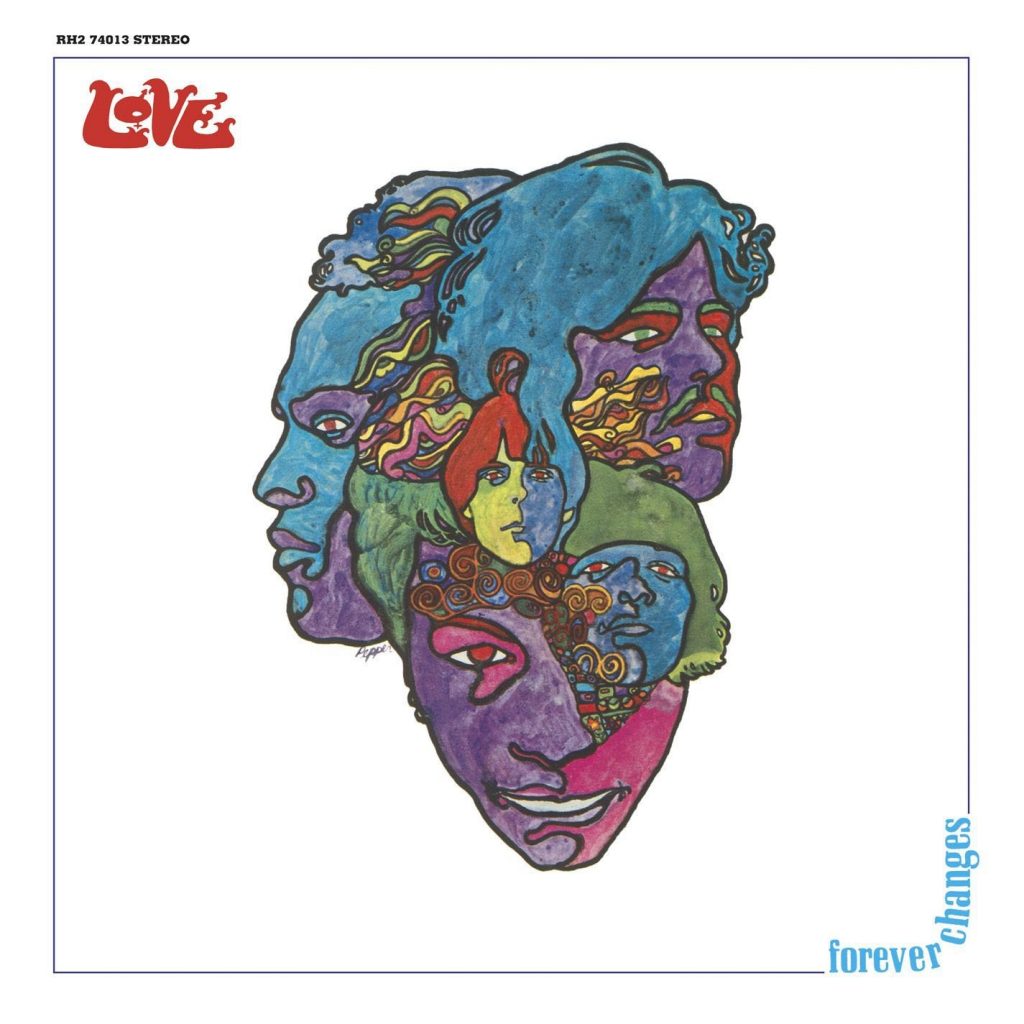 Love's Forever Changes is the psychedelic R&B folk-rock pioneers' finest achievement. Mostly overlooked when it was released in late November 1967 by Elektra Records, today the album is considered an indispensable masterpiece. Forever Changes is the third studio album by Love, recorded by the original band lineup.
In 2008, it was inducted into the Grammy Hall of Fame, and, in 2012, the Library of Congress added it to the National Recording Registry.
In 2017, Rhino Entertainment touted the acclaimed album's golden anniversary with an extensive four-CD/DVD/LP collection housed in a 12" x 12" hardbound book that features a newly written essay and track-by-track notes by music historian Ted Olsen.
Forever Changes is the group's most fully realized studio effort, featuring Arthur Lee (vocals, guitar), Johnny Echols (lead guitar), Bryan MacLean (rhythm guitar, vocals), Ken Forssi (bass) and Michael Stuart (drums, percussion. It was produced and engineered by Bruce Botnick with superb string and horn arrangements by David Angel. The album was recorded at Sunset Sound and Western Recorders studios in Hollywood, with additional vocal and guitar overdubs at Leon Russell's home studio.
I asked Botnick if he had a theory about the ongoing impact, durability and retail sales of Forever Changes. "It's the songs," he emphasized in our 2010 interview. "They are wonderful. Listen to the melodies and the words. Even today, when I listen to it, I am amazed by it. It's sort of like I almost don't remember being there. I do remember all the recording, the overdubbing, and where we did it. Doing some vocals at Leon Russell's house—things like that."
Jac Holzman is the visionary founder of Elektra Records who inked Love and the Doors to his label. Added He said, "I always wanted to be out ahead and looking for things I hadn't heard before. But there was a mood of those times. And the Summer of Love was also the summer of psychedelia and things of that nature."
Listen to "Alone Again Or" from Forever Changes
In 2012 and 2017, I interviewed Johnny Echols, the co-founder of Love. Portions first appeared in my books Turn Up the Radio! Rock, Pop and Roll in Los Angeles 1956-1972 and 1967 A Complete Rock History of the Summer of Love.  
Best Classic Bands: In 1960, Arthur Lee and you were going to high school in Los Angeles. What was the vibe in the city at that time?
Johnny Echols: There were no racial problems. Things were different there. We did not have that kind of chaos or animosity, or racial shit, before the Watts riots in the summer of 1965. It's so strange that it started later on. People were interested in bettering themselves and in the community where Arthur and I lived, there were Japanese and white people living there, Hispanic, Black, all in the same area. We were in the same Boy Scouts troops and we spent the night at each other's homes, ate at each other's houses. We never noticed any of that crap. In the '60s, the cops didn't mess with us and we never got pulled over and hassled in our cars. They didn't profile you unless you lived way over near Watts or South Central. Where we lived it was such a cosmopolitan area that we rarely ever recall seeing a cop car drive down 27th street. They just didn't bother us. I knew musician Charles Lloyd from Memphis. Later I met guitarist Gabor Szabo. Ornette Coleman lived next door on 27th Street, He would always come by and teach us pointers and try to give us ideas about music and how to stay out of trouble and stuff.
Listen to "Maybe the People Would Be the Times or Between Clark and Hilldale" from Forever Changes
When did the guitar enter the picture for you?
The guitar was kind of almost an ethereal thing with me. Put the guitar against your body and you strum it and feel the vibrations kind of coursing through your body. That was the thing for me, how it felt playing an instrument. It just had such a sweet melodic sound. I just fell in love with it from the time I did show and tell in elementary school.
Arthur Lee used to check out your shows in 1963 before Love started.
Arthur started coming to my gigs before he started playing. He was a conga player and I would take him around to gigs I played with Henry Vestine and Larry Taylor, before they had Canned Heat. We had a group that played frat parties when we were like age 15. Arthur would hang out and come around. He trusted that I knew what I was doing. One of the things that I learned from Adolph Jacobs [a guitarist with the Coasters] was that you're always supposed to make the singer shine. You leave room for the singer to express himself and always, always play to the music and not to yourself. If I wanted to, I could cut loose on songs and do a lot of flourishes and stuff that were superfluous to the music. I chose to try and make the song the king, and the songwriter. The vocalist should shine rather than the other way around.  
Moving ahead to 1967, a couple of years after Love started, how did the concept of Forever Changes begin?
We started with an idea after hearing the Beatles' Sgt. Pepper's. We wanted to do something that had horns and strings and we knew from the very start how this album was going to be. We were going to try to make this what we would consider our magnum opus. This was gonna be the thing that defined us. We were gonna take off and just go all the way or something was gonna have to happen. We were going to leave the three-minute pop song format. We wanted to push it. We knew with Sgt. Pepper's there was a whole new sonic thing going on. The material and concepts of it were written before we went into the studio. Arthur was not very much of a guitar player. He could play a few chords, so basically, he would sing the songs to me and play the outline of them and then I would get together with Kenny [Forssi] mostly and we would work out some structure for the song. Bryan [MacLean] had a way, kind of a counterpoint that he would do with his fingerpicking, that would work against what we were playing. My role with Arthur and Bryan was basically an ombudsman because they were at loggerheads all the time
Listen to "Andmoreagain" from the album
Arthur Lee was breaking some new ground with his words.
Arthur was writing some absolutely phenomenal lyrics. I was knocked on my ass. I am expecting the pedestrian, the same old stuff that I'd heard before. Then I started reading these lyrics and looking at them. And this isn't the Arthur I know, a dude that I'd fought with and wrestled around the ground with. This was a poet. I am listening to this poetry and it was absolutely shocking. It just came out of no fuckin' where. The writing for that brief moment of time was just extraordinary, but I don't understand it. I asked him over and over and he did not understand it [either]. He did not realize how fuckin' profound "For everyone who thinks that life is just a game, do you like the part you're playing?" was. He didn't know.
Related: Our Album Rewind of Forever Changes
Does the album reflect what was happening in L.A. at the time?
Forever Changes could only happen in the city of L.A., and could only happen at that particular point in time. You had that cosmopolitan freedom; you didn't have people necessarily put into little categories and boxes. You were able to go anywhere. In the L.A. area you could hear blues one night and go hear rock and go hear experimental or avant-garde jazz, or whatever. You were right in the same area but you were exposed to all these different cultures. And also on the radio, you were exposed to whole different genres.
What do you remember about the recording sessions for the album?
A few session players were on the sessions. What was happening was that that there was a mutiny going on. Bryan wanted more of his songs on the album. See, initially Forever Changes was meant to be a two-album set. Then toward the time we were able to get to the studio finally, Jac Holzman said, "No, they can't afford it." We were gonna do another album right behind it. Everybody was upset because we had worked on all of this music and now we're not using it. Elektra booked the studio and said, "We'll bring in the Wrecking Crew and they'll play the music." So that's what they did. They played for maybe less than 10 minutes and we knew that it just could not work. So those dudes were asked to go and the only ones that stayed were Carole Kaye, Don Randi and Hal Blaine, who played the drums on one song. Carole played [bass] on one song and Don Randi played [keyboards] with us on a couple of songs, "Bummer In the Summer" and I think "Old Man," and that was it. See, this was the weird thing. Elektra didn't come through with the double album so we basically were playing in the dark and kept leaving room for imaginary strings and imaginary horns that we don't really know. We're doing this all in our heads and no charts or anything. We're leaving room and I'm saying, "How will this sound if there isn't a horn?" I am playing to how it is going to sound if they don't come through. A lot of what you are hearing is kind of "Alice In Wonderland" stuff. I am wondering if it is gonna happen but it might not happen. I didn't really know. I don't think anybody has recorded a record like that.
Listen to "A House Is Not a Motel" from Forever Changes
Why does Forever Changes continue to be worshiped and reissued?
My theory on why this album is so popular and in the top 10 of all time is that the magic of the record is that it is unexpected. It just came all of a sudden—there is the atom bomb. You are dealing with regular TNT explosions and all of a sudden, you've got an atomic bomb. It just pushed the envelope so far outside of the mainstream that it took a while. Now, people are ready for that. But back then people were just kind of stunned. All of a sudden you go from here to there and the stunning Arthur lyrics. Everything was just different. The way the horns were done, the way the jazz was blended in with folk music, was blended in with kind of show tunes and rock 'n' roll. It was all put together. But also.it was because of the times we were living in. We had the Civil Rights movement, we had the Vietnam War, all of this turmoil. And out of the turmoil a rose landed in all of this shit. It is blooming, permeating the air with sweetness.
Related: The music of 1967
What have been some of the comments you have heard from fans and record collectors over the last 50 years about Forever Changes?
I have heard it all…It's deep. One of the prevailing things I've heard is, "This is the soundtrack of my life." I think that that is the best definition of it. A soundtrack of the life. Because it was a soundtrack of the times. The music reflected the times we were living in.
Listen to "You Set the Scene" from Forever Changes
Latest posts by Harvey Kubernik
(see all)