They weren't even called videos back then. MTV wouldn't exist for another 16 years and rock artists had no real need to film little vignettes to illustrate their songs. Fans were supposed to make up their own visuals, inside their heads—you listened and decided for yourself what the song's meaning was. And besides, the promotional value of a short film set to a song would have been negligible at that time: Fans wanted to see their favorites performing their hits in person or on TV, whether on variety programs like The Ed Sullivan Show or dedicated rock music shows like Shindig!
A Hard Day's Night had changed things though, ushered in a new era. Elvis and other rock artists had made films, but the Beatles' big-screen debut was already considered by many to be a higher form of art than anything rock artists had previously engaged in. Before, the idea of watching a singer or band act out a story set to one of their records was completely alien. The Beatles made a larger case for the art part of being an artist and they became increasingly interested in film as their music grew more complex, particularly after they stopped touring in 1966. The Monkees, that same year, capitalized on the concept, making fun, creative, quick-action clips to insert into their hit TV sitcom.
Bob Dylan, of course, was a trendsetter, not a follower, and although he never set out to make the 1965 equivalent of a rock video, he ended up making one of the first—and one of the most classic. On May 8 of that year, Dylan walked into an alley next to the Savoy Hotel in London, accompanied by two friends, poet Allen Ginsberg and musician/producer Bob Neuwirth. A camera crew followed.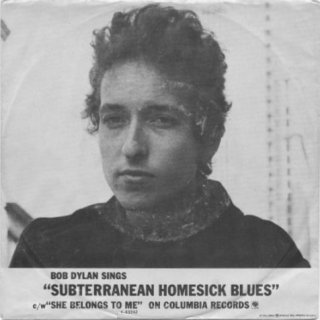 Dylan took with him a pile of oversized cue cards, each emblazoned with one or a few words, some bearing lyrics from the song, others not related at all (the cards were created by the three of them and Scottish singer/songwriter Donovan). Then, to the tune of "Subterranean Homesick Blues," the single he had released in March, and which opened his latest album, Bringing it All Back Home, Dylan stood in front of a camera, staring straight ahead expressionless or off to the side at the cards, holding up one card after another and dropping them to the ground when he was done with each. Ginsberg and Neuwirth are seen off to the side, paying no attention to the man in the vest, tossing the cards. At the end, Dylan simply drops the last one and walks off-camera.
Related: Bob Dylan in 1965: Evolving to Electric
The black-and-white clip wasn't meant to be a "video." It was intended to provide the opening segment of D.A. Pennebaker's Dylan documentary, Don't Look Back, which chronicled the singer's 1965 tour of England. It served its purpose and probably cost nothing to make. Nothing fancy, no great statement. But more than 55 years later it's still a fascinating few minutes of film.
Watch the film clip
Related: Pennebaker died in 2019
To celebrate Dylan's 60th anniversary as a recording artist, an updated version of the iconic video was released.

Latest posts by Best Classic Bands Staff
(see all)