On the second day of Spring 1965, Bob Dylan released his fifth studio album, Bringing It All Back Home. An ad from Columbia Records in the April 10 issue of music industry trade magazine Record World touted the LP's first single, "Subterranean Homesick Blues," which had been released on March 8: "Bob has the fastest-breaking single you've ever seen," it said. "Check the charts and watch it climb higher every week!"
Record label hype aside, the song had a modest jump that week from #77 to #69. And though it would stall on the RW chart a few weeks' later at #53, it reached #39 on rival Billboard's Hot 100, thus becoming the first Dylan single to chart.
The ad's headline–No One Sings Dylan Like Dylan!–perhaps referred to the success that Peter, Paul and Mary had with their cover of his "Blowin' in the Wind," which reached #2 in 1963. (Dylan's original, from The Freewheelin' Bob Dylan, had failed to chart.)
As Columbia's legendary talent scout, John Hammond, recalled in this 1972 Record World interview, "I must say that his first records didn't sell all that much, but he got an awful lot of attention."
Unlike Dylan's previous efforts that he had performed solo, Bringing It All Back Home had the singer-songwriter backed by a band. Side one, which also features "Maggie's Farm" and "Outlaw Blues" among its seven tracks, is performed electrically. Side two's acoustic numbers include "Mr. Tambourine Man," "It's Alright Ma (I'm Only Bleeding)" and "It's All Over Now, Baby Blue."
Watch film director D.A. Pennebaker's iconic clip for Dylan's "Subterranean Homesick Blues," featuring renowned poet Allen Ginsberg standing off to Dylan's left
Related: An updated version of the iconic video was released in 2022
On April 12, just two days after the ad appeared, the same Columbia label released the Byrds' cover of "Mr. Tambourine Man," the first single from their June 21 debut album of the same name. (So much for "No One Sings Dylan Like Dylan!") The "Sleeper of the Week" review on the cover of Record World's Apr. 24 issue said: "Funky and slow treatment of the Bob Dylan tune that has a lot to say. Moody and different treatment from a group going places."
The Byrds' electric version reached #1 on Record World's Top Pops on June 26. Dylan's own version was never released as a single.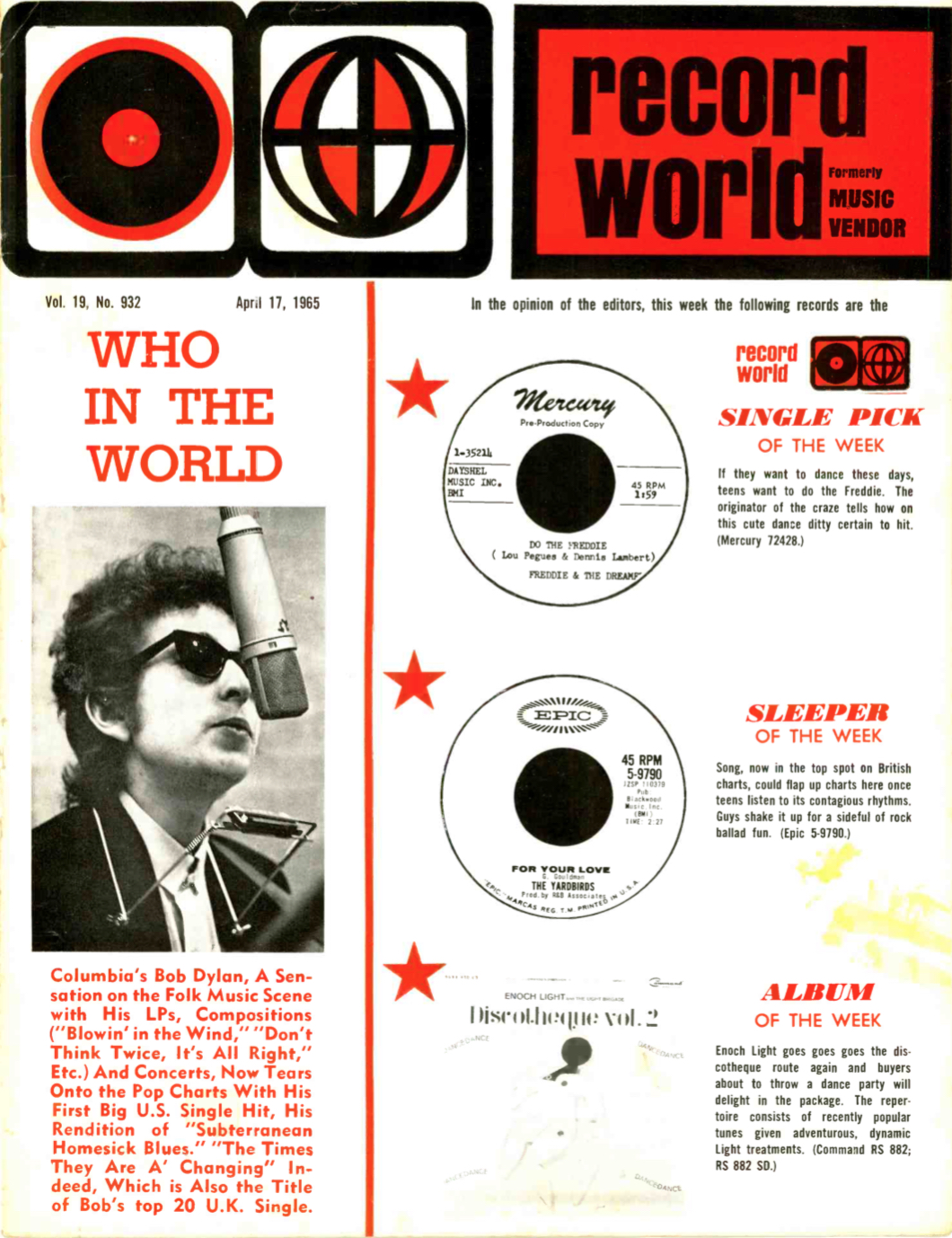 A week after the Dylan ad appeared, Record World's April 17 issue featured Dylan on its cover, describing him as "A Sensation on the Folk Music Scene… Now Tears Onto the Pop Charts With His First Big U.S. Single Hit…"
The magazine also featured a review–not seen for over five decades until now–of his March 6 concert with Joan Baez at the New Haven (Conn.) Arena.
"Important folk music is happening all over the country–from dim coffee houses, to colleges, to Carnegie Hall," the reviewer notes. "[Baez's] repertoire has changed somewhat since meeting up with Dylan. She sings fewer child ballads, more Dylan diatribes.
"Dylan appeared shy on stage, quiet and reserved, except when singing. One of his songs might last five minutes or more, but no one seemed bored. Most every song is accompanied by harmonica, in addition to guitar, building mood along with melody.
"But it's the words of his songs that are so important. War is sin; suffering is sad; human waste an insane atrocity. Many of his compositions are talking blues, in the Woody Guthrie manner, one of which is the bitter anti-war tale, 'It's Alright Ma, I'm Only Bleeding.'
"The concert's opening song, which they did together, is indicative of Dylan's social thought–'The Times they Are A'Changin',' protesting stagnancy and complacency.'"
Listen to a 1975 performance of Dylan and Baez "protesting stagnancy and complacency"
The review concluded: "Baez and Dylan are part of the new world, speakers for it, singers for it. Combining the two in concert provides an excellent audience experience."
Just a few months later, on July 25, Dylan performed a legendary electric set at the Newport Folk Festival. Elijah Wald, author of Dylan Goes Electric, told Best Classic Bands, "A lot of people were upset before Dylan walked on stage with his electric guitar. About all kinds of things. The world was changing. The end of the folk scene was in the air for anyone who was paying attention. Once the Beatles hit, the writing was on the wall."
Related: Our interview with the Dylan Goes Electric author
Bringing It All Back Home would go on to reach #6 on the U.S. album sales chart (and #1 U.K.). It thus became a significant, but short-lived, benchmark for him. He would quickly outdo himself as the LP was topped by the #3-selling Highway 61 Revisited later that year, thanks to the success of "Like a Rolling Stone" which reached #2 on the pop charts.
Dylan's "Rough and Rowdy Ways" tour continues in 2023. Tickets are available here and here.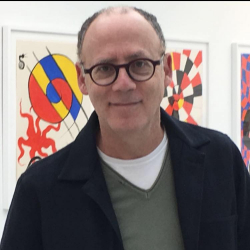 Latest posts by Greg Brodsky
(see all)