The Doobie Brothers' 'What Were Once Vices Are Now Habits': The End of an Era
by Thomas Kintner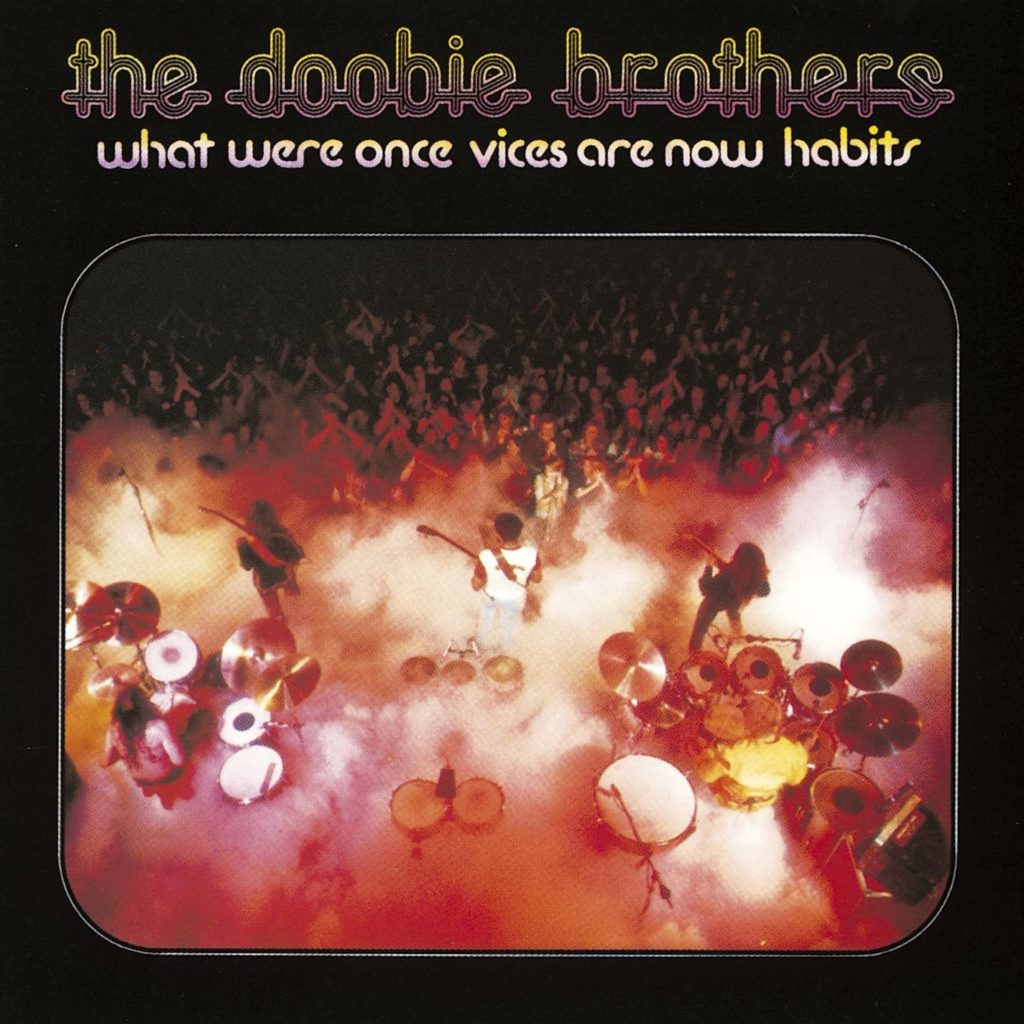 By 1974, the Doobie Brothers had come a long way from their early days as a Northern California-based touring act that had a particular appeal to biker groups across the region. With three albums to its credit, the five-man group had refined and polished its diverse but accessible mix of country, rock and R&B, and seen greater returns with each new offering. Coming off the top 10 success of 1973's The Captain and Me and its pair of top 15 singles, "Long Train Runnin'" and "China Grove," this was a group ready to take yet another step, but solidifying that progress would prove a little trickier than might have been expected.
That's the story of What Were Once Vices Are Now Habits, a record that got off to a slow start following its late February 1974 release before taking the Doobies to heights previously unreached, even as no one could know how close the band was to the end of its first era.
The album takes full advantage of the group's by-then-established voice right from the opener, "Song to See You Through." Easing out of a swirl of guitars and light pepperings of the Memphis Horns, vocalist Tom Johnston lassos its cool flow with his natively homespun approach, riding herd over its affable alloy of soul and country-rock. At times understated, it features all the expected Doobie flourishes, as comfortable with deep harmonies as it is with genre meshing, all paced by a supple drum jangle, with Michael Hossack and John Hartman handling the band's two-drummer model in recording (though Hossack would leave soon after, replaced by Keith Knudsen for the album cover, but not the music itself).
Related: Admit it, you don't know the lyrics to the Doobies' "China Grove"
Produced by Ted Templeman, who had been with the group for its entire run and would remain so through the band's 1982 breakup, the record embraced typically loose boundaries, with overarching sensibilities that coalesced into a sonic stew. In the case of "Spirit," that meant a chugging slice of cowboy rock underneath Johnston's sprightly but calm handling, in a thick arrangement in which Ilene "Novi" Novog's viola plays the propulsive fiddler role.
Everything is just a little different on the track that immediately follows, the rock-sharpened "Pursuit on 53rd St.," where Johnston's bark fits an ample chug long on electric guitar sizzle. Both tunes provide a strong sense of Johnston's easy-to-underestimate versatility, a delivery that simultaneously dictates personality and reflects the group's rangy strengths.
For all its nomadic tendencies, the set focuses on familiar territory for those who paid attention to the group's earlier output. "Road Angel" harkens back to the band's earliest days with a gravelly embrace of motorcycle rock, and though it's the lone tune on the set with authorship credited to all members, its workout in many ways sports fewer of the band's distinct tropes than any other on the set as it closes out the LP's first side. A flip of the platter to "You Just Can't Stop It" and there's a touch more flair, from a chorus-augmented Johnston lead vocal to the horn splashes that spruce up its chipper, soul-flecked rock.
The roomy sway of "Tell Me What You Want (And I'll Give You What You Need)" delivers supple reverie with a bit of heft, its paired acoustic guitar lines pushing a comfortable pace that sports flashes of color from Arlo Guthrie's autoharp and the pedal steel guitar of Jeff "Skunk" Baxter, who would make the leap from Steely Dan to full-time Doobie starting on the band's next record. Dissimilar in baseline sound but a philosophical match is "Down in the Track," its hearty bob framed in a manicured ruggedness right down to a tinkling James Booker piano line and drum splash that gives way to guitar lines that bounce off of one another in the late going—it may be a more insistent number, but the underlying approach to its assembly is a match.
There are times while navigating "Daughters of the Sea" that listeners might think they took a wrong turn into a Santana record, but its balancing of two electric guitar lines—one for pace and one for flavor—is the foundation of a smart mustering that ranges from portentous to propulsive. It neatly segues into bass player Tiran Porter's album-closing composition "Flying Cloud," a mildly spacey instrumental flow that serves as a relaxed and deliberate playout for the record overall.
Despite sporting a strong variety of options, as it turned out, the album's most substantial struggle was finding traction for a single. The first offering was "Another Park, Another Sunday," which makes sense given how an engaging mélange of drums, harmonies and guitars enlivens its airy chorus in ways instantly recognizable as Doobie Brothers house style. Johnston's cool, raspy lead and the tune's gear changes give the proceedings personality, but it clicked only enough to see it climb to #32 on the Billboard singles chart. Johnston would later claim backlash to the lyric "And the radio just seems to bring me down" led to the song being pulled from rotations as it was climbing, but the line is so unobtrusive that it seems more likely that the song's appeal is simply not rising to level of the band's A-list tracks.
Next up is "Eyes of Silver," a tune built around crisp horn fanfares, intertwined guitar lines, plentiful background chorus dressing and polished charm. But for all its attributes straight from the group's wheelhouse, they ultimately assemble in a way that isn't particularly memorable. The tune would fade after reaching a peak of #52.
At that point, desperate for a hit, the label reached back three albums to the band's self-titled debut to send "Nobody" to radio, but as it turned out, the real answer to its concerns was in southwest Virginia, where the current album's "Black Water" was enjoying regional success after local stations tied it to the nearby Blackwater River, despite lyrics that place its setting far deeper south. When Warner Bros. learned of that breakthrough, it made it the album's third single in October 1974, which at last proved the charm. Picked up in major markets around the country one after another, it made a steady climb up the Billboard Hot 100, until on March 15 it became the act's first chart-topping single, 31 spots higher than it had reached months earlier as the B-side to the single release of "Another Park, Another Sunday."
Written by and sporting lead vocals from guitarist Patrick Simmons, "Black Water" establishes its irresistible flow around a memorable guitar line, simple background choruses and pleasant drum rattle, with Novog's viola again delivering sweet country accents. A mellow dance tune that resolves to a striking a cappella section that sets it apart, the whole feels a touch exotic while remaining easily digestible. Templeman would later admit no one considered "Black Water" single material before learning of its regional popularity, but in retrospect its laid-back luxuriation in eclecticism made for a great mainstream fit.
Propelled by that success, What Were Once Vices reached as high as #4 on the Billboard album chart in the U.S., three spots higher than the standard the band had set the previous year with The Captain and Me, and the highest-water mark that would come during the Johnston-fronted era (Stampede would equal its achievement). There were more heights to scale thereafter, but they began with a change of lineup that would also serve to recast the group's identity.
Johnston would remain until exiting during sessions for 1977's Livin' on the Fault Line, but after recording what would become 1975's Stampede in his typical lead role, his 1975 health issues led to Michael McDonald being hired as a vocalist for the band's next tour. That in turn would open the door to a very different future for the band's focus and direction, which dawned with using some of McDonald's more pop-leaning songs as the backbone for 1976's Takin' It to the Streets. In 1978 the band would release its lone chart-topping album in Minute by Minute, and eight years later it would disband. Reunions would begin five years later, and for most of the time since, the band has been active in one form or another, particularly on the touring circuit, where the band's COVID-delayed 50th anniversary tour, featuring Johnston and McDonald in the lineup, finally began 2021. Tickets are available at Ticketmaster.com and here.
Bonus Video: Watch the Doobies perform "Black Water" in isolation during the Covid pandemic
Related: Our own interview with Doobies Johnston, Simmons and John McFee
Latest posts by Thomas Kintner
(see all)