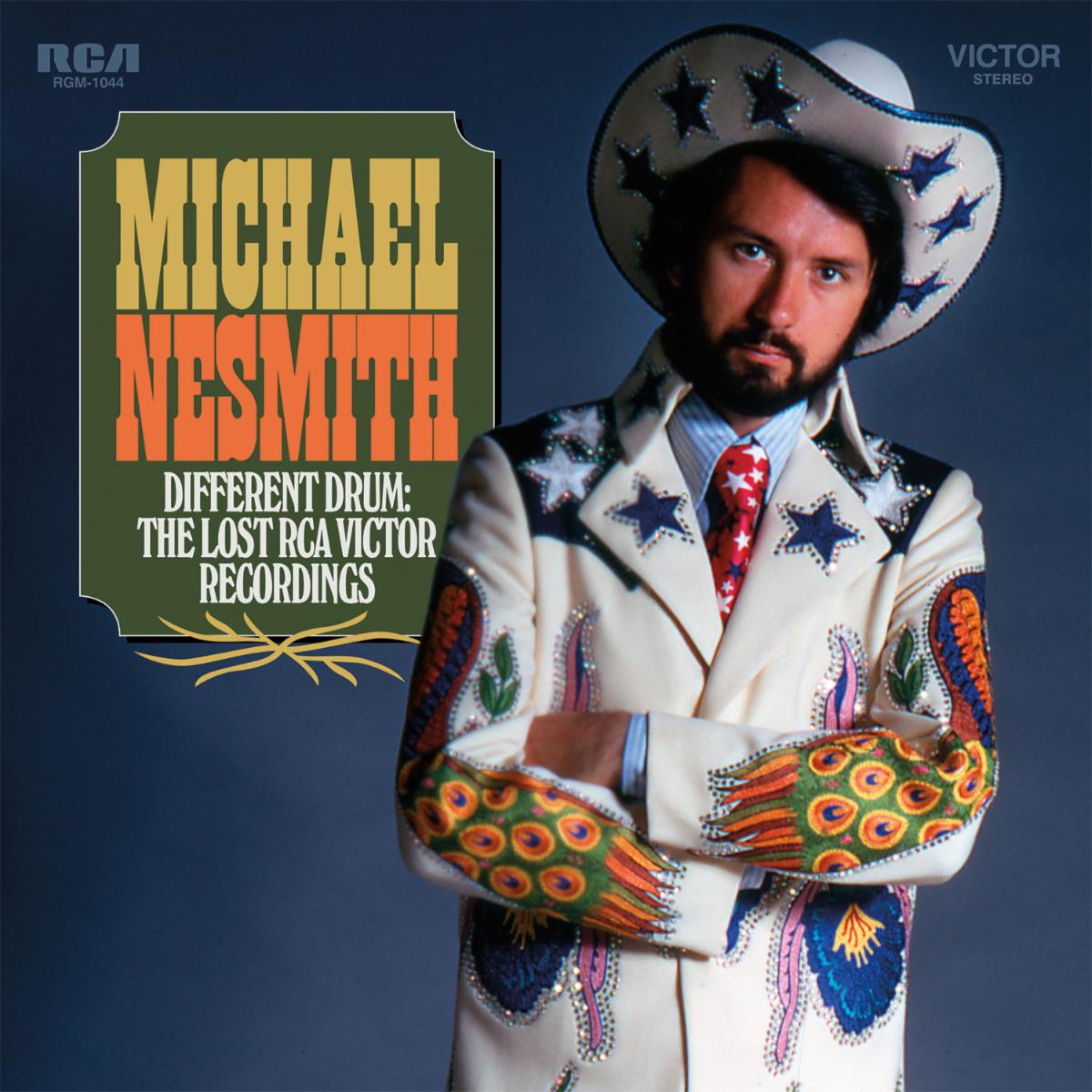 Over six RCA albums released between 1970 and 1973, Michael Nesmith blossomed as a singer, songwriter, bandleader, and producer under the aegis of RCA Nashville legends Chet Atkins and Felton Jarvis. With bandmates including legendary pedal steel guitarist O.J. "Red" Rhodes, John Ware, and John London, Nesmith pioneered country-rock with a spiritual and searching style all his own.
Real Gone Music and Second Disc Records have taken a major deep dive into the Nez archives with the April 30, 2021 release of Different Drum: The Lost RCA Victor Recordings, 22 tracks drawn from the vaults, every one of which is previously unreleased in any physical format.
Nesmith's 1964 composition of the title track introduced audiences to Linda Ronstadt when her 1967 recording with the Stone Poneys became a pop hit. Nesmith's vastly different alternate version of the song is vastly different, with a western swing.
Listen to Nesmith's alternate version of "Different Drum" with the First National Band
The wool hat-clad member of The Monkees became one of the earliest progenitors of the country-rock genre. In recent years, Nesmith has penned a critically acclaimed autobiography, reformed the First National Band to sold-out audiences, and both recorded and performed live to fans young and old with The Monkees.
Listen to the alternate take of "Texas Morning"
Different Drum premieres on CD some of his most remarkable musical explorations from this vivid period including cosmic reimaginings of Monkees-era favorites like "Tapioca Tundra," "Listen to the Band," "Magnolia Simms," and "Circle Sky."
Listen to the alternate take of "Listen to the Band"
The Different Drum collection has been mixed from the original multitracks by Andrew Sandoval and mastered by Vic Anesini at Sony's Battery Studios. Nesmith has contributed insightful new commentary to the liner notes by The Second Disc's Joe Marchese. The set includes photos by renowned photographer Henry Diltz and previously unseen images.
See the complete track listing and hear more songs below the links.
Related: Our review of a 2019 Nesmith concert
The collection also includes unheard outtakes like "American Airman" and "Six Days on the Road;" vastly different alternate takes of "Dedicated Friend," and "Tengo Amore;" and even an early version of "Marie's Theme" from his cult classic multimedia project The Prison.
Different Drum: The Lost RCA Victor Recordings Track Listing
1. Different Drum (Alternate Version)
2. American Airman
3. Bye, Bye, Bye (Alternate Version)
4. Dedicated Friend (Alternate Version)
5. Tengo Amore (Alternate Instrumental)
6. Texas Morning (Alternate Take)
7. Rene (Uncut Version)
8. Six Days on the Road
9. Circle Sky
10. Listen to the Band (Alternate Version)
11. Some of Shelly's Blues (Alternate Version)
12. Keep On (Alternate Version)
13. Roll with the Flow (Alternate Version)
14. Marie's Theme (Alternate Version)
15. Magnolia Simms (Alternate Version)
16. Born to Love You (Instrumental)
17. Hollywood (Alternate Backing Track)
18. Tapioca Tundra (Instrumental)
19. Roses Are Blooming – Come Back to Me Darling (Instrumental)
20. Tan My Hide (Instrumental)
21. You Are My One (Alternate Instrumental)
22. Loose Salute (Radio Spots)
Listen to the alternate backing track for "Hollywood"

Latest posts by Best Classic Bands Staff
(see all)