Cher at the MGM Park, Las Vegas: She Got Us, Babe
by Will Durst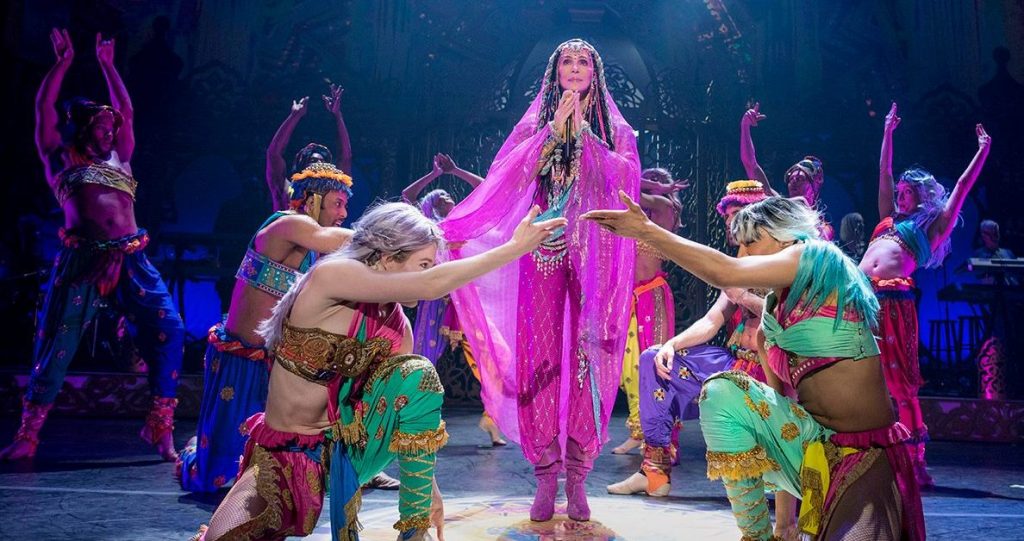 Humorist Will Durst saw Cher perform in 2019 and offered this FAQ. The "Goddess of Pop" was born on May 20, 1946.
Q. Okay, let's just cut to the chase; how many wigs?
A. Ten. One less than the total number of costume changes. All designed to match her gold eye shadow, which astonishingly survived the entire 90- minute production.
Q. Would you call her a "diva?"
A. Well, the show did start 27 minutes late. But we're talking about Cher here. You know, Cherilyn Sarkisian. Sonny & Cher–Cher. Been in the public eye for 54 years–Cher. The only artist with a #1 Billboard chart recording in six consecutive decades–Cher. The over-100 award-winning, no, really, 100 awards, including Grammy, Emmy, Oscar, Golden Globes–Cher. The Cher whose Farewell Tour ended four years ago and grossed over a quarter of a billion dollars.
Watch her perform her 1998 #1 hit in Vegas in 2019
Q. Farewell tour? Four years ago?
A. Settle down, it's a show business tradition. Wouldn't be surprised if we witnessed a couple more. Kiss is on their fourth or fifth. Ozzy Osbourne announced his retirement in 1992. Sinatra had what, 19?
Q. What is this tour called?
A. Classic Cher.
Q. Was it?
A. Yes. Indeed. You bet. It featured a lot of hits and her opening monologue told a great funny story that somehow connected her 40th birthday, The Witches of Eastwick, Studio 54 and $28,000 for doing the David Letterman show. Later, there was an Elvis tribute (Cher and Elvis equal Chelvis). There were aerialists, dancers, projections, set changes, fireworks, a hollow elephant, shooting stars and three ABBA songs.
Watch her sing "S.O.S."
Q. Three ABBA songs?
A. She recently appeared in Mamma Mia! Here We Go Again, the sequel. As the grandmother. According to IMDB, her next role is playing a recalcitrant tenant in a New York City brownstone, resisting eviction.
Q. The lady's got herself a brand new niche?
A. Graduating gracefully into Ruth Gordon parts.
Q. How did she look?
A. Great. Well, it was odd. She looked a lot like Cher and then again a little like a Cher impersonator and vaguely like Angelica Houston.
Q. Was there a rhythm to the show?
A. It progressed like this: a fabulous entrance, two songs, left the stage for a costume change while some sort of vamping occurred, usually the dancers going crazy to the intro of the next song, or maybe a video montage; then two more songs. Lather, rinse and repeat. Once there were aerialists. Once a two-minute "Bang Bang" guitar solo. Not by her.
Q. Montages?
A. Many. One of her as a little girl, one of her early days (mostly a Bob Mackie retrospective) and one devoted to her acting career. She did win an Oscar, you know. Best Actress. Moonstruck.
Q. Did she dance?
A. Well, there weren't any cartwheels or barrel rolls or such. But there was a lot of rapid sashaying between the backup dancers and much walking briskly across the stage to the beat.
Watch highlights from a recent Cher concert
Q. Did she mention her age?
A. Yes. She bragged she didn't mind telling folks she's 73 because people would either be amazed she's still alive or amazed she can still fit in her costumes. Which showcased a lot of skin for a lady of her vintage.
Q. So, she's still got a sense of humor?
A. Definitely. She spoke of her quandary deciding whether to sing virtual duets with archival projections of her ex-partner and said she told herself, "Bitch, you're almost 100. Just do it." Then she performed "The Beat Goes On" and "I Got You Babe" with a 20-foot black-and-white film of Sonny. It was charming and creepy at the same time.
Related: How "The Beat Goes On" came to be
Q. Would you go again?
A. In a New York minute. Either this iteration or the next Farewell Tour.
Watch Cher and video Sonny duet
When Cher performs, tickets are available here and here.
Will Durst emceed a rock festival in Marshfield, Wisconsin, in 1977, featuring as headliner Black Oak, after they ditched the Arkansas.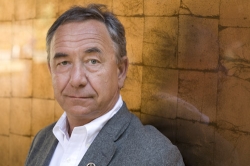 Latest posts by Will Durst
(see all)