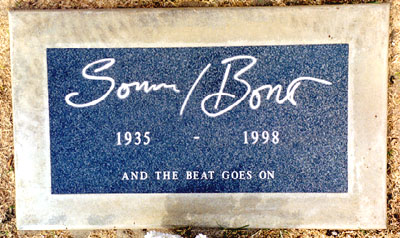 The gravestone of Salvatore Bono is very simply adorned. There is his nickname, Sonny Bono, the dates of his life, 1935-1998, and a short phrase, in all-caps: "AND THE BEAT GOES ON."
Those who know of Bono (pronounced Boh-noh, and no relation to the U2 guy) from his professional life before he became a Congressman from California's 44th District, in office from 1995 until his death just three years later on January 5, 1998, will recognize that phrase instantly. Nearly 30 years before he passed, Sonny Bono had been half of a sensationally successful pop duo with his then wife, the former Cherilyn Sarkisian. She, of course, went on to become one of the biggest stars in the world, and still is—Cher is an entertainment icon in the true sense of the word.
"The Beat Goes On" was Sonny and Cher's third top 10 single, debuting on the Billboard Hot 100 on Jan. 14, 1967.
Their story as a couple has been told often, but… They met in 1962 when she was 16 and he 27. He worked for producer Phil Spector and she was looking for a break in the music world. They became a couple, both romantically (they wed on Oct. 27, 1964) and professionally. Dressing in exaggerated mod fashions, they attracted attention from the start, though not enough to push their first few records (some cut under the name Caesar and Cleo) onto the charts.
A recording deal with Atco, the Atlantic Records subsidiary, changed all that. In July 1965, their single "I Got You Babe," written and produced by Sonny, began its climb to #1. They became famous quickly. A song they'd recorded earlier, "Baby Don't Go," also written and produced by Bono, quickly found its way to #8 on Reprise Records. Meanwhile, their debut Atco album, Look at Us, rose to #2. Sonny and Cher were, without a doubt, among the biggest stars in rock/pop—the fan magazines loved them, and so did television. They were so visual, so cute together, so hip in an acceptable, non-threatening way.
But once they'd scored those initial successes, Sonny and Cher could no longer get a substantial hit. A few unmemorable singles scraped into the top 20 in 1965-66, and both Sonny and Cher tried their luck with solo releases, but the rock audience had moved on; some now saw Sonny and Cher as terminally square, phonies, rock for grandmas.
That is, until they came back. Message music wasn't even much in vogue anymore by 1967. It had been the big thing of 1965, when Dylan had first gone electric, when Barry McGuire reached the top of the charts with "Eve of Destruction." But 1966 had seen a sea change—the music had gotten tougher, louder and harder; words like psychedelic and acid-rock were in vogue to describe the current trends. Who could take Sonny and his fur vests seriously when the Beatles were singing "Tomorrow Never Knows" and the Byrds were flying "Eight Miles High"?
Related: Fans sure were surprised when Cher married Gregg Allman in the 1970s
Even as 1967 dawned, with Hendrix, the Doors and Sgt. Pepper on the way, Sonny Bono ignored all that. He had something he wanted to say, and he was going to say it. He and his wife went into the studio, the musicians of the Wrecking Crew in tow as they always had been when the couple cut records, and they went to work on Sonny's new composition, with him producing once again. He called it "The Beat Goes On."
"The beat goes on, the beat goes on
Drums keep pounding a rhythm to the brain
La de da de de, la de da de da."
Not much to it so far, although the beat, pushed by Carol Kaye's forward-thrusting bass line and a solid, thumping 4/4 on the drums, was inarguably irresistible. (Wrecking Crew members on the Dec. 13, 1966, recording session for the instrumental tracks also include Mac Rebennack aka Dr. John, Jim Gordon, and Michel Rubini, among others.) Then came the tale, a breakdown of the current state of affairs vs. the way things used to be. It all used to be simpler, Sonny insisted. Trading lines, the couple sang:
"Charleston was once the rage, uh huh
History has turned the page, uh huh
The mini-skirt's the current thing, uh huh
Teenybopper is our newborn king, uh huh."
They continued. Where once there was the mom-and-pop grocery store, now there was the "supermart": bigger, colder, impersonal. Baseball scores were now kept "electrically," and "the cars keep going faster all the time." It was all too much to keep up with, the song seemed to suggest.
But some things never changed, they assured us, for better and worse. Alas, "Men still keep on marching off to war," and "Bums still cry, 'Hey, buddy have you got a dime?'," but on the brighter side, "Boys keep chasing girls to get a kiss." There was something to be said for reminiscing, the song proposed; amidst the changes, even as the world became more complex and less friendly, there was still good to be found.
"And the beat goes on, and the beat goes on," they repeated as the song wound down, "drums keep pounding a rhythm to the brain."
And indeed the beat did go on. The single peaked at #6 and Sonny and Cher sang it often on the variety show they shared in the '70s. Cher has continued to include it in her concerts to this day, sometimes singing along with a video montage of Sonny.
And then there were the cover versions. Jazz artists took a shine to it, with Buddy Rich and Gabor Szabo among those who covered it. Most famously, the psychedelic rock group Vanilla Fudge turned it into an extravaganza and named their second album after the song in 1968. The great R&B instrumental group Booker T. and the MG's also took a turn with it.
Sonny and Cher would continue to have their ups and downs as a couple and as an act until their divorce finally came through in 1975 and they were rid of each other. Their careers and lives would go in very different directions–as noted above, Sonny successfully ran for Congress as a Republican and served until his death in a skiing accident–but the beat would always go on. It's a sentiment so universal that Sonny Bono literally took it to his grave.
Related: Sonny Bono is elected to Congress
Watch the video for "The Beat Goes On" from 1967
Sonny Bono was born Feb. 16, 1935. Cher, 11 years his junior, was born May 20, 1946.
Related: Comedian and satirist Will Durst reviewed a 1969 Cher concert for us
The Sonny & Cher Show (later The Sonny & Cher Comedy Hour) made its debut on August 1, 1971.
Watch the closing of the series' second episode
Tickets to see Cher's concerts are available here and here.

Latest posts by Jeff Tamarkin
(see all)