One thing Bob Seger was not was an overnight sensation. He'd been kicking around the Detroit scene since the early 1960s, leading bands with names like the Decibels and the Town Criers, building a local fan base through his dynamic performances, but it wasn't until later in that decade that he began to make an impact with his recordings. First, there were local hits, like "East Side Story," by Bob Seger and the Last Heard and, in 1967, his first national chart hit, "Heavy Music (Part 1)."
That one just missed entering the Billboard Hot 100 but at the tail end of the following year, Seger scored big with "Ramblin' Gamblin' Man," which—with the promotional muscle of Capitol Records behind it (and future Eagle Glenn Frey contributing background vocals and guitar)—found its way to #17. The album of the same name, also on Capitol, gave Seger his first chart placement with a long-player, reaching #62, but he still wasn't finding the breakthrough he needed.
Finally, in 1976, it happened for him. By that time Bob Seger had gained a reputation as an exciting mainstream rock artist via his concerts, and 'Live' Bullet, recorded in his hometown in 1975, elevated his visibility, reaching #34. The excellent Night Moves, later that year, became Seger's first top 10 album, with the title track—considered a classic today—following suit, topping out at #4. The 1978 Stranger in Town LP and that year's single "Still the Same" both hit #4 but the top spot was still proving elusive—even "Hollywood Nights" (#12), "We've Got Tonite" (#13) and the now-ubiquitous "Old Time Rock & Roll" (only #28) weren't sending Seger to #1.
Related: Our review of Seger's 2019 final tour
Then came Against the Wind. Released on Capitol on Feb. 25, 1980, his 11th album, credited to Bob Seger and the Silver Bullet Band—which he'd formed in 1974—finally took the now-veteran rocker to #1 on the Billboard chart. It stayed there for six weeks.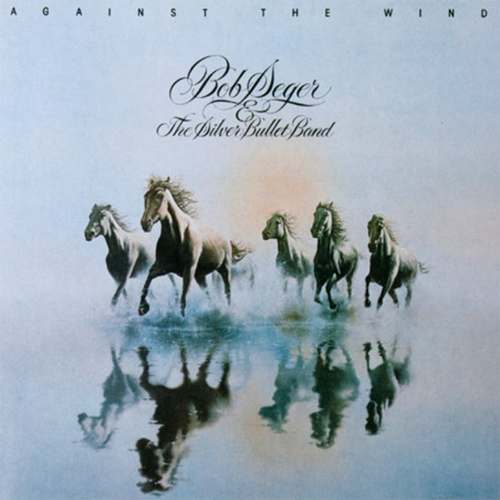 Why that one? Perhaps it was just his time. Against the Wind wasn't necessarily a better album than his last couple—Rolling Stone, in its devastating review, called it "not only the worst record Bob Seger has ever made, but an absolutely cowardly one as well"—but it clicked with the public in a way he had been unable to previously. No fewer than four singles from the album charted: "Fire Lake" (#6), the title track (#5), "You'll Accomp'ny Me" (#14) and "The Horizontal Bop" (#42), placing Seger into American rock's upper echelon at long last.
Related: Our Album Rewind of Against the Wind
He stayed there for quite some time. Seger's placed six more albums—Nine Tonight, The Distance, Like a Rock, The Fire Inside, a 1994 Greatest Hits compilation and 2006's Face the Promise—into the top 10, but to date he has been unable to come close to the success he finally found in 1980. You wouldn't want to rule him out though—if there's one thing Bob Seger has, it's resilience.
Watch Bob Seger perform "Against the Wind"
Related: Thank you, Bob Seger

Latest posts by Best Classic Bands Staff
(see all)