The Beatles' 'Yesterday and Today': Should It Ever Have Existed?
by Jeff Tamarkin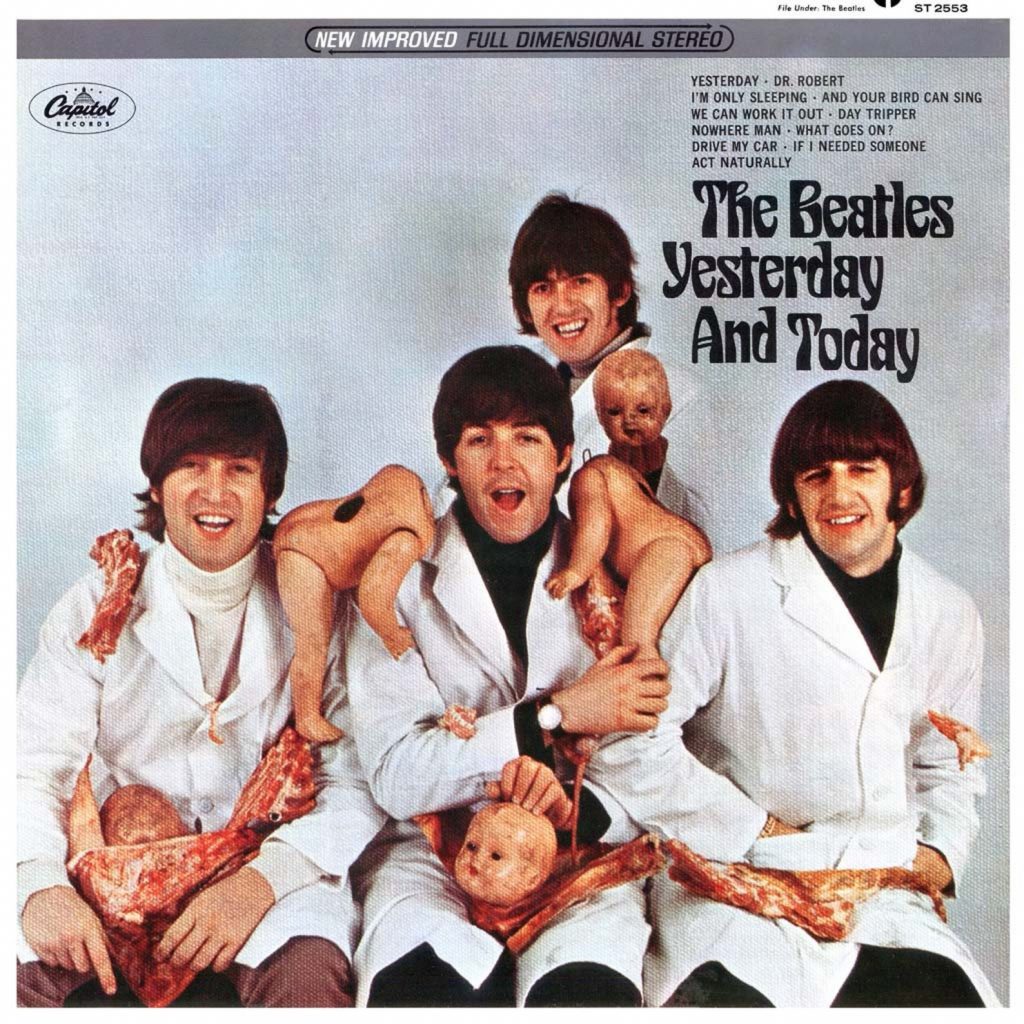 If you were a North American Beatles fan growing up in the '60s, experiencing their new releases in real time, chances are good that you had no idea that several of the albums you were eagerly purchasing were not available to the band's fans in the U.K. Albums such as Meet the Beatles, The Beatles' Second Album, Something New, Beatles '65 and Beatles VI were products assembled for the U.S. and Canadian markets only, slapped together by Capitol Records, their North American label, to empty those teenage wallets and generate even more sky-high sales.
As far as American/Canadian Beatles fans were concerned, however, those were all legitimate albums—it's what we were offered and what we listened to, over and over again, no questions asked. Only the most in-the-know fans were even aware that those LPs were what one critic has dubbed "cobble-ation" albums. Only later would we learn that the U.K. albums, among them With the Beatles, Please Please Me and Beatles for Sale, were considered the real deal by the band, and that purists consider the North American LPs to be abominations. (We'll just say America/U.S. henceforth, but just FYI, Canada was getting the same deal we were in the U.S.)
But wait, the tale becomes even more tangled: Not only were several completely different albums being released in America and Europe; even the ones that shared common titles were configured differently. An American Beatles album likely contained 11 or 12 songs, while across the ocean 14 was the going number. By excising a few tracks here and there, Capitol was able to gather up the strays and release them as single A- or B-sides, or to collect them into one of the aforementioned new entities. Rubber Soul, for example, was a 14-track album in England that led off with a rocker called "Drive My Car," which didn't appear on the American album, while the 12-song American version began with the country tune "I've Just Seen a Face," which didn't appear on the British Rubber Soul because it had already been on their version of Help!
Confused yet?
Here's the thing though: Those American albums, with all of their deviations, were perfect in their own right. For the millions of American fans buying them, albums like Meet the Beatles and Beatles '65 were, track for track, flawless. Who cared what the British fans were listening to? We had our own Beatles albums and we didn't need theirs. In fact, when the Beatles' album catalog was reissued on compact disc for the first time in 1987—and it was the still-unfamiliar-to-many English albums that were issued in the States, not the American ones—many longtime American Beatles fans were indignant. Those configurations were awkward to listen to, the fans said. Rubber Soul wasn't meant to start with "Drive My Car." That song was and always would lead off an album—unknown to British buyers—called Yesterday and Today.
Released on June 15, 1966, Yesterday and Today would spend five weeks atop the Billboard album chart in America. But its birth was not without controversy. It's a fascinating story that circumvents the music and instead points directly to the cover art. But before we get to that, it's important to know what was going on in the Beatles' world at the time.
Related: White Album facts and trivia
By 1966, the Beatles and their management were getting a little bit sick of Capitol releasing albums without their consent. The band had not paid much attention to the convoluted American configurations before, but as they started to gain more autonomy, they wanted uniformity in their output. That would come soon, but…well, not yet, lads. Capitol saw a hole that needed to be plugged, and label execs quickly plotted how best to plug it. They were well aware that the Beatles had begun working on a new studio album—one that would be universally affirmed as one of their best, Revolver—but its release was still a couple of months away. Let's not wait for them to finish, Capitol decided—not when there is money to be made in the interim.
Enter yet another tossed-off accumulation of odds and ends.
Yesterday and Today was named after the fifth track on its first side, "Yesterday," a #1 single for the Beatles in the early fall of 1965—although Paul McCartney was the only Beatle who actually appeared on the track. McCartney wrote the ballad, and he sings and plays acoustic guitar on the recording, accompanied solely by a string quartet. An instant classic, "Yesterday" has subsequently become one of the most recorded songs in history, with thousands of cover versions spanning all genres. It has also remained in the top 10 on official "most played radio songs of all-time" lists for decades, for a long while holding down the top position on that chart.
Amazingly, although "Yesterday" hit #1 not only in the U.S. but in several European countries, it was not issued as a single in England. Instead, it was tucked onto the 1965 Help! soundtrack album, in the penultimate position on side two, just another LP track among 14. Meanwhile, when the Help! album was released in America, fans were presented with a mess that, unlike the British release, did not include a full program of actual Beatles music: the 12-track American LP included four instrumentals from the film score, arranged by one Ken Thorne, leaving only seven Beatles numbers—none of which was "Yesterday"!
Oh boy, said the record company, rubbing its hands together cricket-style, dollar signs dancing in their heads: We can "Capitol"-ize on that! We can build a whole album around "Yesterday"! Now they only had to come up with 10 other tracks. No problem, said the execs—we'll start by grabbing a bunch from the British albums we chopped up.
From the U.K. Help!, in addition to "Yesterday," the new collection would also include "Act Naturally," a cover of a Buck Owens country song sung by Ringo Starr. Rubber Soul would be plundered mercilessly: Yesterday and Today would take "Nowhere Man," "What Goes On," "Drive My Car" and "If I Needed Someone," none of which appeared on the U.S. version. "Day Tripper" and "We Can Work It Out" were the two sides of a 1965 American single, neither of which had yet appeared on a U.S. album.
And finally, three songs that were slated to appear on the forthcoming British Revolver—"I'm Only Sleeping," "And Your Bird Can Sing" and "Doctor Robert"—but not the clipped American version, filled out the track list.
Related: 2022's Revolver deluxe edition ultimately organized the many songs that were recorded at that time
As Beatles albums go, Yesterday and Today was another gem, whether the band wanted it out or not. Each of its songs was solid and some, especially the trio of tunes that the Brits would hear as part of Revolver, were exceptional. At this point in their run, the Beatles could do no wrong musically, and while there may be a sense now when listening to Yesterday and Today that it was indeed something of a hodgepodge—those '65 tunes were obviously not as advanced as the later material—fans were happy to devour it.
Now all Capitol had to do was find some cover art, press the records up and ship them to the retailers and radio folks. For the cover, the label did leave it up to the band to choose an appropriate photo, and the four knew exactly what they wanted to use. In March of '66, they'd done a photo session with the noted British photographer Robert Whitaker. Whitaker was a conceptualist and, in discussions with the Beatles, it was decided to pose them in his studio amidst a gaggle of disembodied doll parts and slabs of raw meat, along with other ephemera (even false teeth). The musicians dressed in white lab coats and bore wicked smiles.
Whitaker even had a name for the piece, A Somnambulant Adventure. The idea behind it, most observers at the time agreed, was to show that the Beatles had become just so much detritus, to be manipulated and marginalized and cast away like so much disposable junk. In particular, it was reasoned, they were so tired of posing for promotional photos that this statement would let the world know what they really thought of the whole idea.
Furthermore, both McCartney and John Lennon said, it was their statement against the escalating Vietnam War.
Remarkably, although Capitol's top brass was wary, the label went ahead with the Beatles' photo choice as the cover art for Yesterday and Today. It quickly took on the term the "Butcher Cover," by which it has been known ever since.
It didn't take long at all for trouble to brew. Capitol had reportedly printed some 750,000 copies of the album with the Butcher Cover, of which an estimated 60,000 were immediately shipped to American radio stations and Capitol's offices around the country. Whatever they were thinking in London and Los Angeles, the enthusiasm for the cover art was not shared around the country. Immediately, there were protests. Many of those in receipt of the album were appalled by it. How could those lovable moptops do such a thing?! It was disgusting, outrageous, insulting! Retailers refused to stock it, Beatles or not.
Related: The inside story of when John Lennon gave his own 'Butcher Cover' copy to a Beatles fan
The Butcher Cover had to go. All Capitol had to do now was get those 60,000 back before they slipped out into the wild and more people were grossed out. The company issued a recall. Everyone who'd received a copy of the nasty cover was ordered to ship them back, at Capitol's expense.
Good luck with that.
In the meantime, while awaiting the returns, Capitol destroyed most of its unshipped stock of surviving Butchers, or pasted over them with a replacement cover. This shot, also taken by Whitaker, can be charitably described as generic; it pictures the group looking rather bored, neither smiling nor particularly unhappy—just doing that thing that Beatles had to do.
This much tamer photo of the Beatles, sitting among trunks used for traveling, became known, in time, simply as the "Trunk Cover." Most fans ended up with the trunk version, but enough Butchers survived for it to become one of the most highly collectible relics of recorded music in the history of the medium. For decades, collectors have grabbed original Trunk Cover LPs and carefully steamed the cover photos off, hoping to find (but rarely getting lucky enough) a Butcher lurking beneath it. With several different variations of the cover in circulation, the value can vary wildly, but suffice to say that if you see a Butcher Cover Yesterday and Today at your local garage sale for a buck, grab it up—it's good for at least a couple of months' rent.
Or much, much more. One sealed stereo "First State" Butcher cover (one that never had the Trunk Cover pasted over the Butcher) was confirmed to have sold for $75,000 in 2015. A sealed mono "First State" version sold for $30,000. From there it goes down in price, but even a fairly ratty-looking copy is good for a respectable payday.
All of the hoopla over the cover art is fascinating, but it has overshadowed the more obvious fact that Yesterday and Today, while it may have been an album the Beatles never sanctioned, and weighs in at less than a half hour, is a great Beatles album. For fans that grew up with it as part of the basic Beatles collection (it was finally released on CD in 2014 as part of the long-awaited—by American fans, anyway—collection The U.S. Albums), and for those outside of the Americas who may never have known it existed until much later on, it's a vital set of tunes that hold up remarkably well. It's not up there with Revolver, that's true, but then, what is?

Latest posts by Jeff Tamarkin
(see all)